'Naos' brings together a myriad of renowned designer furniture evocative of Mad Men and That 70s Show.
If there's ever a design style that seems like it'll never be out of trend, it's probably mid-century modern. Whether it's the clean lines or convenient adaptability, the design style is quite difficult to get over. Egyptian designer Ahmed Shawky, instead, chose to delve into its aesthetic in conceptual scenes filled with designer furniture.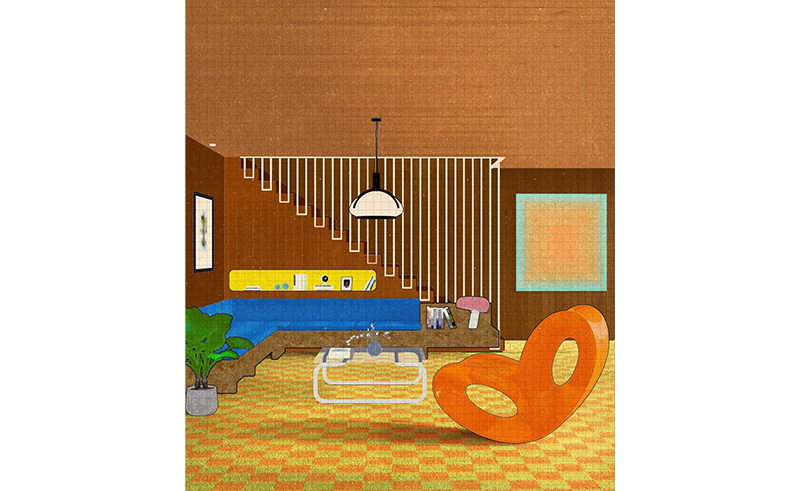 "I've been influenced by the mid-century modern movement and its design philosophy, which has remained a source of inspiration for countless decades," Shawky tells SceneHome. The trend peaked between the 1940s and 1970s, and offered an alternative from traditional styles that were dominant before the world wars.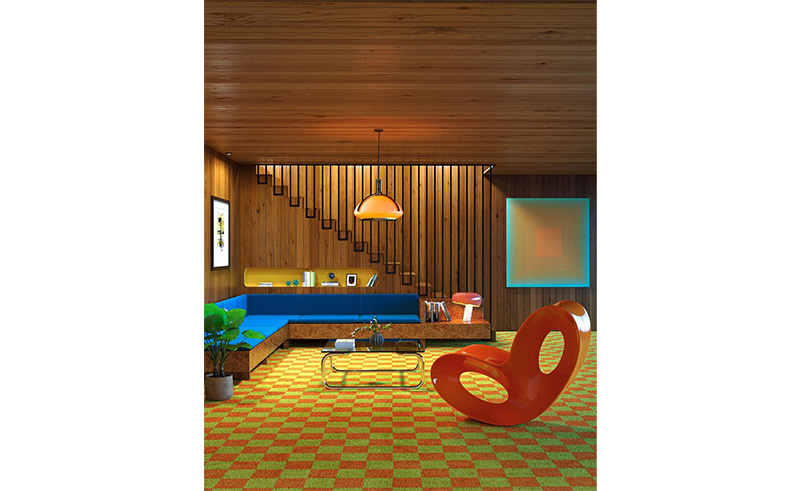 Appearing like an interior straight out of Mad Men, Shawky filled his retro-inspired scene with countless renowned designs. Ron Arad's Voido rocking chair, a 2006 design (the youngest of all pieces used by Shawky), leads as the jewel of the space before a vintage Quadrifoglio pendant by Studio 6G hovers above Rodney Kinsman's smoked glass coffee table.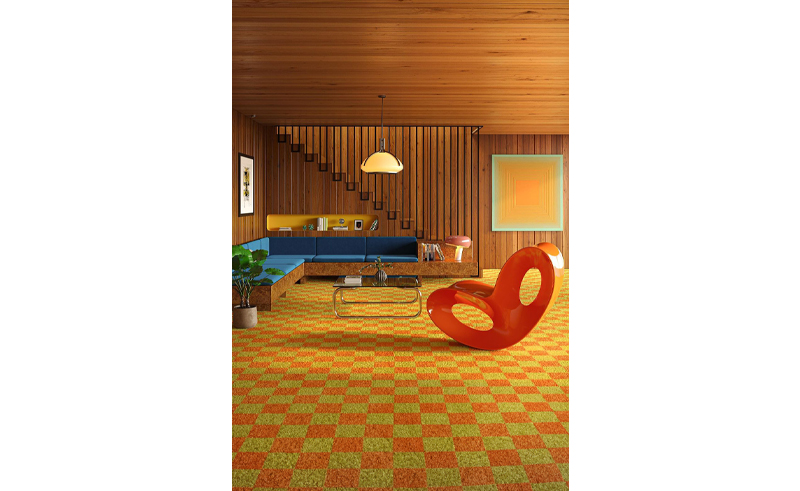 "The design style's aesthetics are represented in a vibrant colour palette," Shawky explains, as Snoopy - a table lamp designed by Italian architects Achille and Pier Giacomo Catiglioni in 1967 - sits at the rear, ahead of the 'Orange on Green Rhombus' artwork created by acclaimed American artist Richard Anuszkiewicz in 1969.
The living room offers a medley of design thought, from Anuszkiewicz's juxtaposition of high-intensity colours with repetitive geometric configurations, to Achille and Castignlioni's beagle-like silhouette diffusing soft light through its enamelled metal shade.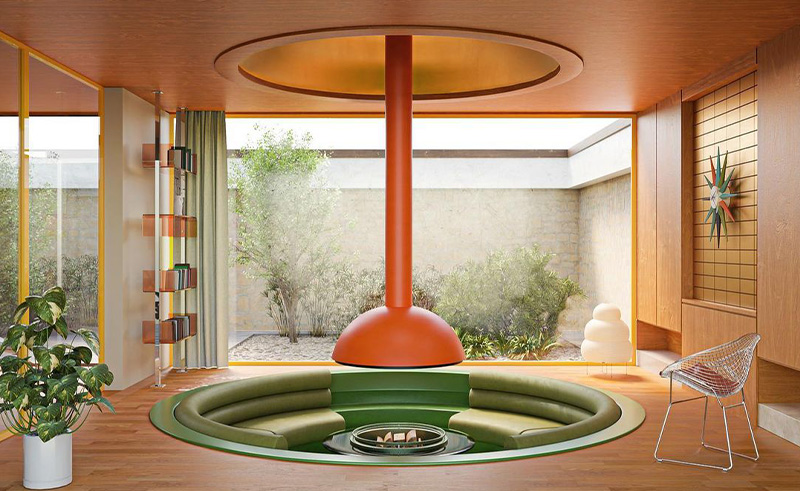 "I incorporated furniture and decorative pieces which were conspicuous and prominent at the time," Shawky says. Perhaps one of the most recognised achievements of mid-century modern design, Harry Bertoria's 1952 'The Diamond Chair' was placed by Shawky in a different scene, where a recessed fireplace is complemented with a bright orange chimney.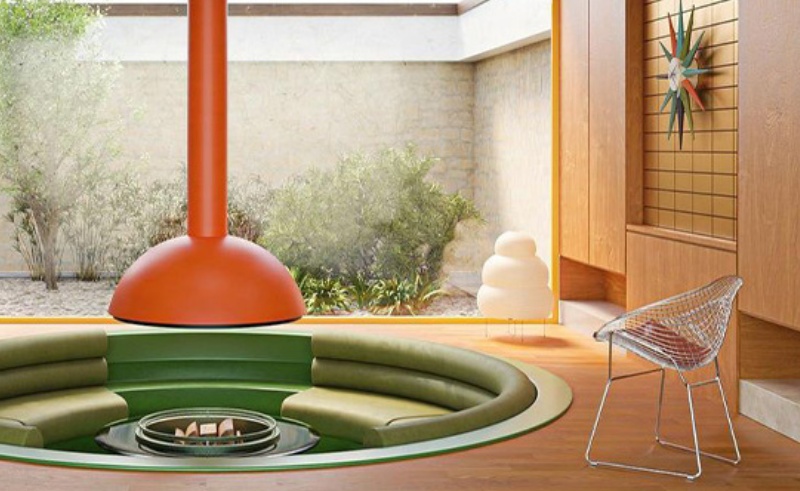 The Bertoria chair, which gracefully explored the boundaries of its material and elevated it beyond utility and into a work of art, stands underneath George Nelson's Sunburst clock - an icon of mid-century design - and ahead of Isamu Noguchi's Akari. The latter follows traditional craftsmanship of Japanese Gifu lanterns, each Akari is handcrafted with its 'washi' paper being derived from the inner bark of mulberry trees.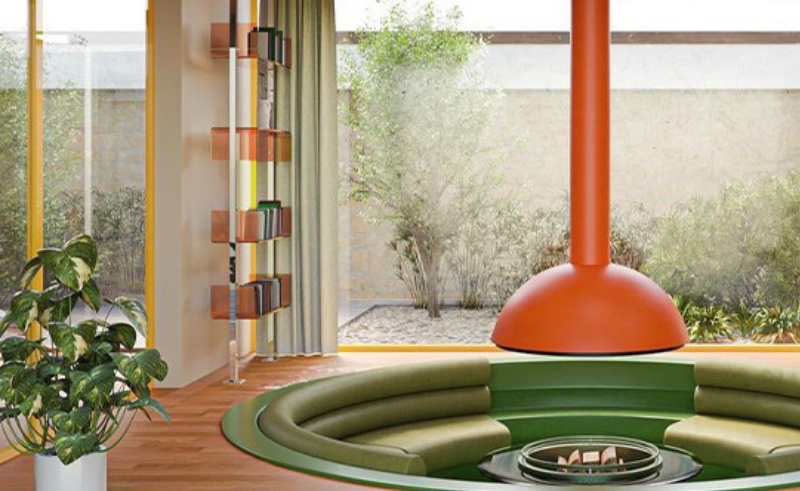 Akari's warm glow of light casts through its paper and bamboo frame, and across it, a lean bookcase by Michel Ducaroy completes the space. "There's an emphasis on the fusion of raw and man-made materials," Shawky adds, referring to his curation.
According to 'The Nostalgia Pendulum' by Patrick Metzger, there's a 30-year cycle of pop culture trends. If mid-century modern made a comeback once, as it did in the late 1990s, then it can do it again. Shawky is one of the many designers that is constantly proving just that.