London-based Egyptian architect looks home for inspiration in this stylishly transformed space.
Every great design starts with a compelling narrative. In Lucida, the latest and haute-st entry to Cairo's fine dining scene, London-based Egyptian architect Shahira Fahmy looked to ancient Egyptian craftsmanship, texture and colour to create a warm cocoon that embraces its visitors with stylish pedigree.
Marking its presence among the city's restaurants and bars, Lucida gets its charm from home, drawing inspiration from a myriad of design techniques that are quintessentially Egyptian. The bar, which Lucida's CEO Ahmed El Beltagy describes with only one word - "iconic" - is covered entirely with palm fronds sourced from Aswan.
Fahmy, a renowned architect and actress who's a three-time recipient of Harvard's postdoc fellowships for her groundbreaking and award-winning work, founded her firm Shahira Fahmy Architects in Cairo before making a move to London, often taking an experimental approach to her design process.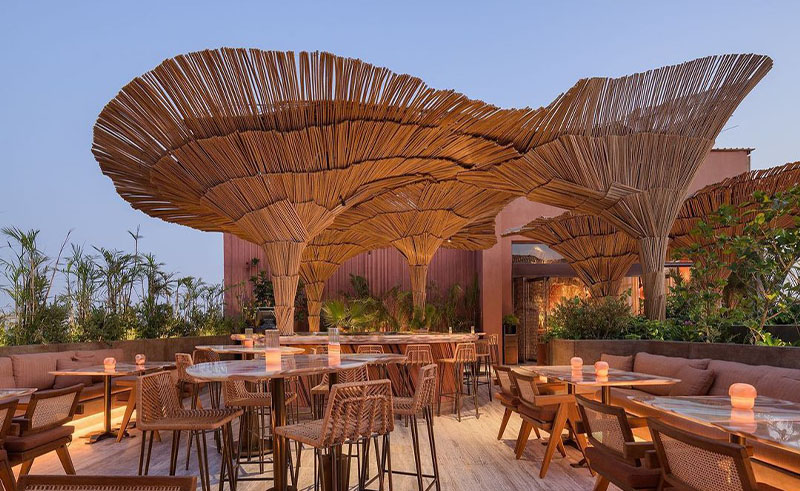 Layers run through Lucida, from the palm fronds on the bar - an element that was later on repeated in other spaces within the venue - and the wavy sheets meandering on the ceiling to the fabrics, all of which were locally sourced and manufactured by Egyptian artisans.
Keeping things open and bright, Fahmy covered Lucida with a massive skylit that showers the space with natural light, before playful patterns of shade emerge from the ceiling's waves, complementing the textures on the walls and alabaster bar.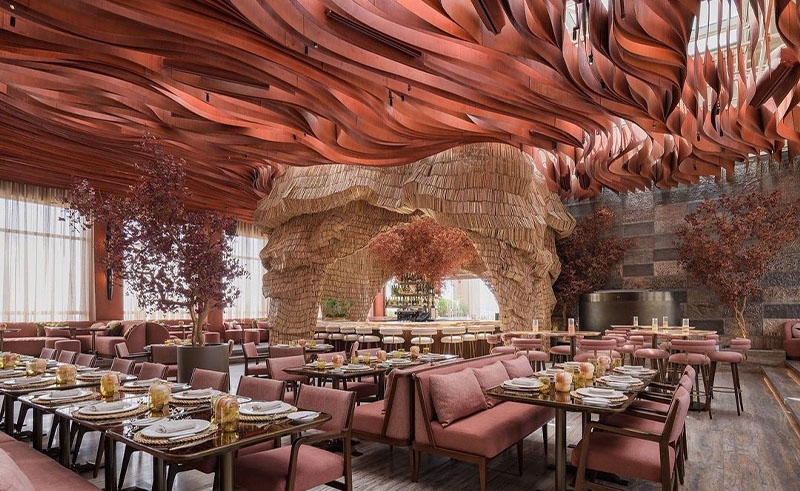 Walking into the space is akin to a warm embrace, one that celebrates art and welcomes laughter and joy. Such is the nature of designs that feel human. Both Fahmy and Beltagy took pride in their Egyptian approach, seeking the generational wealth of craftsmanship of local artisans to create the finishes on the walls, the fabrics and finishes.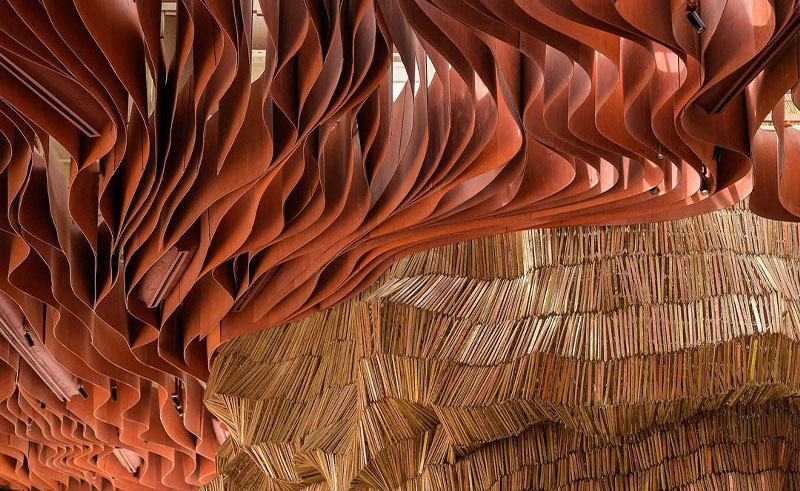 Fervently hued, Lucida boasts a warm ambiance orchestrated by Fahmy to instil intimacy into its air, creating in the process, Cairo's most authentically designed restaurant while presenting yet another contemporary interpretation of ancient Egyptian design and craftsmanship.
Video Credit: SceneHome
Photography Credit: Nour El Refai