The magical space pays homage to its location by drawing its theme and materials from ancient Egypt
Amongst the commercial spaces at the Grand Egyptian Museum, many were designed with one approach or the other - whether it's by subtly merging into the museum or attempting to meet the visual tempo of the extraordinary venue. Zamalek-based design studio, Shewekar, did both with its take on homegrown cafe Beano's branch, which exudes an air of magic and understated elegance at this unique museum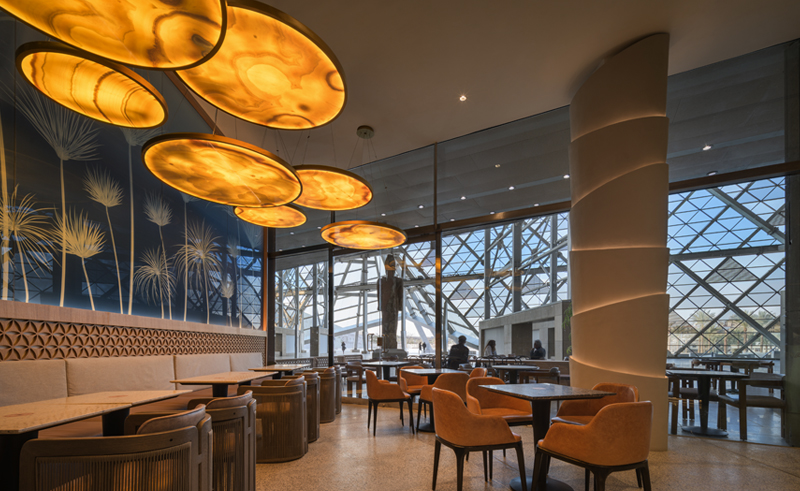 "The inspiration and intention behind the design was twofold," Founder Shewekar El Gharably tells SceneHome. "To stay true to the brand identity of Beano's while paying homage to our Egyptian heritage and its iconic representation at the GEM."
The space features multiple elements derived from ancient Egyptian design, materials and even the heavens of its age. Taking a break from marvelling at the museum's wonders, visitors would enter the cafe to be met with a rich brass tree inspired by Banyan trees, an ageless tree native to Egyptian soil which - some believe - grants wishes. "Its aerial roots were beautifully stylised into swirly, delicate folds of perforated brass sheets," the award winning designer explains.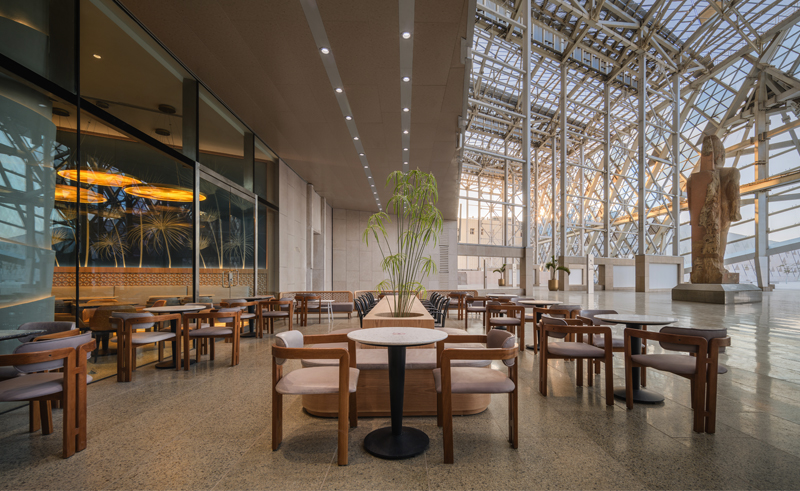 The ethereal element hovers above the main counter which is made of roughly-cut Aswani granite, one of the details that represent the designer's visual theme. Other examples are dispersed around the space, including the intricate signature pattern of Beano's, a coffee bean tree that engages in a dialogue with the brass Banyan tree, and is contrasted with a floral pattern carved on oak wood.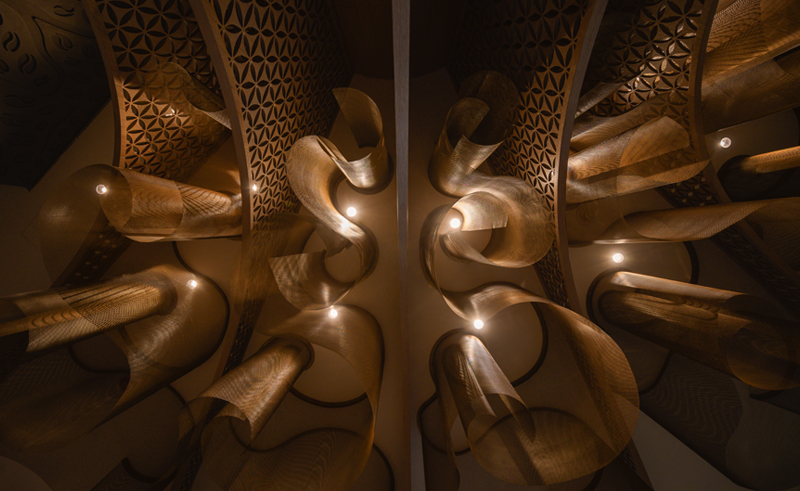 "The lighting is custom-designed and made from our beloved alabaster," El Gharably says of the seemingly floating sun-discs. Alabaster was widely used in ancient Egypt, as well as the blue colour that is so rarely manifested in them. The studio used blue to mark a large part of the cafe with papyrus drawings. "Blue represented the heavens, the dominion of gods, as well as water and the yearly inundation and primaeval flood, which was the inspiration behind the custom-made blue glass."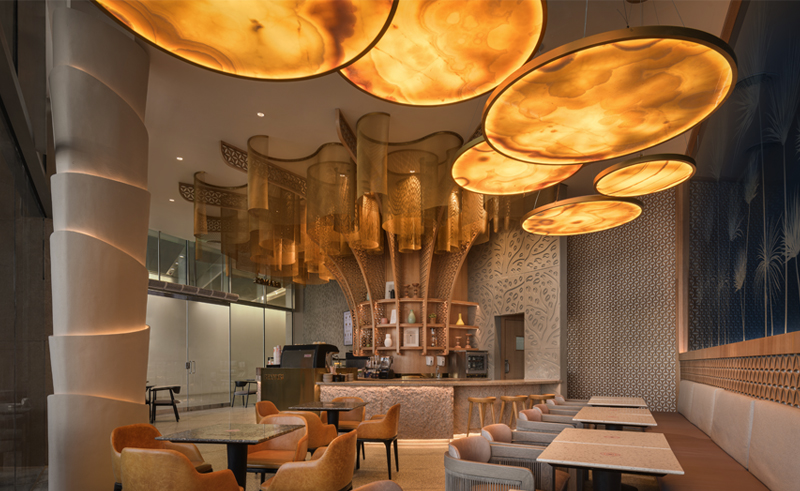 Beano's was designed to accommodate large groups of people with communal tables and long built-in sofas, as well as offering more intimate settings with smaller tables tucked in quiet corners. Meanwhile, the outdoor space was kept very clean and simple in respect to the gravitas of the Ramses II statue that stands just beyond it and the museum's architecture.'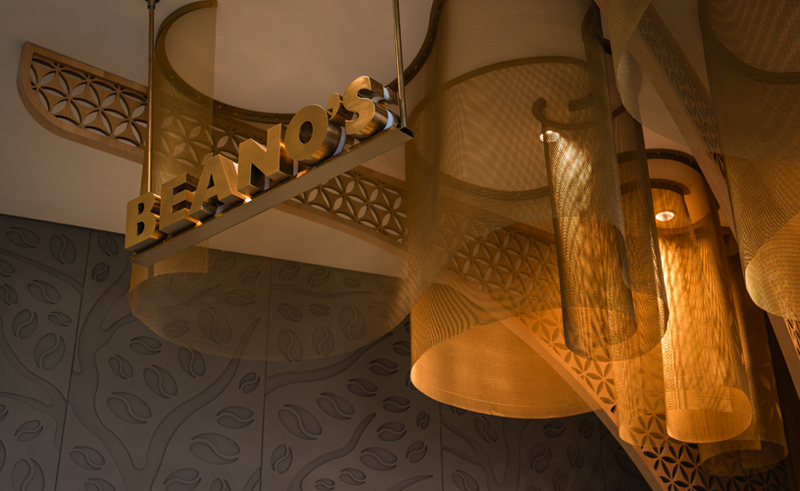 "The cosy neighbourhood cafe feel was not lost when Beano's moved to the GEM, it was simply elevated to match the grandiose and honour of the space," El Gharably says. The design maintains certain aspects of the brand, such as the eclectic feel of matching materials, the colour palette and delicate forms of the furniture. "These choices ensured a thread of continuity between this branch and the others."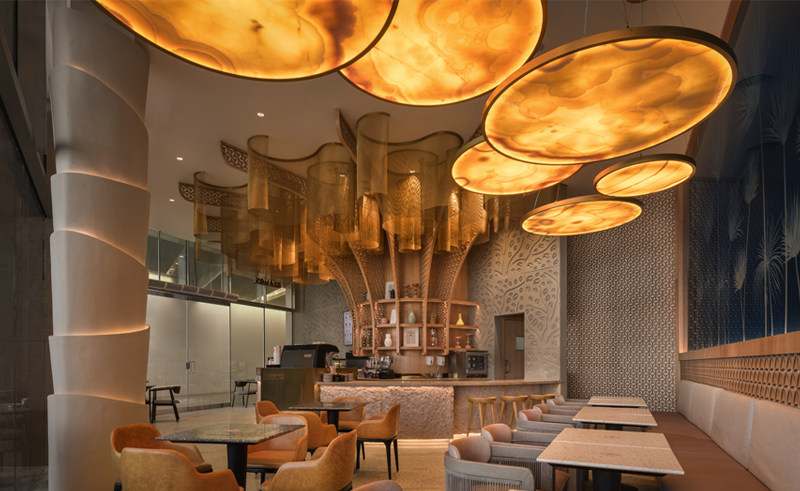 "Beano's is an interesting brand that is also very dear to our hearts," El Gharably adds. "It started out of a family's passion for food but had a vision wider than just a 'papa's and mama's' store." Shewekar recently designed another branch in Maadi, which has a story on its own. While this 'neighbourhood' cafe managed to turn into a recognisable franchise that has its regular customers, this branch stands out both among its other destinations and other stores at the museum.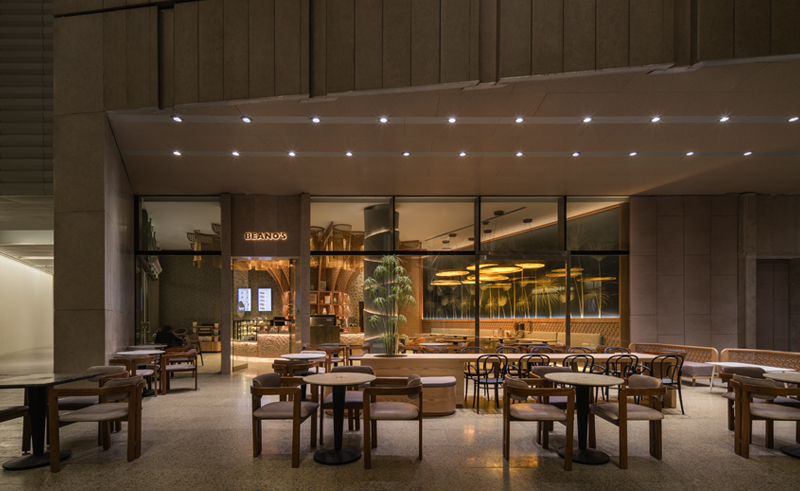 Photography Credit: Nour El Refai