A massive black pyramid shooting a light beam up to the sky is the sort of anomaly you get when pyramids are built by non-Egyptians. Here are modern pyramids from around the world that range from the
The Great Pyramids of Giza have one of the most universally recognizable forms of both the ancient and modern worlds. Unparalleled in their monumentality and striking with their scale, they've inspired many contemporary architects following a variety of modern architectural styles.
We've pogo sticked across the virtual globe and found examples of pyramids that range from buildings influenced by sci-fi soviet realism, to a black goliath of a pyramid in Las Vegas shooting a light beam out of its steel structure. Because why build a Pyramid in Las Vegas if you're not going to pierce the heavens with it.
The Louvre Museum by I.M. Pei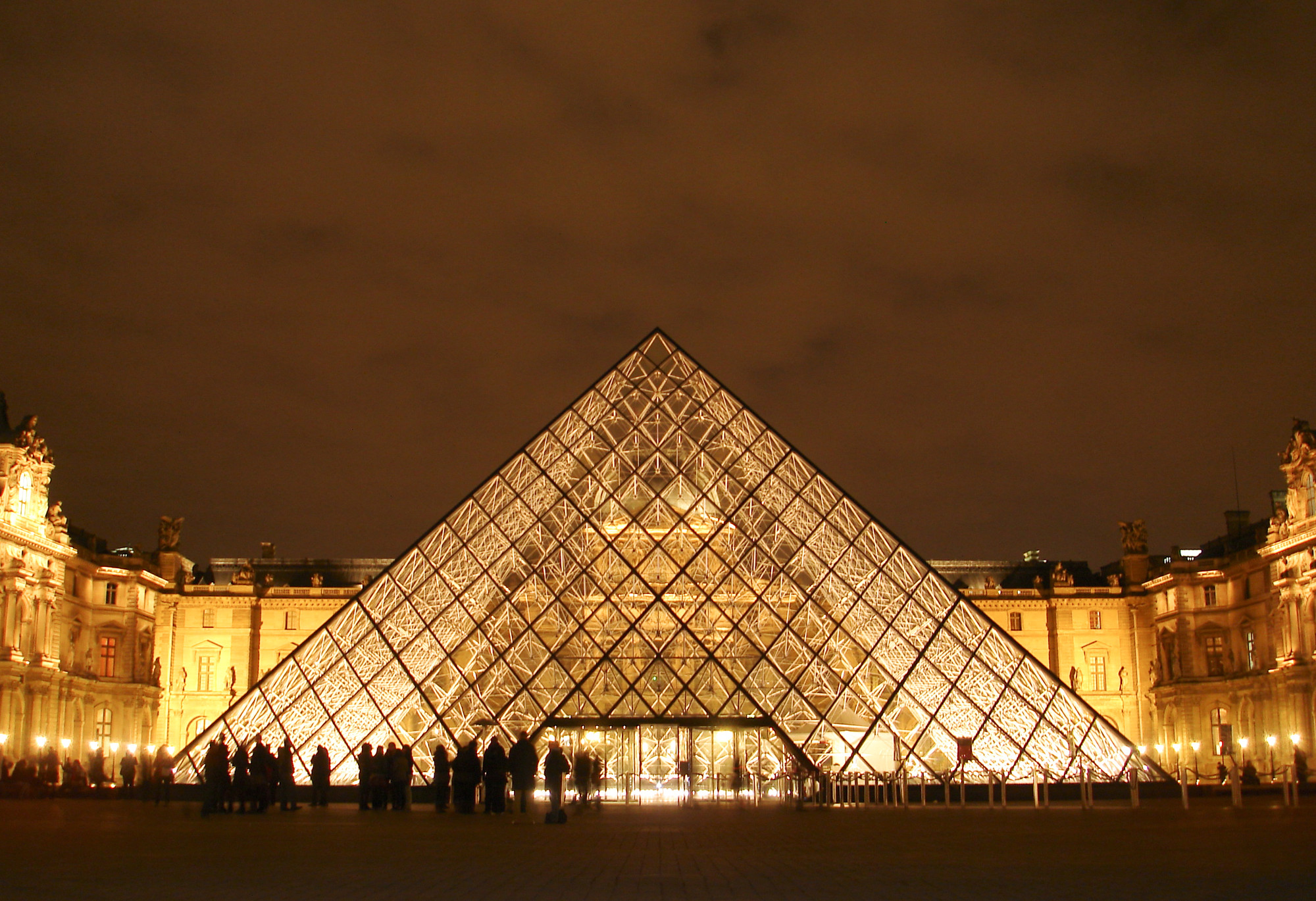 In the pursuit of total transparency, I.M. Pei, the widely acclaimed Chinese-American architect, underwent extensive research to create new laminated glass that facilitated his break away from the architectural traditions of the past when he designed the Louvre Museum in 1989, becoming the first foreign to work on the cultural landmark which dates back to the 12th century. Pei redesigned the main court to ease congestion and implemented a large glass and steel pyramid to provide light inside. Rather than detach itself from the French renaissance architecture of the museum, Pei's work compliments it with modernity.

Muttart Conservatory by Peter Hemingway
Housing botanical treasures of international plant species, the Muttart Conservatory was designed by Peter Hemingway in 1976 in Edmonton, Canada. Consisting of four glass pyramids connected by a central court, the conservatory offers temperate, tropical and arid climates for its flora in three of the pyramids, while the fourth presents seasonal displays. With the larger pyramids having 650sqm and the smaller ones having 408sqm, the pyramids were designed according to the light requirements of the flora residing within.
The Luxor Hotel & Casino by Veldon Simpson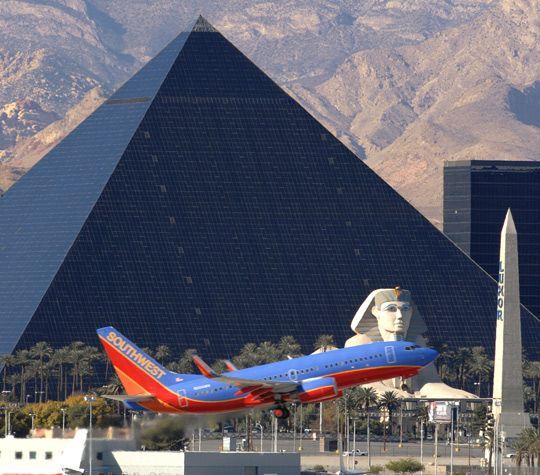 Located on the Las Vegas strip, the Luxor Hotel & Casino complex was built in 1993 as an example of postmodern architecture, with a twist of Egyptian influence. We mean, it even has its own replica of the Great Sphinx. It houses the world's largest atrium being 30 storeys high and covering 11,148 sqm of floor space. The most spectacular element about this pyramid, however, is that it shoots a beam of light up to the sky from its reinforced concrete and steel structure, which is visible hundreds of kilometres away.
Nima Sand Museum by Shin Takamatsu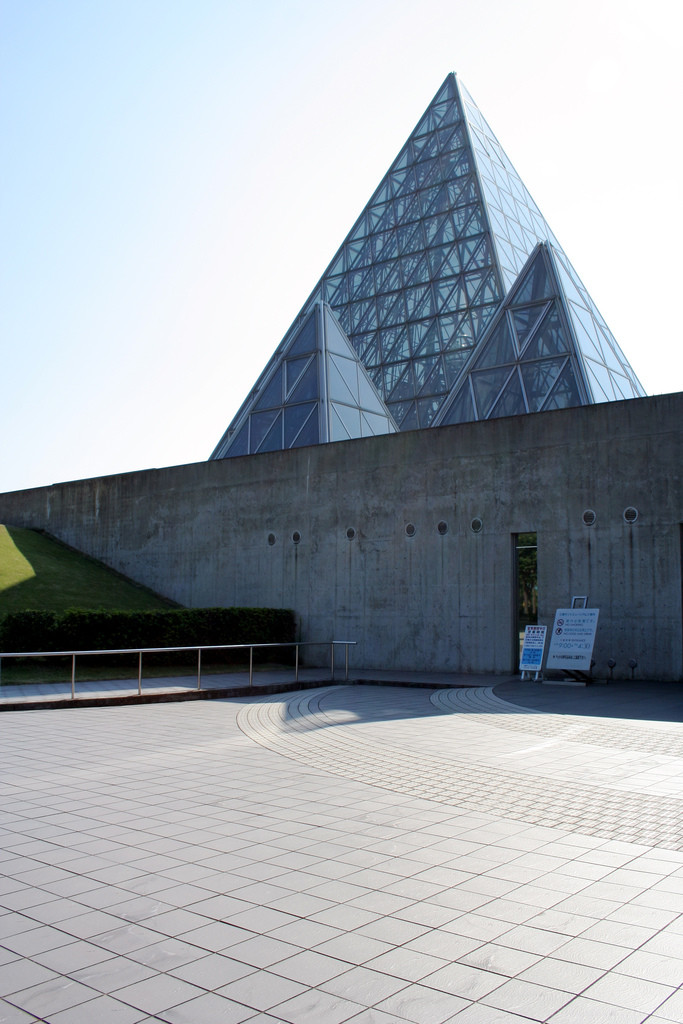 Located close to a beach known for its singing sands, the Nima Sand Museum was designed by architect Shin Makamtsu in Oda, Japan, upon the concepts of sand, time and environment. The museum houses the world's largest hourglass, according to the Guinness Book of World Records in 2015, which measures the duration of the entire year from within the largest pyramid in the complex. Having a concept this sand oriented, it isn't surprising that the architect found inspiration in the Egyptian pyramids.

Slovak Radio Building by Stefan Svetko, Stefan Durkovic & Barnabas Kissling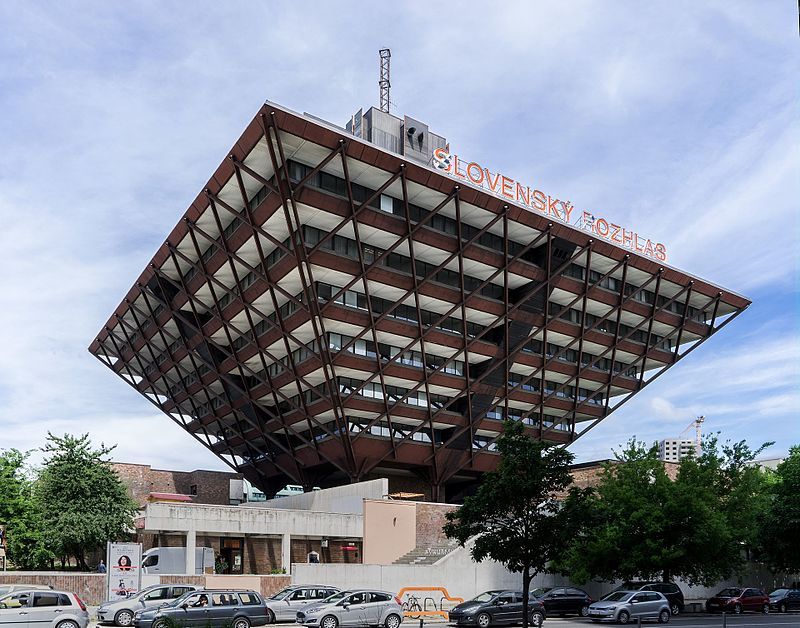 Slovakia's soviet past certainly resulted in some truly sci-fi forms of architecture. Like the Slovak Radio Building which was designed by Svetko and his, well, comrades, during a period when socialist realism was like the official architectural language. Avoiding the regular block shaped buildings of the time, Slovak Radio Building is an inverted pyramid that challenges traditional takes at the pyramid typology. 80 metres high, it is one of the first examples of steel frames being used structurally rather than prefabricated concrete in Slovakia. While it remains a cultural monument, public opinion on its aesthetic remains divided.
Via 57 West by BIG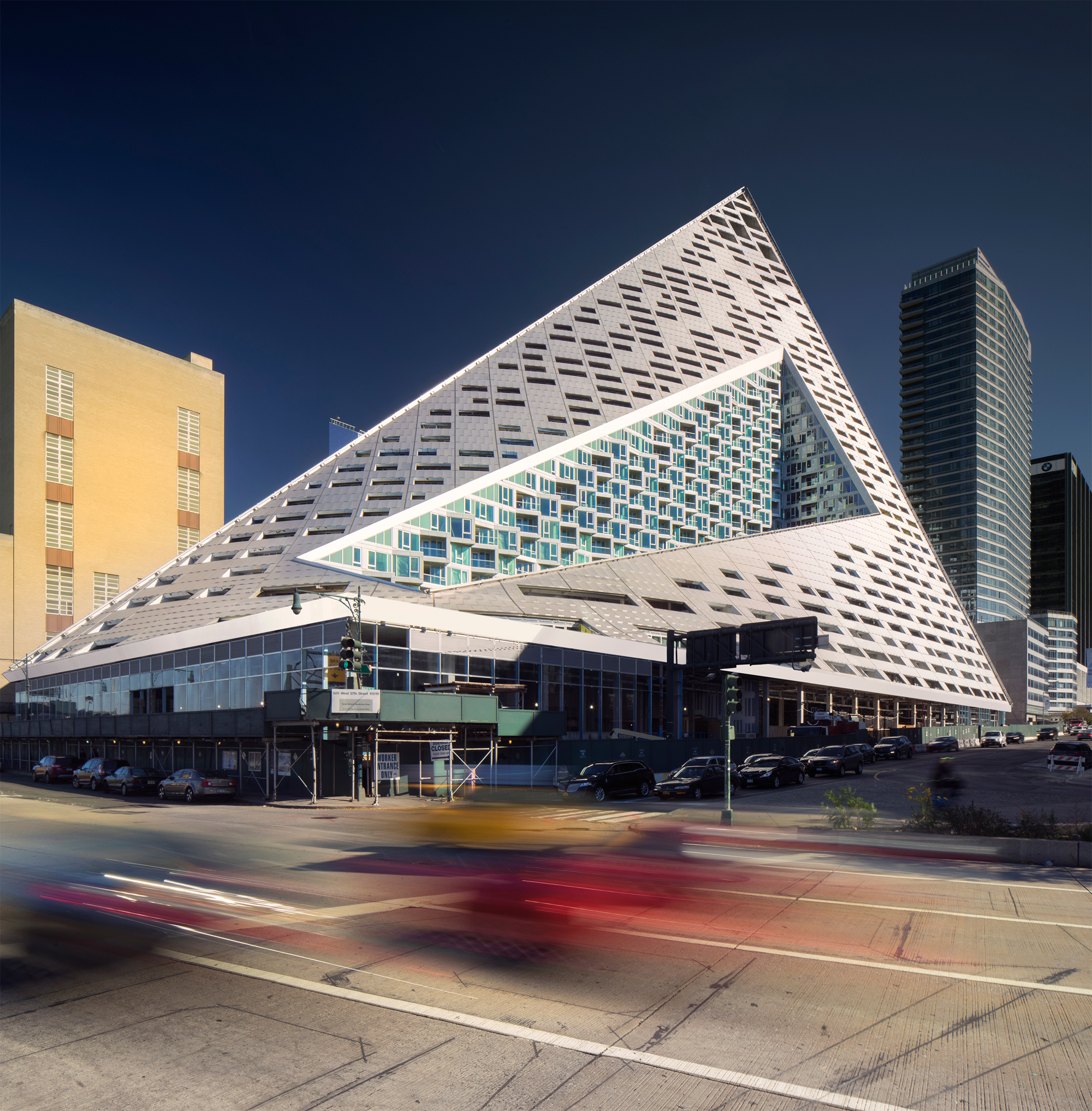 It may take some time to see it, but there's a pyramid in here. Even if it was arrived at completely by chance, as the Danish architecture firm, Bjarke Ingels Group, created an amalgamation of a Manhattan skyscraper and a European courtyard. Peaking at 137m, the residential building resembles a distorted pyramid with a steep façade featuring balconies employed at skewed angles. Vantage points dictate how the building is viewed, as the volume changes from being a warped pyramid from the west to a spire from the east.
Palace of Peace & Reconciliation by Norman Foster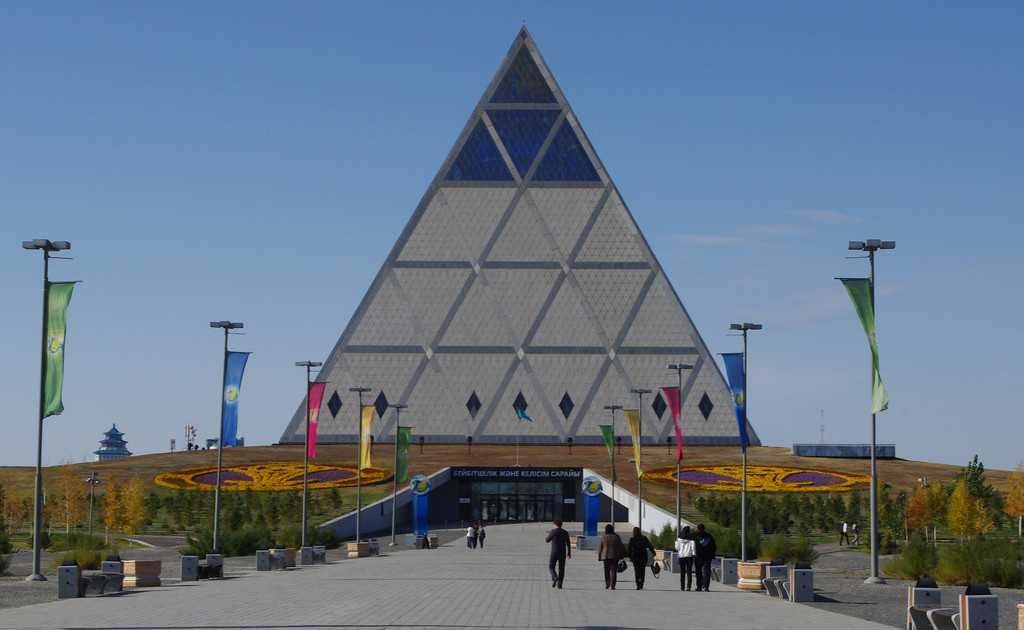 Designed to host the leaders of the world, the 'Pyramid of Peace and Accord' offers accommodations for faiths including Christianity, Islam, Judaism and Buddhism. Located in Astana, Kazakhstan and built in 2006 with a height of 139m - over half the height of the Great Pyramid of Cheops - this pyramid is looked at as a symbol for understanding and equality. Inside, it is cladded in pale granite, with glazed upper rows and stained glass decorated with doves to symbolise peace, freedom and love.
Olbrich Botanical Gardens by Stuart Gallaher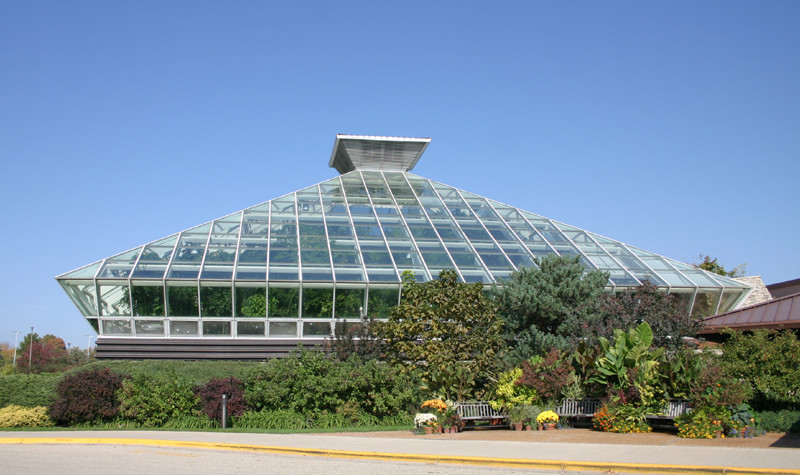 This pyramid was made with glass panels to allow its interior to remain pleasant for Wisconsin's Olbrich Botanical Gardens. Designed by Stuart Gallaher, it rises to 15m at its peak and has computers controlling its indoor environment for the tropical flowers and flying canaries and doves that fly above its indoor waterfall leading to a stream hosting goldfish and Japanese Koi. With 500 different plant species living inside of it, The Bolz Conservatory enshrines nature in its graceful pyramid structure.
The Walter Pyramid by Don Gibbs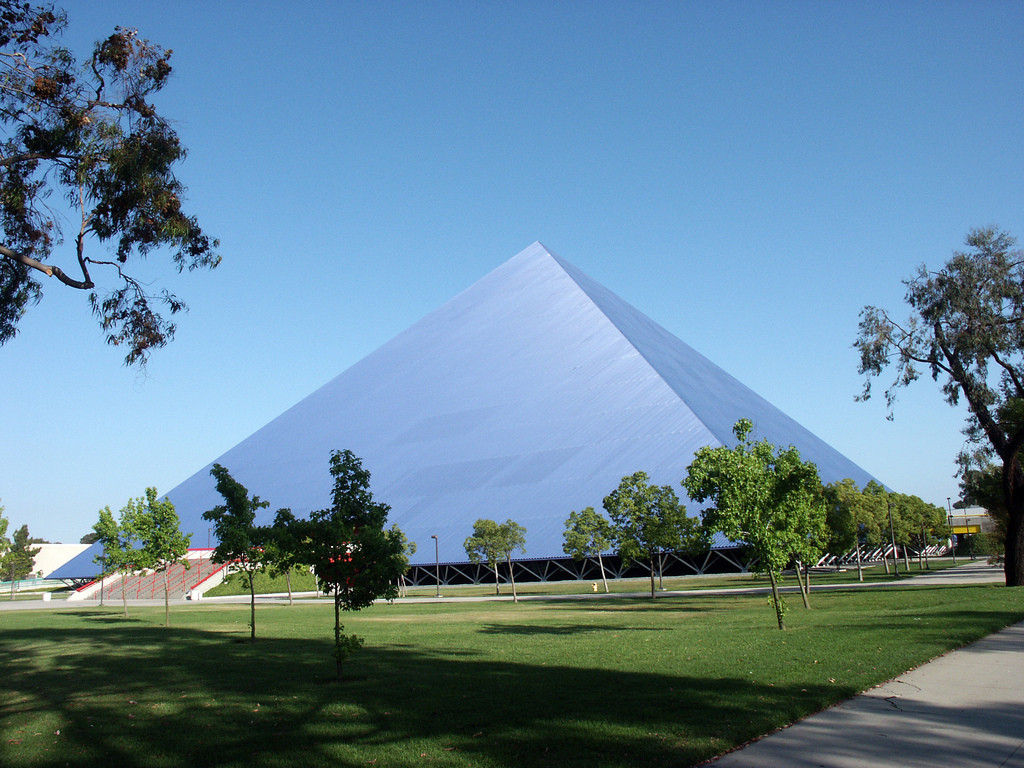 Dominating its California campus' skyline, the Walter Pyramid, also viewed as a blue goliath, was designed by architect Don Gibbs as a monument of athletics with 18 storeys hosting 4,500 people. From the outside, corrugated aluminium was hung on free standing frameworks made of 18,000 steel tubes with 160,000 bolts holding it together to allow for a truly open interior. We say truly because it can have three basketball courts or nine volleyball courts at the same time.