Studio Five were given only 48 hours to deliver a proposal for Al Arabiya's new headquarters in Saudi Arabia. With stakes being at an all-time high, they envisioned waves.
Studio Five – the award winning Cairo-based design studio behind lifestyle brand Not Toys – often work on projects that come with high stakes. Take for example their design of an exclusive lounge in Houston for professional basketball player James Harden, or the plethora of venue sets for the likes of El Gouna Film Festival, Okhtein and Valentino. When it came to designing Al Arabiya's new headquarters in Saudi Arabia, however, nothing compared in scale.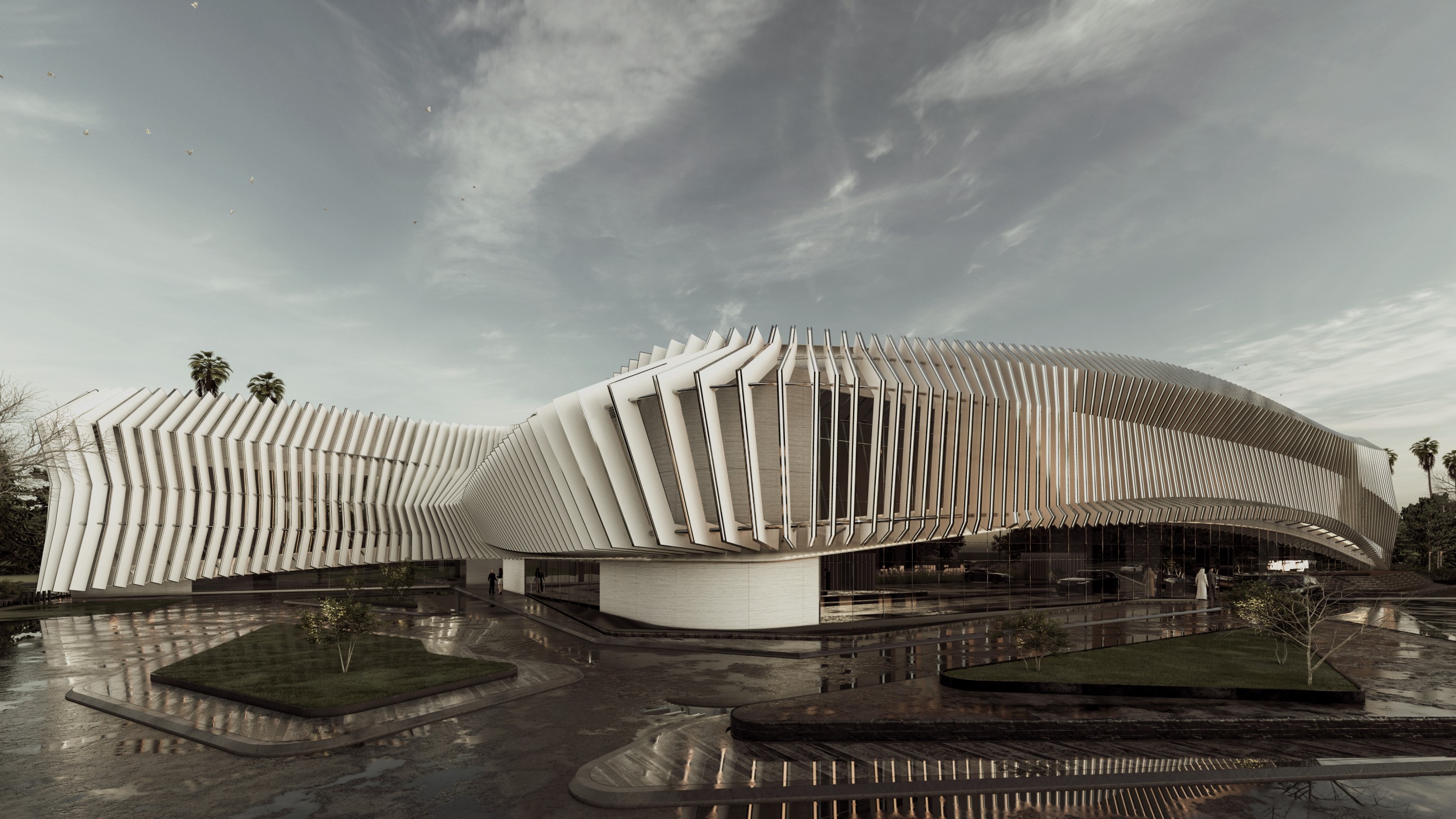 "They wanted to make an iconic statement as they were finally finding a home in Riyadh," Hatem Essawi, co-founder of Studio Five, tells #SceneHome. Essawi established the firm in 2012 alongside Ahmed Khalifa, Ahmed Tarek, Mohamed Jalal and Mohsen Rizk, who met at Cairo University while studying architectural engineering. "We learned how to work together in harmony. Each brings his own strengths to the table. The one thing we were all good at was design."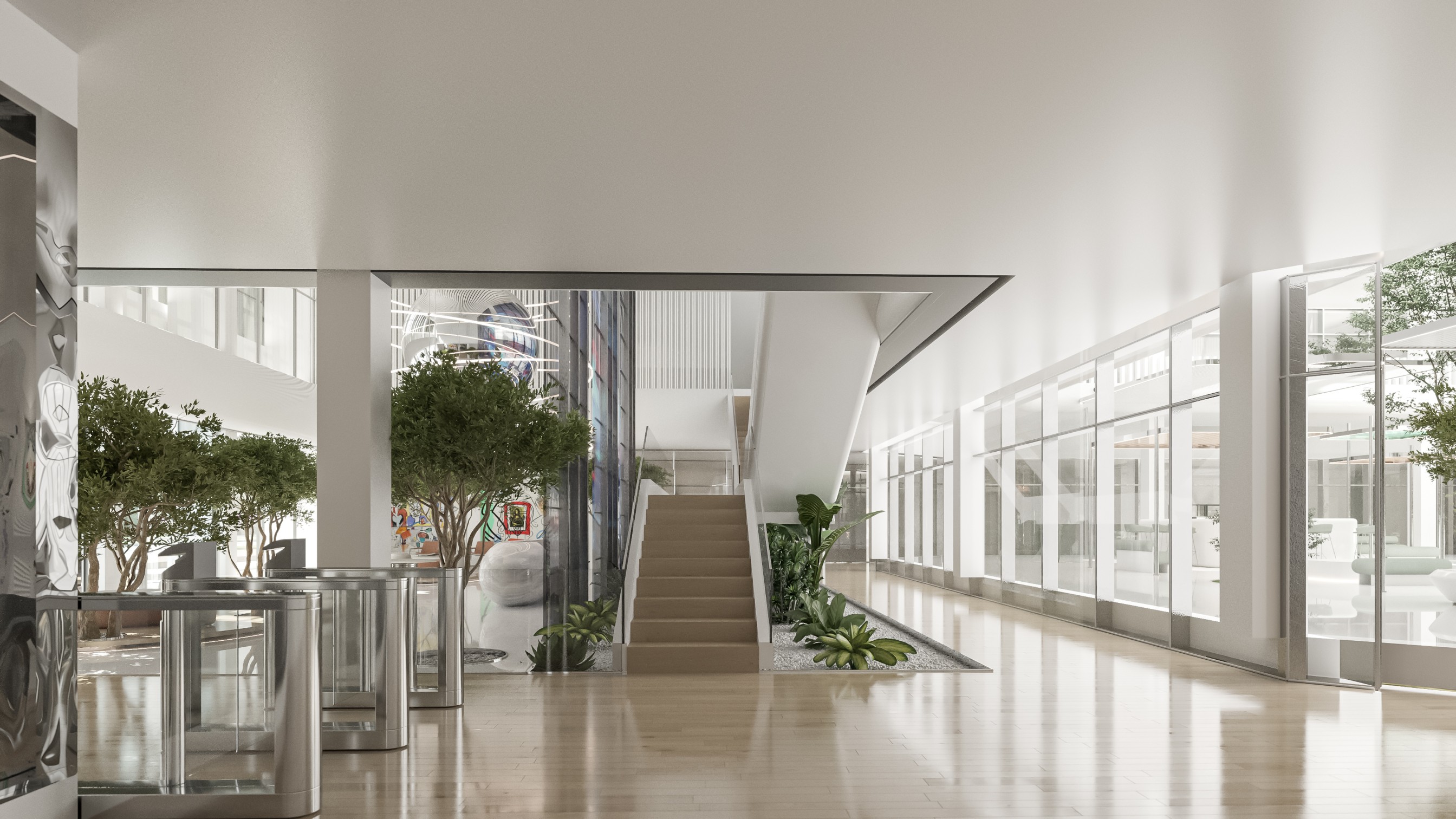 Originally founded in the kingdom of Saudi Arabia, global news network Al Arabiya has been operating from Dubai's Media City for decades. As Saudi Arabia embarked on its ambitious journey to becoming a global hub of arts, culture and technology, it was time for Al Arabiya to go back to its roots. "We received a call telling us that we were nominated to pitch a design," Essawi recalls. "We were ecstatic, of course, but there was a catch. We were given 48 hours to deliver the initial design."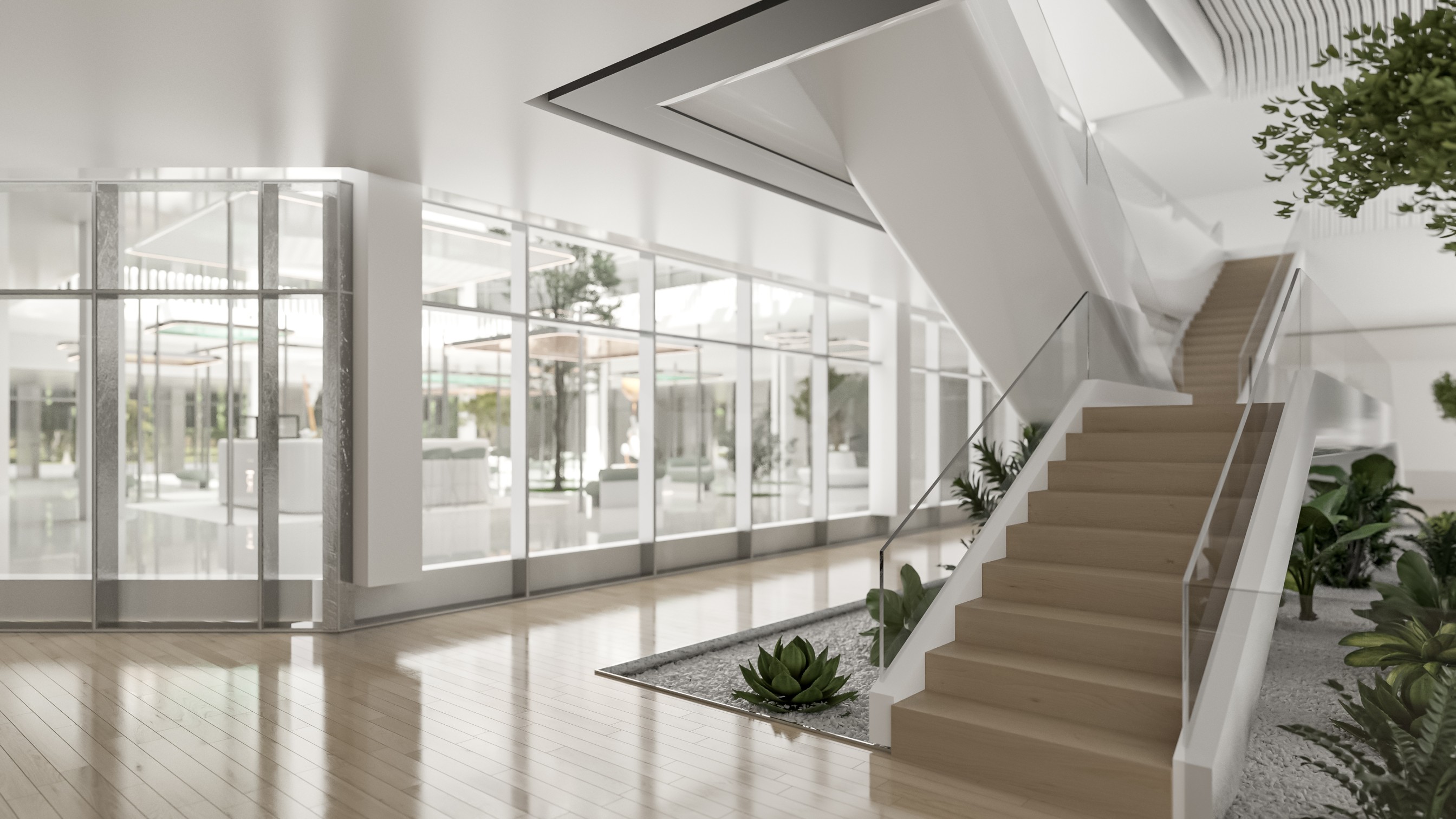 The pitch was to design the new headquarters within a building first built in 1997 in Riyadh's diplomatic quarters. "When we received the manual blueprints it felt like we were in a time capsule," Essawi recalls. "Things started with the internal court which Al Arabiya turned into a studio set. Then we went on to design the landscape, facades and reception."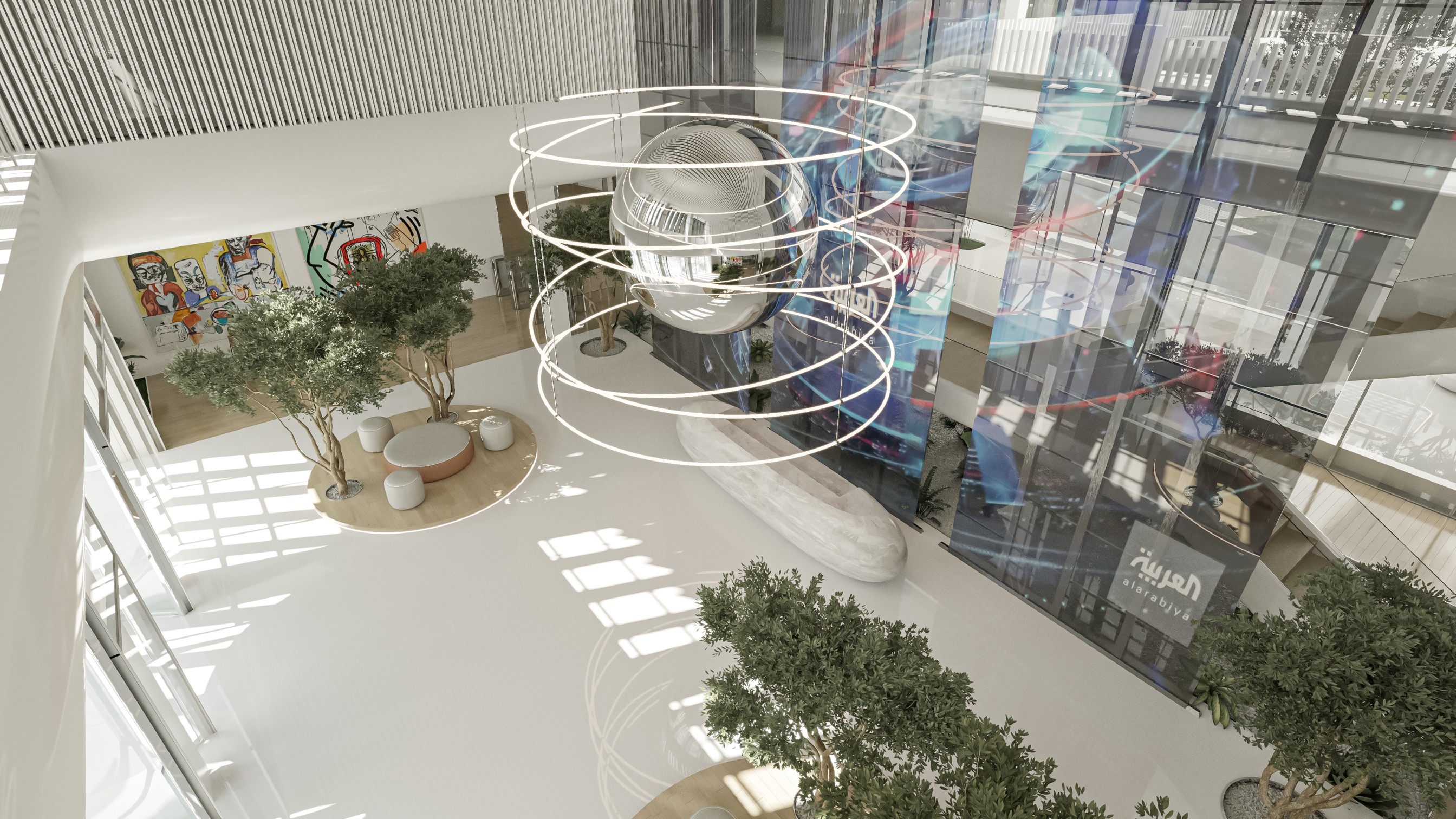 The designers' first meeting was with Al Arabiya's chairman Abdulrahman Al Rashed, a renowned journalist in the Arab world. No pressure. "Whenever we approach any project we need to believe in a concept. It comes before any aesthetics or materials." Al Arabiya had a certain identity to its studios which the design needed to relate to. In this case, Studio Five ended up looking at the physics behind airwaves; the very bread-and-butter of news agencies.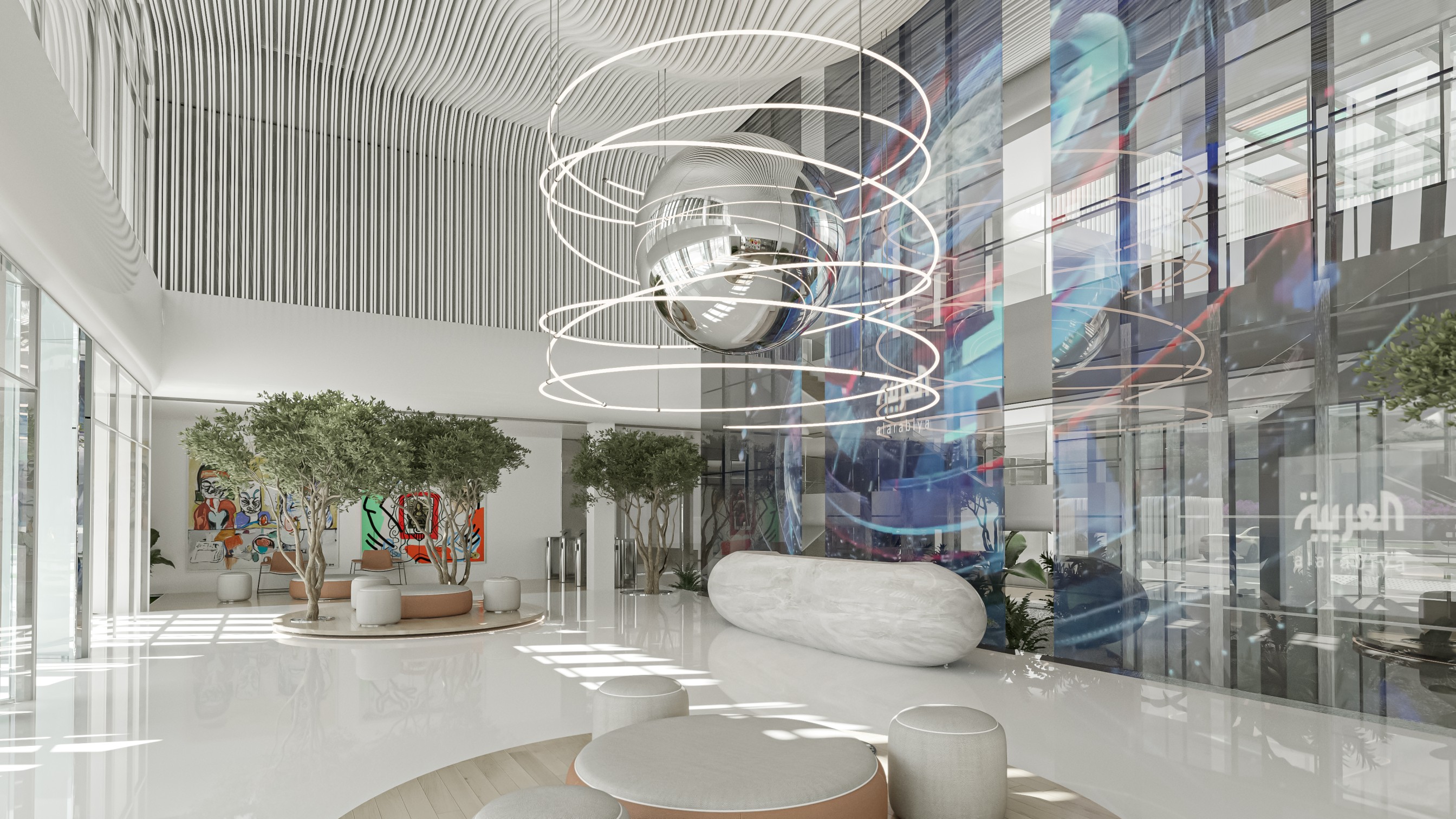 Back in the day there were only analogue waves which resulted in noise on screens, however, these waves appeared as smooth curves on graphs. With digitalisation, waves became encrypted. Remember decoders? They would revert the wave back to analogue while avoiding the noise. Which is exactly what Studio Five did. "Louvres gave the facades an edgy, digital aesthetic and controlled the indoor environment," Essawi explains. "Once you enter everything looks smooth and decoded."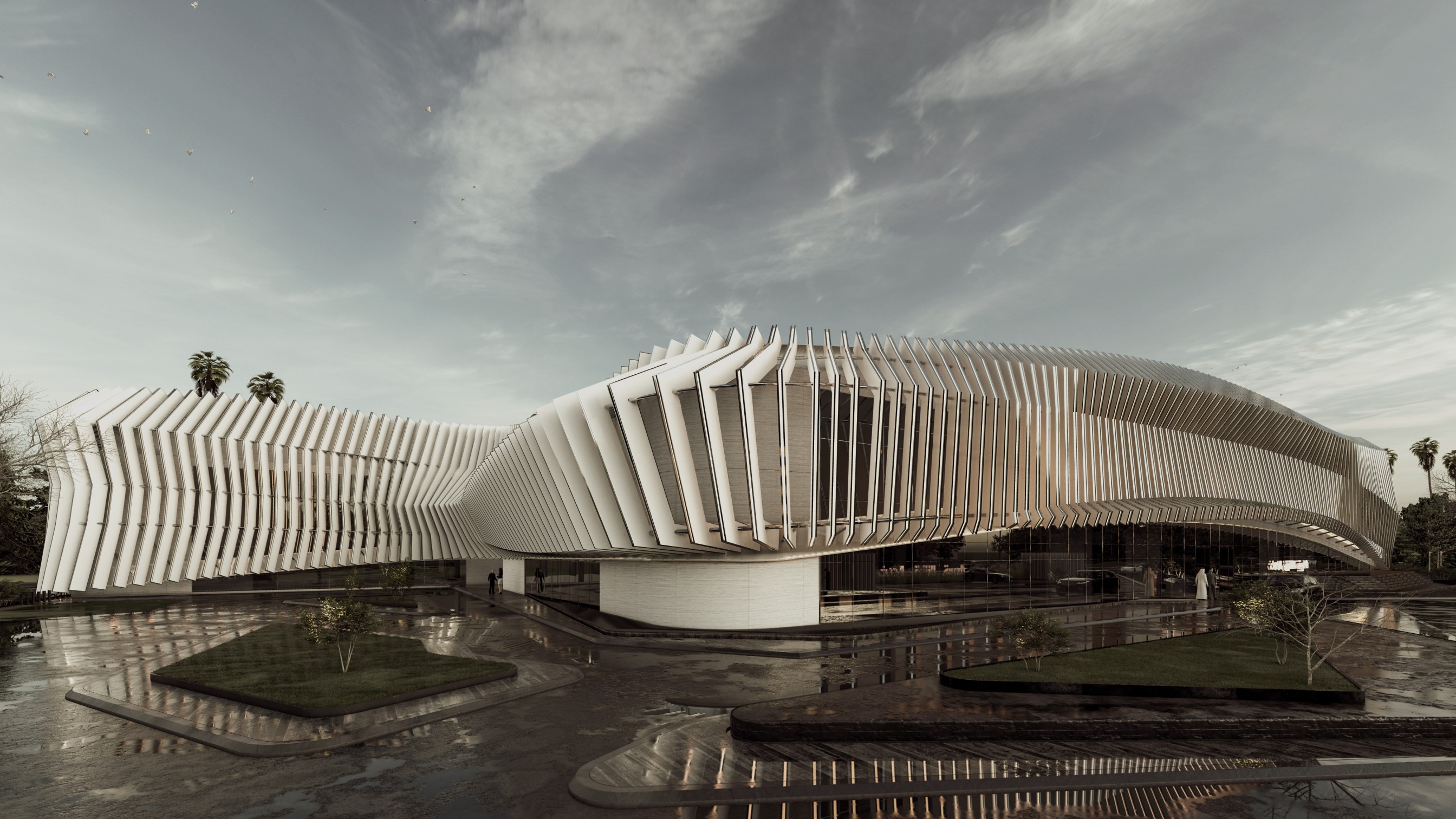 The facades are all about their louvres which have embedded lighting systems that sway at night and a double skin that creates a buffer to regulate temperature indoors. "Environmental studies also included protection from direct sunlight and sound insulation."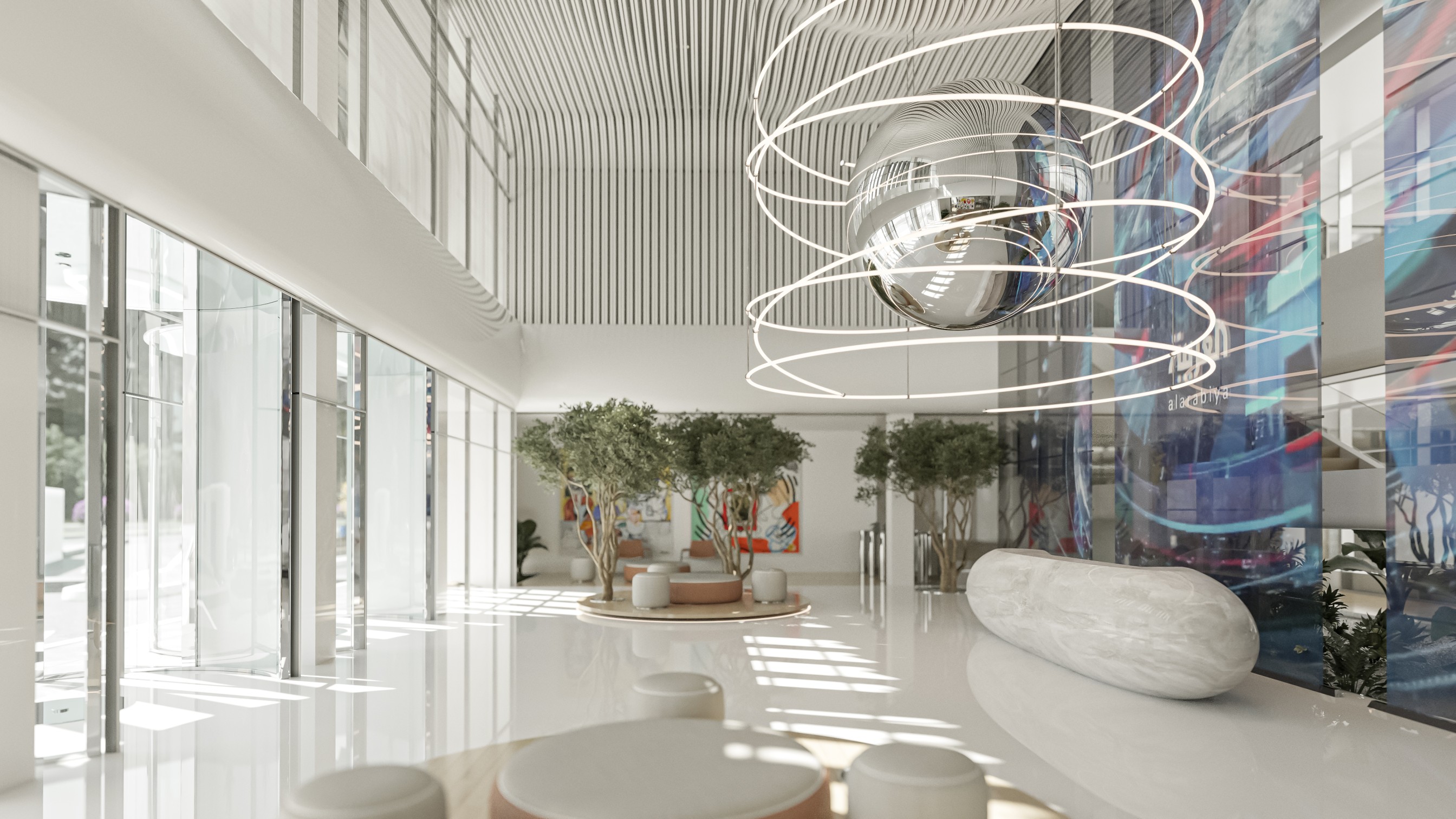 Blown away by a pitch that included hyper realistic visualisations and animations depicting human experience within the design, Al Arabiya expanded Studio Five's scope of work. "Having limited time played in our hands because we managed to create something of value in two days, so the question was, what would we be able to do if we're given more time?" Essawi says.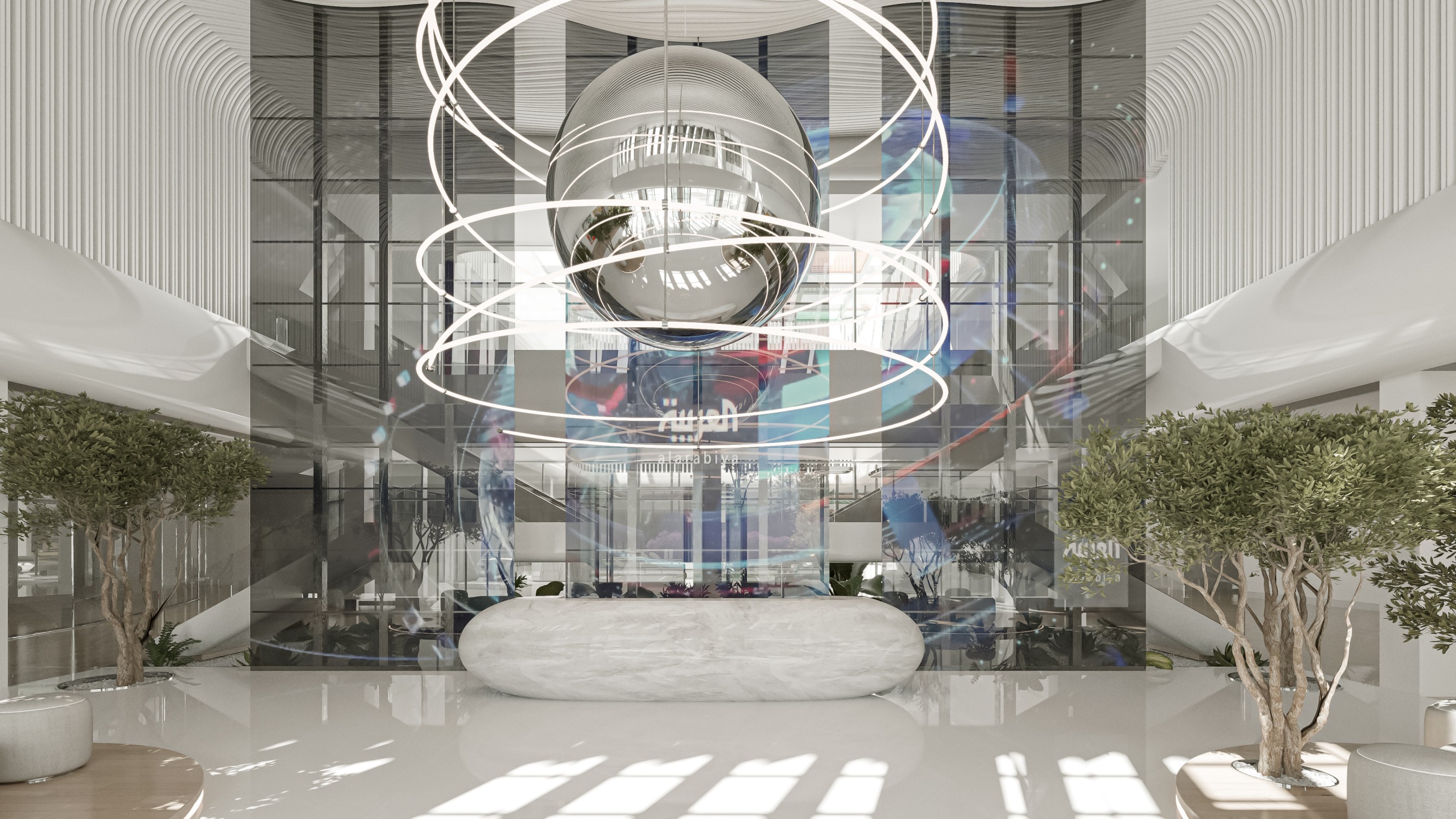 "The chromatic ball was designed to reflect Al Arabiya's transparency with lights swirling around it to mimic the rapid nature of news broadcasting," Essawi says, pointing towards the main visual that is suspended with hidden wires. It hangs above the front desk which Studio Five designed and manufactured in Egypt out of a solid slab of marble from Hossam Zeitoun.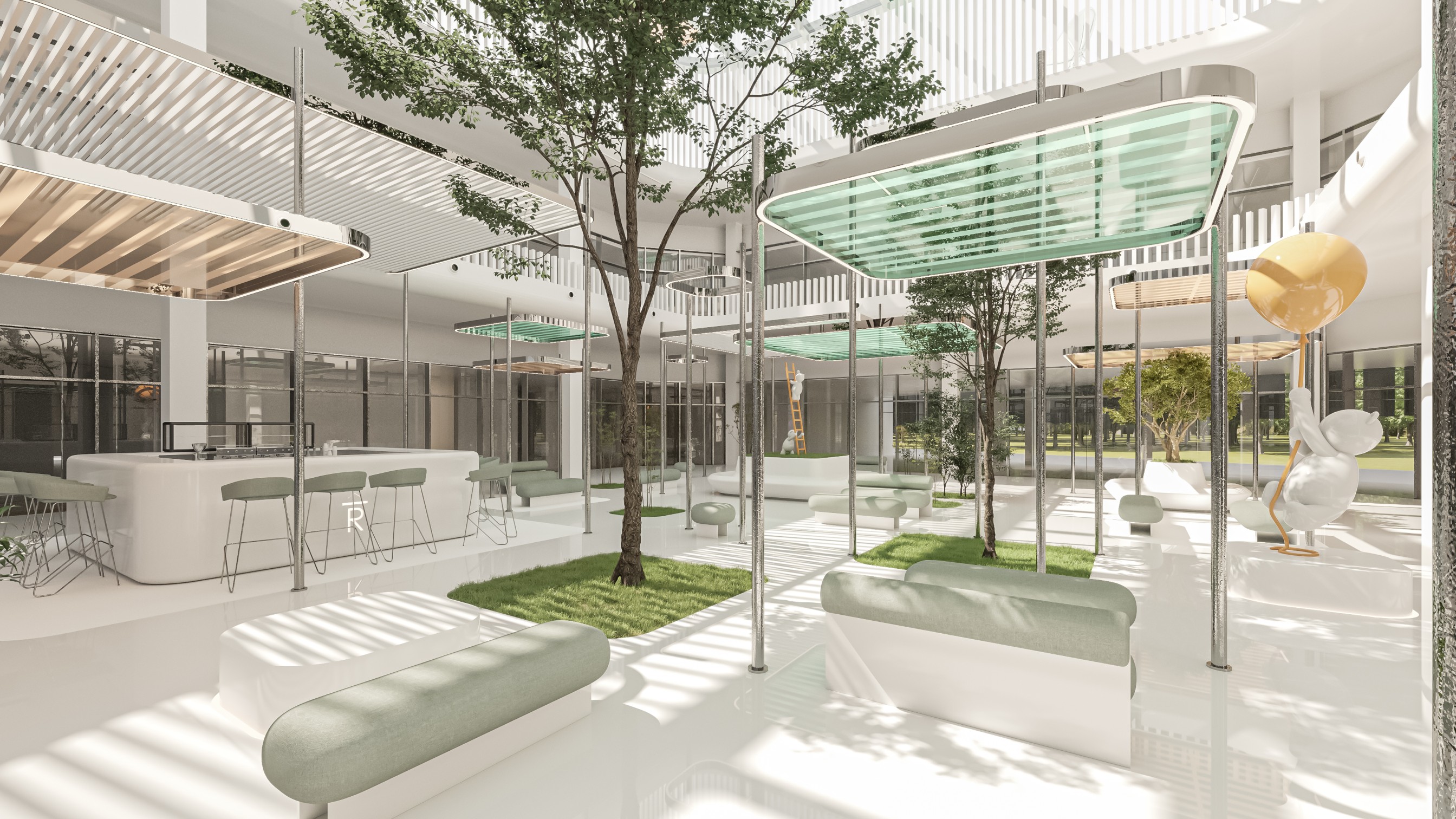 Like any news agency building, this one needed to have satellite antennas that have massive concrete bases on the roof. The amount of weight posed an issue for the studio, but as usual with the Cairene designers, there's a solution for everything. Lightweight acoustic panels were installed, and their weight was distributed across the ceiling using smart structural solutions. In the process, they redirected the air conditioning ducts and reoriented the electrical systems.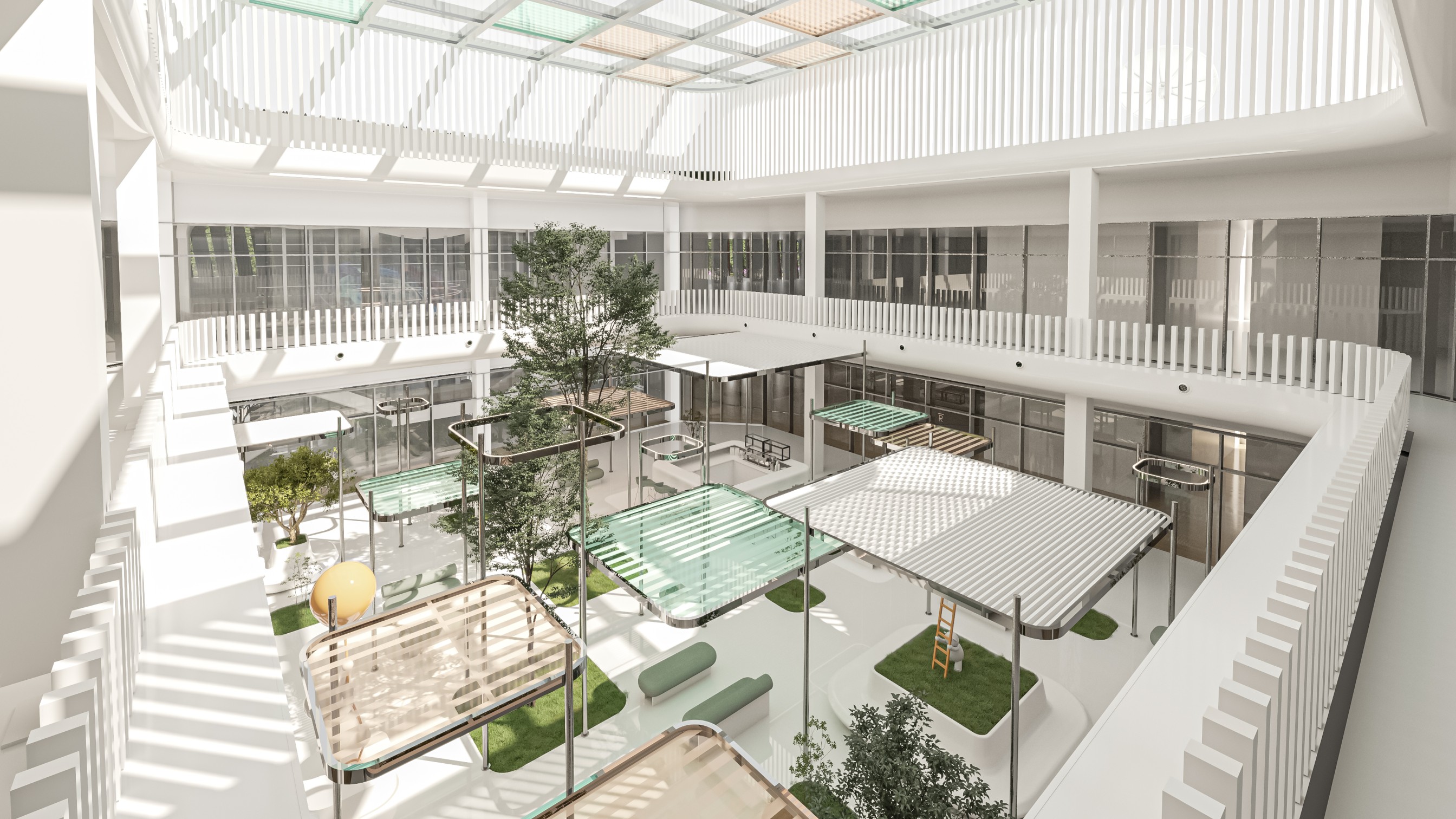 Al Arabiya eventually decided on procuring a second building adjacent to this design, turning this later into a tech centre. Studio Five are linking both with the same progressive exterior. Using platforms that act as a junction unit for people to enter and then disperse into their relevant sections.
"It's one of the most important projects we have worked on. Nothing compares in scale," Essawi says. "The risk was high. At one point we were working on the architectural and interior designs, managing procurement and contracting works, and providing on-site supervision."
Being multi-disciplinary isn't new to Studio Five, they've strived to become a one-stop-shop. Adding to the list of things they can do, from branding to supervision. When they designed the headquarters of one of the region's largest news agencies they operated on a digital wavelength.