Beyond its humble façade, this Coptic Catholic church in Shubra hides the grandeur of French Gothic Cathedrals with gilded columns and a starry ceiling.
Ever been to the Notre Dame Cathedral in Paris and wondered what makes its interior of grandeur so endlessly vertical? Well, paranormalities aside, it is the rib vaulted ceiling - common in French Gothic architecture - which creates this illusion. It's not the only Notre Dame in the world that lets you stare into a seemingly infinite space between the pews and the heavens above. In Egypt, the Saint Mary, Lady of Kneeling Church - formerly known as the Notre Dame De Repentance - shares this feature, giving visitors just one more reason to be overcome by awe.
Built in Shubra, a district known for having the largest concentration of Coptic Christians in Cairo, the church was created for the Franciscan Missionary Sisters of Egypt in 1906, before it was transferred to the Coptic Catholic Diocese and renamed in 1952. While the architect of the Saint Mary, Lady of Kneeling Church is not known, its architectural style echoes the designer's sense of faith, from the heavenly ceiling to the intricate stucco decorations.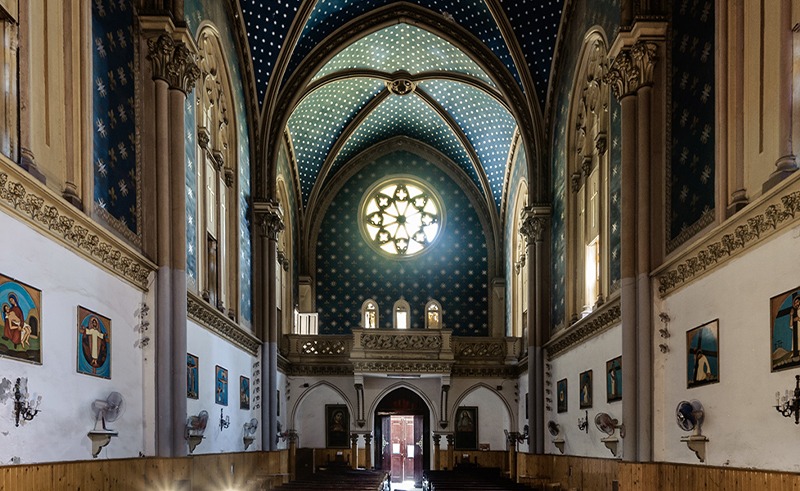 The nature of the church is clear from its main elevation; it is elongated and narrow, which is common in Western Catholic cathedrals. On the facade, two flora openings showcase the Gothic design. A quatrefoil - composed of overlapping circles with a four-petaled flower within them - rests above a larger rose window, which adds a flamboyant look to the exterior while filling the interior with natural light.
Inside, the nave provides an overwhelming sensation of height as quadripartite, 'four-part' rib vaulting supports a ceiling that is hued in dark blue and imprinted with an array of stars, giving visitors the sense that they're staring into a vast and infinite night sky.
Moving down along the gilded ribs, weight is carried to the gold-coloured piers and columns. The emphasis on gold goes beyond its effortless pairing with stone stucco decorations.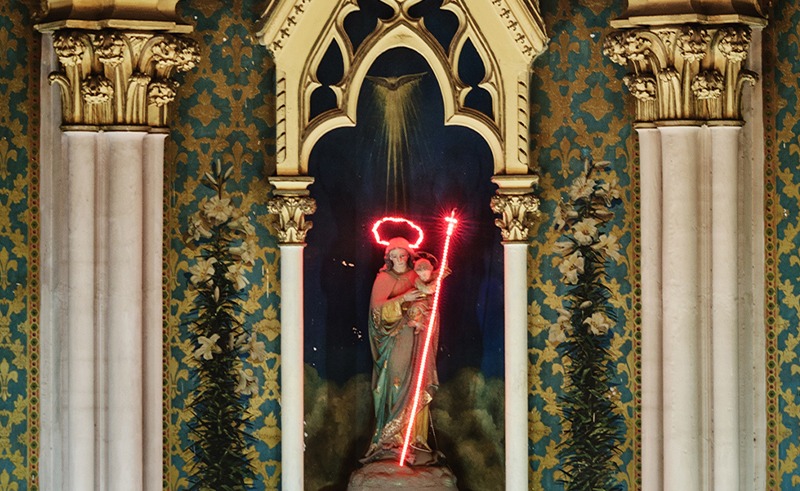 Above the altar, a statue of the Virgin Mary carrying baby Jesus is juxtaposed by two Corinthian columns, and crowned by floral patterns and the familiar quatrefoil. The sacred scene is backed by a gold and emerald green canvas, while the halo above the Virgin Mary and the cross-bearing staff held by her are highlighted by neon lights.
To get the vantage point of the interior, you must step onto the mezzanine which overlooks the terrazzo-tiled nave, right above the aisle. As the eye shifts between the rich stucco decorations, the decorative Corinthian columns, the golden flamboyance and the vaulted ceiling, one can't help but think about the way faith informs architecture - and how so few places in the world are as enriched by faith as Egypt.
Photography credit: Andrew Shenouda