The inaugural pieces draw you in like a black hole, tease like a set of pebbles and dream of the moon.
The biggest upheavals in design come from translating your perspective of the world into a building, space or object. To translate inner thoughts or feelings into physical form with the hope that it resonates with people. When it came to its inaugural furniture collection, Cairo-based design studio Malaz looked towards what inspired us all: nature.
"It's time for local designers to take the centre stage when it comes to high-end furniture that have stories behind them," Marian Mitri, Co-Founder of Malaz, tells SceneHome. Debuting their nature-inspired collection, 'Phenomenon', Malaz offers a cacophony of designs derived from Earth and its complexities. "We're going for bold designs that stand out. They're made for those who seek the unusual."
Mitri spent 12 years giving life to interiors by carefully curating furniture as the former Head of FF&E at award-winning design firm Hany Saad Innovations, before co-founding Malaz with John Gamal. Together, they were moved by the wonders of Earth into dreaming of tables that pull you closer like a black hole, are as bold as the moon and playful like a pebble.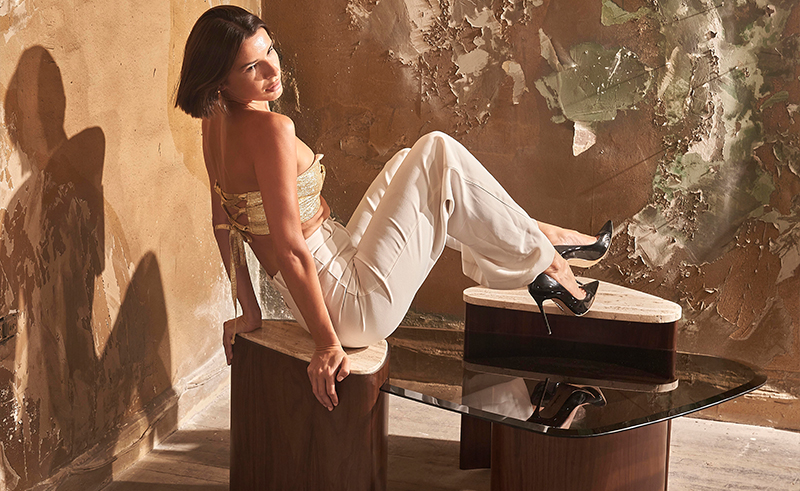 From experience, Mitri noticed that local products often lack originality. "Why don't we create high-end products and design them authentically ourselves?" Malaz achieved that with high quality materials, excellent finishes and thought-out assembly and combination, all while telling a story that starts from the studio's name, 'Malaz', which is Arabic for 'Haven'.
"We all want to feel like we belong and these pieces were made to provide a haven, make us feel connected to something bigger," Mitri says. 'Twilight', which is available as a coffee table and side table, takes after the many shapes of the moon, from crescent to full. It's applied on the table's body, taking after the star's curvature while the marble top features an array. "We come from Earth and belong in nature. So, why not bring it home?"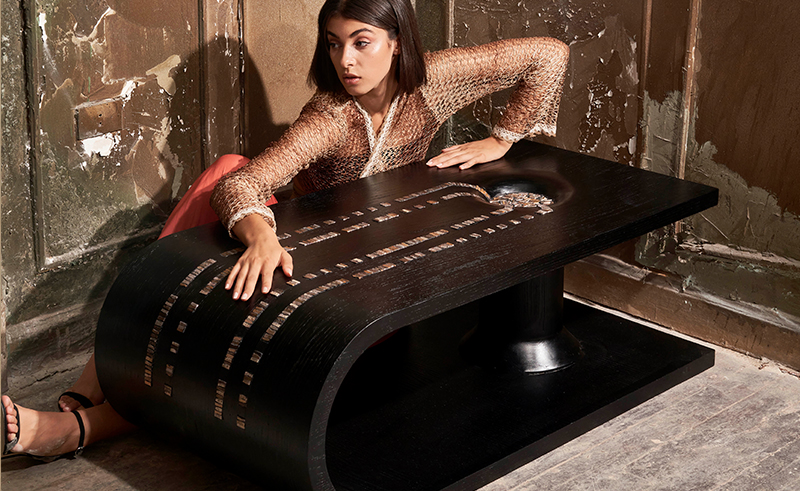 Nature is an endless source of inspiration, but it's often mimicked with surface-level aesthetics. Malaz goes above and beyond, looking down into Earth's crust and the life on its surface. For 'Pebbles', a side table featuring massive wood pebbles stacked over one another with a marble bowl resting on top, Mitri had to create countless formations before finding the right balance. Pebbles is the jewel of the collection; it was the first piece created and has everything. It's dynamic, rich and teasing.
"There are many powerful forces around us, unseen but keep everything in balance," Mitri continues, describing the notions behind 'Equilibrium', a set of overlapping side tables that feel whole together. Speaking of the intangible, Phenomenon's inspirations were out of this world.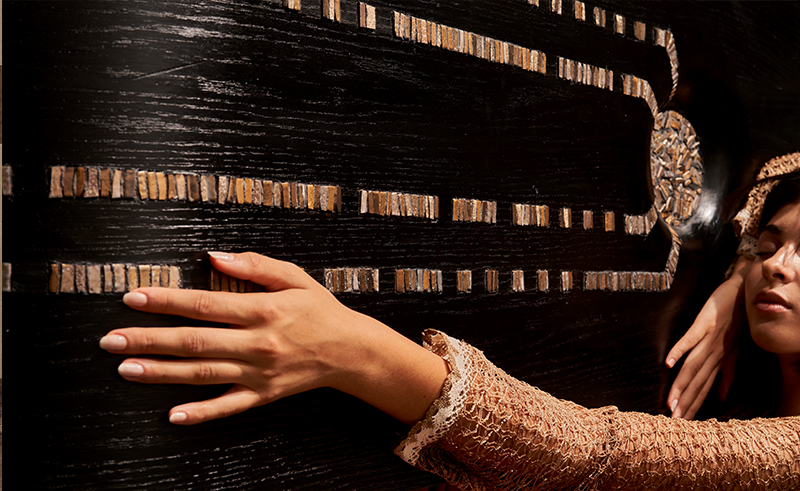 Unlike 'Equilibrium', which has non-physical inspirations, the 'Black Hole' table directly references the cosmic phenomenon. "My mind was consumed by the black hole. I tried to grasp its scale, imagining what it's like in my head as it pulls everything including these mosaics," she recalls.
Mosaics run along the coffee table's top before they drop into a recess, the black hole, which continues to connect the table's c-shape black oak wood base, adding volume to the notion behind its inspiration. "Technically, I'm proud that we were able to embed the mosaics into the wood."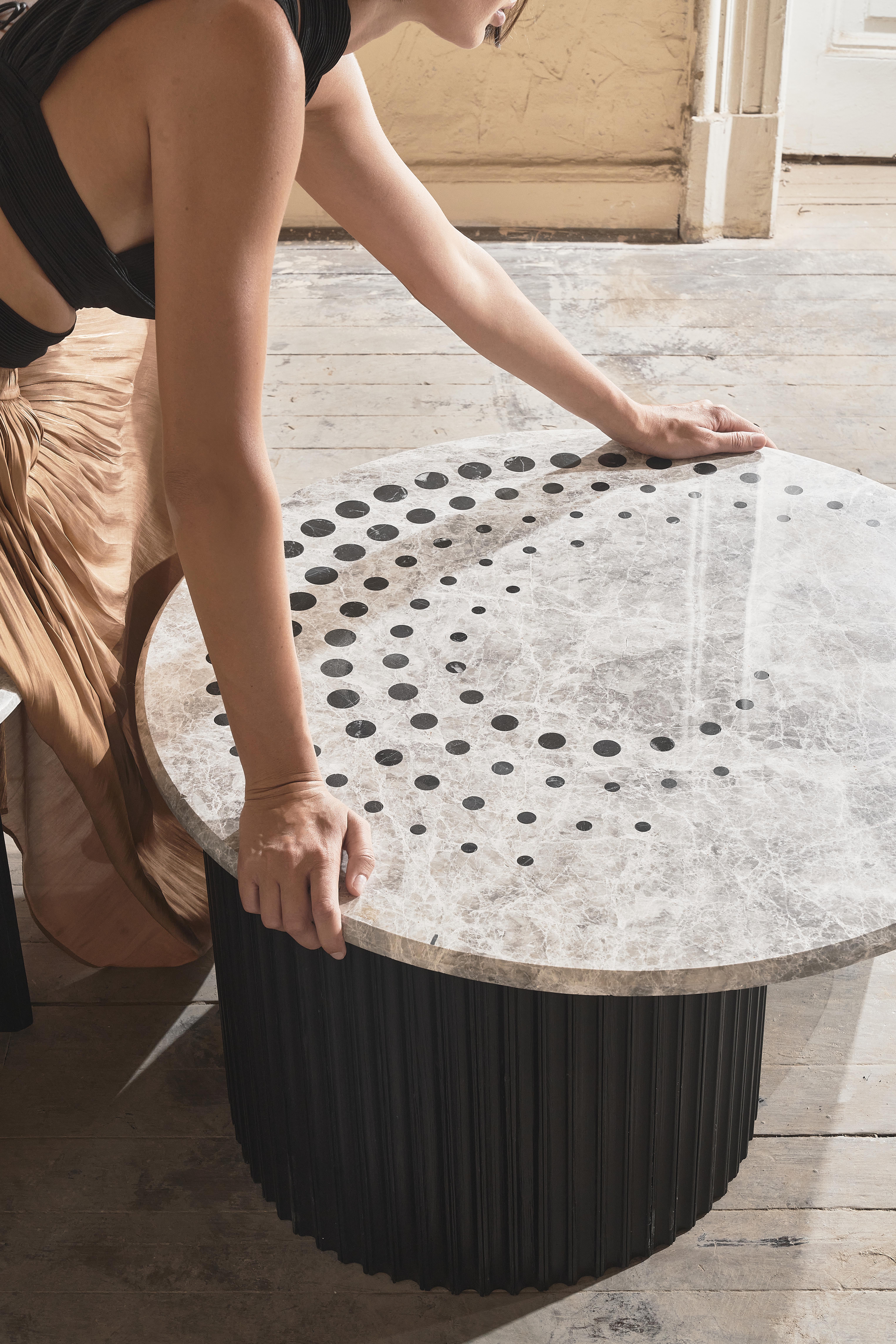 Phenomenon also features 'Fissura', which is derived from the Earth's cracks, often caused by natural processes such as erosion or earthquakes. "It's designed to look as if it has been cracked, featuring a combination of split tilted wood legs and marble top, creating a unique and visually striking piece of furniture," Mitri explains.
'Mingles' feature a fusion of marbles inspired by the many layers of the Earth's crust, while 'Rock-Face' derives inspiration from the natural shape of rock formations after they've been sculpted and weathered by countless storms over millions of years.
"We want to create products that engage with our environment and give form to our internal journeys and impressions of nature, translating our perspective of the world," Mitri expresses. Phenomenon, along with Malaz's future collection, will remain open, welcoming in more of the designer's aspirations.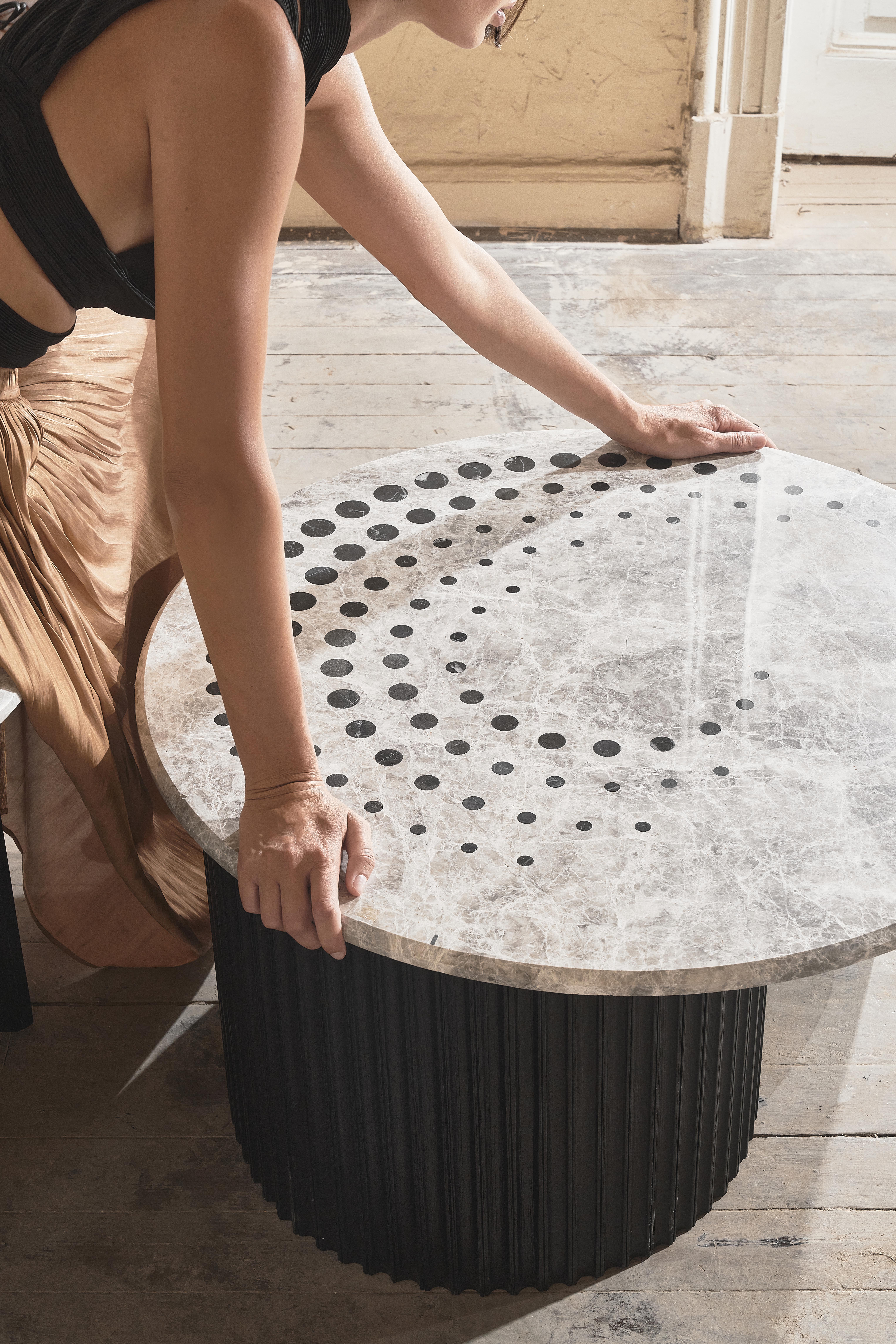 Photography Credit: Fares Rammah