Located in Sheikh Zayed, these Zen dens by Eklego embody a minimal philosophy that applies soft tones and natural textures in thoughtfully youthful spaces.
Balancing urban bustle and suburban serenity, Aeon towers stand tall over the city of Sheikh Zayed. With high-rise apartments designed by Eklego Design Studio, they offer minimalistic spaces filled with cool colours and contemporary art in a relaxed aesthetic aimed at youngsters on the hunt for a new home. Or, in other words, a zen den.
"Zen is a way of life that elevates simplicity into art," Managing Director at Eklego, Dina El Khachab, tells #SceneHome. "These spaces embody a minimal, orderly and elegant philosophy that promotes a luxurious Zen design concept."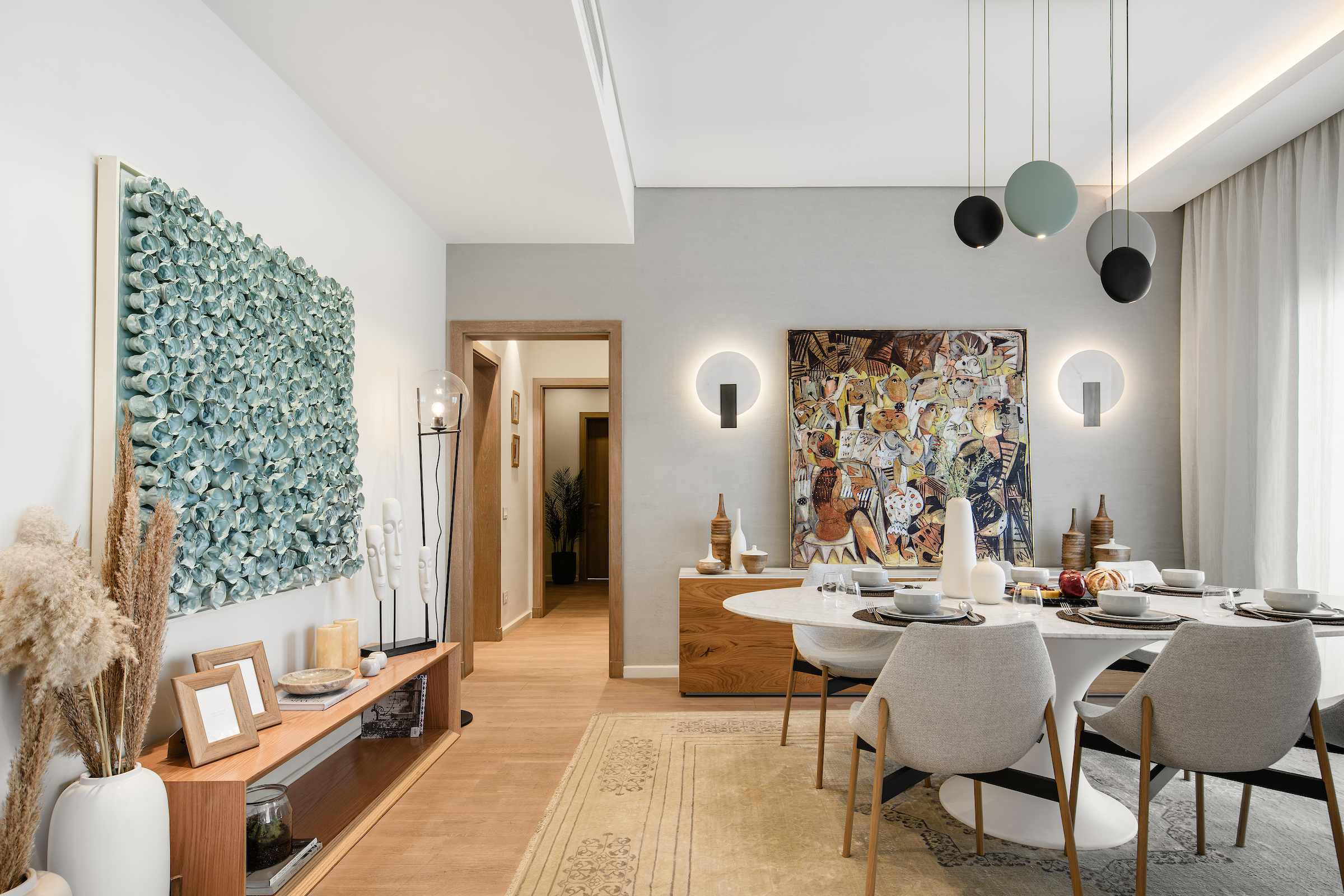 Entering through a narrow corridor, you are met with a petite kitchenette which was turned into a functional kitchen. It is separated from the living room by natural cane, marking the boundaries within the abode. "From the materials to the lighting and cool hues, the spaces provide an ambiance that suits soulful audiences," El Khachab adds.
In the living area, a vintage rug intensifies the warmth of oak wood flooring. Light crème seating offers a pleasing contrast, and is matched by delicately curved side tables with white Italian Carrara marble top, upon which rests playfully quirky accessories. As the eye moves up it captures the space's contemporary vibe, provided by modern lighting fixtures and an abstract painting. "Meeting the needs of a young couple requires seeking a relaxed, contemplative and balanced home," El Khachab continues. "All the art, accessories and furniture were picked with that scheme in mind."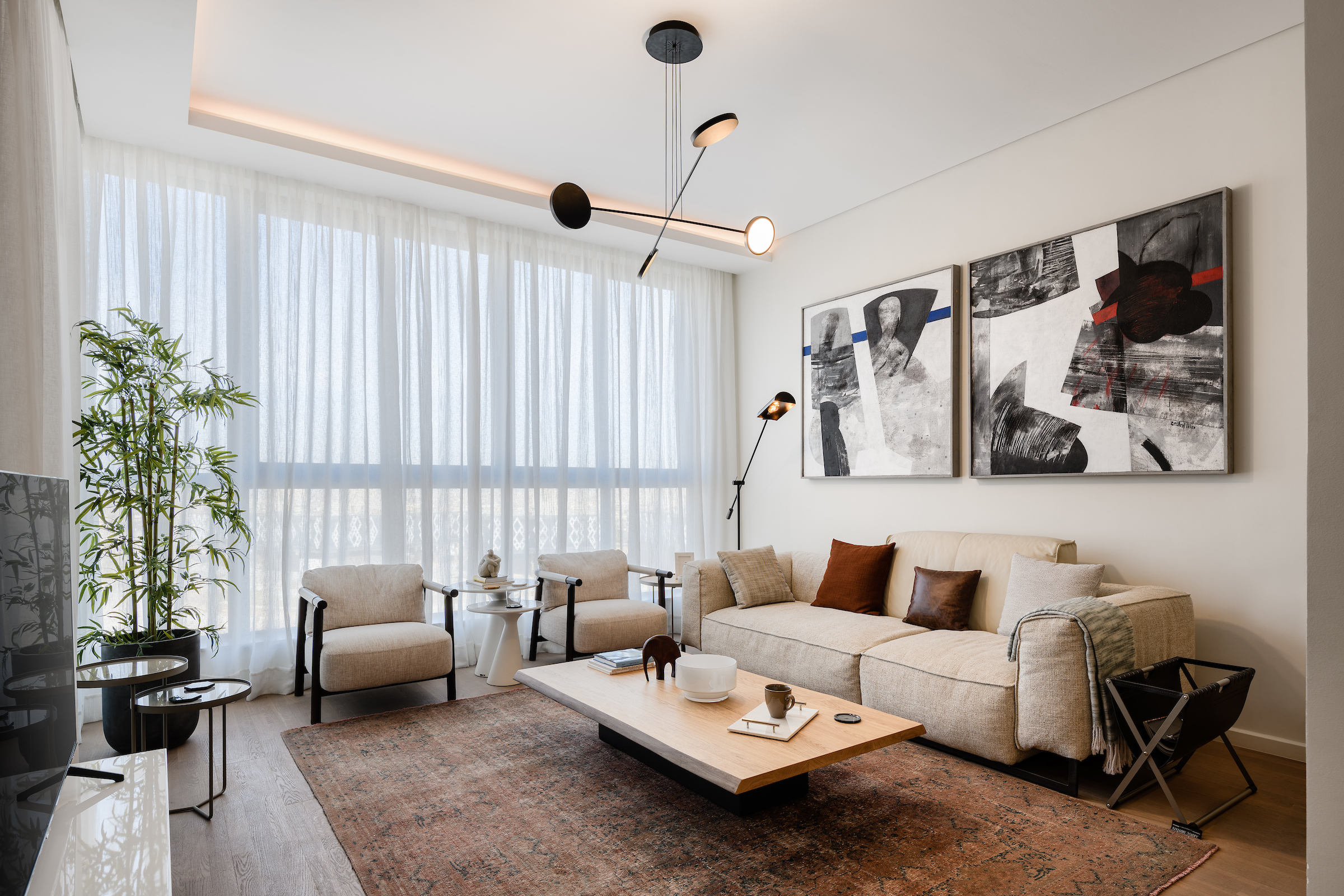 Beyond the cane, the dining table maintains the use of Italian Carrara marble, while the paintings shift in style from abstract to bustling expressionism. Pottery decorates the dining area along with pampas plants and round lighting, creating an earthy blend of welcoming visuals. Here, the furniture hue shifts from crème to grey as the dining chairs emphasize the minimal approach of the interior through their sleek design, while light blue wall art adds texture and colour to the neutral walls.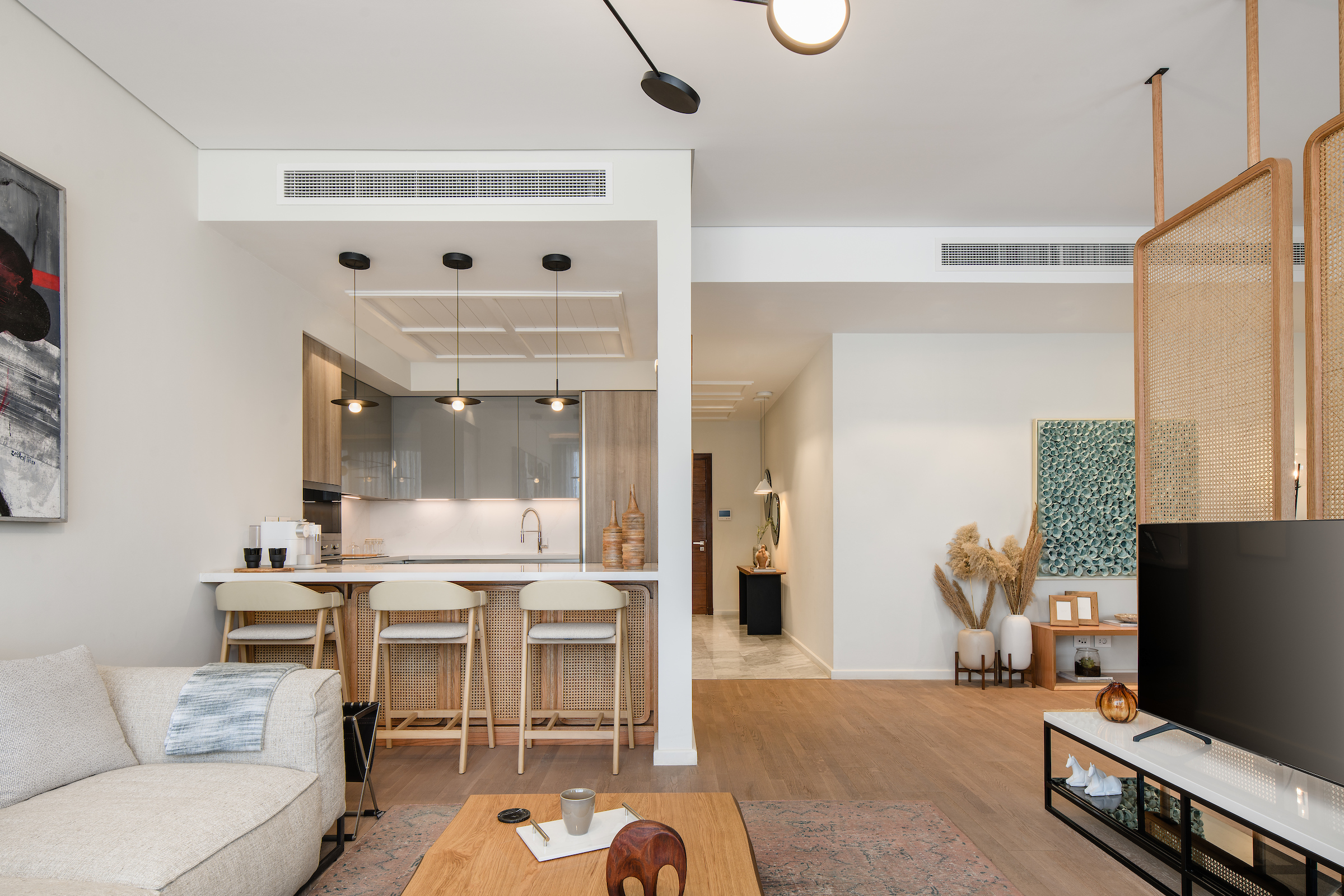 From the brilliant use of materials to the effortless pairing of furniture, Eklego presented a minimal take to design, utilizing textures and materials to create spaces that are visually eventful yet thoughtfully Zen. Comfortable homes, youthful dens.
Photography credit: Nour El Refai