With a serene colour scheme and custom-made furniture, Lint Design Studio made sure this El Gouna abode was not just a summer escape, but a home.
Many come to the Red Sea for a summer holiday, but few are lucky enough to settle down in a seaside town like El Gouna. Waking up to the refreshing views of Abu Tig Marina inside neatly padded and arranged bedrooms, the owners of this warm home in El Gouna at the Red Sea sway through its foyer to find their favourite artwork greeting them each day. Entering the rest of their home, they are reintroduced to its crème palette, complemented by wooden furniture crafted by Lint Design Studio, who tailored their pieces to this seaside abode.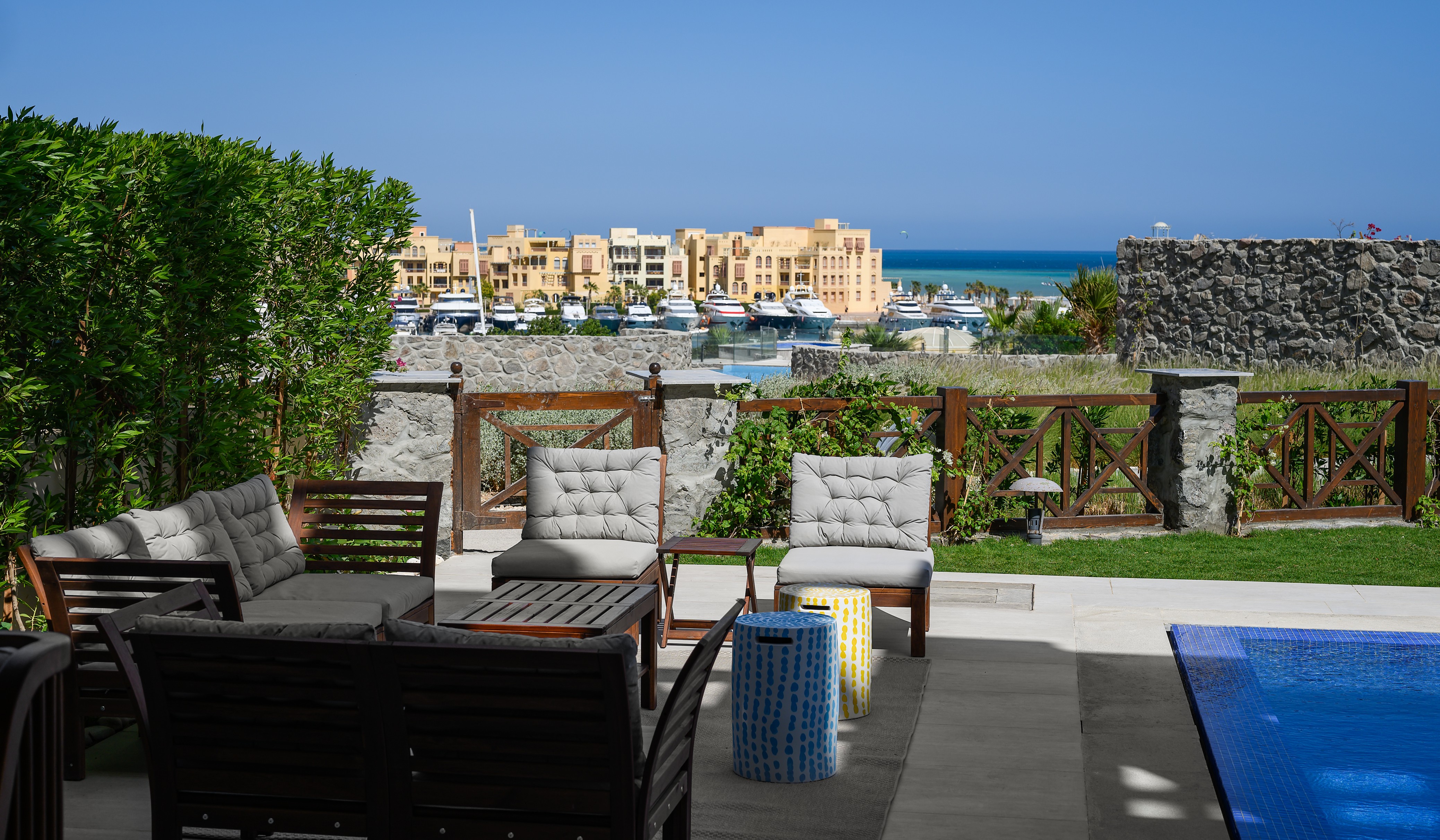 "Homes in El Gouna aren't seasonal. The owners wanted warm and cosy living spaces to enjoy retirement in Abu Tig," Lina El Shennawy, founder of Lint Design Studio, tells SceneHome. The interior designer's approach is clear from the get-go. Custom-made consoles, geometric prints and carefully handpicked artworks, epitomised by Alia Abaza's plates that are hung on the open kitchen's wall.
"Above the console are Britt Boutros Ghaly paintings that cover parts of a geometric print from Wally's Wallpaper," El Shennawy, gesturing at paintings that evoke abstracted femininity. The main living area had changes made to its walls to give the same look and feel as the floor.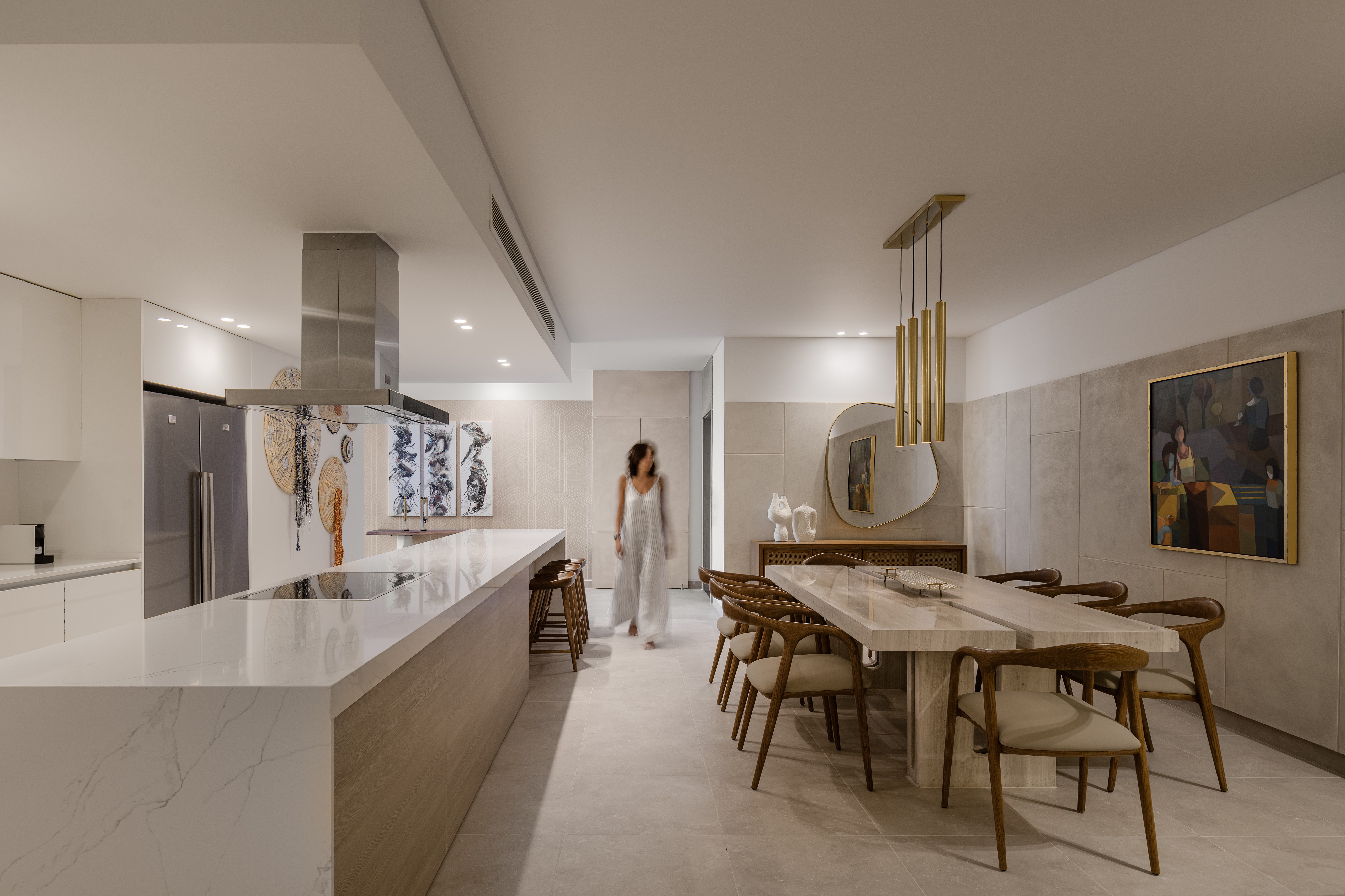 "Our approach throughout the house was to use neat lines and a calm palette to create a welcoming environment. We went with a Scandinavian look with lots of wood and avoided striking colours by relying on crème." Occasionally, golden accents are employed, as seen with the pendants above the light wood vein marble dining table and the curvy mirror behind it.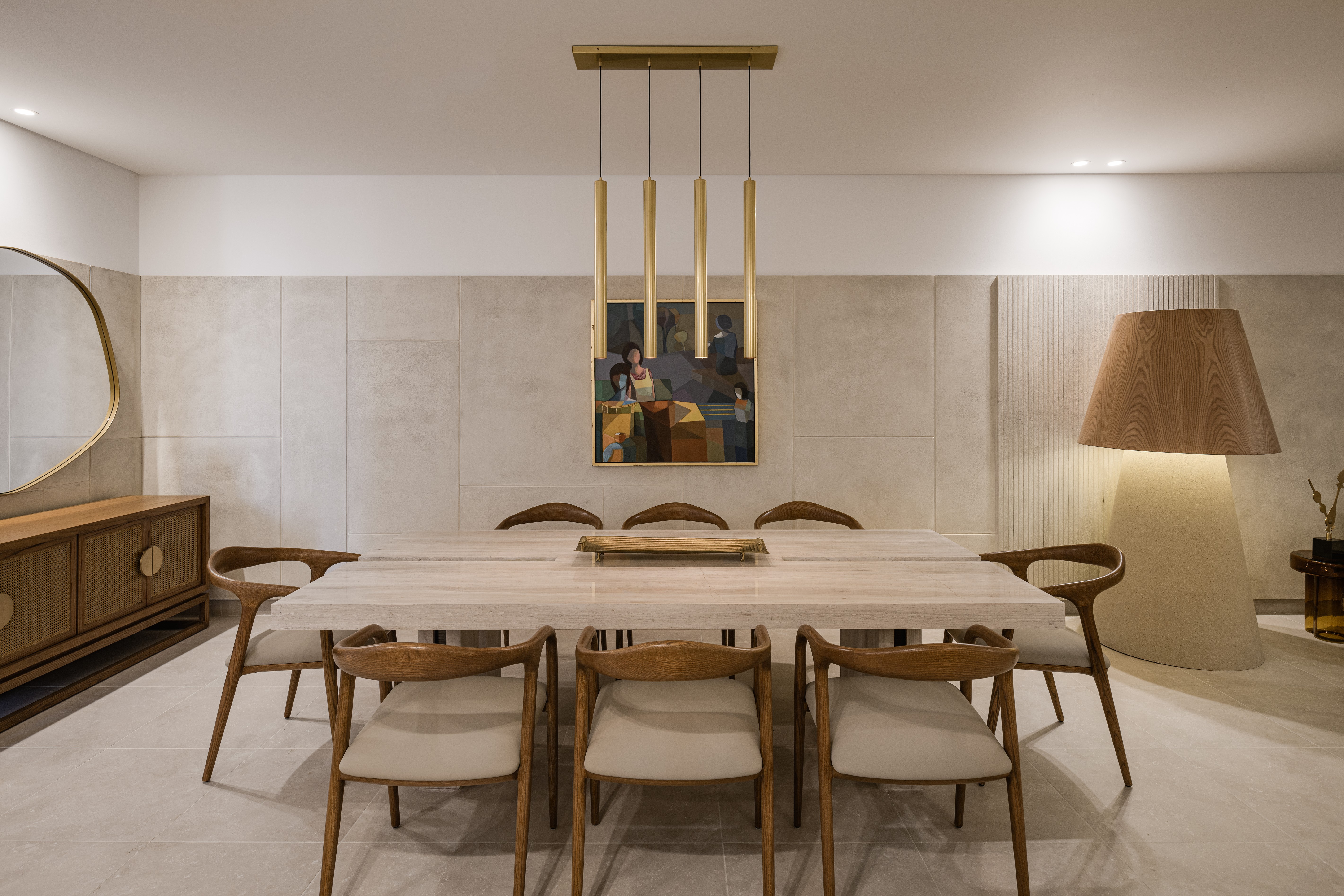 "This massive floor lamp was designed by Ahmed Ismail for C-Reality. It's made of terrazzo and has a humongous chapeau. The owners were hesitant about it but we surrounded it with the right materials to solve its visual equation," El Shennawy explains as the hues get lighter in the living room. "We had to zoom out and look at the space as a whole to make sure it's balanced and cohesive."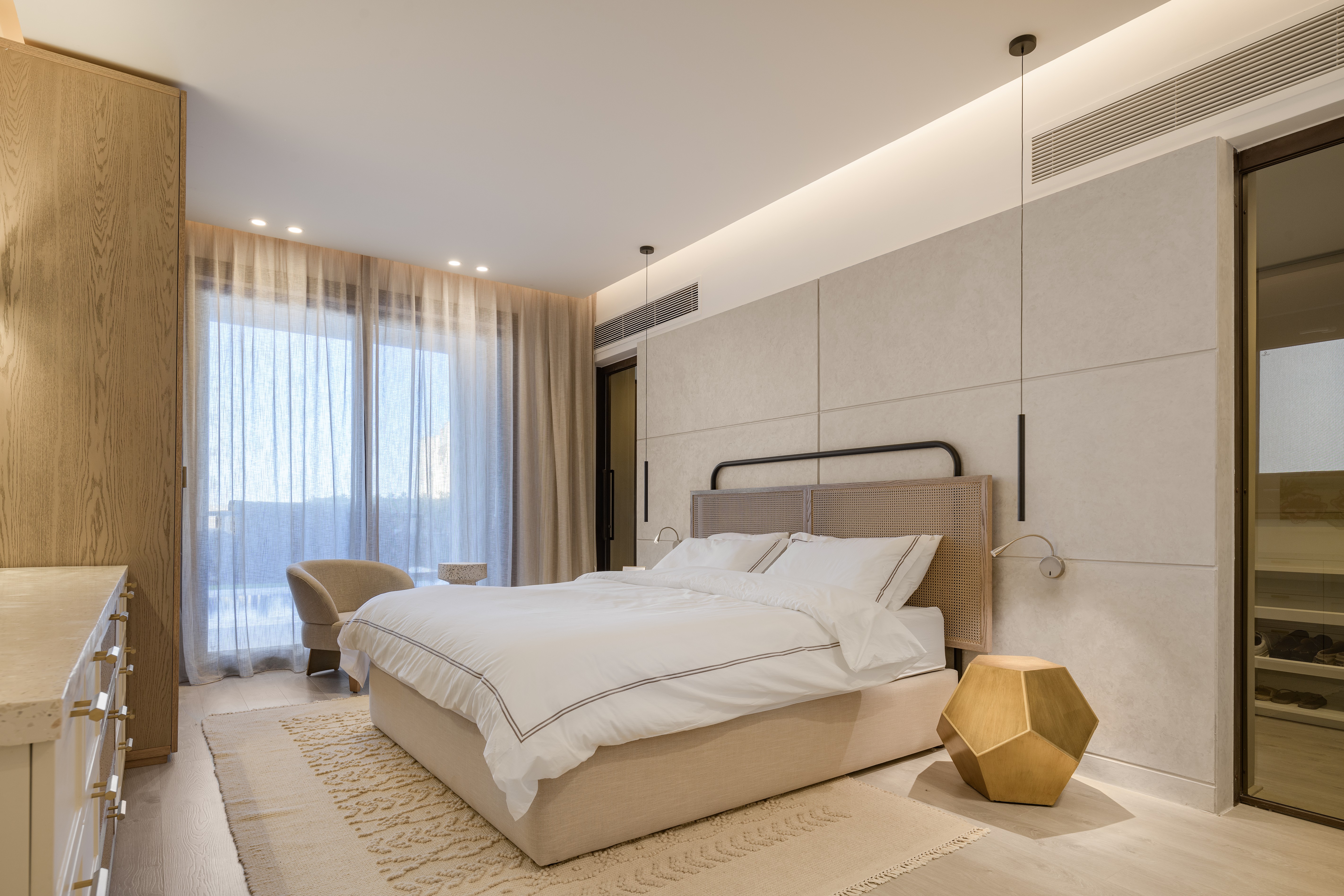 "A huge painting of a vintage door with Arabic calligraphy was placed in the foyer. It's one of the homeowners' beloved artworks," El Shennawy says of the centrepiece decorating the path to the bedrooms. Paintings in the three bedrooms and master bedroom are collages made by the homeowners.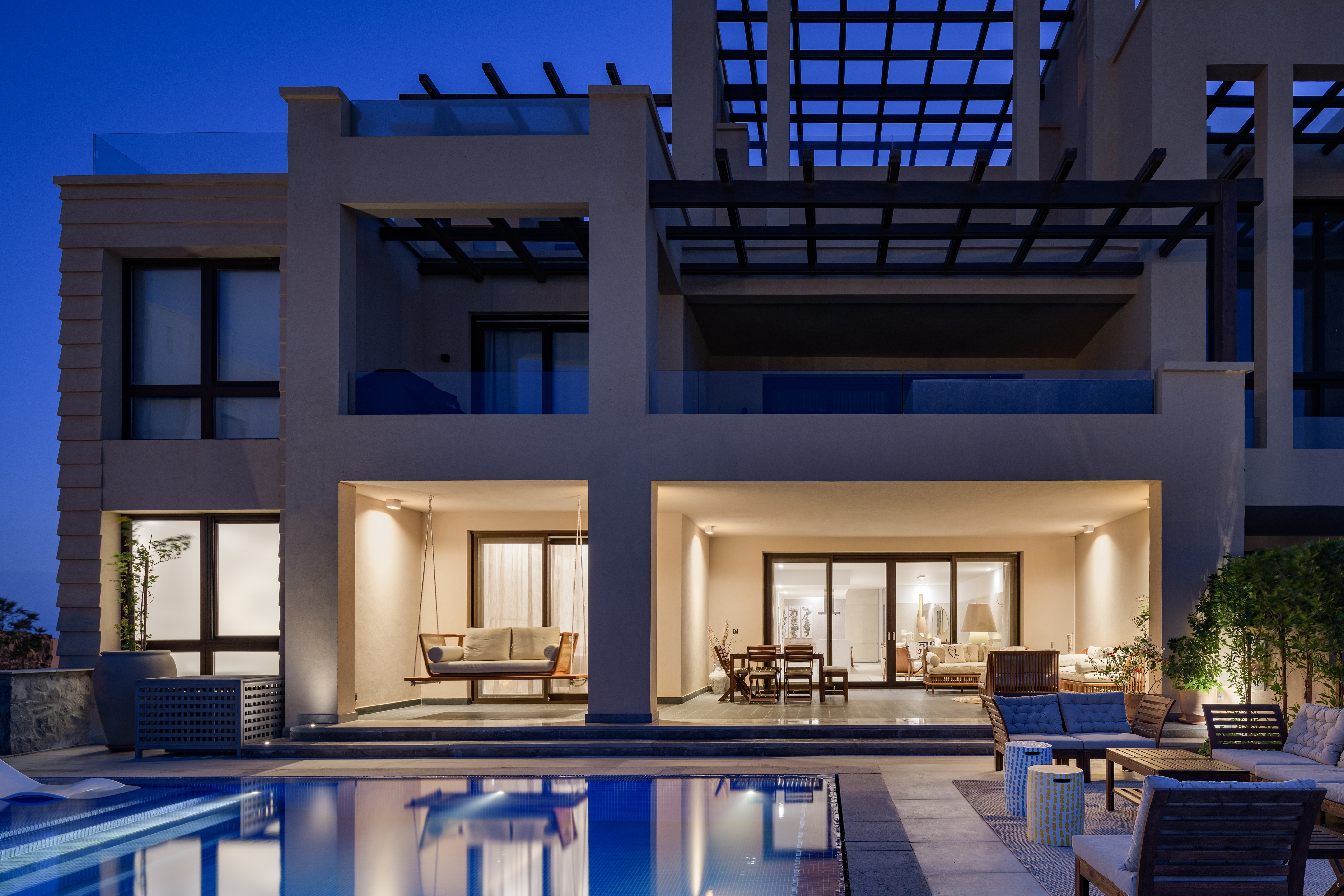 The rooms have subtle shifts in their palette but maintain the overall neat theme throughout, with statement consoles, playful shelves and sleek lighting fixtures setting the tone wherever you may be.
Photography Credit: Nour El Refai