After working for Microsoft and Google, Owais is now drawing lively art in a studio of her design in 6th of October City, as bright and colourful as her own illustrations.
Everyone is affected by their work environment, and if your line of work involves creating magical illustrations for Netflix with soulful colours and cheerful proportions like Nourane Owais' does (along with interior styling and photography), then you might as well work in a bright space that keeps you constantly engaged, interested and inspired. In Courtyard 66, an innovative studio she designed and founded with enough room to host workshops and creative productions in 6th of October City, Owais created spaces for herself and her students that ultimately feel like home.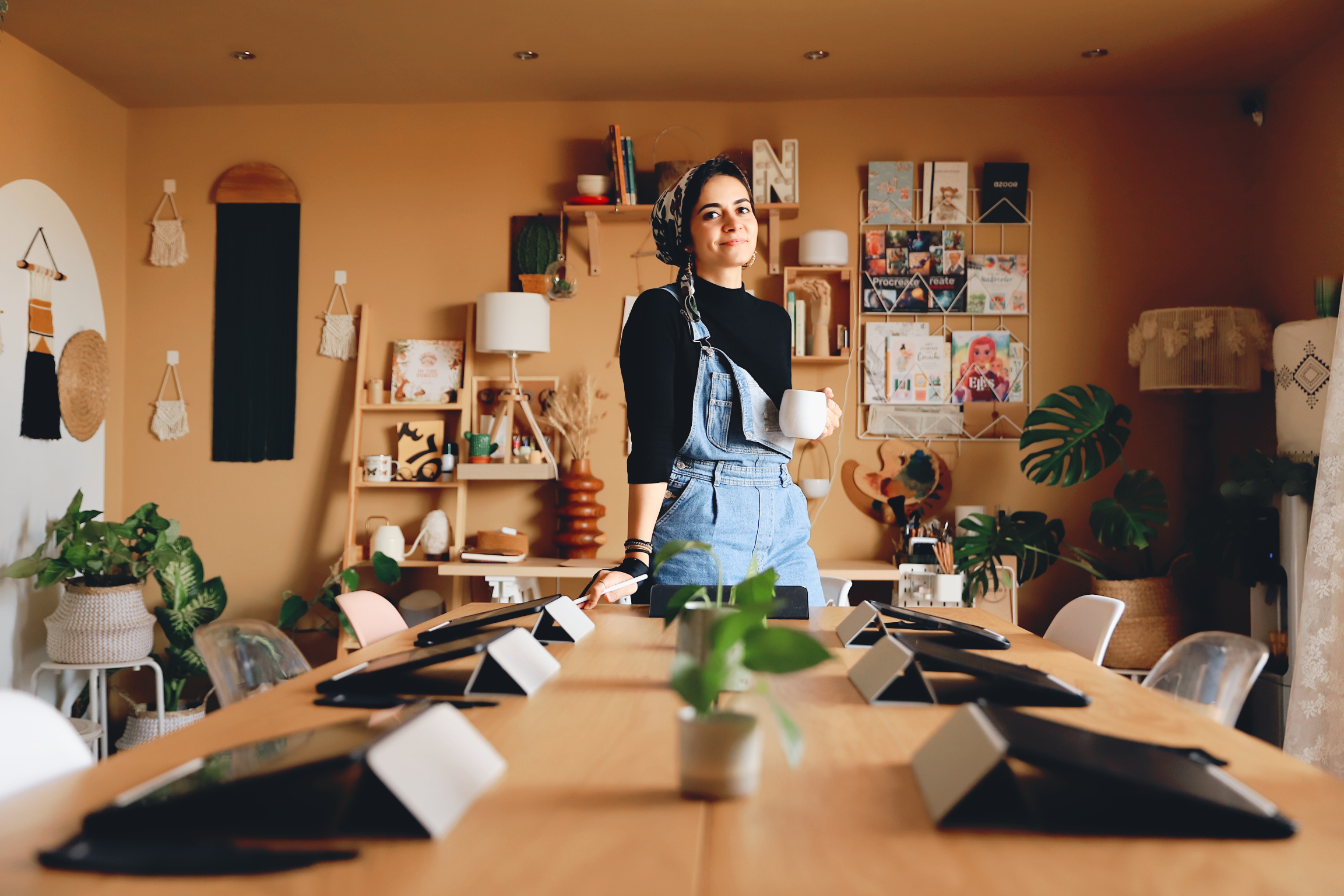 "I'm most productive in enjoyable, cosy spaces," Owais tells #SceneHome. "Everything needs to be neat and organised for me to get any work done." The illustrator also likes her spaces brightly lit, warmly hued, and filled with tons of greenery. "Even when I go for green, I would still pick the warmest of its tones," she says of a reading corner painted green to match the plethora of plants filling the studio with vibrance and a variety of backgrounds. "It was important to provide different backdrops to allow for many functions, and it's always nice to have a change of scenery."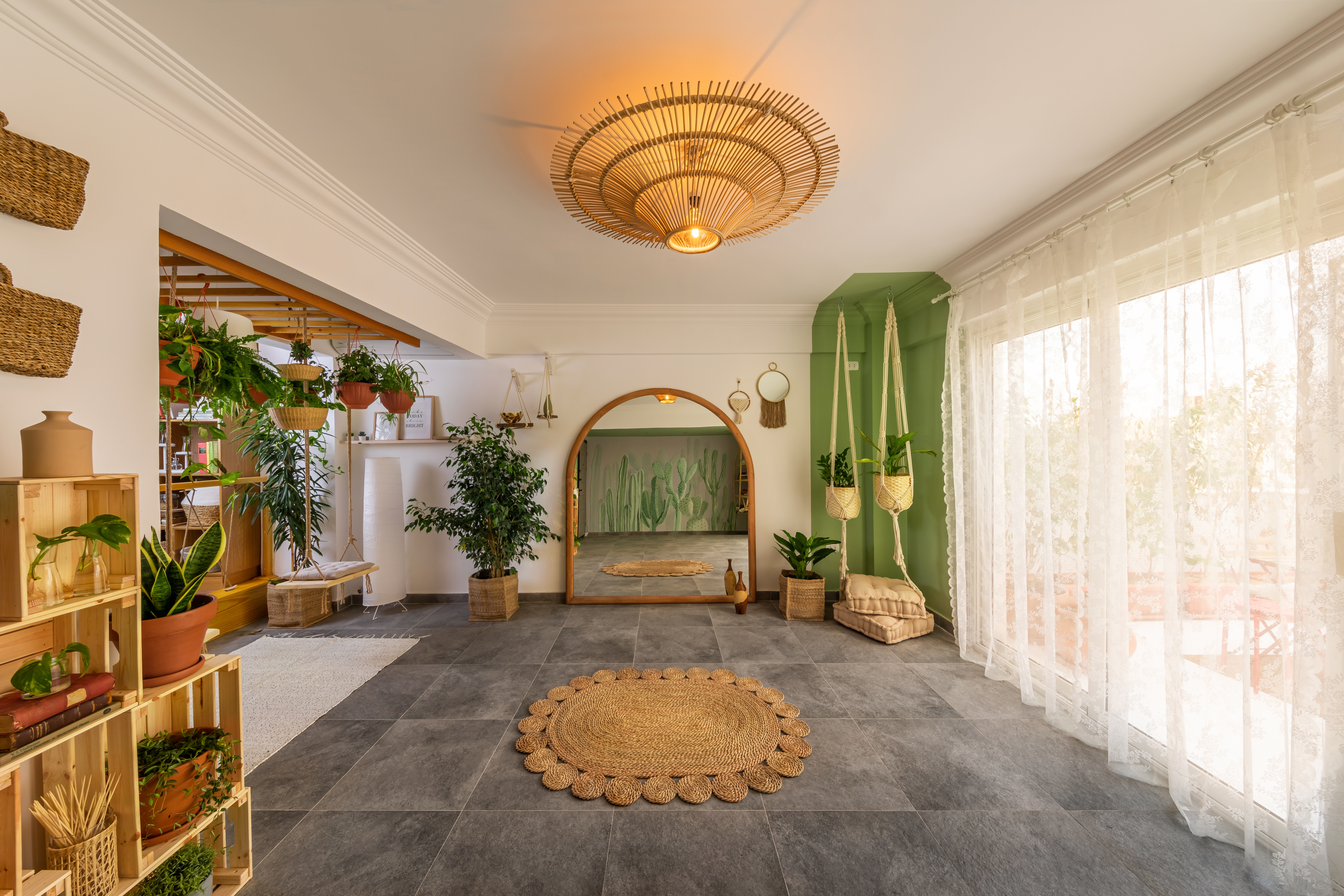 After working as a software engineer for Microsoft, Owais moved to Dubai to occupy a marketing manager post at Google before returning to Egypt and revisiting a childhood affinity for art she developed while living in downtown Cairo. She took to illustrations to unleash her creativity and in the process became an inspiration with her heartfelt art, which has two effects on the beholder: you're either going to smile or you're going to want to learn how she does it.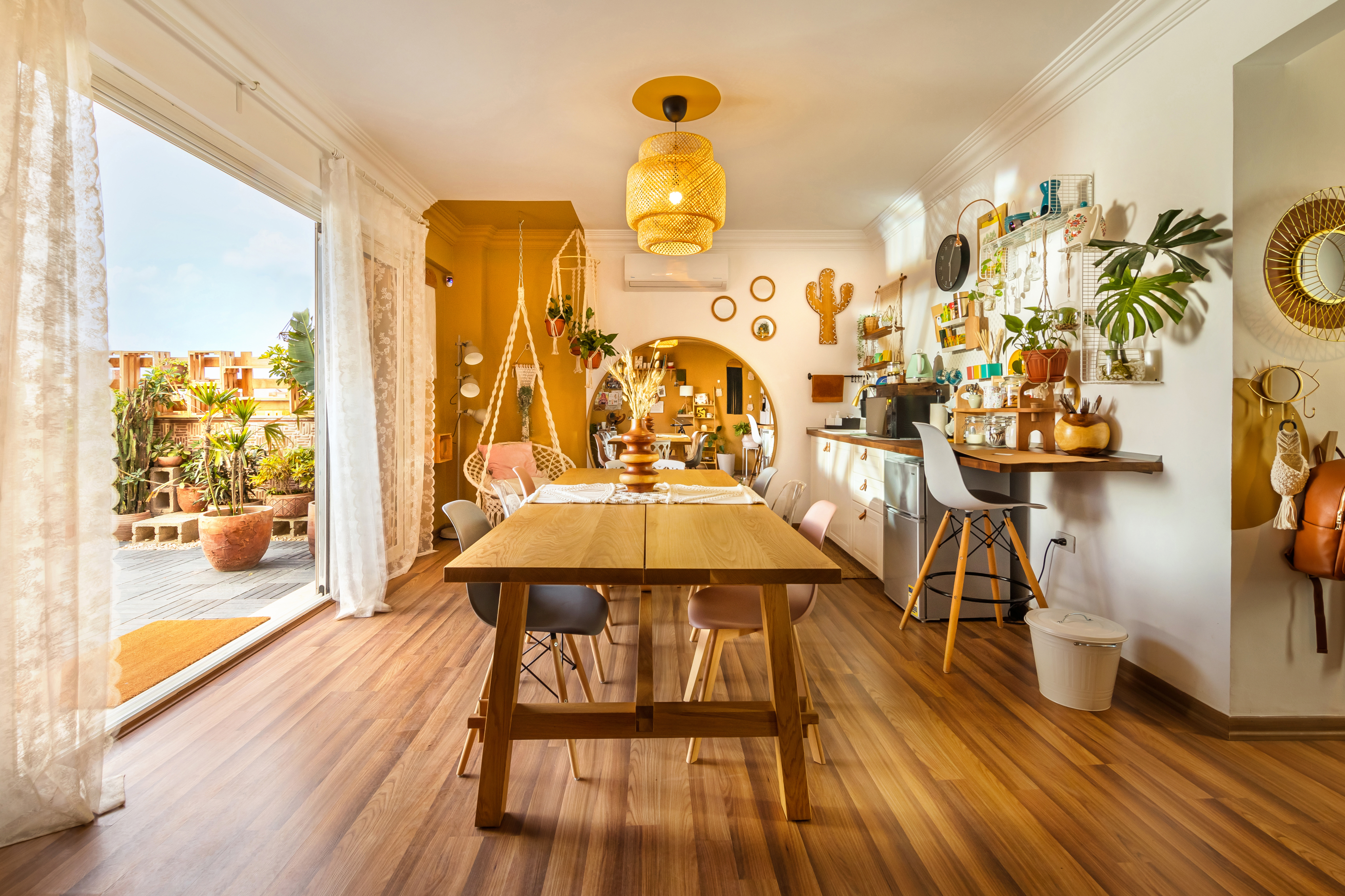 "My styling approach was similar to that at home, I focus on making the space warm, natural and bright." Owais started styling while working from home back in 2017, when she got inspired by how content creators showcased their workspaces. To the illustrator, it wasn't just about focusing on the work but also the environment within which it is inspired. "Pinterest also did its fair share of inspiring. Bless it."
"I learned how to live and work comfortably within a small space when my daughter took over the home office and I had to move to a smaller room," Owais recalls. Despite moving her set-up to a tighter area, Owais managed to pull it together using smart tricks which she brought with her to the new office, as every space is packed with natural rattan furniture and boho accessories without feeling overcrowded or under furnished. Each space feels whole and full of colour, texture and tone.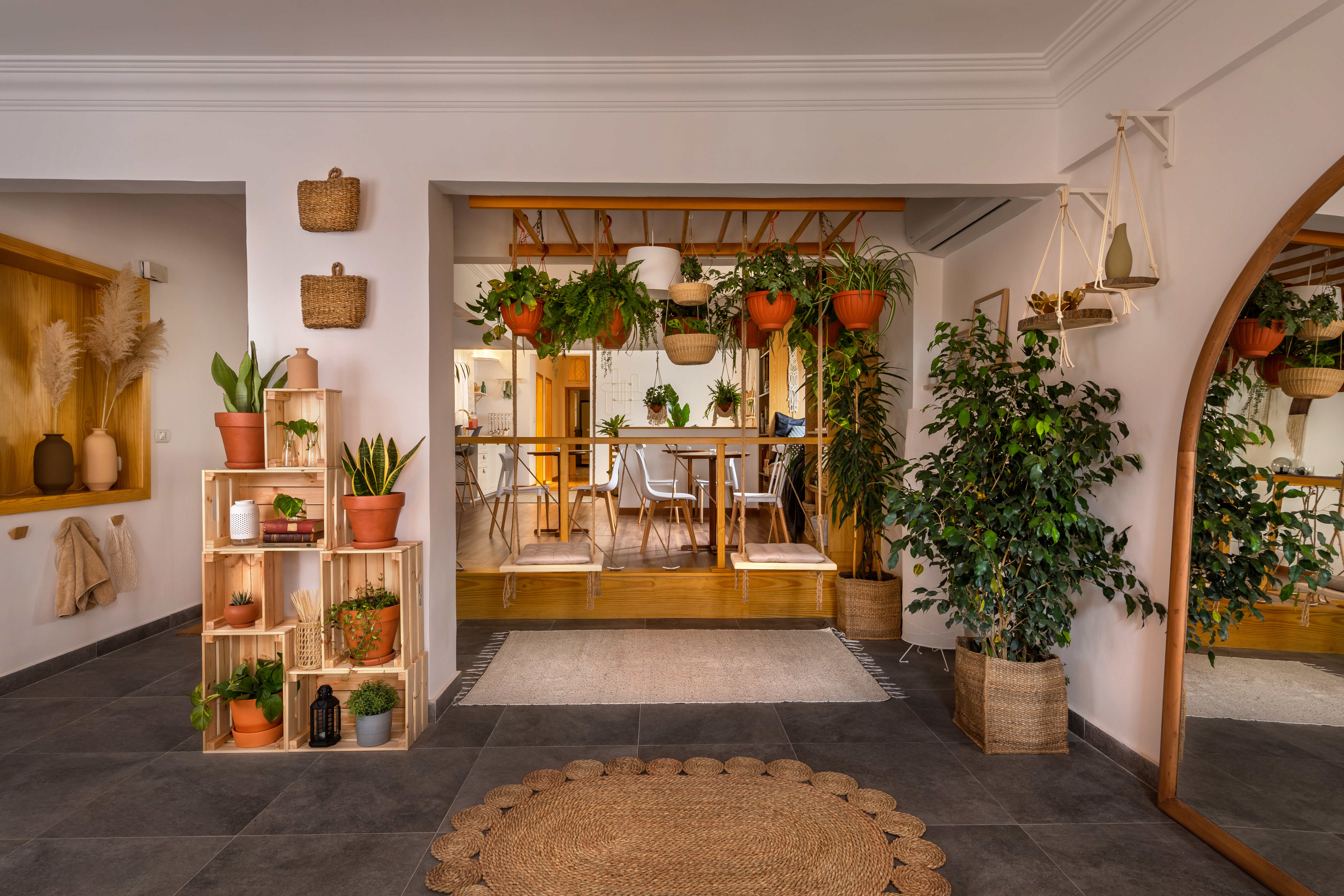 "I started getting feedback from people about how the space was styled, and realised maybe I'm onto something," Owais says. Owais' relatable and home-like styling joined her illustrations in establishing her as a source of inspiration herself.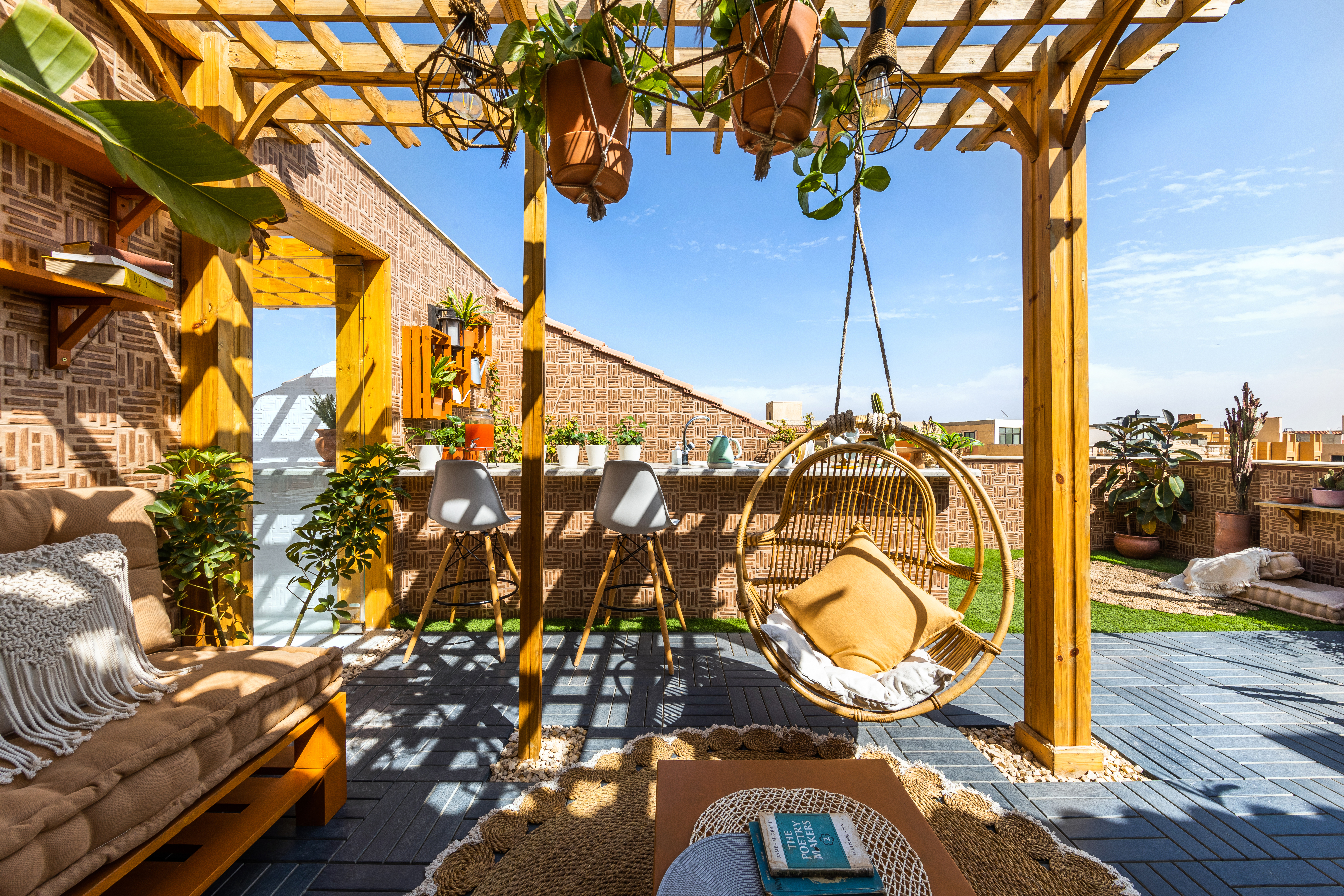 As business grew, so did the need to separate work from home, moving her art hub to 6th of October City by renting a studio apartment that came with a terrace and merging it with a neighbouring duplex. "Its spaces have a mix of eclectic, boho and cottagecore styles," Owais says of the textured rattan which – along with more raw materials – make up a cottagecore vibe, as furniture designs range from delicate minimalism to robust upholstery in a display of eclecticism. All while catering to a wide palette as the colour scheme has slight changes to distinguish one space from another.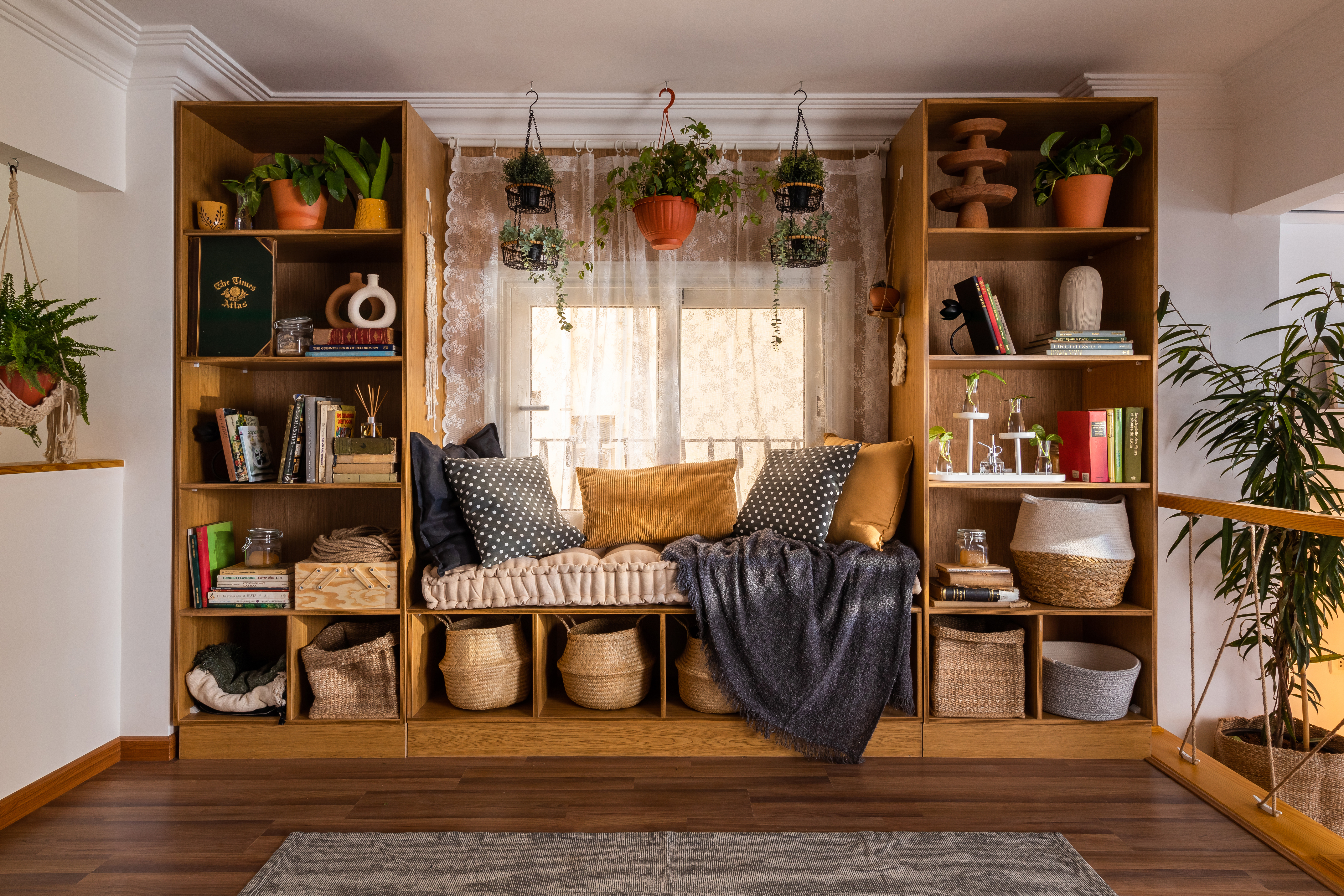 "The different setups are for students attending the workshops," Owais says. "I wanted to make sure they felt a homey vibe that presents the studio more as an art retreat." Walking around the studio, art enthusiasts find cute and carefully curated set ups welcoming them to rest, or hang and socialise. Like a reading nook built within a library and overlooking a recessed window that floods the space with natural lighting. Owais added folding tables to it to ensure that the cosy set up can be turned into a coffee-shop like experience in a split second.
Leaving nothing to chance, Owais picked out the scents of the studio to go with the visuals. "Mostly, it's lavender for relaxation and occasionally there are sweet summer smells like vanilla and coconut," she says. "It all depends on the mood at the given moment." On that note, with the studio having two terraces, Owais wanted to give each one its mood. Going in one of them with a warm shade of grey that's easy on the eye while the second featured the same tiles yet painted white to complete a Greek aesthetic. "The mixture of wood with white makes you feel like there's an ocean nearby," she says, delightfully. "Wooden elements never run out of style and they're flexible."
Owais believes in designing and styling spaces on a budget, relying on the wonderful products made by local designers and brands. By doing her research and viewing endless interior makeover and renovation tutorials, Owais realised that you don't need to overspend to curate a unique space and make it look aesthetic. "I was passionate about planning these spaces so that people would want to spend the whole day in them." At first glance we realised that Owais pulled this off, because we do.
Photography Credit: White Studios