Starting off by painting on a wall in Nuweiba in exchange for a free stay, this architect turned artist went on to share her art on the walls of fintech startups, real estate agencies and nurseries.
Spaces can be designed and filled with all sorts of stylish furniture and still feel lacking. It's artworks that give spaces a soul and Maria Darwish, the artist behind Darwisha Studio, pours her joyful character into wall murals that burst with cheerful colours. Growing up in a household completely immersed with art, it didn't take Darwish long after getting her degree in architecture to find a way to unleash the artist within, drawing on walls from Nuweiba to downtown Cairo.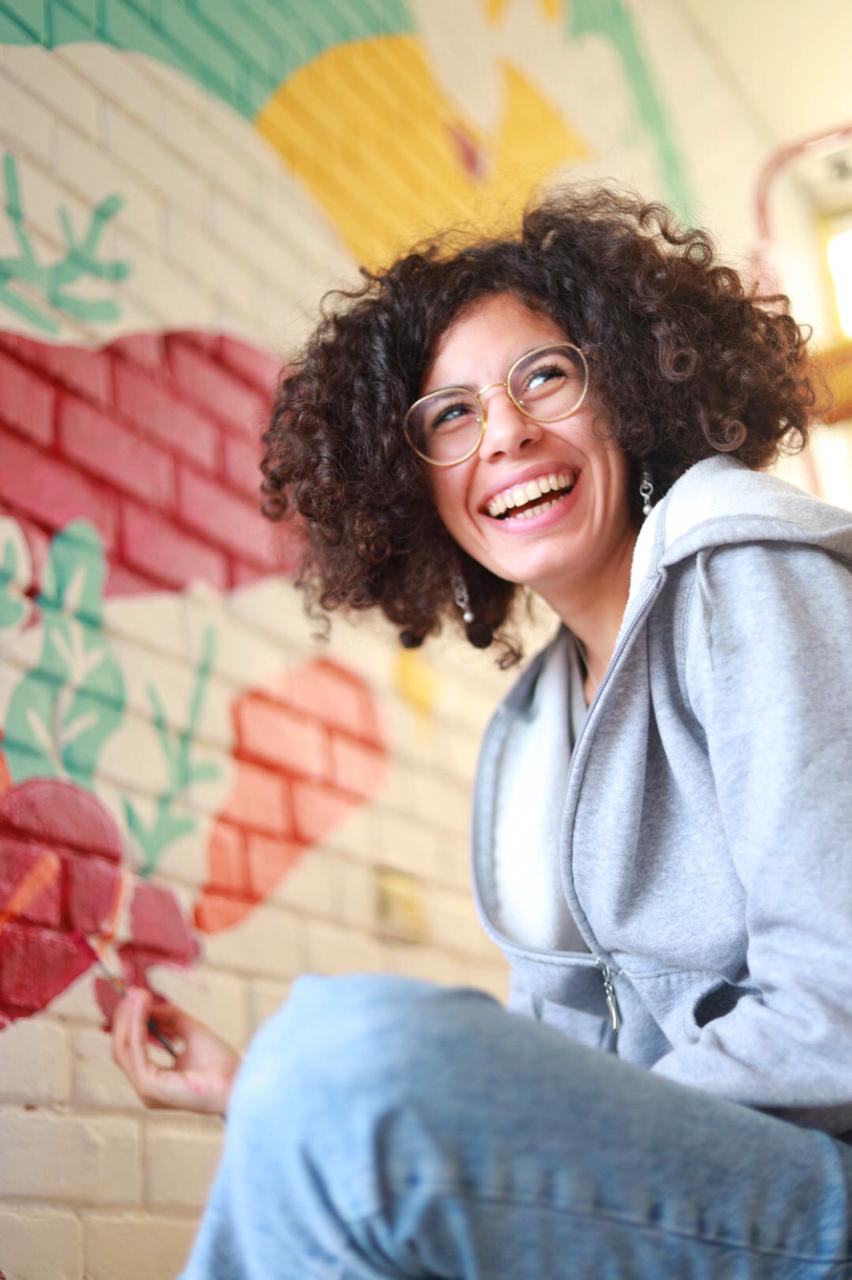 "Mural painting is a form of therapy but it breaks your back and builds your arm muscles," Darwish tells #SceneHome. Darwish graduated from the American University in Cairo in 2020; prior to that, she spent a semester at the Faculty of Fine Arts in Zamalek where her entire family studied. "I chose architecture because it's the mother of all arts. It's around us impacting our lives and there's really no escaping it." Despite being immersed in art from a young age, Darwish chose not to study it. "It would've felt limiting and I wanted to keep it as a hobby," she adds. Book binding at Grain was her first job; it was a break from screens and got her used to making things with her hands.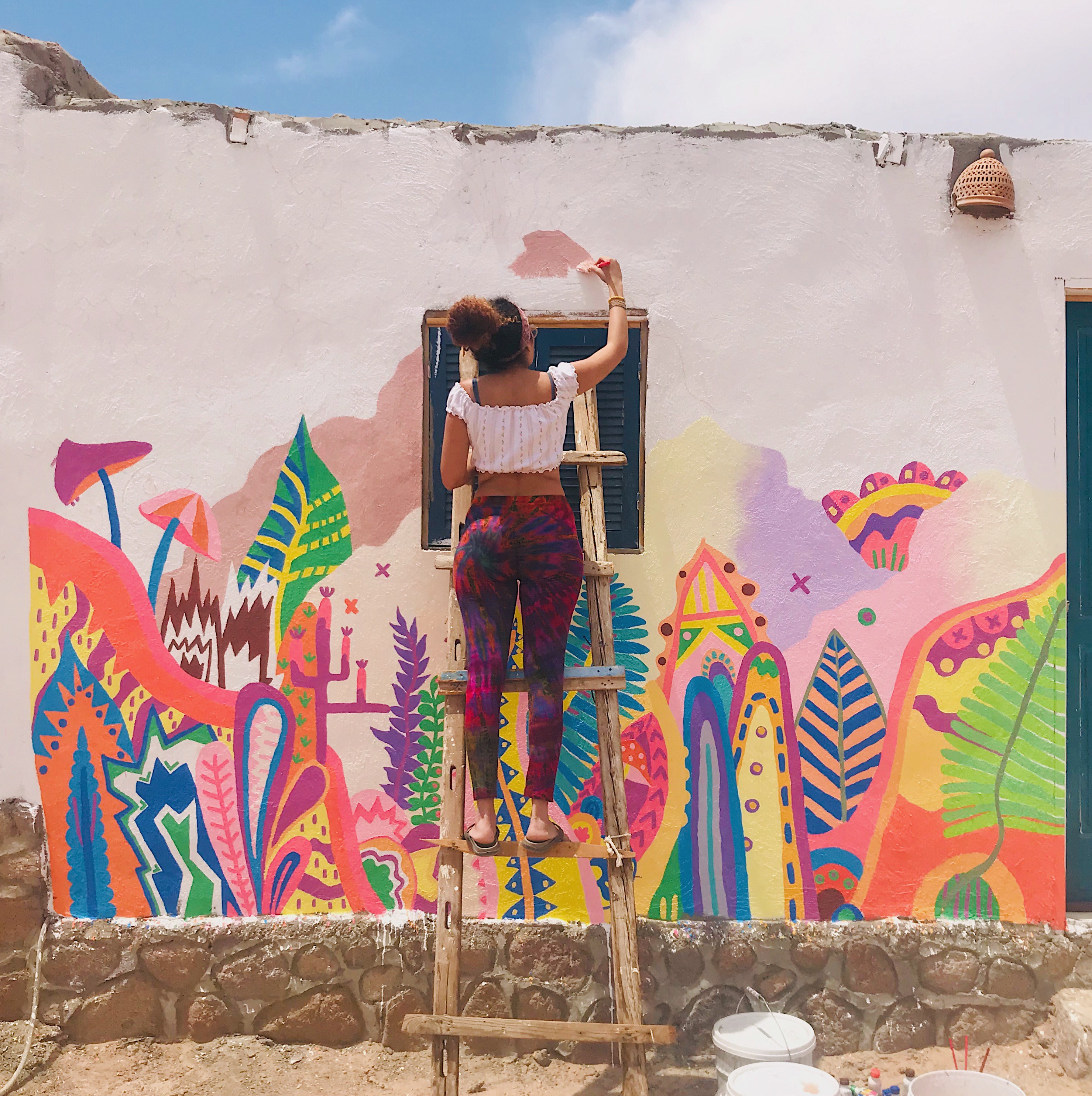 In 2019, Darwish went to Nuweiba for a complimentary stay at a camp in exchange for a wall mural. The camp had seen the artworks and prints she was designing and sharing on her Instagram page and reached out to her. "In retrospect, it made me confident enough to draw on walls," Darwish says. It was her first professional work, and one she improvised well.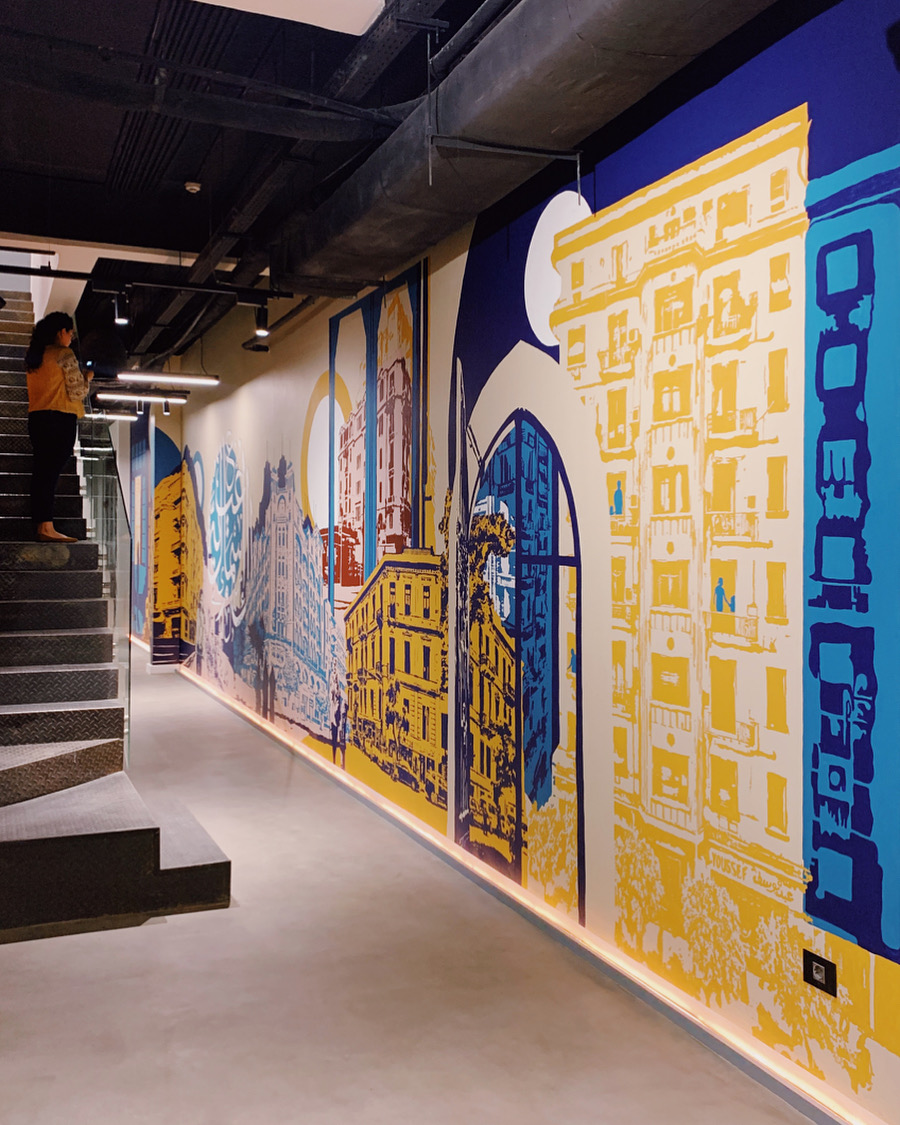 While enjoying the blissfulness of doing nothing in Makadi Bay, Darwish noticed a competition held by Al Ismaelia Real Estate Company who were looking for a mural that captured downtown Cairo's aesthetic. Darwish designed, applied and won, but she didn't consider how the "insanely detailed drawing" would be applied on a wall. "I realised that winning a mural competition means you're the one executing it," Darwish says. "That's the gig."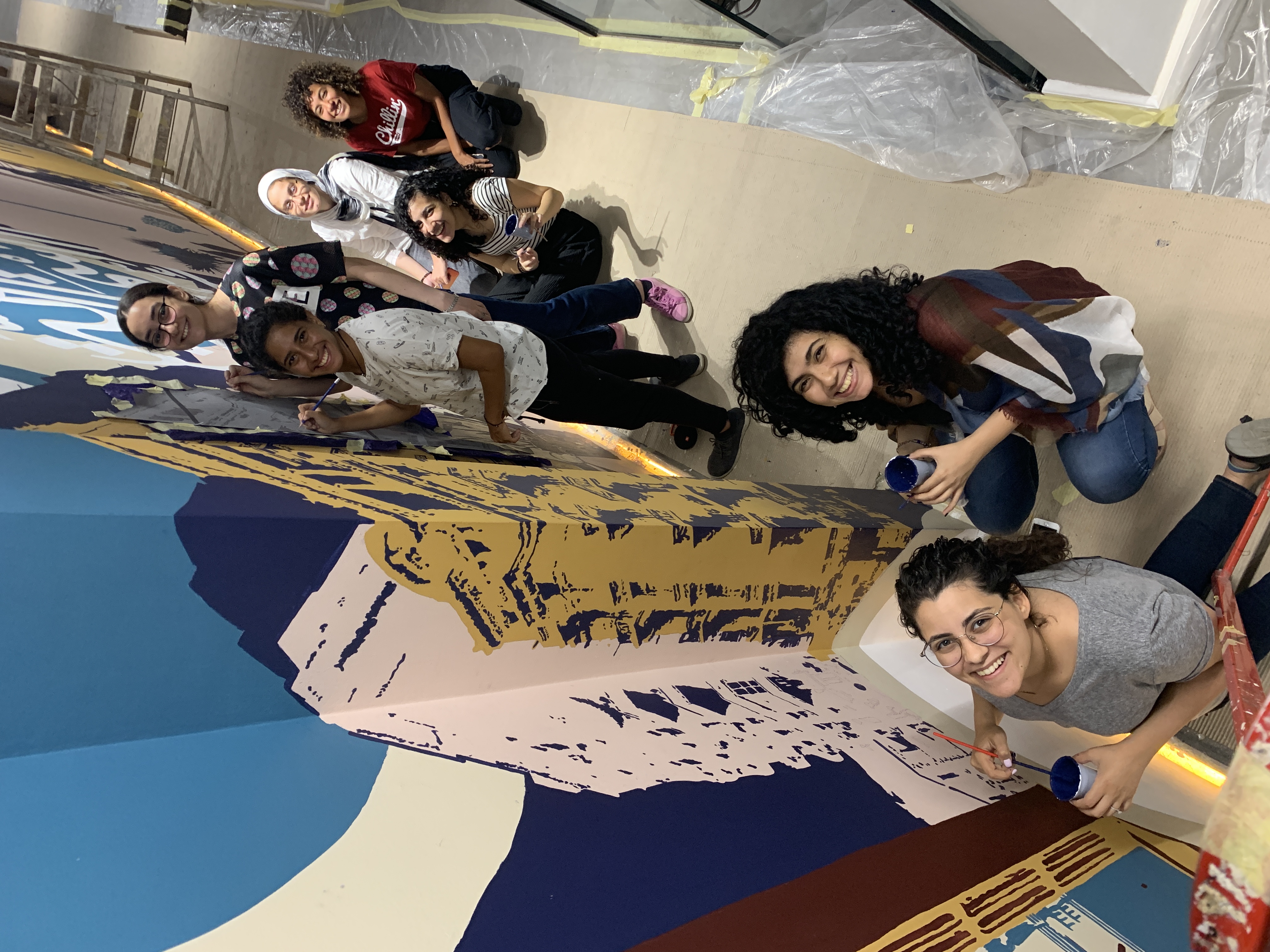 Darwish made it a communal effort, asking people who shared in her excitement to join her. Over 10 days, volunteering artists helped her complete the 4x16m artwork. Darwisha Studio started big, and the artwork in downtown Cairo remains her biggest work to this day.
The artist applied herself through a couple smaller assignments before things quickly escalated when she drew a whale mural in the nursery of one of her friends' homes. "Natural scenery is something I believe I'm good at," Darwish says. "I enjoy merging landscapes with animals and objects."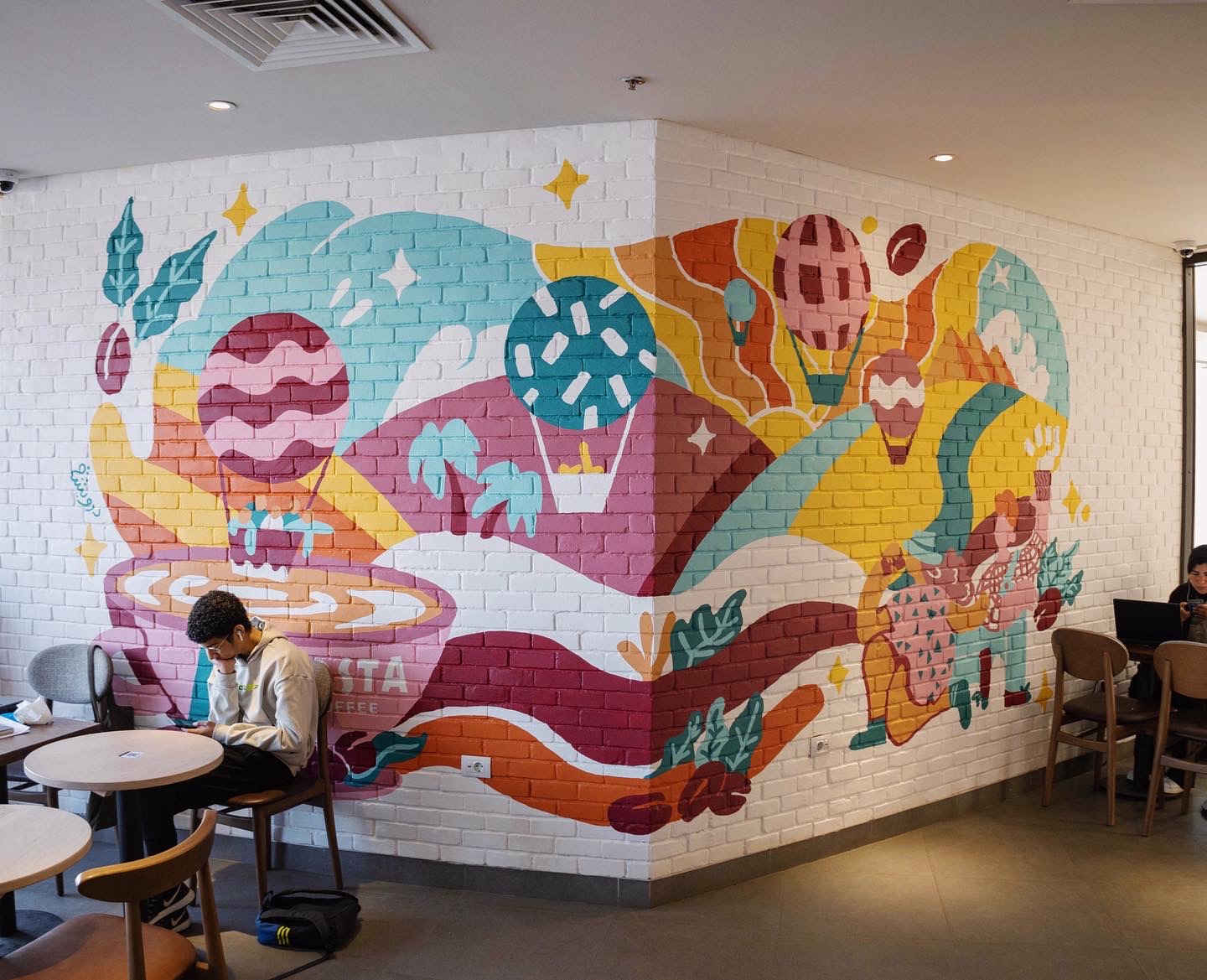 Painting hot air balloons inspired by her affinity to Luxor, which she applied within her uplifting work at Costa Coffee. We mean, what's more uplifting than hot air balloons? "It was my first public work where I got to paint while people were hanging out," Darwish recalls fondly.
"Many ask if I think everything through. I just paint with emotion and feelings," she continues. "This way the visuals flow together easily." Darwish intuitively balances colours, thinking of palettes before starting to sketch. To her, hues set the tone and vibe. At Anzu, an Asian fusion restaurant and bar, Darwisha Studio's brief was to draw a melancholic woman, one who looked a bit sad (Why Anzu?). "The space had shades of red and blue lighting so I used the same palette for harmony," Darwish says. "When it's blue then the blue pops out. Same with red."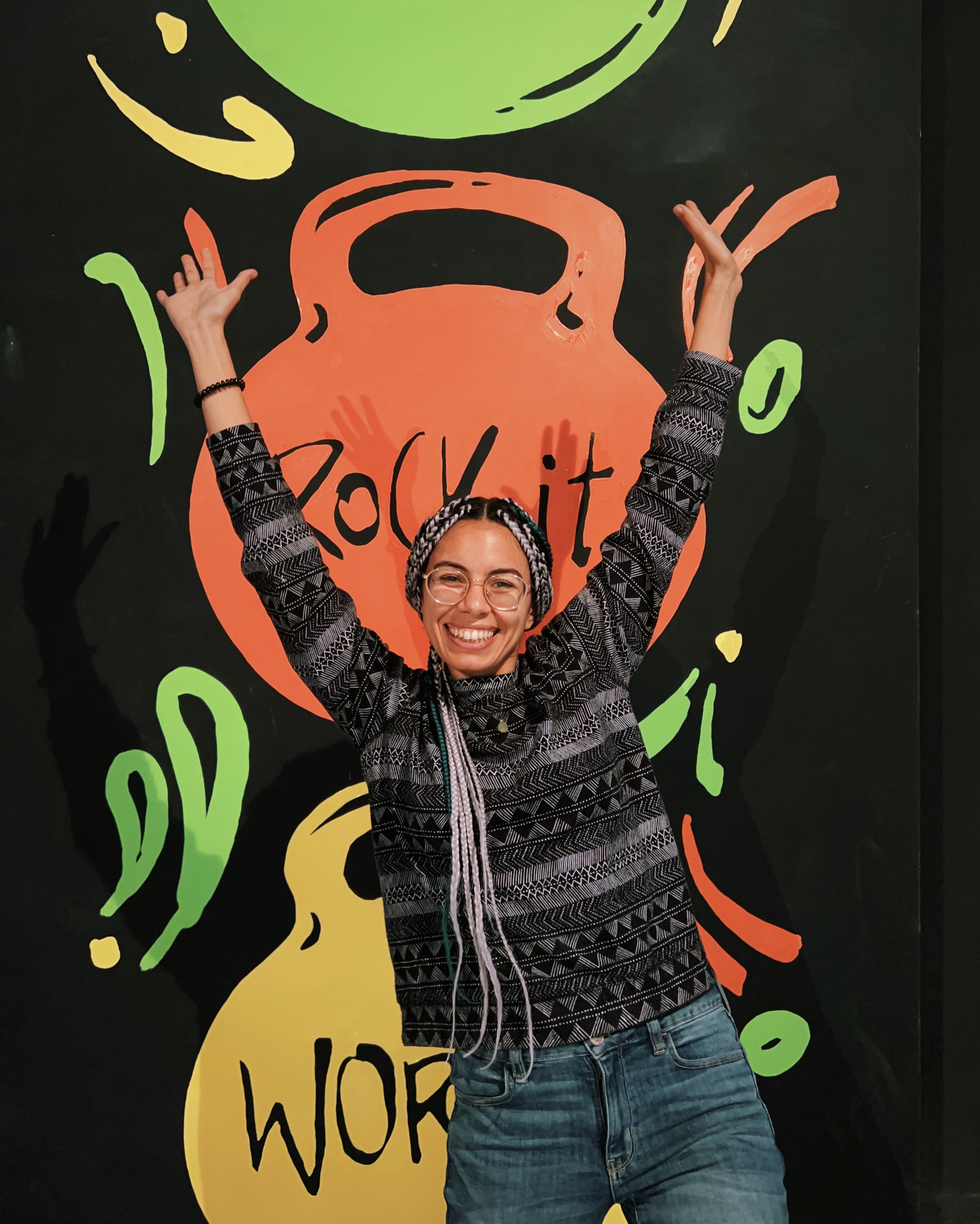 Lighting dictated how Darwish approaches another artwork. At a gym in Alexandria, she used fluorescent paint for a rather trippy visual effect. Collaborating with lighting designer Karim Sherif, they not only synchronised lighting with music but also spotlighted Darwish's funky mural.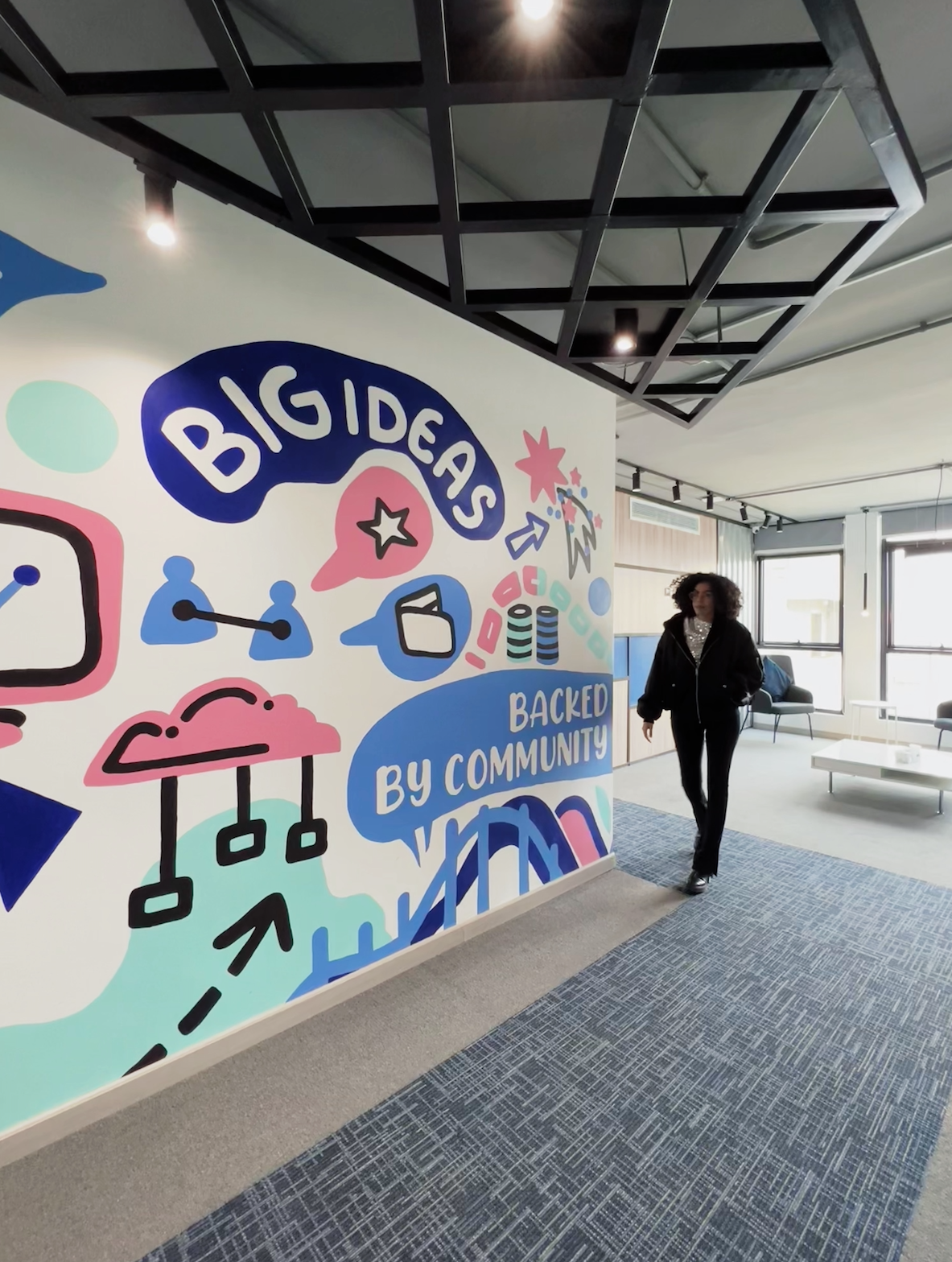 While in Alexandria Darwish wrote 'Rock It!' among other phrases to hype up gym dwellers, at Cassbana, a fintech startup headquartered in Maadi, she went for their slogan and phrases that reflected their work culture and environment.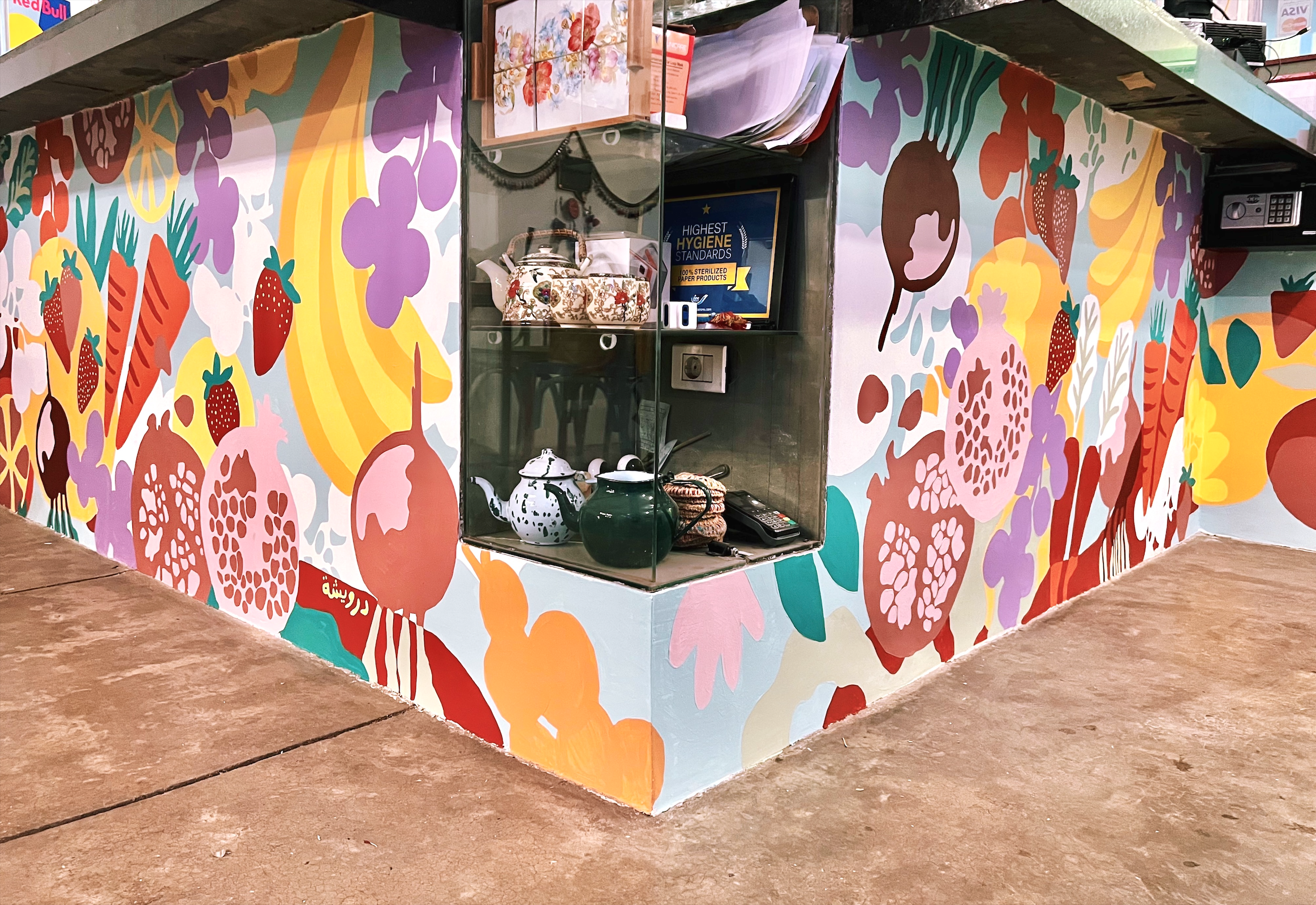 Elsewhere in Maadi's lush suburbia, Darwish drew a pomegranate for a restaurant called Lokali. "They wanted something that sums up their culinary experience," Darwish says. "And I knew that they prioritised fresh fruits and veggies."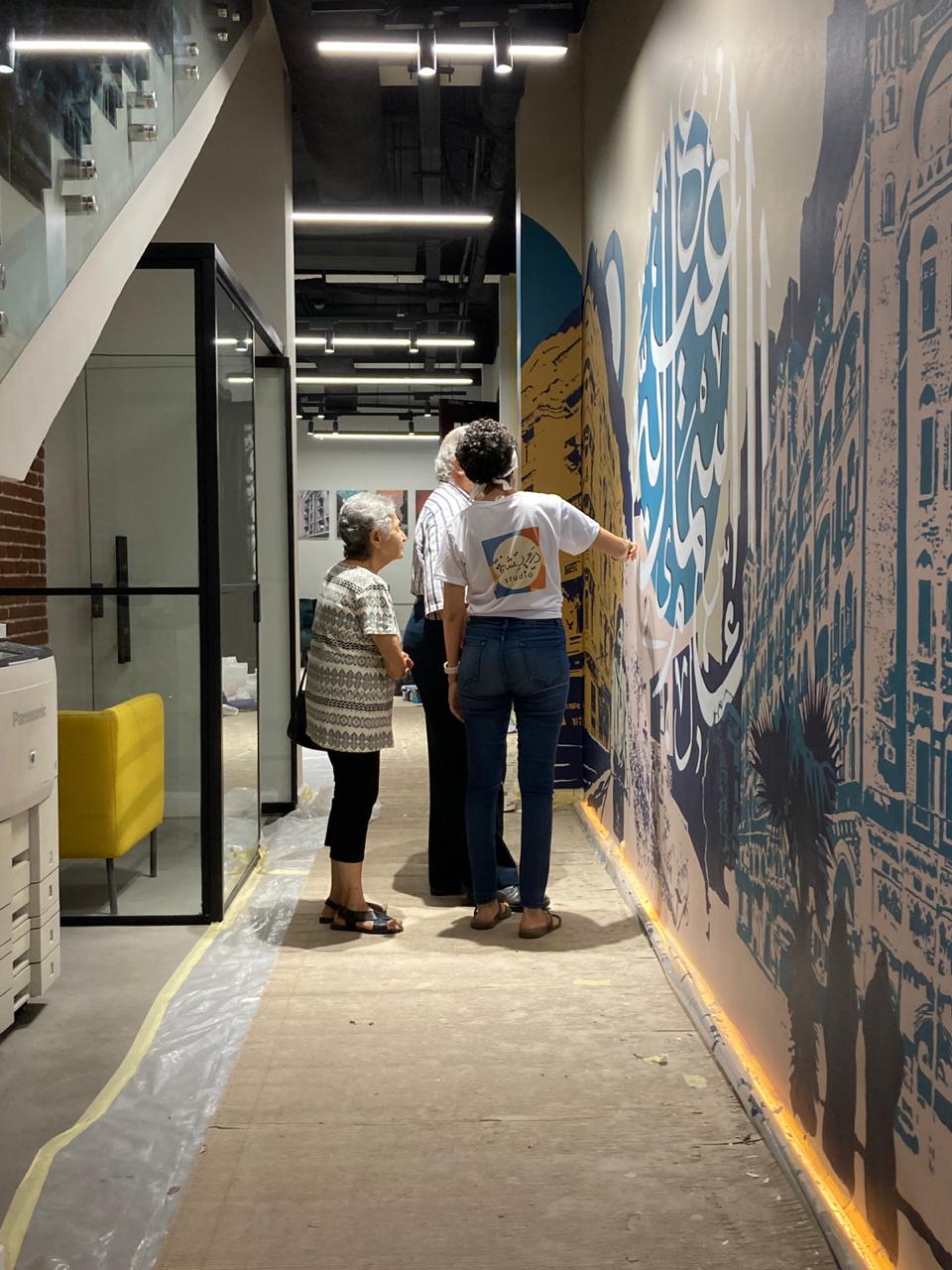 When asked about her inspirations and what influenced her art, Darwish took us home. After all, there's no better way to get to know art than getting to know the artist. "I remember finger painting from a young age. We had two walls adjacent to the library that were covered with arts and crafts projects made with my mom," she recalls. "I'm sure art runs in our veins, even my brother ended up being a culinary chef." Amongst her earlier work, Darwish created papier-mache art using newspapers glued together to make faces.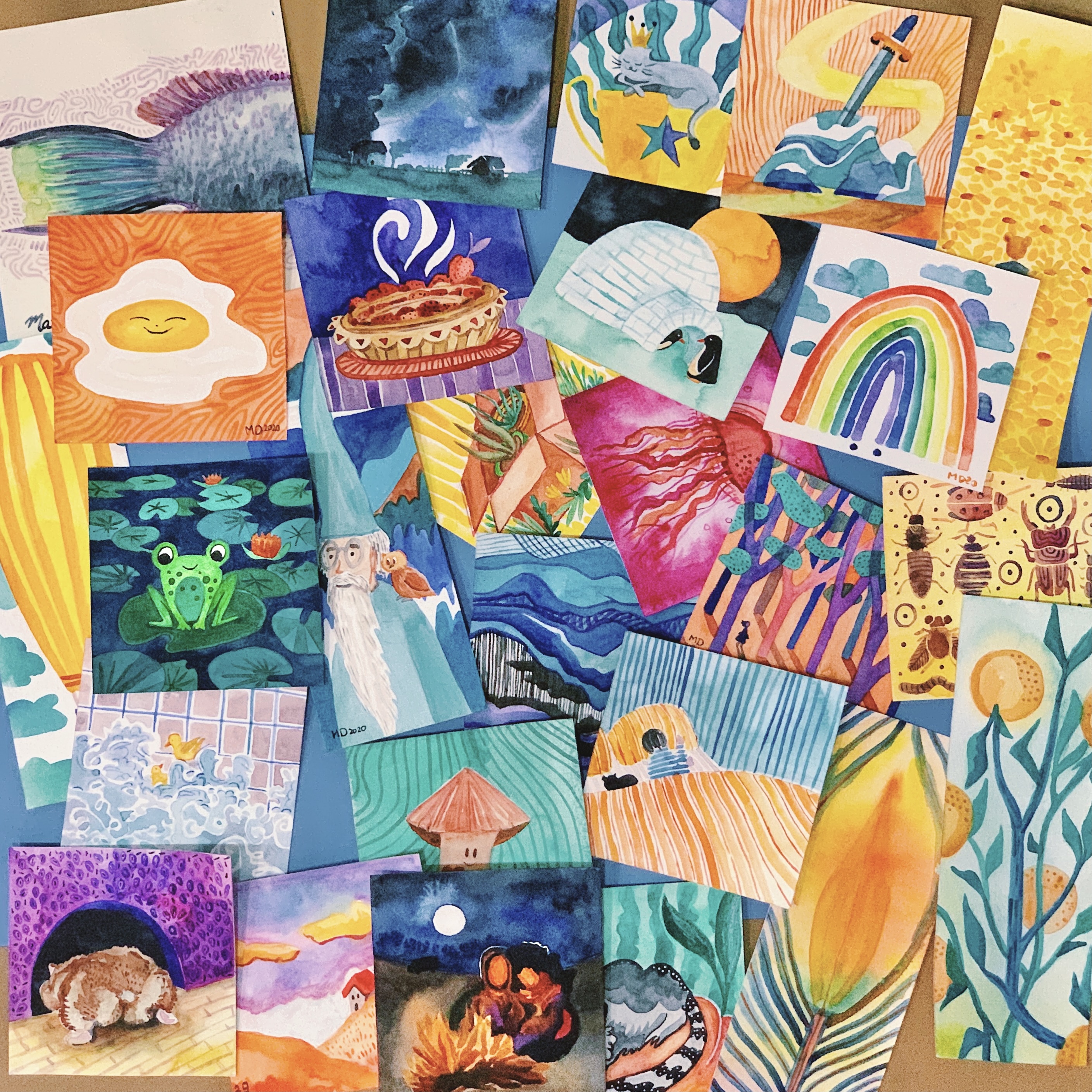 Back in elementary school, Darwish had one of those moments that propelled her attachment to art. "We had a firm teacher that used to scare us and one morning she saw me drawing but she let me be," Darwish says. "After the class was over she came by and said 'I saw you drawing but I didn't want to disturb your flow because it's good'."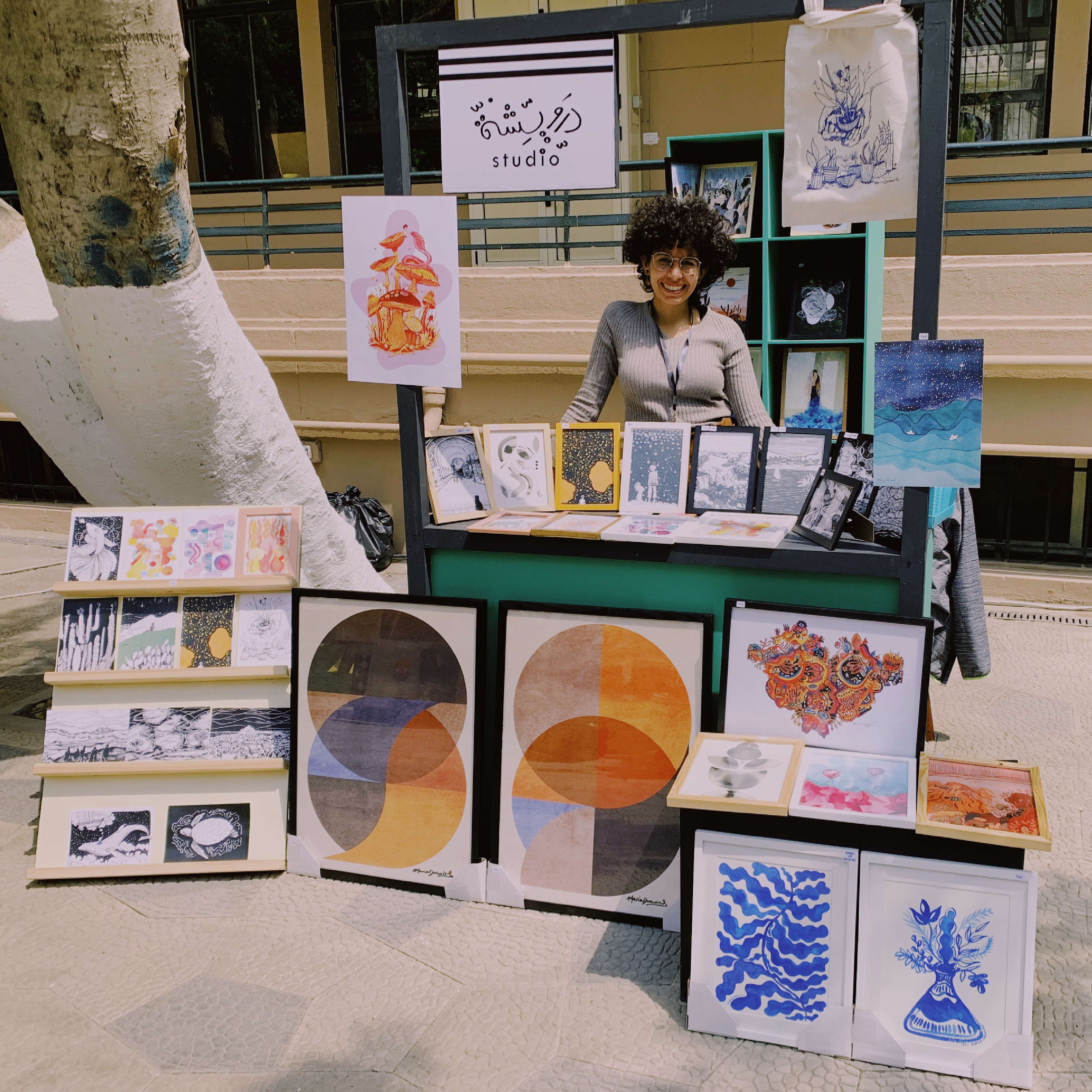 The artist's household provided her with apt inspiration, whether that was her grandmother taking her to visit renowned artist Hussein Bicar when she was young and is a role model in pursuing an artistic career, or her detective grandfather who founded his own graphic design and microfilm companies. Darwish wrote and designed a children's book about him. Darwish gets her energy from her architect father, while her mother taught her how to consider the people around her when working. "I became meticulous because of her, and fast because of my father so I owe a lot to my family," Darwish says.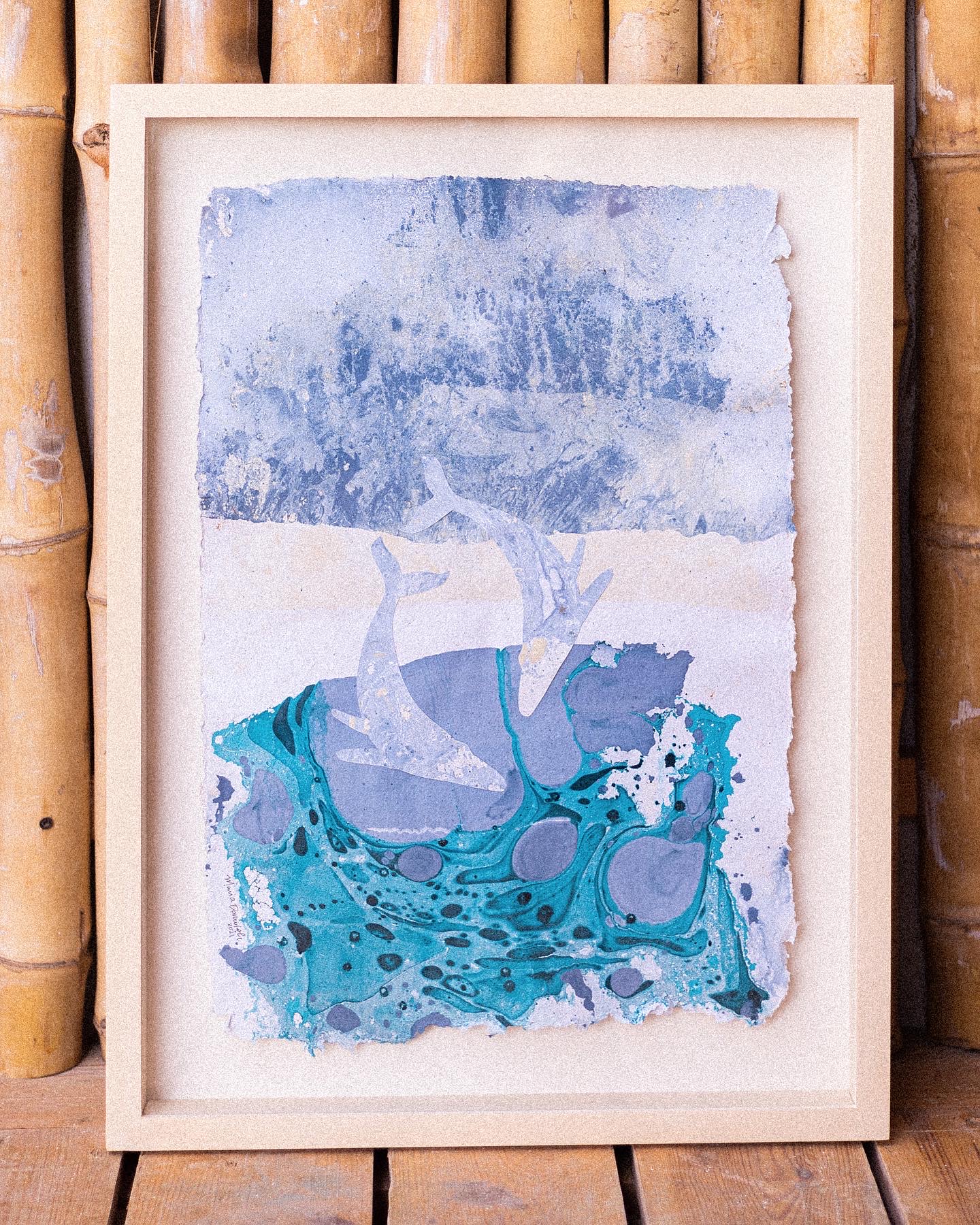 Darwish is also an interior designer and head of business development at Efreshli, the online interior styling platform. "I'm very fast. I'm fast with a brush and at designing," Darwish says. "Also, my boss is very accommodating and understanding of my schedule." Darwish collaborated with interior designers to pitch in with drawings in their homes. "There's starting to be more of a hype for murals." Darwish just got her first gig in the North Coast, so there's plenty to tune in for more of this artist's vibrant murals. Oh to be a fly on that wall.