Through ingenious geometry and accentuated forms, Math Architects managed to design a house that looks like it's floating on water.
Interior design is for those who end up using the spaces, while architecture is for everyone else. This is the ethos Mahmoud Taher, founder of Math Architects, follows when approaching the exterior design of a project. When presented with a house in Palm Hills which had a generic design, similar to other properties in the neighborhood, he sought to remodel it into a unique set of playful geometrical forms that were ethereal yet practical - making it appear as though it were floating on water.
Through the use of minimal hues and his signature sleek approach to design, Taher managed to create a house that stands out with its clear and edgy lines.
"When you enter there are two cubes on both sides that appear to hang above a water feature," Mahmoud Taher tells #SceneHome. Despite his passion for architecture, he spent 12 years working in a family business after graduating. During that period he would be randomly asked to help out his friends with their house designs, and upon receiving positive feedback for his rather uncommon approach, he founded Math Architects in 2016, where he was able to actualise some of his more outlandish ideas. "The entrance and the entire house is surrounded with water, creating a feeling of depth and float," Taher adds. "Think of the houses in Venice."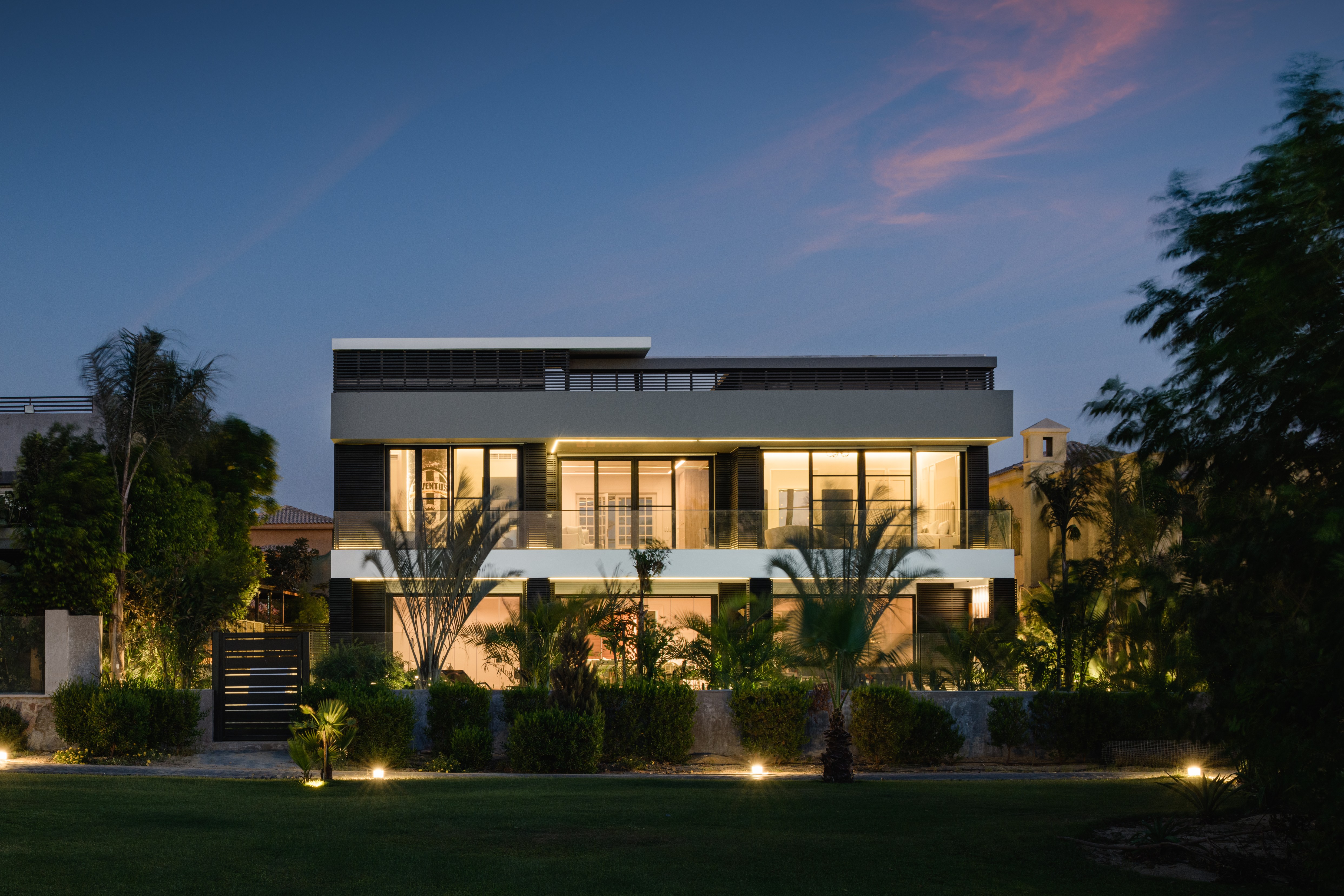 Grey, white and black constitute a triad of neutral colours on the main façade, which is applied with variations throughout the design. "I always try to use minimal materials, they act as a neutral canvas to any natural features while also accentuating the geometry," Taher explains. As you enter, you step on white marble slab steps that are matched with dark tiles in the water to intensify the floating illusion. "When you stick to a handful of minimal colours and then add natural wood to it, the latter is enriched as it gets wrapped by the base colours," Taher adds. Aside from the main entrance door, wood is used subtly around the house.
Surrounded by the purity of white, a wooden staircase takes you up to the garden, where teak is used in sleek fashion in a poolside bar set-up that effectively acts as a microcosm of his design philosophy; sleek, geometrical and edgy. Shying away from traditional bars, he used white marble to create a -basic in concept yet contemporary in visuals- parallelogram, with sleek teak panels joining in on an abstract geometrical canvas of various triangular patterns made of white and a slightly darker shade of grey. "The entire set up plays around with shadows throughout the day," Taher says. "I like designs that have this versatility when interacting with its natural environment."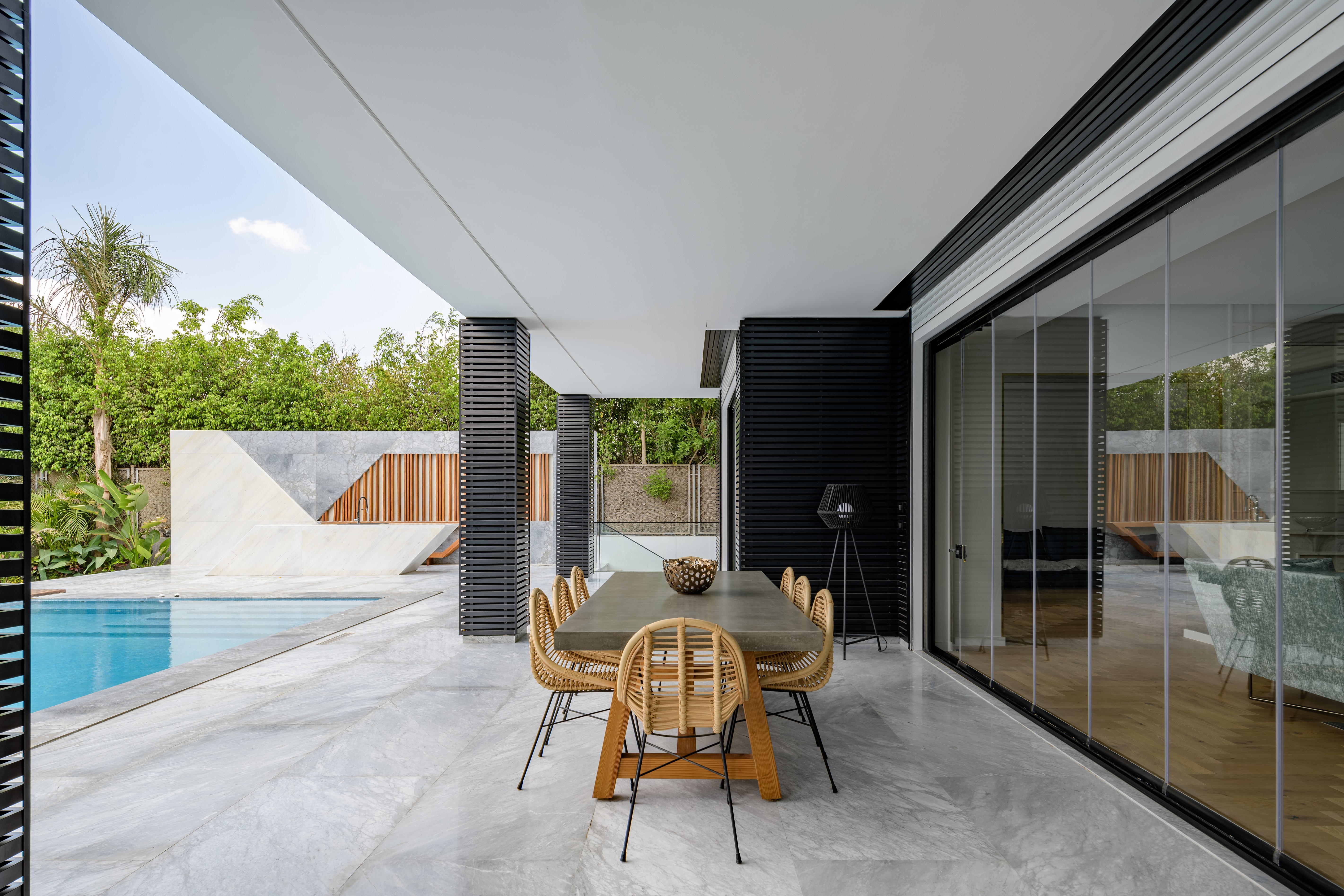 The kitchen - which now has a pop out glass window that allows the water features to flow underneath it - brings the outdoor experience inside. "I have a knack for straight lines. When I draw, sharp angles come naturally to me," Taher continues. "When I applied this here, many shapes were changed and I had to coordinate with the interior designer to indicate how these spaces were altered."
From the garden, the view of the house is balanced with horizontal beams marking each level, but they serve a sustainable function beyond their aesthetic one. "We made the glass openings wide to make sure plenty of natural light gets in while overhanging beams provide enough shade from direct sunlight," Taher says. These design considerations ensured the interior is pleasantly experienced, aptly lit and has unhindered views of the greenery. While the exterior remains a statement of the architect's design approach - a statement that can't help but be heard.