Proving there's beauty and design in even the most functional, industrial of buildings, Egyptian firm Grid in the running for a Golden Trezzini for its unique take on an administrative hub.
While an industrial zone isn't the first place one would think design brilliance can arise, Grids - an Egyptian design firm founded in 2017 by architect Laila Badawi - has been nominated for a Golden Trezzini Award in the 'Best Implemented Public Building' category for their 'E2- Alamein Building and Landmark' administrative design at New Alamein City.
Alongside project architect, Alaa Ibrahim, and project manager, Iman Saleh, Badawi designed the building and supervised its construction, which took six months to complete. The building functions as an administrative hub for the remote teams of the Industrial Development Group, one of the leading industrial developers in Egypt.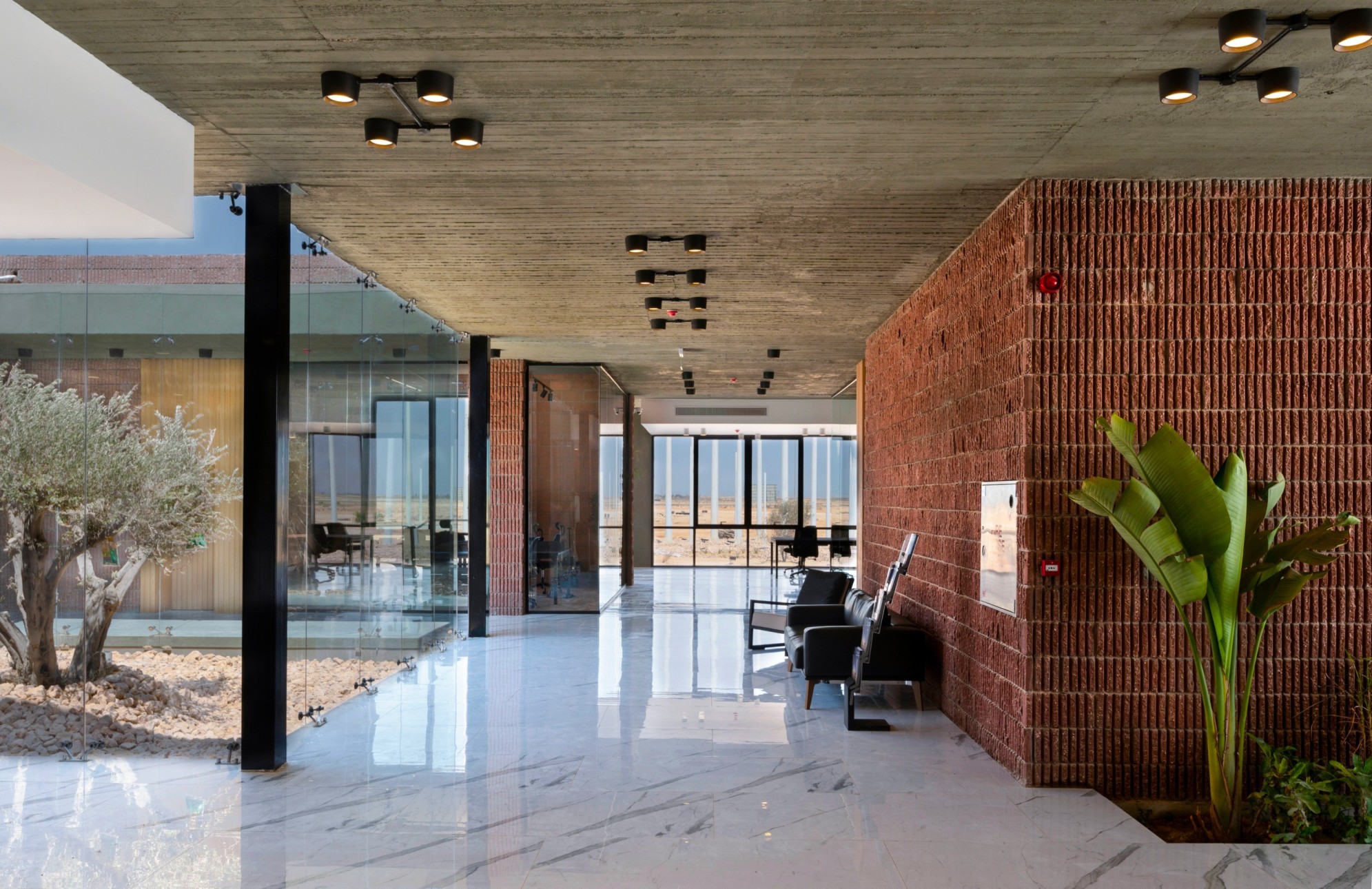 Oriented for maximum shading, modular blocks are arranged linearly to create elevations that are fit for the building's arid environment. "Context was the main constraint during the design process," Badawi tells #SceneHome. "So, we used it as inspiration." Architectural overhangs cast a shadow on the main entrance to the interior, a feature that exemplifies Badawi's claim that, "architecture should learn from nature."
Visibly distinctive, the building's location is landmarked by towering white pillars, something that certainly allows it to stand out. "The client's main goal was to mark the building's presence within the mega industrial park being developed in the area," she adds of a structure cornered by local flora and fauna, the design's exposed concrete and red bricks adding rugged industrial textures to the widely spaced zones.
Named after Dominico Trezzini, the 18th century Russian architect, The Golden Trezzini Awards has been celebrating architects since 2018. Supported by Richard Armstrong, Director of Solomon R. Guggenheim Museum and Foundation, Suzanne Page, Artistic Director at the Fondation Louis Vuitton, and the renowned architect Norman Foster, the awards aim to develop a sense of architectural diplomacy to connect architects across borders.