This sustainably designed glamp has an architectural sense that respects and eloquently blends with its environment; the serene desert and endless dunes of Fayoum.
Deep in the heart of Fayoum's Wadi El Rayan protectorate, you can find many unique landmarks, from Egypt's largest natural waterfalls to the massive lakes that many hundreds of species of migratory birds use as a rest stop. You will also be able to find Remal El Rayan, a glamping experience designed by SIA Design Studio that gives travellers an intimate view of Wadi El Rayan's natural treasures while ensconcing them in complete comfort and style.
Founded by architect Shady El Rashidy in 2010, SIA Design Studio focuses on sustainable and environmental designs. Here, guests will stay in domes ripe with earthy tones, and dine with a gorgeous view of the nearby lake, surrounded by an endless ocean of dunes.
"I love going to the desert, it is all about exploration and adventures," El Rashidy tells #SceneHome. He, along with like-minded friends, wanted to create a glamp that caters to contemporary tastes and offers effortless stays in the middle of the desert. Aside from being a partner in the property, his studio designed and executed the getaway, from its landscape and lighting (which happens to be ideal for stargazing), to its rippling, organic canopy that blends with the dunes of Fayoum.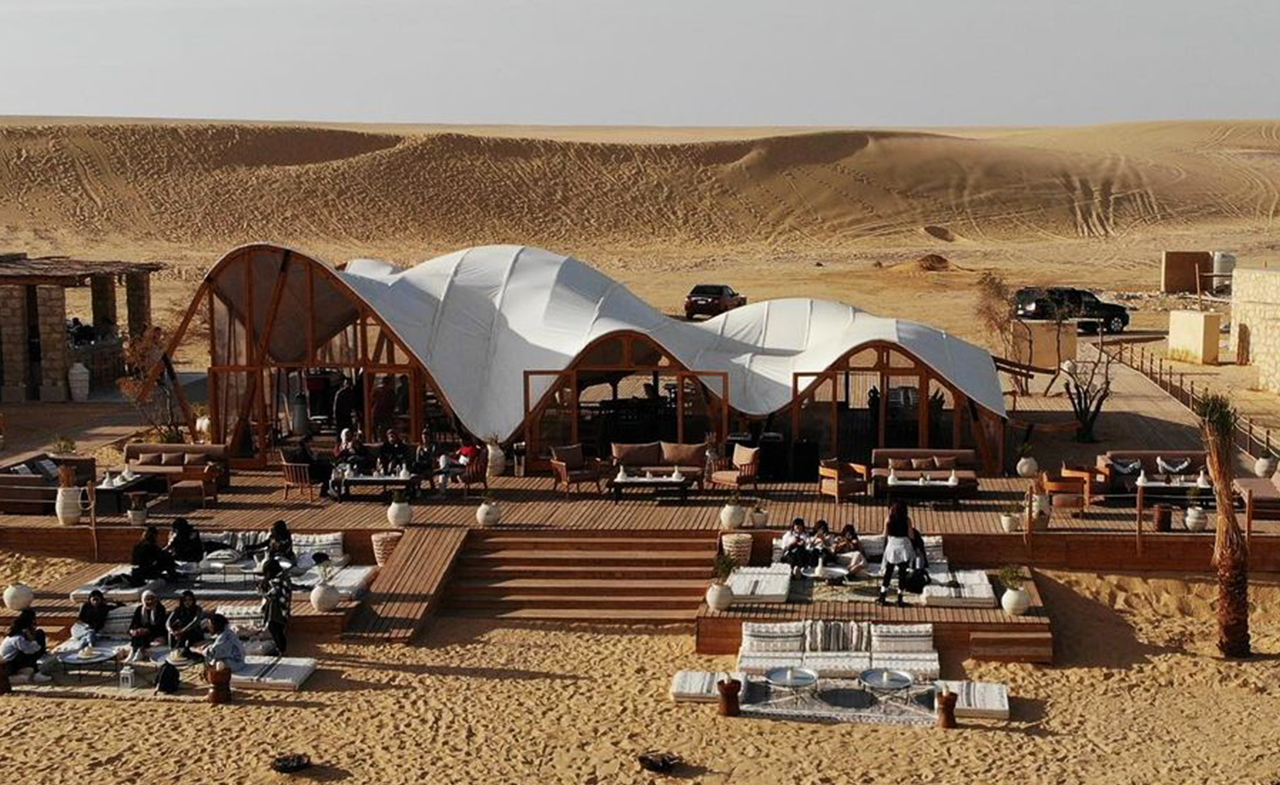 "Making it sustainable was our first challenge. It had to adapt to wind circulation and provide thermal comfort." El Rashidy says. These design considerations needed to ensure the comfort of its guests; they needed to be sheltered from heat, while allowing enough breeze to complement the captivating visuals. "We developed aerodynamic shapes that have a sturdy wooden structure, covered by a material that has high thermal insulation," El Rashidy explains. "It is a geodesic dome, geometrical half-spheres and rectangular shapes that are angled to survive the weather and ultimately provide a dynamic tent-like experience."
Once the overall concept was finalized, the studio started detailing the project to figure out how to utilize surrounding materials to stick to their sustainable creed. They collaborated with local laborers and artisans who enthusiastically participated in workshops to execute the design. "It was important to support the community," El Rashidy says. "Our intention from the get-go was to develop the area and incorporate local craftsmanship to make the experience and aesthetic authentic."
The domes are currently receiving their final touches, with the glamp set to open soon. They are spacious with separated private entrances, broad bathrooms embedded with Jacuzzis and earthy interior tones that are enriched by local fabrics covering everything from furniture to kilims. Built with stone and decorated with shells, these rooms present an experience that is rooted in nature. The desert, inside out.
"The authorities and protectorate supported us heavily and believed in our initiative. There is a clear push to emphasize Egypt's natural beauty, we wanted to raise awareness of the desert, so that people visit," El Rashidy adds. "When you arrive, there are no expectations, just explore and adapt to the desert environment." The architect believes that they created spaces that allow people to experience the desert comfortably, without any hassle. Their design is a brilliant example of having an architectural sense that respects and eloquently blends with its environment, showcasing the endless potential for eco-tourism in Egypt.