Swiss architect Anthony Julen was challenged to create a unique eco-friendly guesthouse in Dahab. The results are resplendent…
For years, Dahab – which started life as a bustling fishing village on the southeast coast of the Sinai Peninsula - was a secretive and serene hipster outpost. These days its siren call is proving irresistible to a host of global travellers seeking refuge and self-discovery.
In theory Dahab ought to be far from the madding crowds but the reality is the last decade has witnessed the quietly insidious commercialization of its once beautifully deserted shorelines. Battling against the boxy resorts creeping up against its borders is a number of unique and gorgeously curated guesthouses.
One such locale is Dar Dahab, a Swiss-Egyptian guesthouse nestled on Assalah Beach. #SceneHome spoke to Anthony Julen, founder of Traffik, the design firm that shaped the look and feel of Dar Dahab's simple, serene and eco-friendly spaces that seemingly blend seamlessly into the surroundings.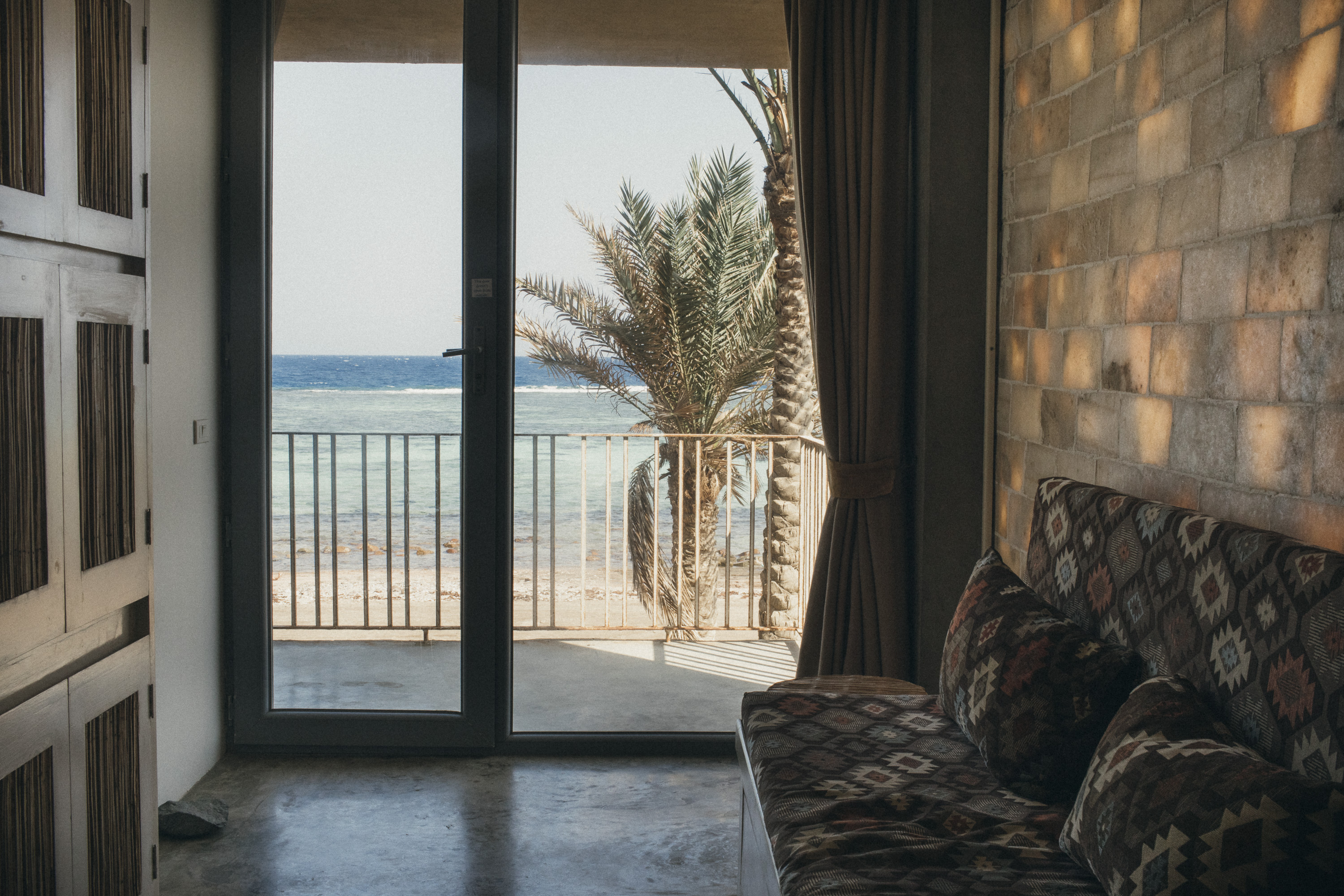 Fresh off the back of several projects in Morocco, Julen found himself engrossed in discussions with a number of Egyptian architects about vernacular architecture (local construction using traditional materials from the area where the building is located). So the property's owner, family friend and fellow architect Nahed Mostafa Kamel Ismail - known in the community simply as Madam Nahed - challenged him to imagine a unique guesthouse in Dahab that would incorporate these ideals.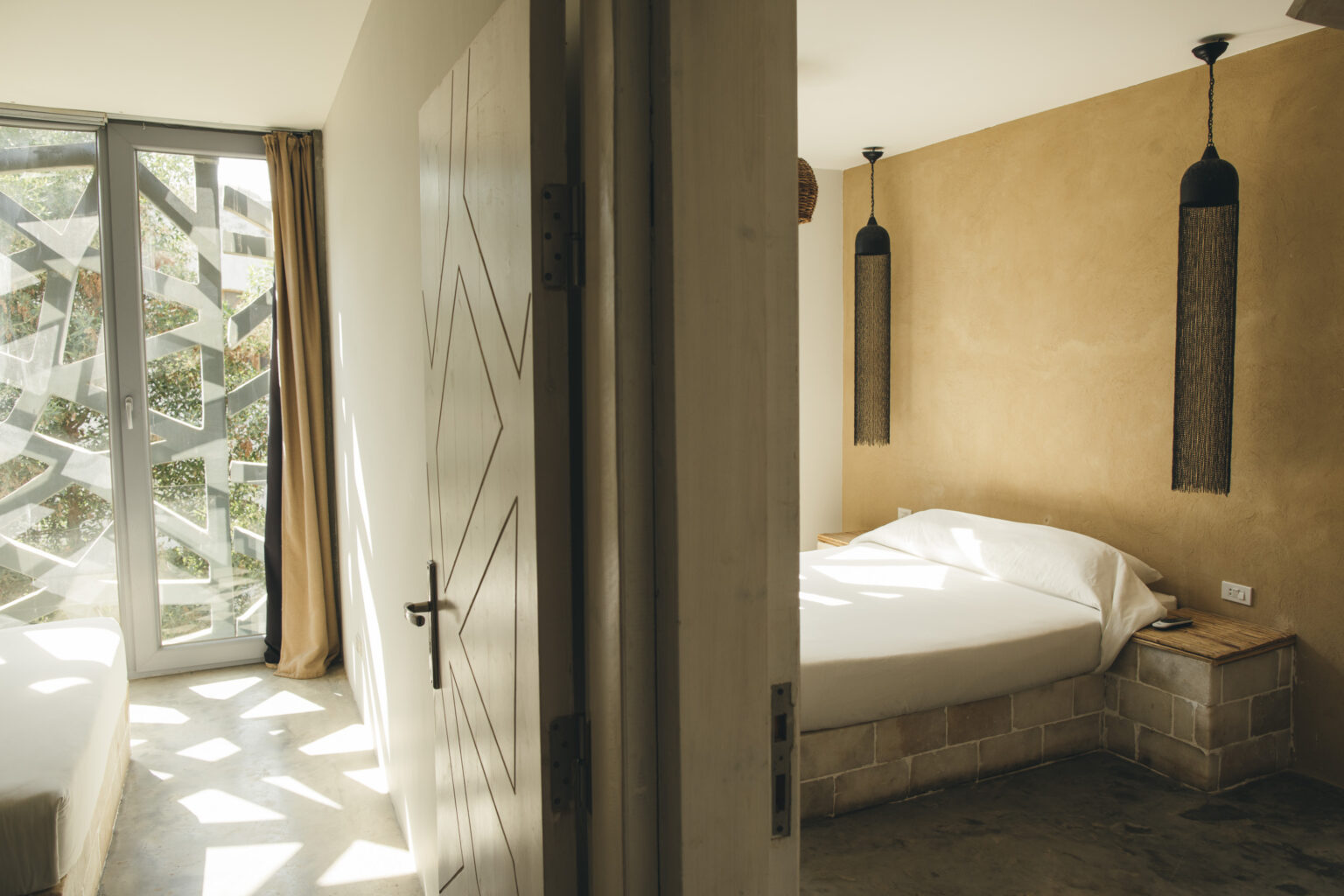 "She showed me a couple of proposed designs that looked common and quite irrelevant to the location," Julen tells #SceneHome. He wanted the project to convey the feeling of the land and its people. He wanted the guesthouse to absorb the energy of its environment. "This project is defined as a picture frame through which guests get to experience the surroundings. Once inside - whether you go up or down - you are always accompanied by the Red Sea horizon."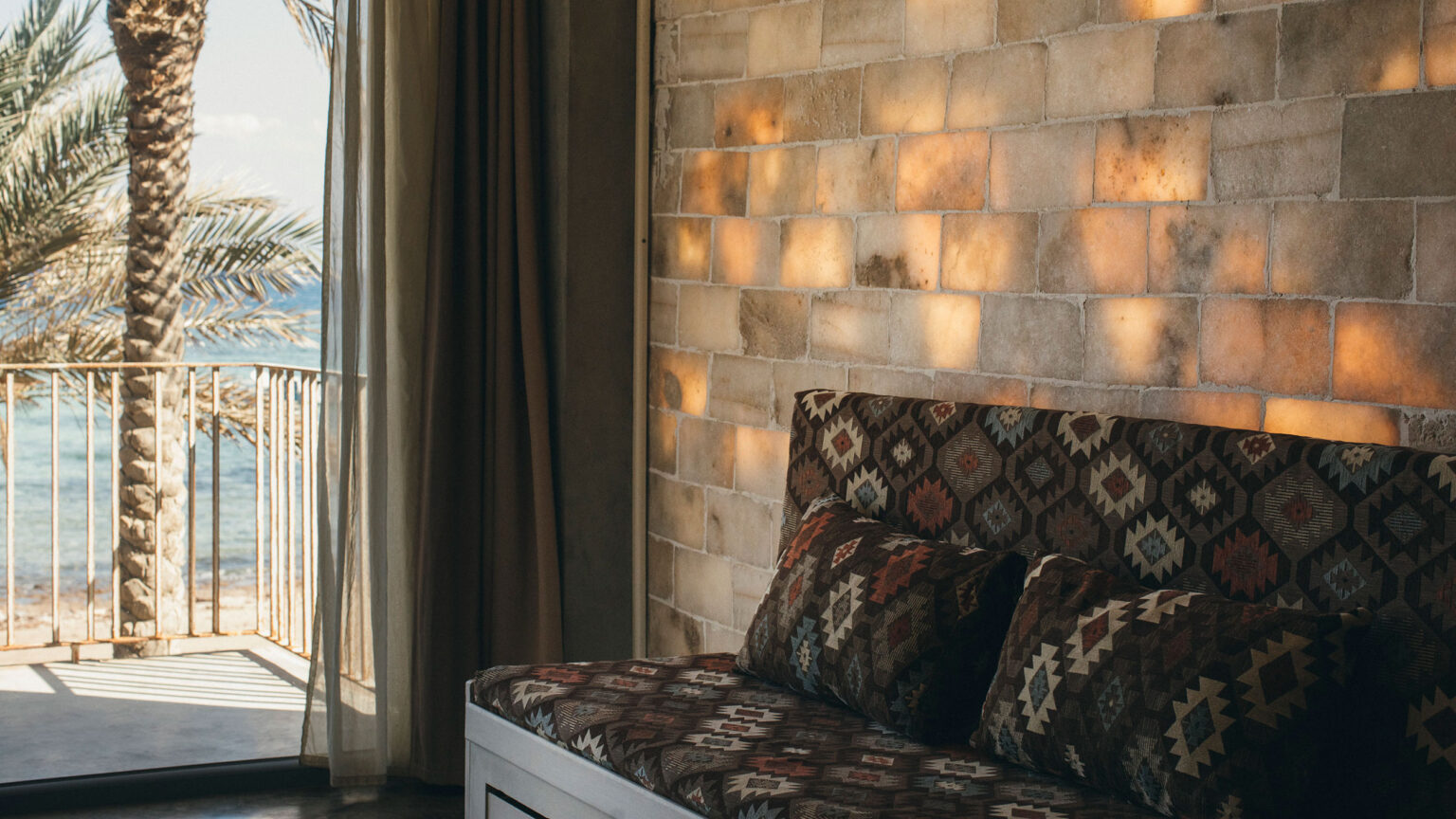 The tranquil spaces are distinguishable by their walls. The atrium, along with the majlis, have sand treated finishes to create a rustic vibe and mimic the palettes of Dahab's beaches. Contrastingly, white plaster in the hallways set a calm tone supported by a soft breeze coming in through the atrium, which is dug below street level and acts as a cooling system for the entire building. Private rooms on the other hand have rough concrete walls. "Sometimes architects should not cover structural elements but work with the building's skeleton or fibre," Julen explains.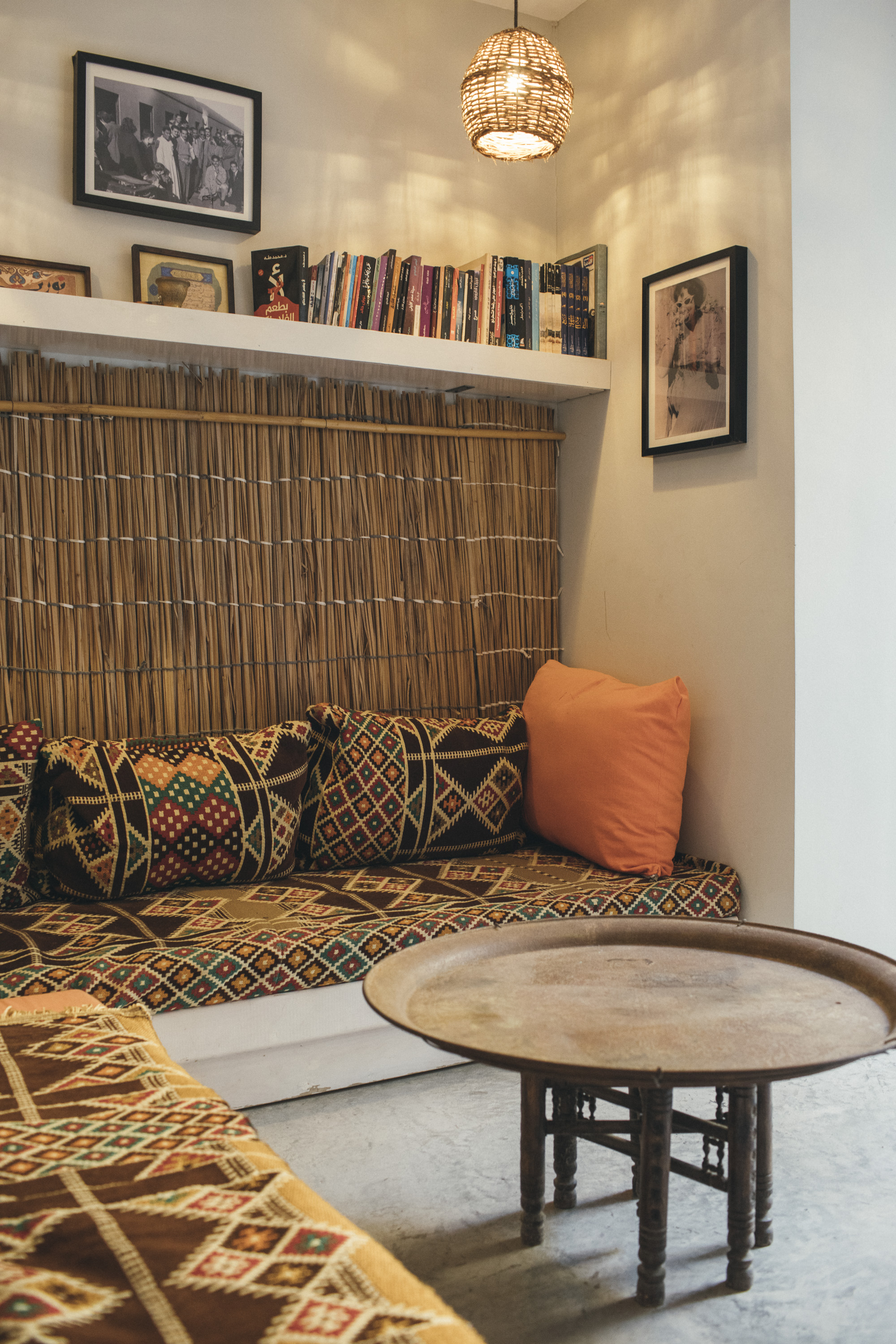 Once inside the rooms, guests are immersed in a warm intensity created by illuminated salt bricks from the Siwa Oasis and furniture made of palmwood and leaves passionately crafted by local artisans. Indeed, Dar Dahab is what it is because of Traffik's work with local carpenters and artisans. "Architecture is what frames an image, handcrafts give it a soul," Julen tells #SceneHome.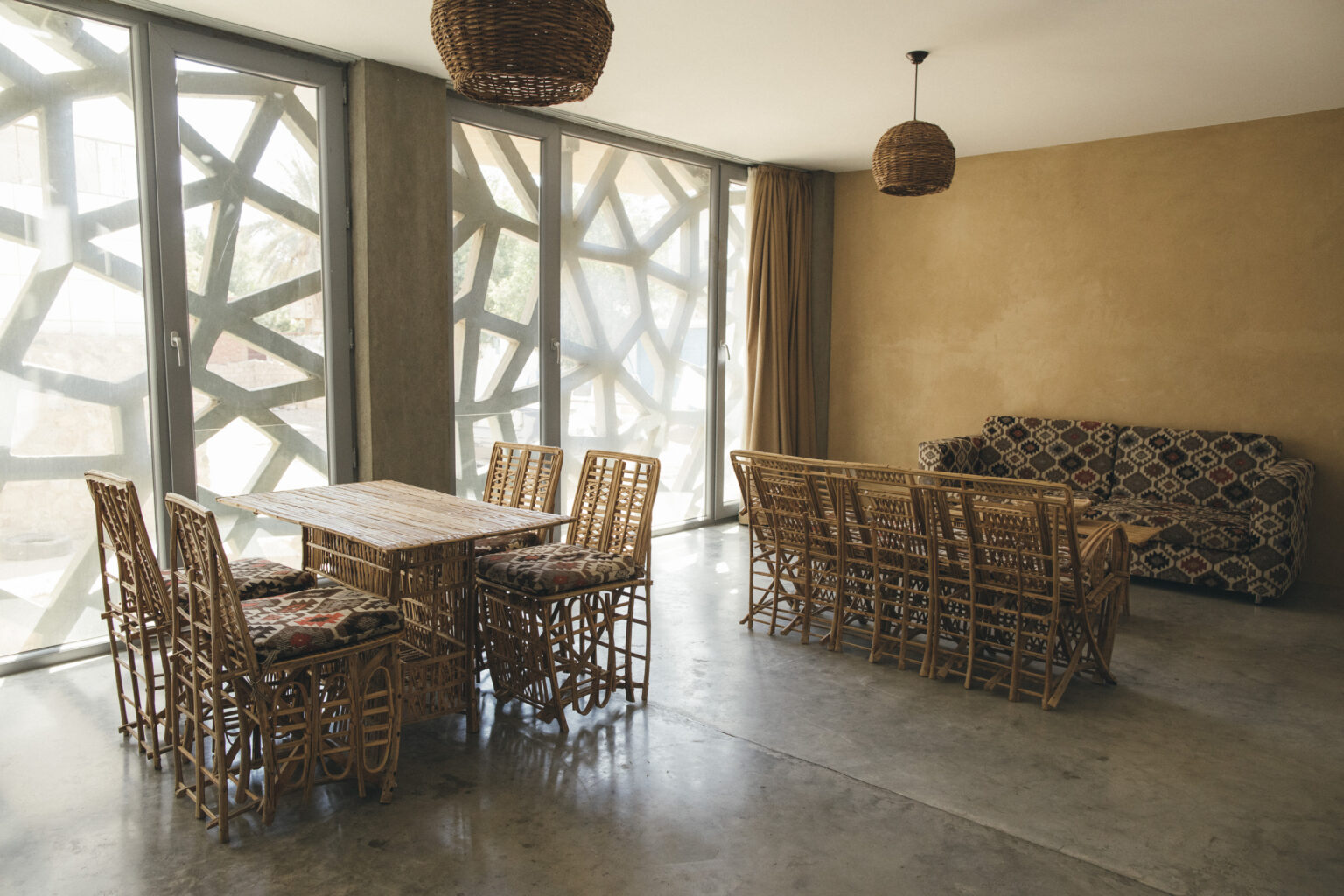 Guests entering Dar Dahab will immediately be drawn to the striking mashrabiyas, inspired by… well… seaweed. "While swimming in Dahab I would notice a lot of algae ashore so one time I decided to take pictures and sketch out their patterns." The resulting designs augment the indoor intensity, creating a deep sense of privacy caressed by dynamic shadows. Meanwhile the patterned exoskeleton façade pays tribute to traditional Egyptian architecture.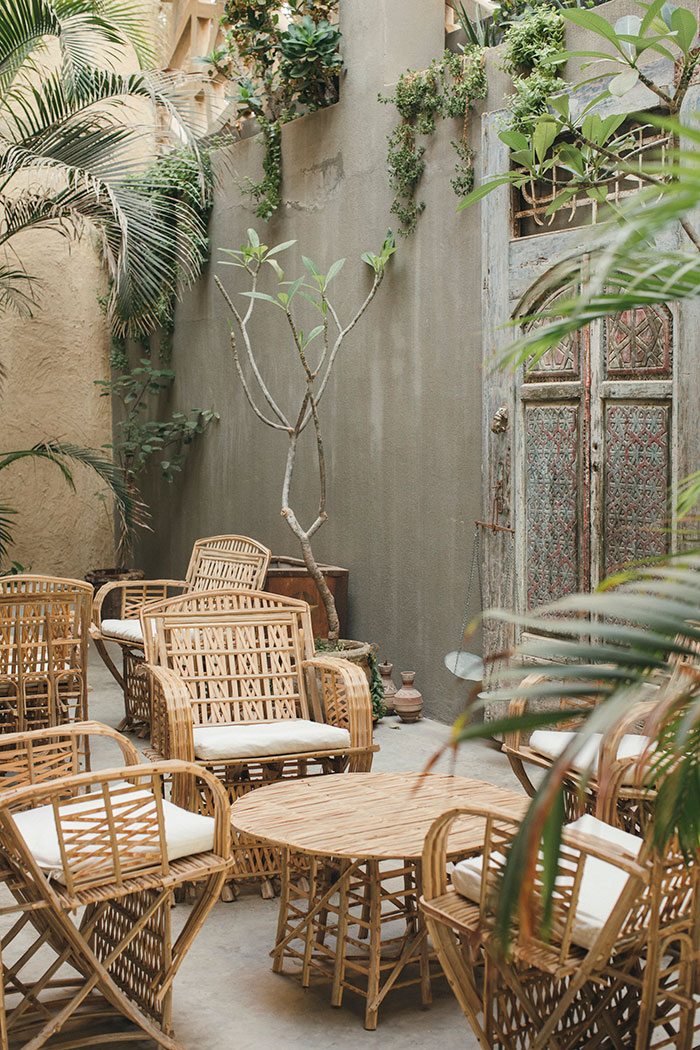 This fusion of modernity and tradition results in rich interiors in harmony with the environment. "Initially the client thought it wouldn't work, but it turned out well and the guesthouse is booked year-round so I am happy for her."
To 'live' the Dar, visit their website at https://dardahab.com