Giving eating rituals an unlikely mix of sophistication and nonchalance, Gohar World created exclusive tableware pieces for Gucci Vault, inspired by 80's dinner parties and produced in Egypt.
Dinner tables tell the tale of our homes, they bring us together to indulge, laugh and most importantly, judge how each one of us treats their forks. Did your host place the forks correctly, and if so, were they provided with adequate and fashionable rests like, let's say, a candy-shaped Venetian glass cutlery rest? If not, then something has got to give. Gohar World, a tableware brand founded by Egyptian artists and sisters Laila and Nadia Gohar, released an exclusive nine-piece capsule collection of table delights for Gucci Vault, an experimental online store curating Gucci's vintage pieces and modern creations.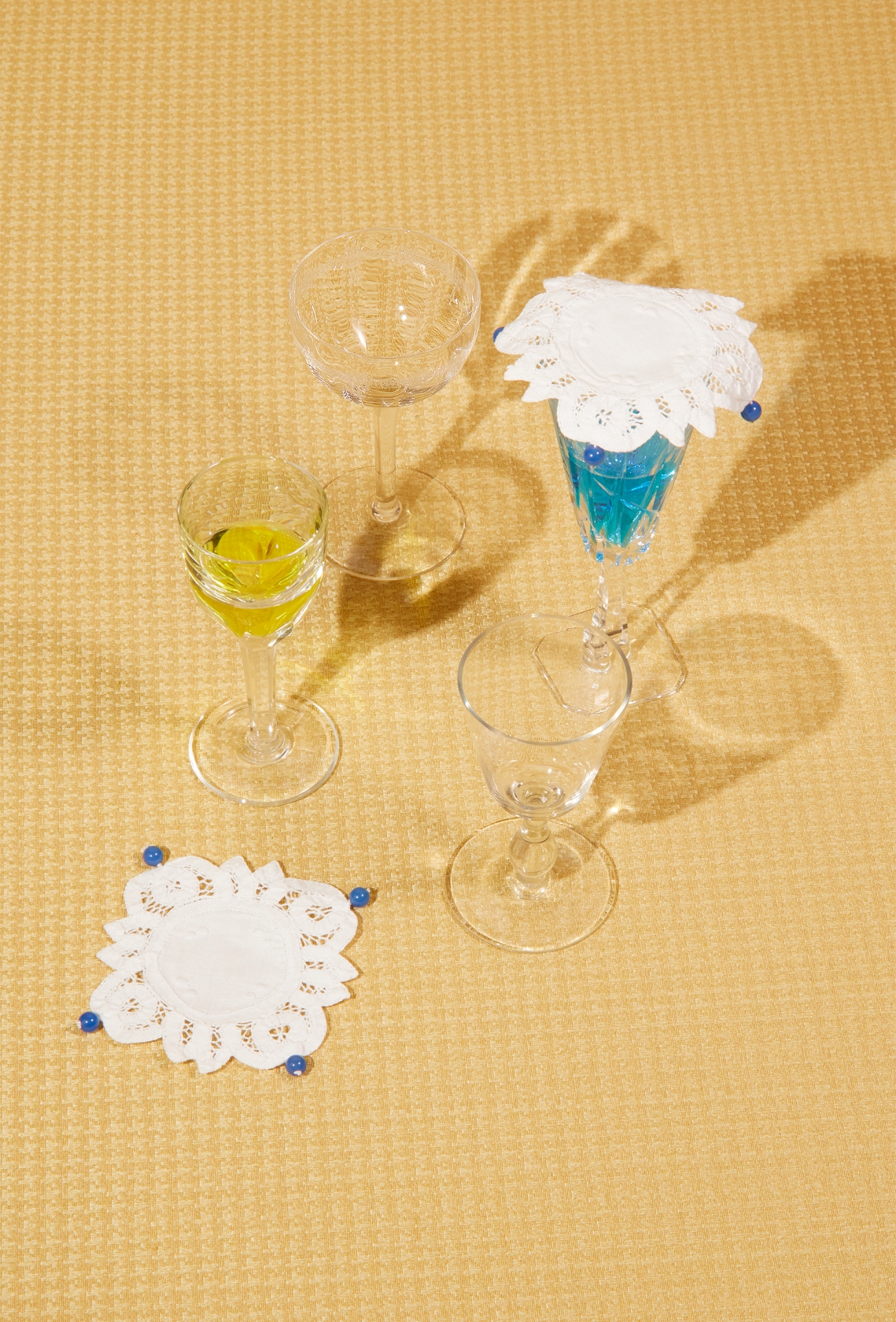 "The collection re-envisions our signature pieces in vibrant colourways and materials inspired by 80's dinner parties and Gucci hues," Nadia Gohar tells #SceneHome of their collaborative work with Alessandro Michele, Gucci Vault's Creative Director. Gucci, the global fashion giant, is renowned for its signature green and red stripes that emblemed their design mastery, and similarly, the Gohar World collection followed suit.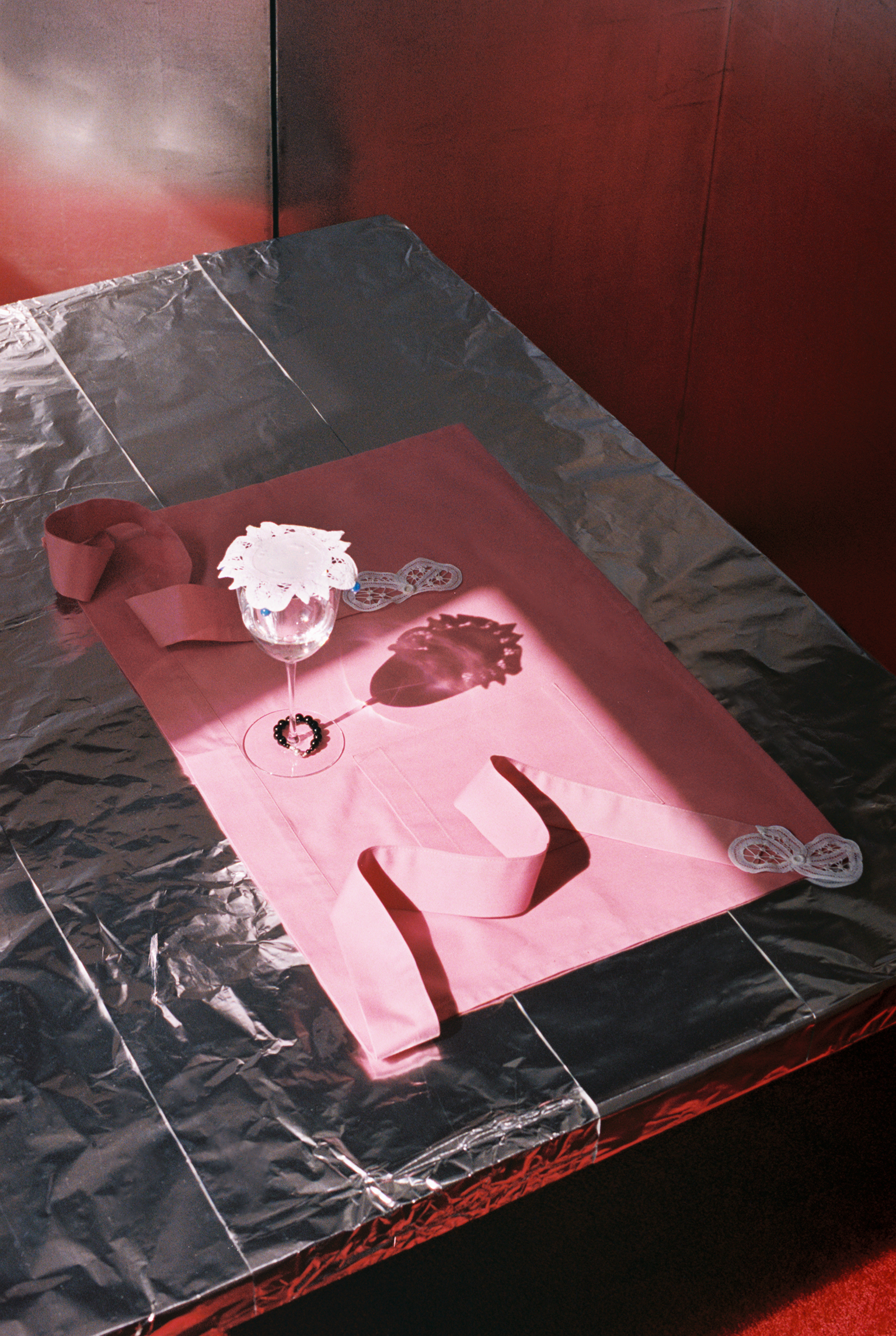 "It includes mini jupe-style aprons with Battenburg lace bow appliques on taffy pink and juniper green Egyptian cotton that was sourced from Cairo," Gohar continues, referring to her birthplace. Gohar World was founded in May 2022 but conceived a couple of years earlier during a period when gathering around the dinner table with family and friends was abruptly halted. "We launched Gohar World with the intention of bringing people back together around the dinner table, and fulfilling our belief that setting the table should be approached with the same consideration as dressing oneself."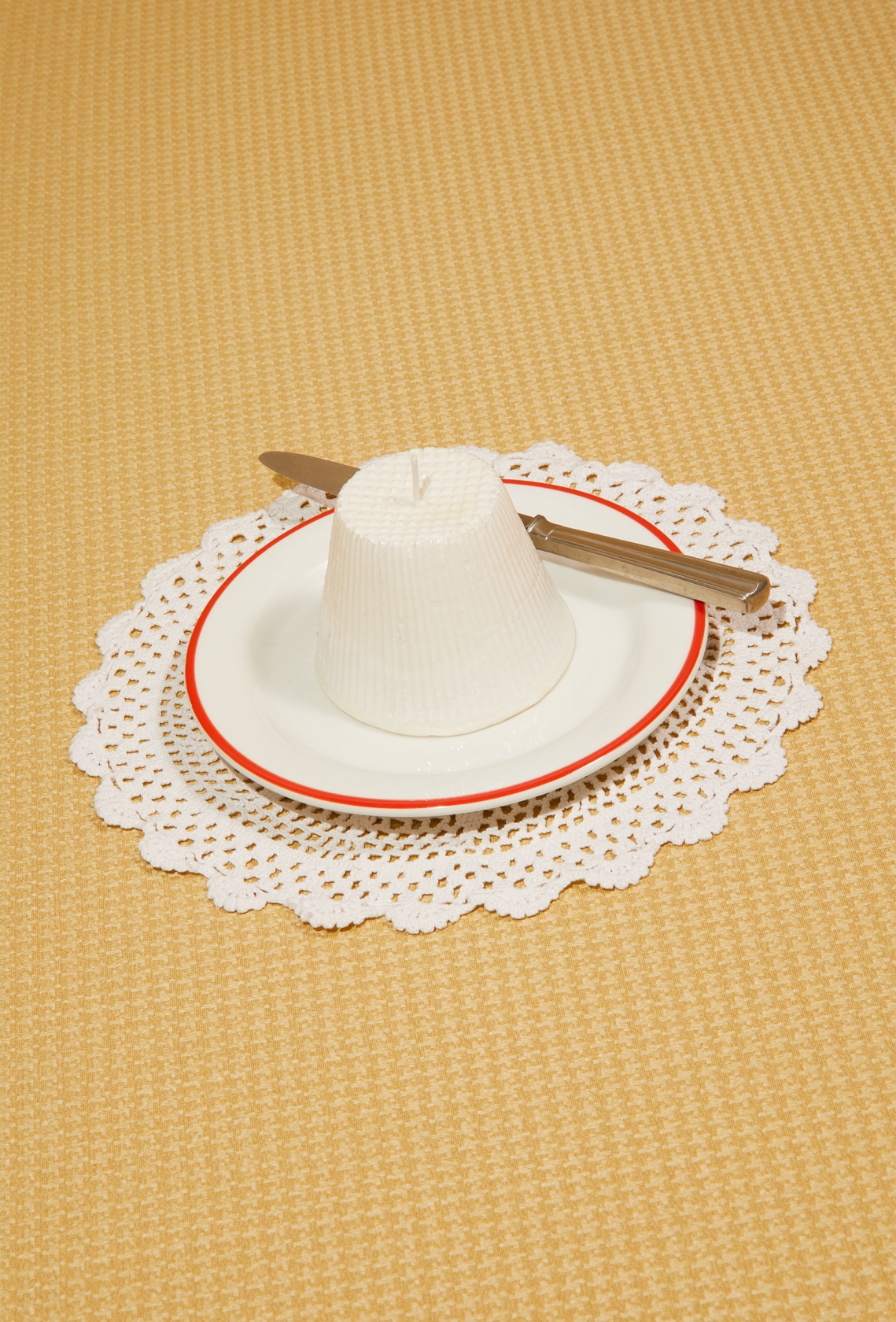 Edible masterpieces are Laila Gohar's expertise, the artist works with food as her artistic medium and is known for out-of-this-world collaborations in fashion, interior and luxury, partnering up with the likes of Hermes, Chanel and Simon Rocha. Nadia Gohar, on the other hand, is a painter and sculptor who exhibited her work in museums and galleries around the world. Exploring the importance of material history and the urgency of craft in visual dialogue.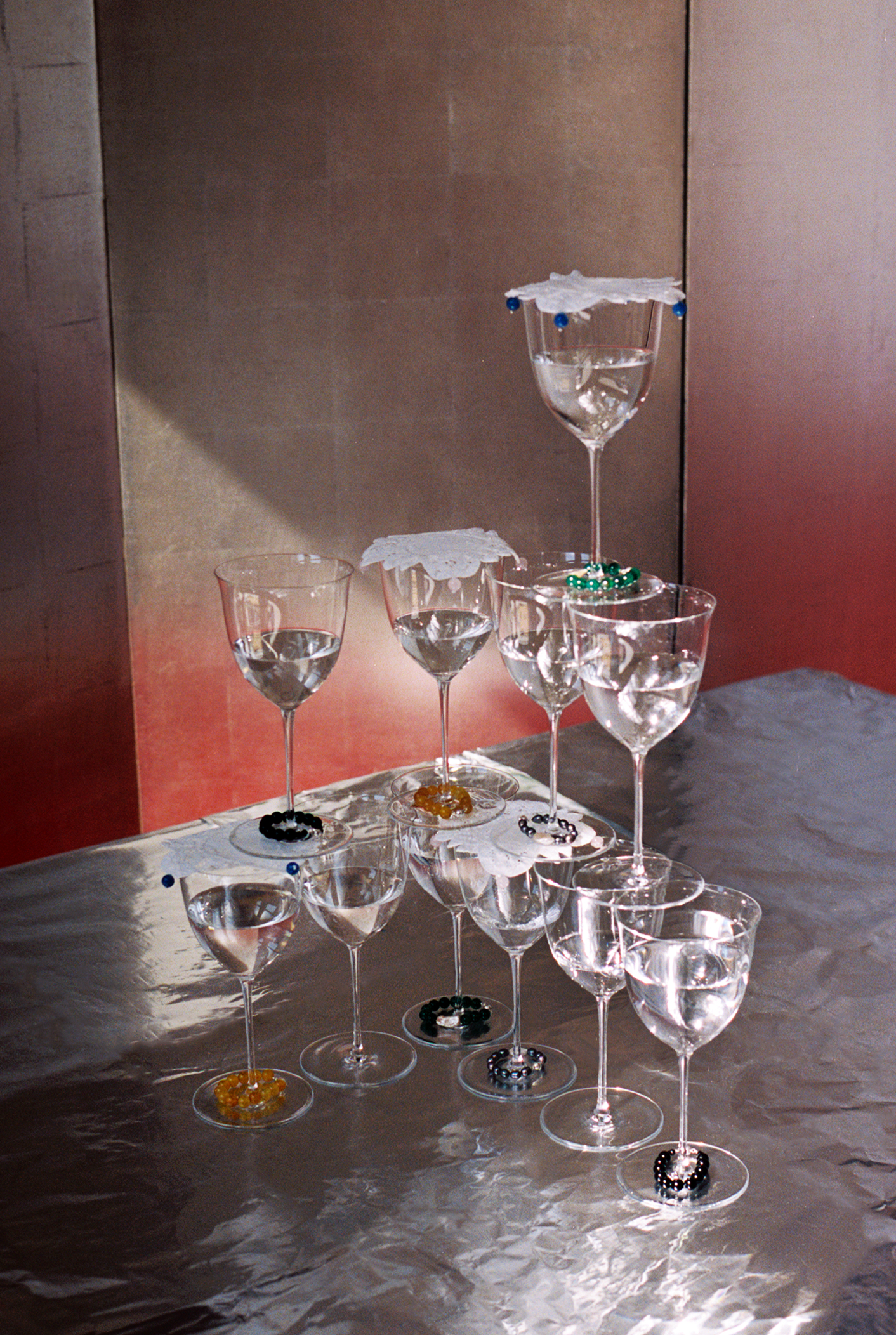 "We designed the collection in New York City and had the pieces produced in our family-owned atelier in Egypt, in an effort to preserve craft and tradition which are core values of the Gohar World universe," Gohar says. In Cairo, artisans in the Gohar atelier ingeniously create mouth-blown glass, intricate needlework and hand-dipped candles to - quite literally – breathe life into these pieces. As for the cottons and linens, they are sourced from across Egypt and sewn in the atelier.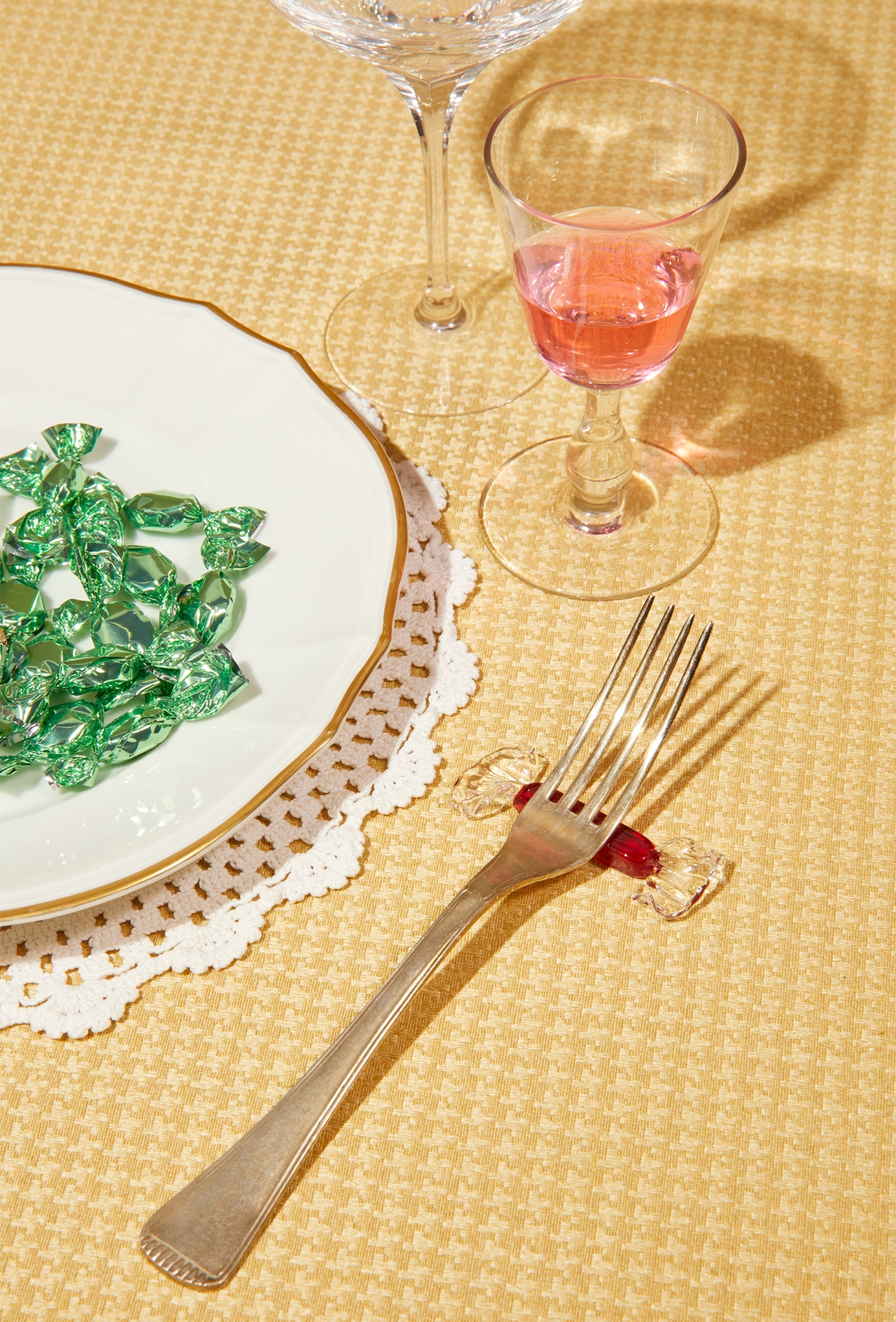 While their debut collection included creations like pearl hats for wine glasses, chandeliers holding eggs, and surrealist candles shaped after cheese and cauliflowers, the Gucci Vault capsule collection adds a basket ricotta-shaped candle celebrating Gucci's Italian heritage, and candy-shaped cutlery rests in new hues that are frankly striking. "The Gohar World Venetian glass candy cutlery rests, which are already a fan-favourite, are seen in this capsule collection in Persian blue and carnation red for tableware enthusiasts keen on completing their set."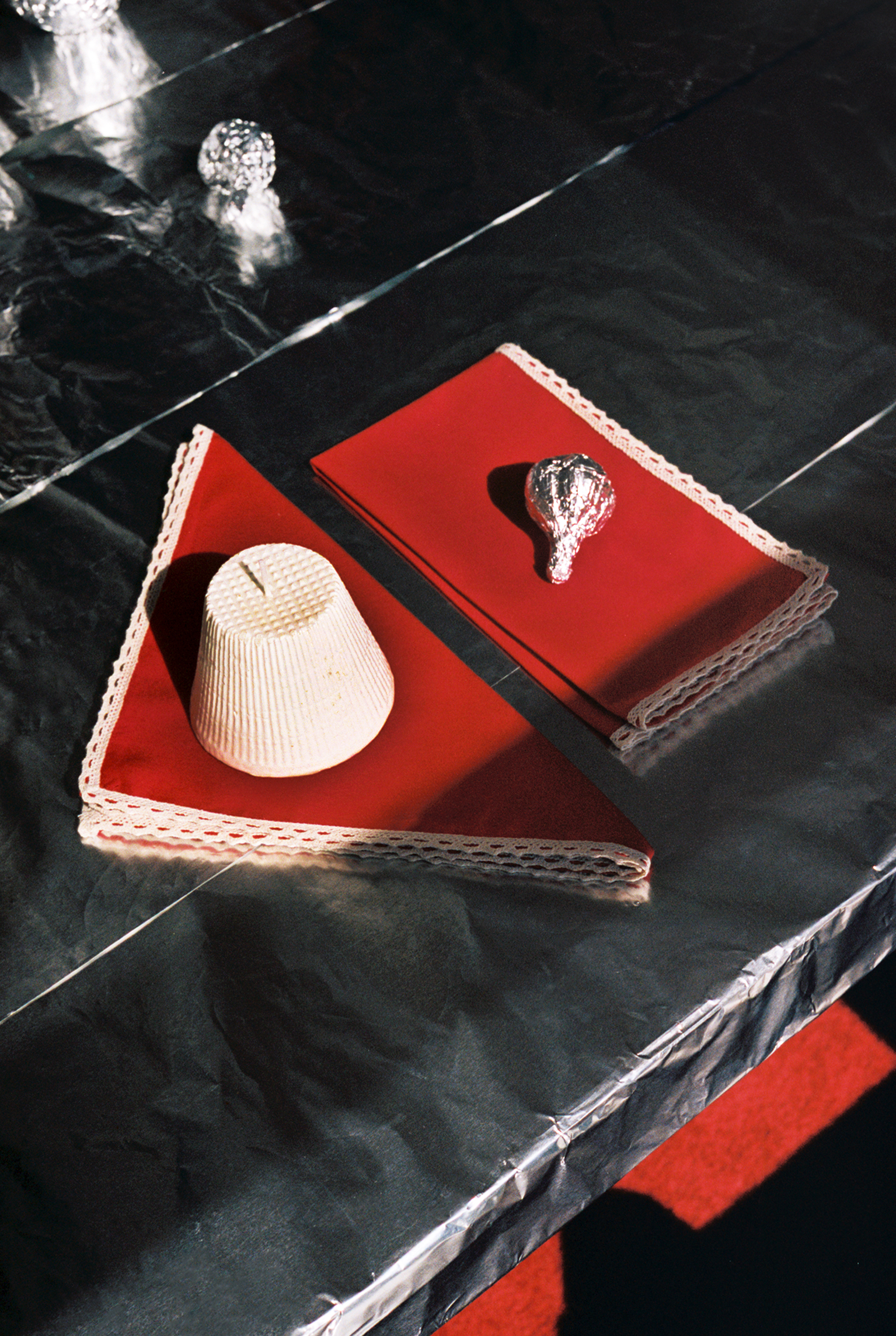 The exclusive collection also features a generously sized red Egyptian cotton dinner napkin with oatmeal lace trim that is available in sets of two. Giving eating rituals an unlikely mix of sophistication and nonchalance, Gohar World took an abstract approach to ordinary tableware.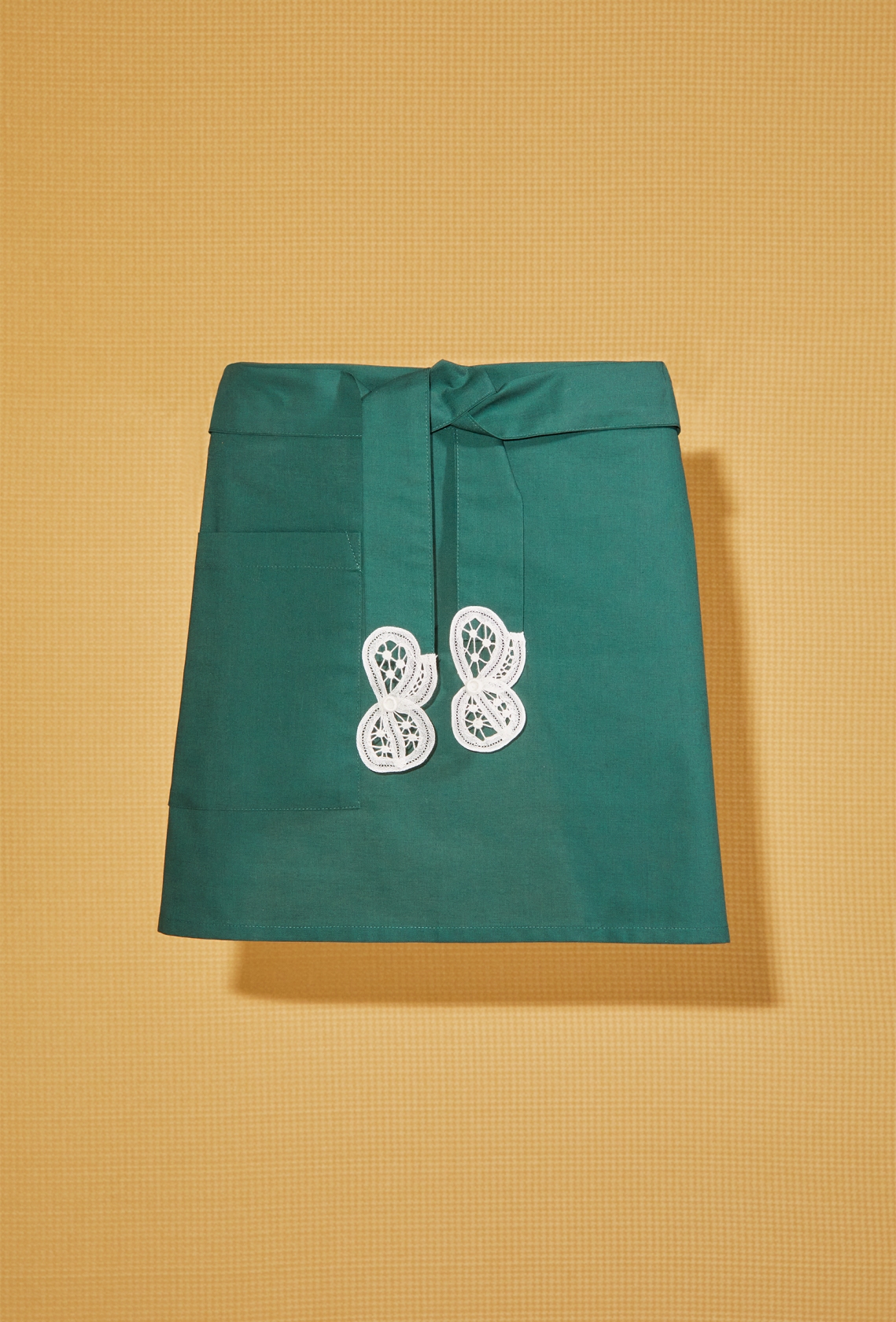 Gucci Vault was envisioned by Michele as a place where the past, present and future coexist through powerful and imaginative works. Free dimensional and forever in flux, the experimental online space is a meeting place where odd conversations become inevitable. While rare Gucci pieces are carefully curated alongside exclusive and limited-edition collections such as this stylish tableware collection by Gohar World.
If experimental online space sounds a bit ambiguous, let's hit the iron while its hot. Think of Gucci Vault as a creative planet that hosts a variety of products coming from unsuspecting inspirations, Gohar World wanted to marry their universes together and in the process, put together a tableware collection that exudes elegance and chicness despite looking and feeling quintessentially causal. Delivering timeless objects apt for entertaining in our modern world.
Photography Credit: Adrianna Glaviano