A soothing colour palette runs through the seamless interiors of this New Cairo sanctuary.
Our homes must be relaxing retreats, a source of calm when the outside world becomes overwhelming. How they're designed helps to create that necessary sense of peace; the owners of this sanctuary in Palm Hills knew just that when they tapped TDF+, a Cairo-based design firm, to tailor this New Cairo home to their lifestyle.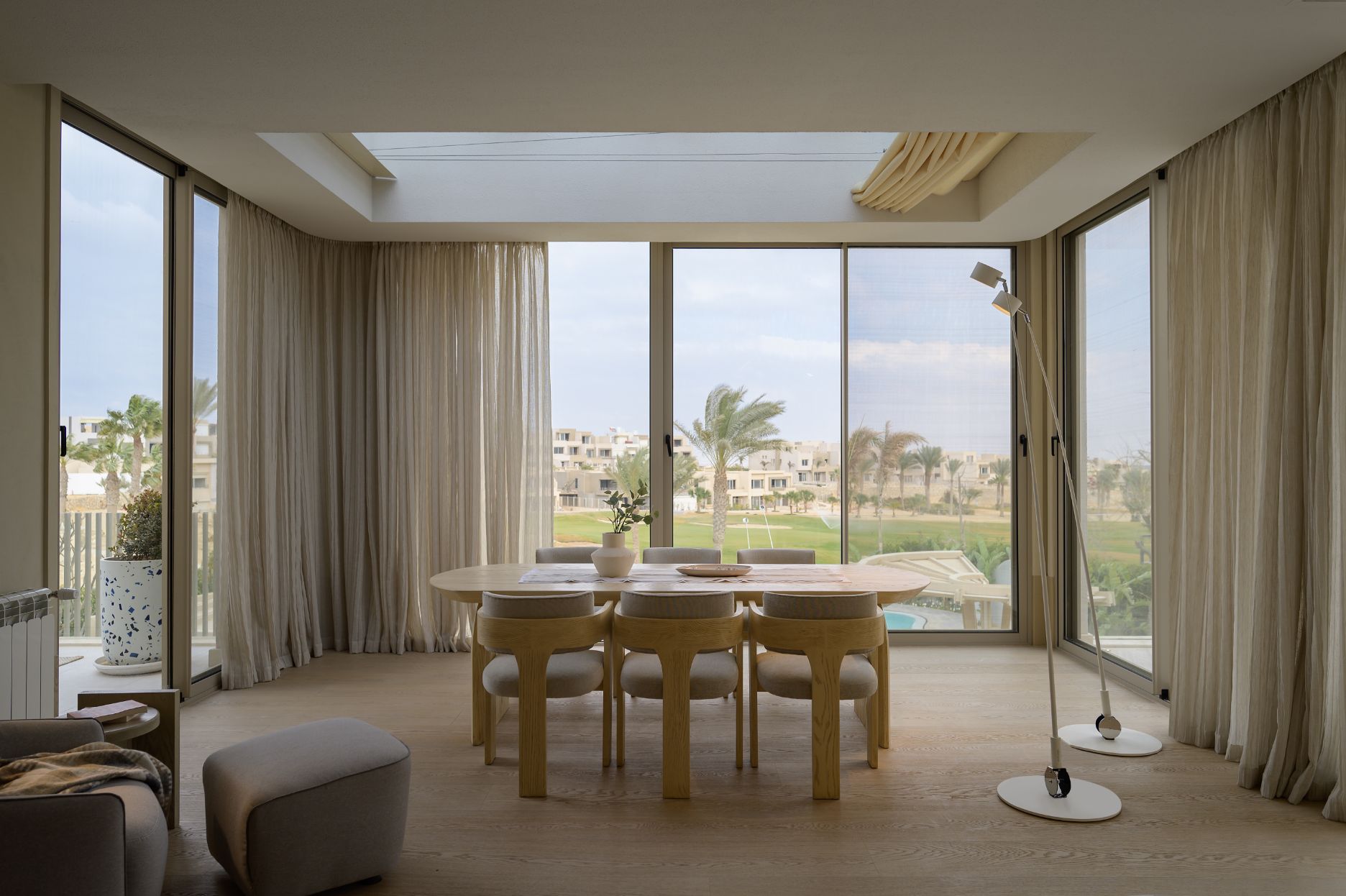 "The house represents its owners, they're friendly and tranquil," Hala Saleh, Founder of TDF+, tells SceneHome. It features a soothing prayer room hidden behind a ribbed door as a muted colour palette made up of tan, creme, taupe and pastel hues blends everything together. "The design reflects their calmness and delivers a relaxed mood."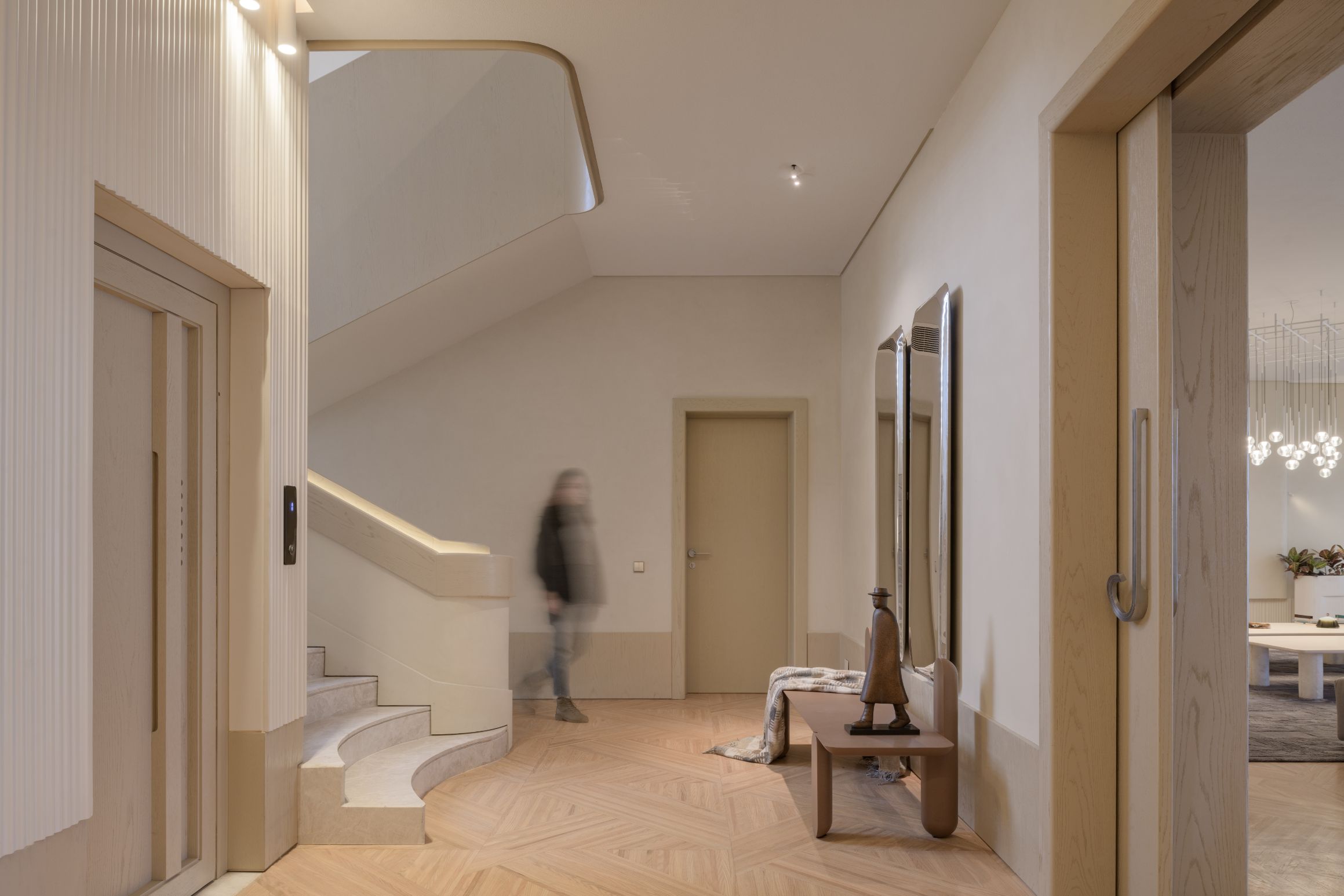 Inside, the foyer displays furniture that mixes solid materials such as sharp glass and fluid forms on the bench, telling of the firm's design approach. The main living area lies further ahead, linked to a dining area through a custom-made folding door. On the left, an elevator neighbours a signature staircase with curved steps and a carved wooden handrail.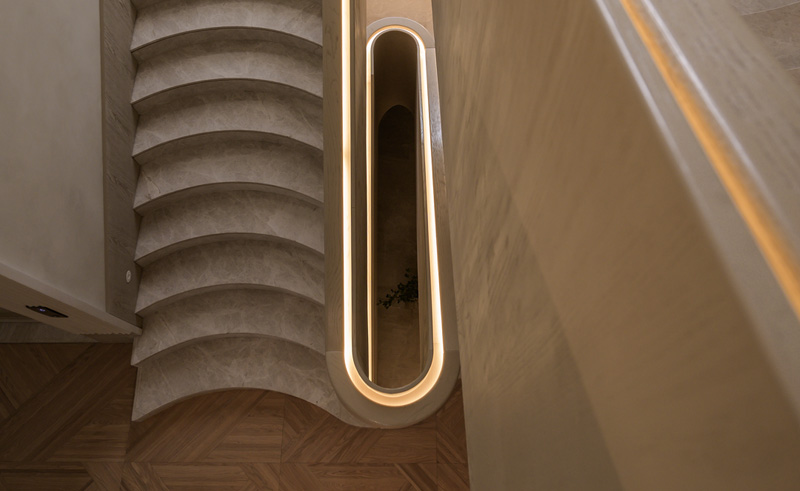 "The design couldn't be completed with it, it's the focal point that embodies the entire design approach," Saleh says of the staircase, referring to 'The Dancing Equation', a made-to-measure concept developed by the firm. It translated the movement of matter between solidity and fluidity into a unique design language that's evident throughout the house.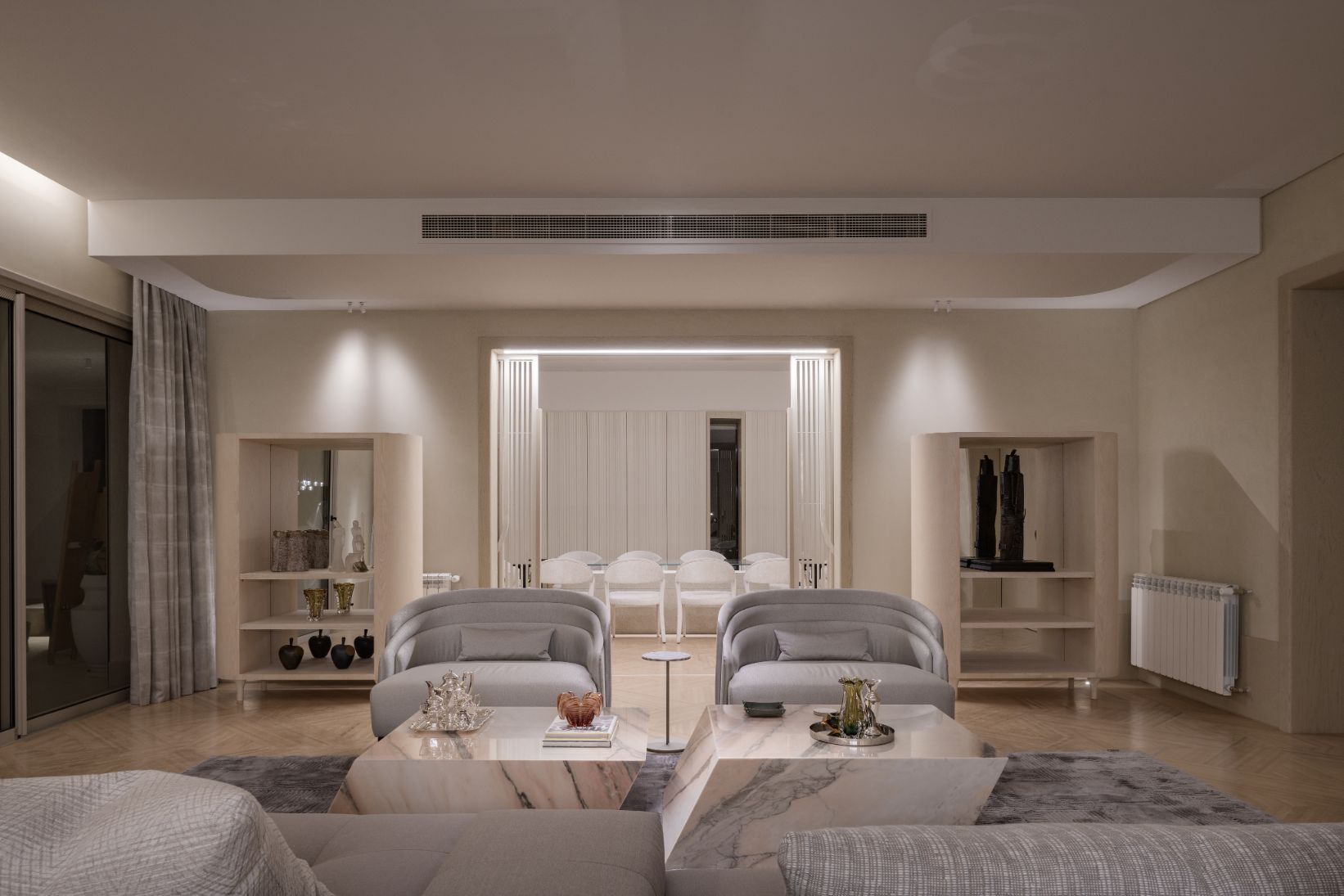 Aiming to find the right balance between warmth, practicality, and grace, the firm used dense materials such as leather and marble (and at times, such as with the kitchen countertop, multiple materials were used at once), and achieved fluidity of form through lighting, artworks and furniture. The latter is exemplified in the main living room.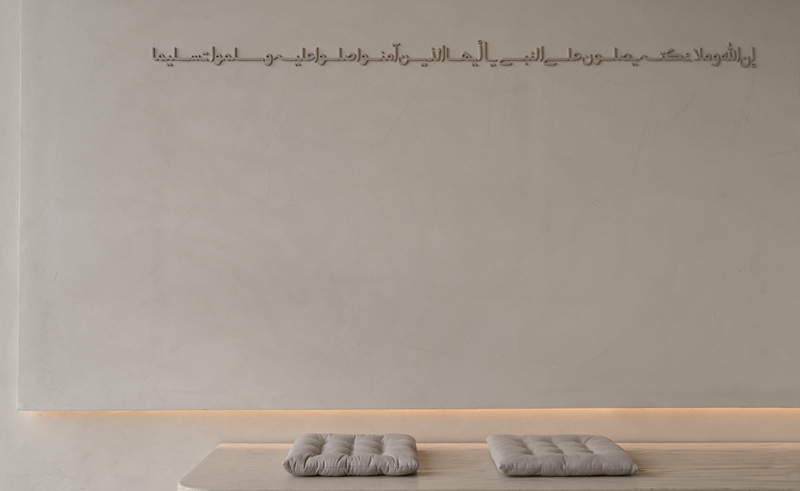 While lighting in the entire house - collaborated on with lighting studio Atelier 33 - remains mostly hidden behind subtle curvatures, in the main living room it's the point of attraction, presenting a slight contrast as contemporary modern furniture is aligned symmetrically to the dining room.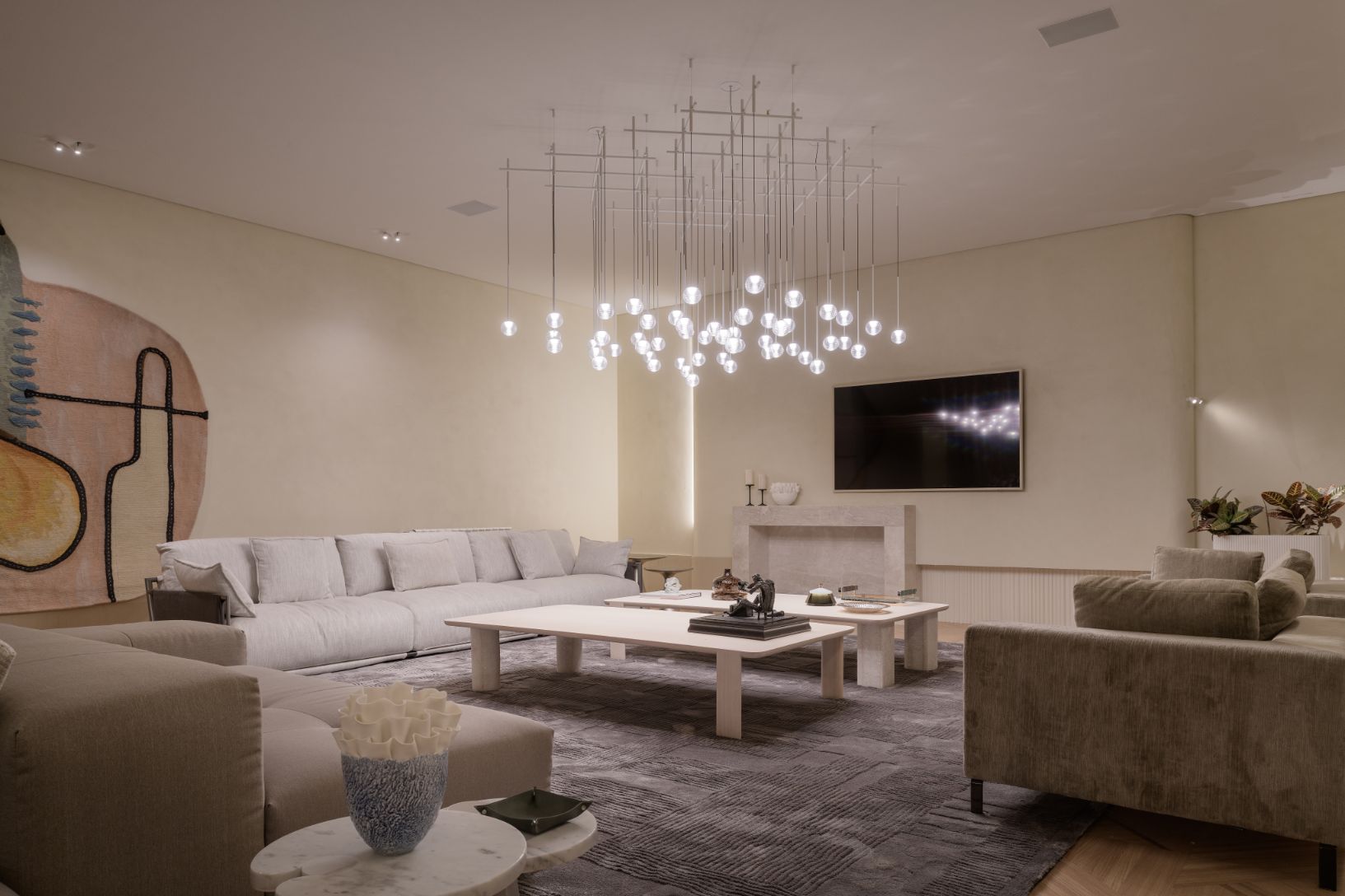 Upstairs, a second dining room is flooded with natural light beaming through a skylight equipped with a slightly yellow fabric. Further in the space, textured, white artworks were custom-made for the owners. "It's not the colours but the textures, patterns and details that brought everything to life," Saleh explains.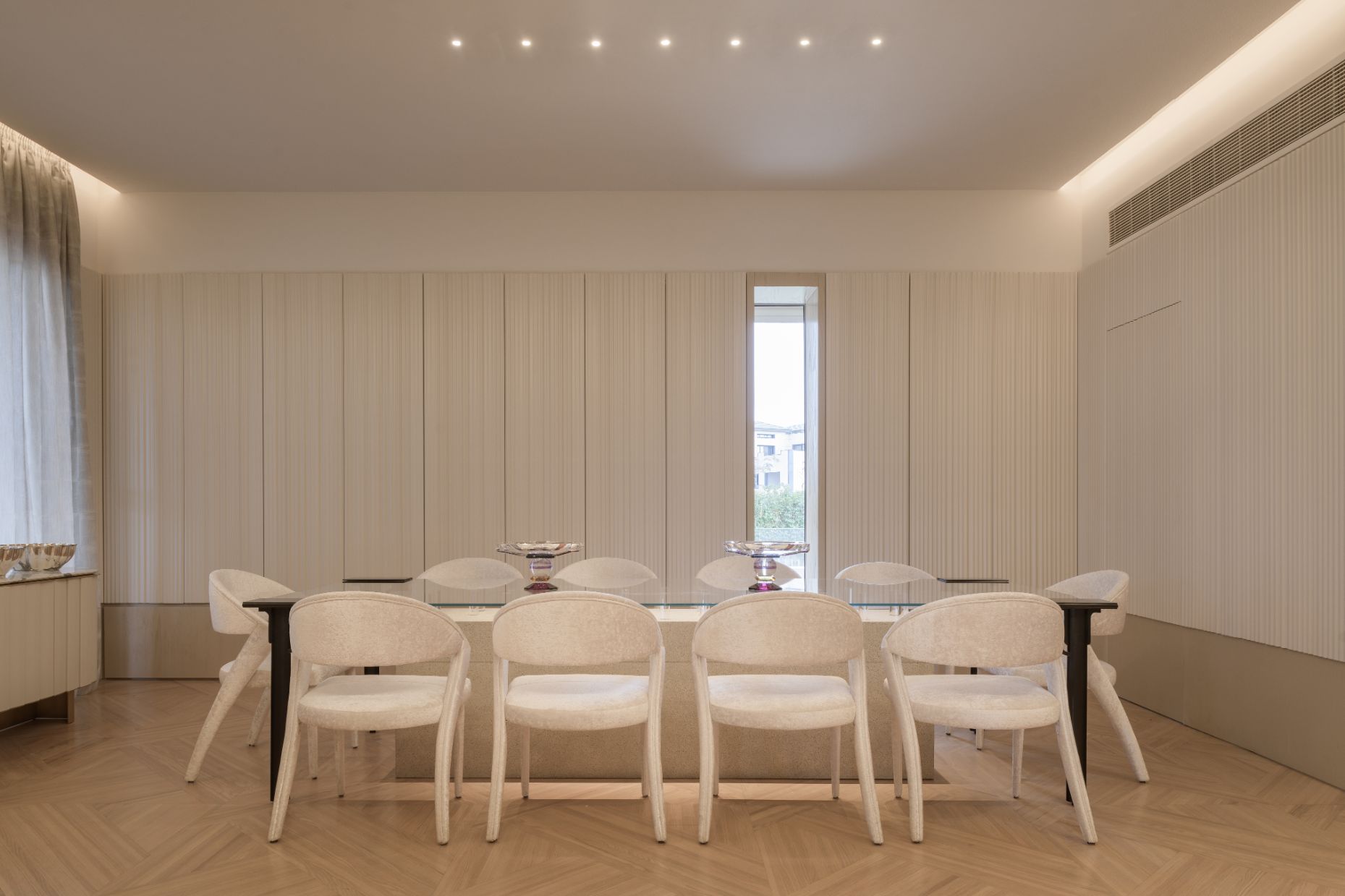 "The design lacks disruption, you don't see splits or joints. Everything is unified in harmony," Saleh says, referring to doors with invisible joints and countless hidden cabinets. After all, clutter breeds anxiety and visual tension. There's absolutely none of that here.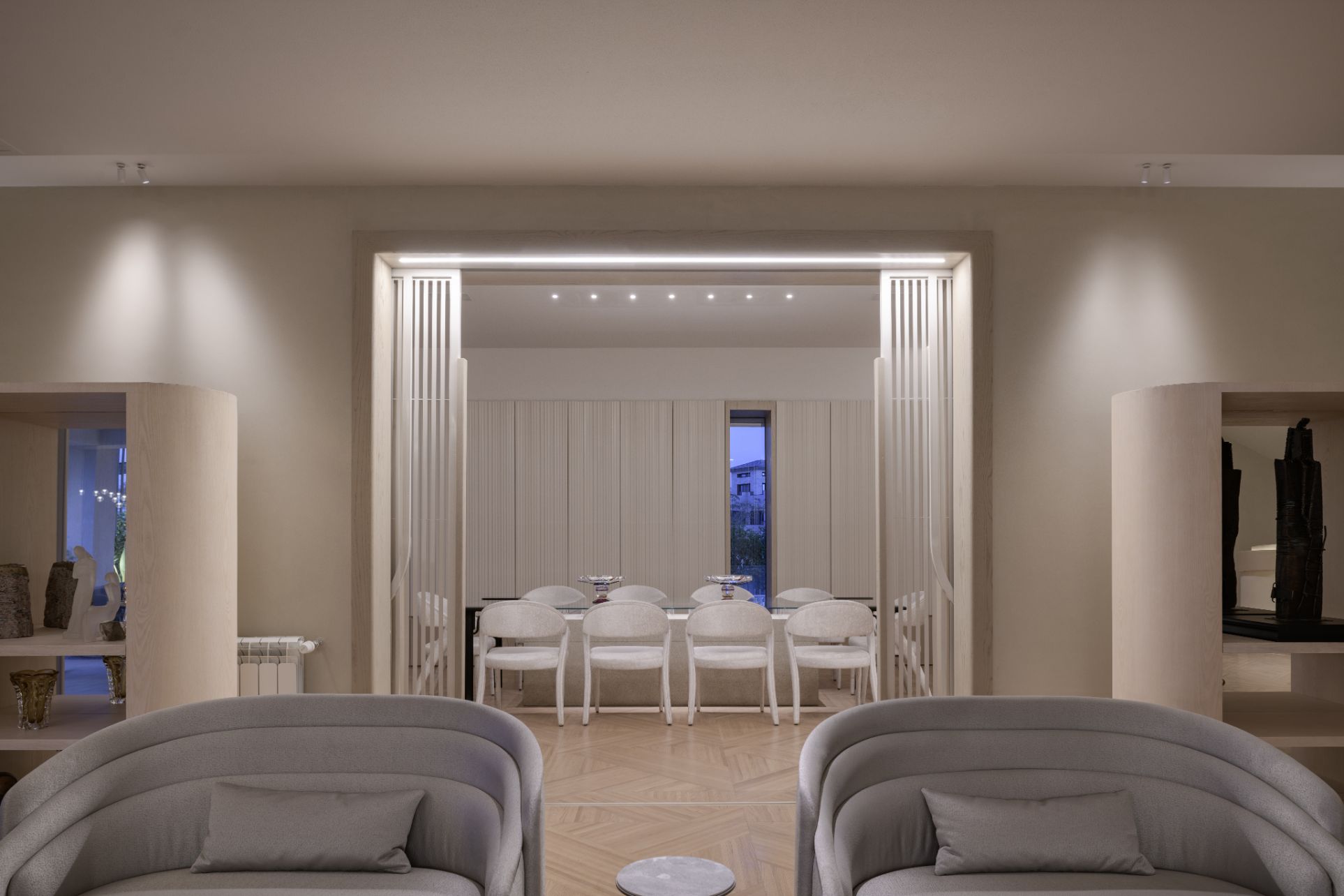 Even shelves were morphed into the design to fit perfectly and connect seamlessly with the walls they featured on. The firm's approach not only affected the design's aesthetics but also how it functions. Isolated behind a ribbed door, the prayer room epitomises the soothing visuals and subtle curvatures which characterise the entire design.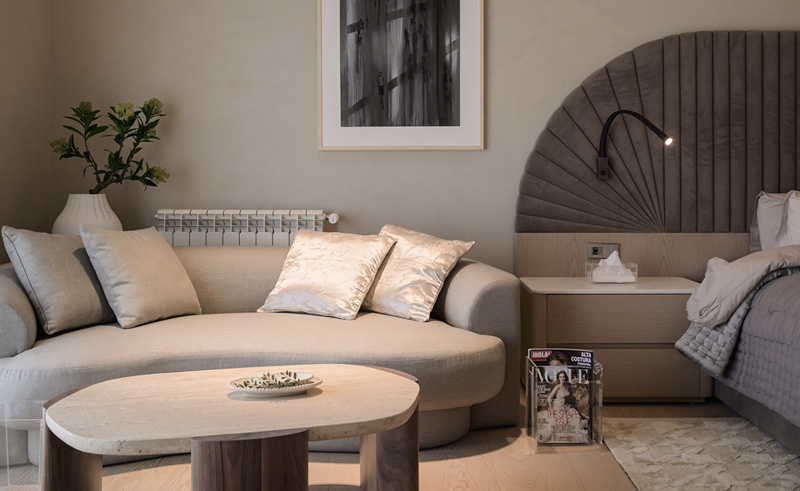 Texture helped create a calming atmosphere throughout the home while colour was used to blend everything together. Bright and popping colours can induce a sense of fun, but nothing achieves tranquillity such as the neutral and muted colours TDF+ used, such as creme taupe.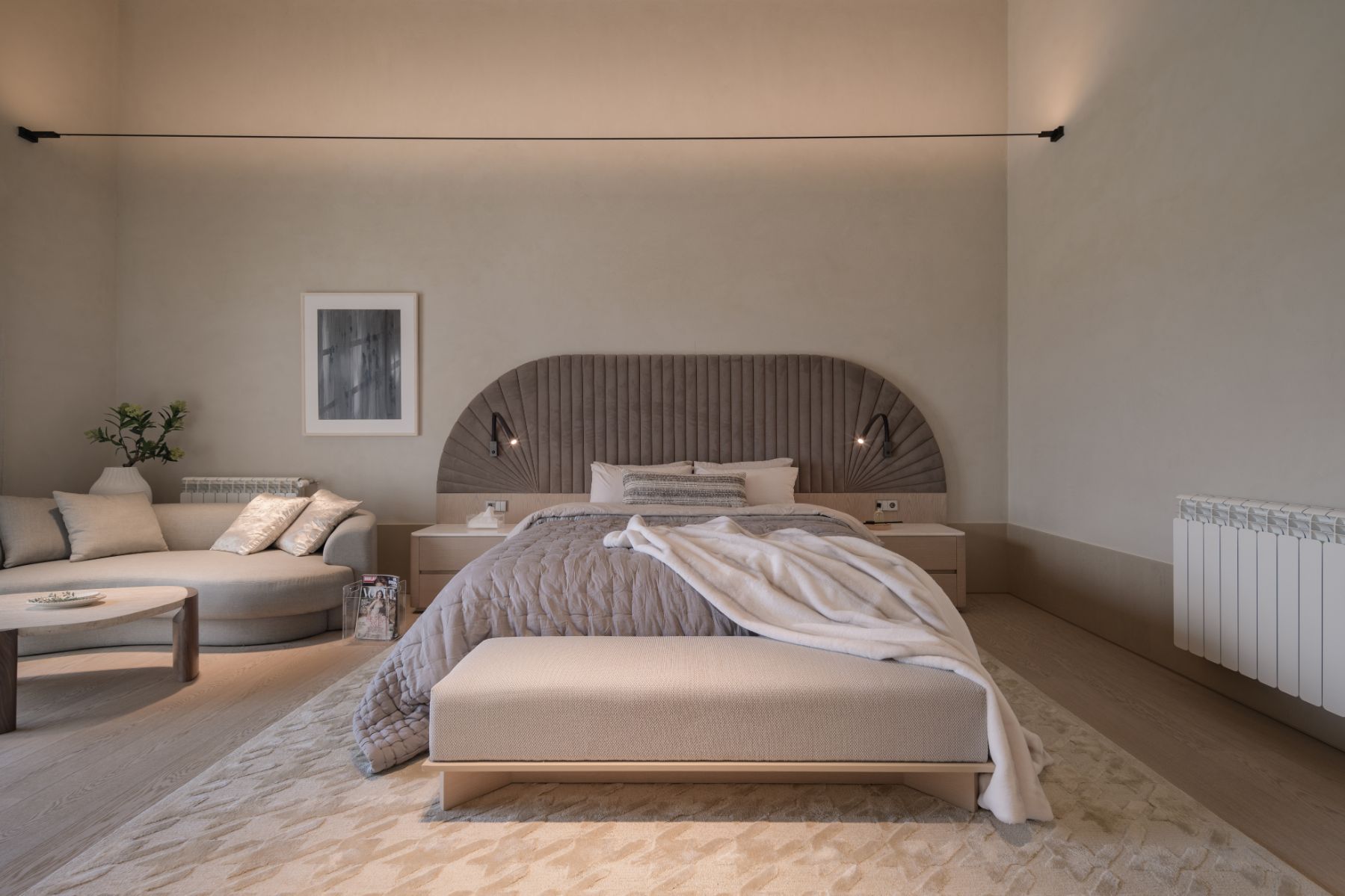 "What differentiates our designs is that we put a lot of effort into research, learning the homeowners' culture and hobbies," Saleh says. "We visited the house to film it years after it was completed and it was as if they had just moved there."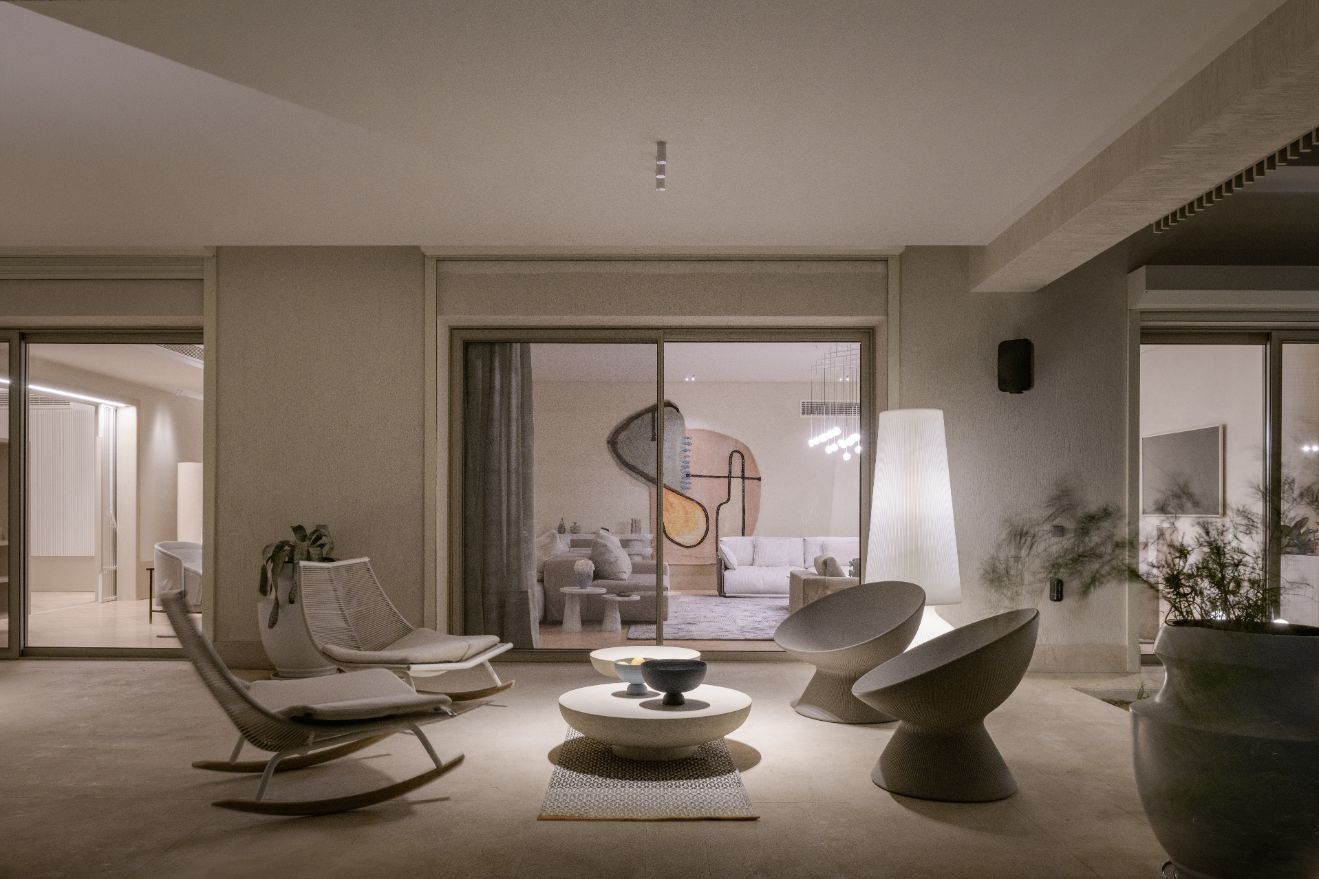 TDF+ created a continuous flux between solid and fluid elements, appealing to both the psychological and physical comfort of the homeowners. The outcome was spaces that balance rich elements with softer ones. A colour palette that is gentle and an overall interior that feels whole.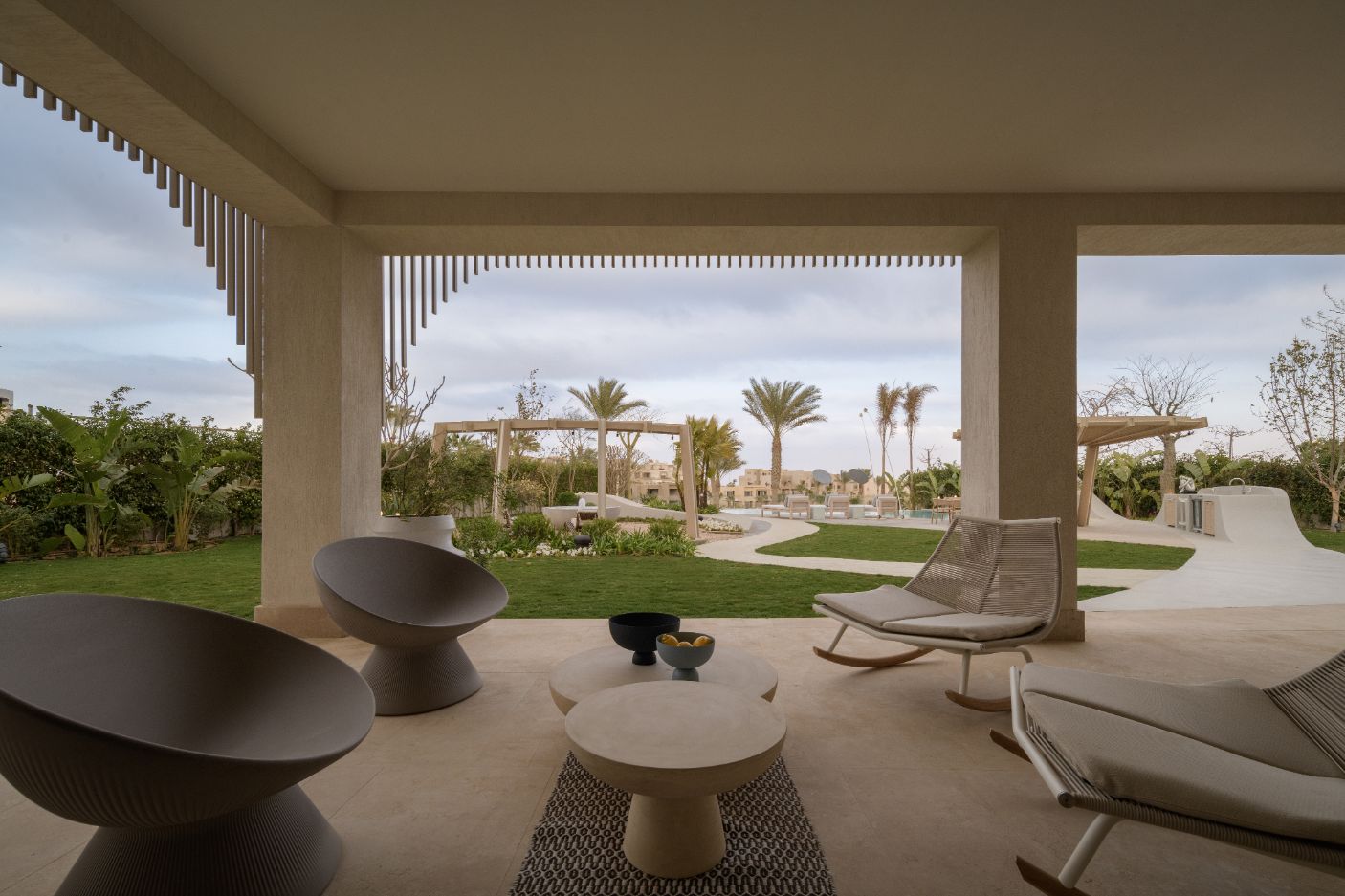 To wholeheartedly embrace a concept and see it through isn't new for TDF+ and Saleh, which explains why the home they've created feels like an authentic one. This isn't the common showy home, it's a softened space with a singular aim: allowing its owners to relax and be their true selves.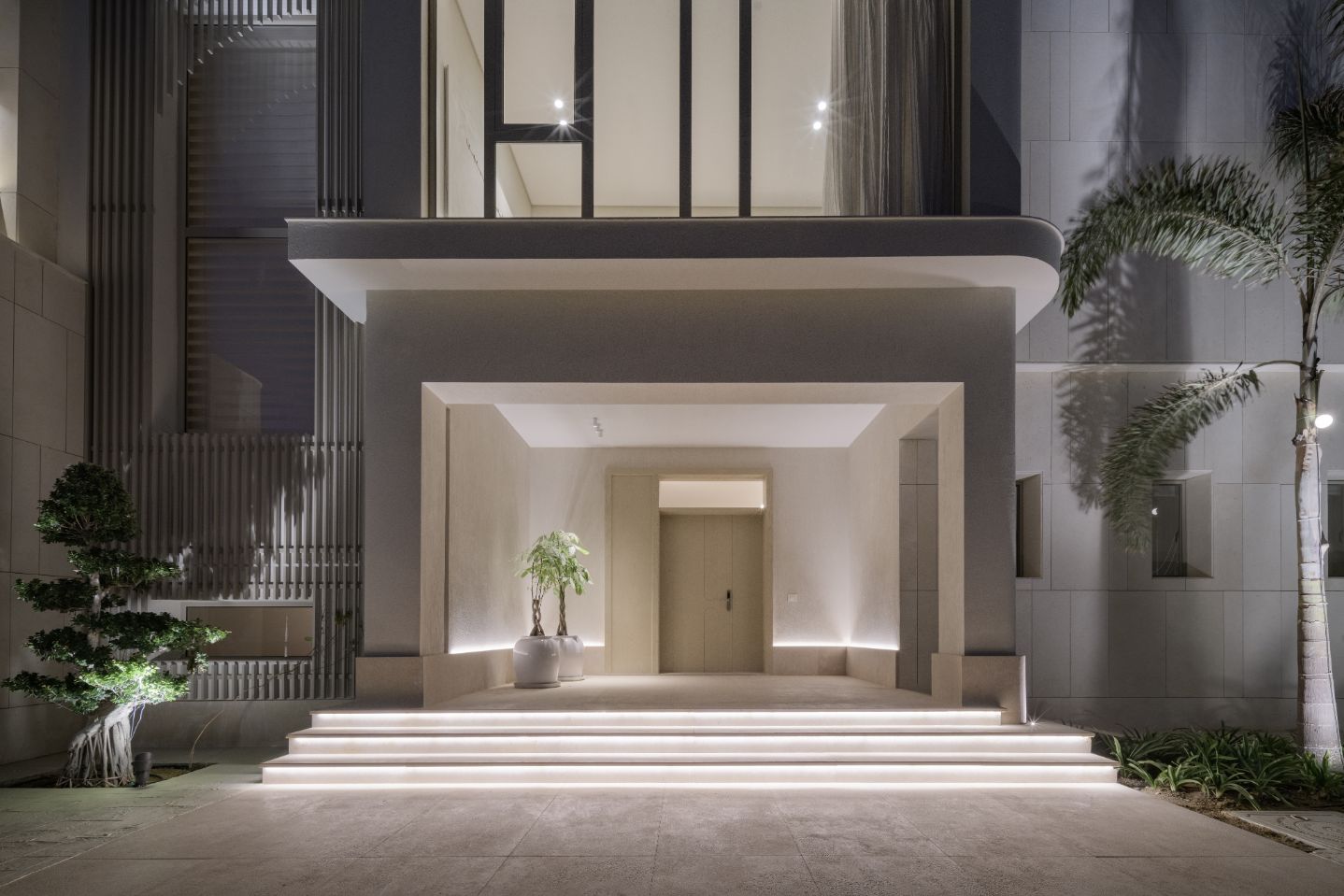 Photography Credit: Nour El Refai