From boldly detailed Persian rugs to cute tapestry finds, Egyptian-Palestinian designer Yasmine Allam made sure to add pops of colour as she decorated this renovated apartment in Giza.
In this recently renovated apartment in an antique building, adorned by gardens and tucked away in a quiet neighbourhood in Dokki, Giza, Egyptian-Palestinian interior designer and home stylist Yasmine Allam found the perfect canvas to host her visual concepts. Its regal wooden floors, high ceilings and clean white aesthetic proved to be the perfect complement to her selection of rare finds, Persian rugs and immaculately-crafted furniture designed by her studio, Yasmine Allam Interiors.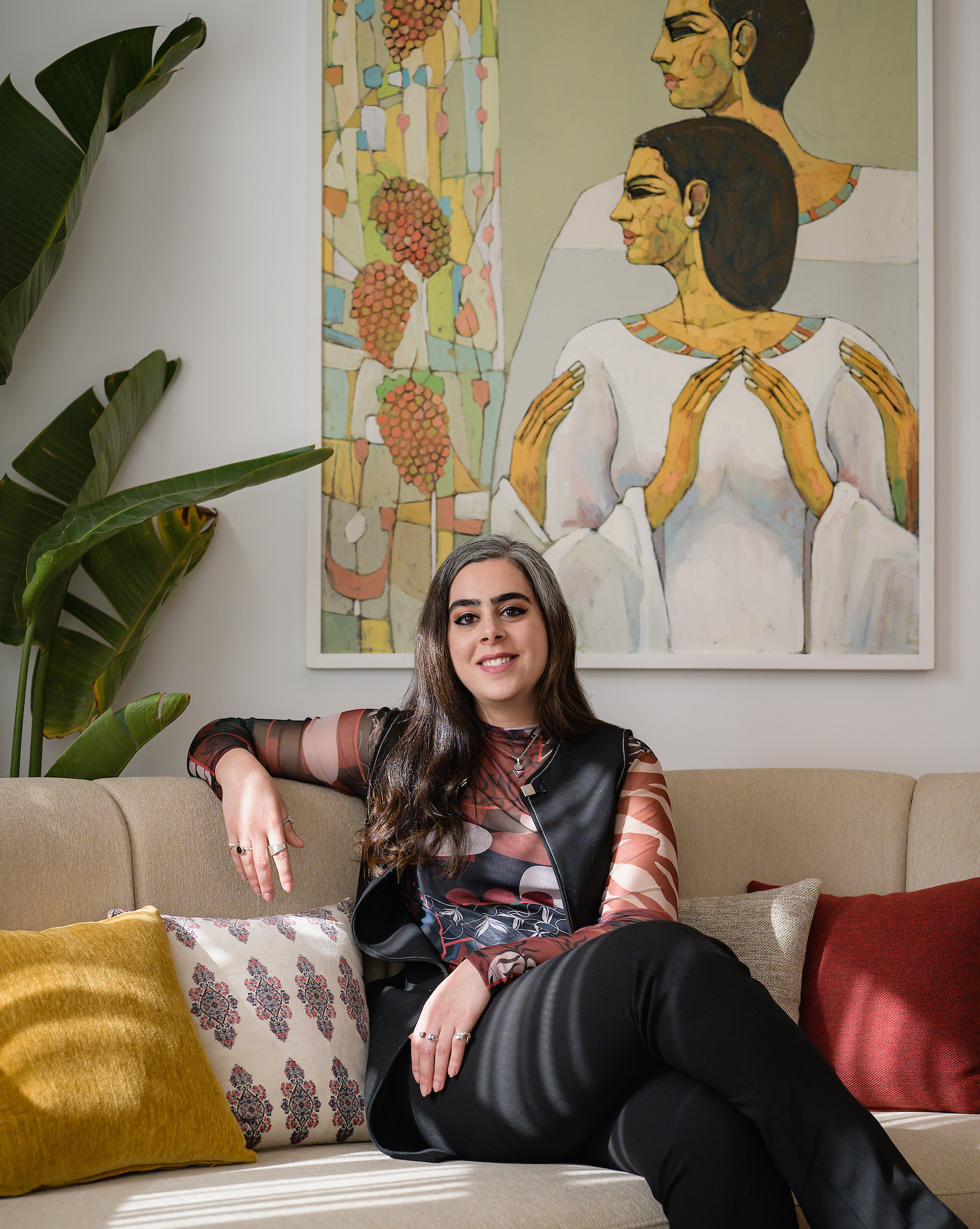 "I would describe my approach to design and styling as soft contemporary accentuated by heritage elements that encapsulate a sense of warmth and lightness with a blend of comfort and sophistication," Allam tells SceneHome. Having founded her studio in 2019 following six years in corporate and academia, the designer focuses on a style that is defined by subtlety, comfort and intentional use of colour, texture and pattern.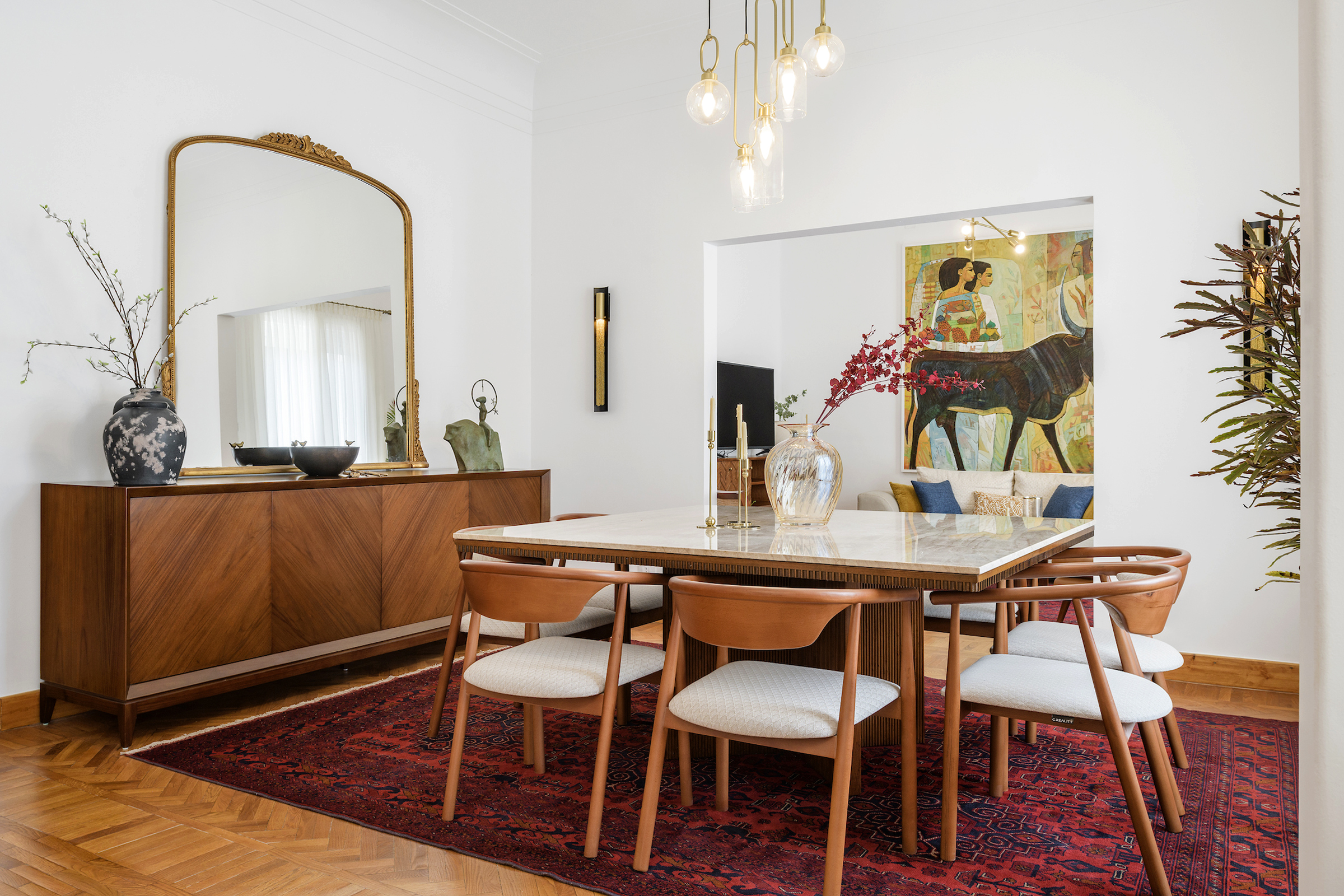 "The homeowner wanted to achieve an overall sense of spaciousness so I adopted an open floor plan for the reception, dining and living rooms, and home office," Allam continues. "It encourages the eye to float around and take in the many layers of detail that are in dialogue with one another."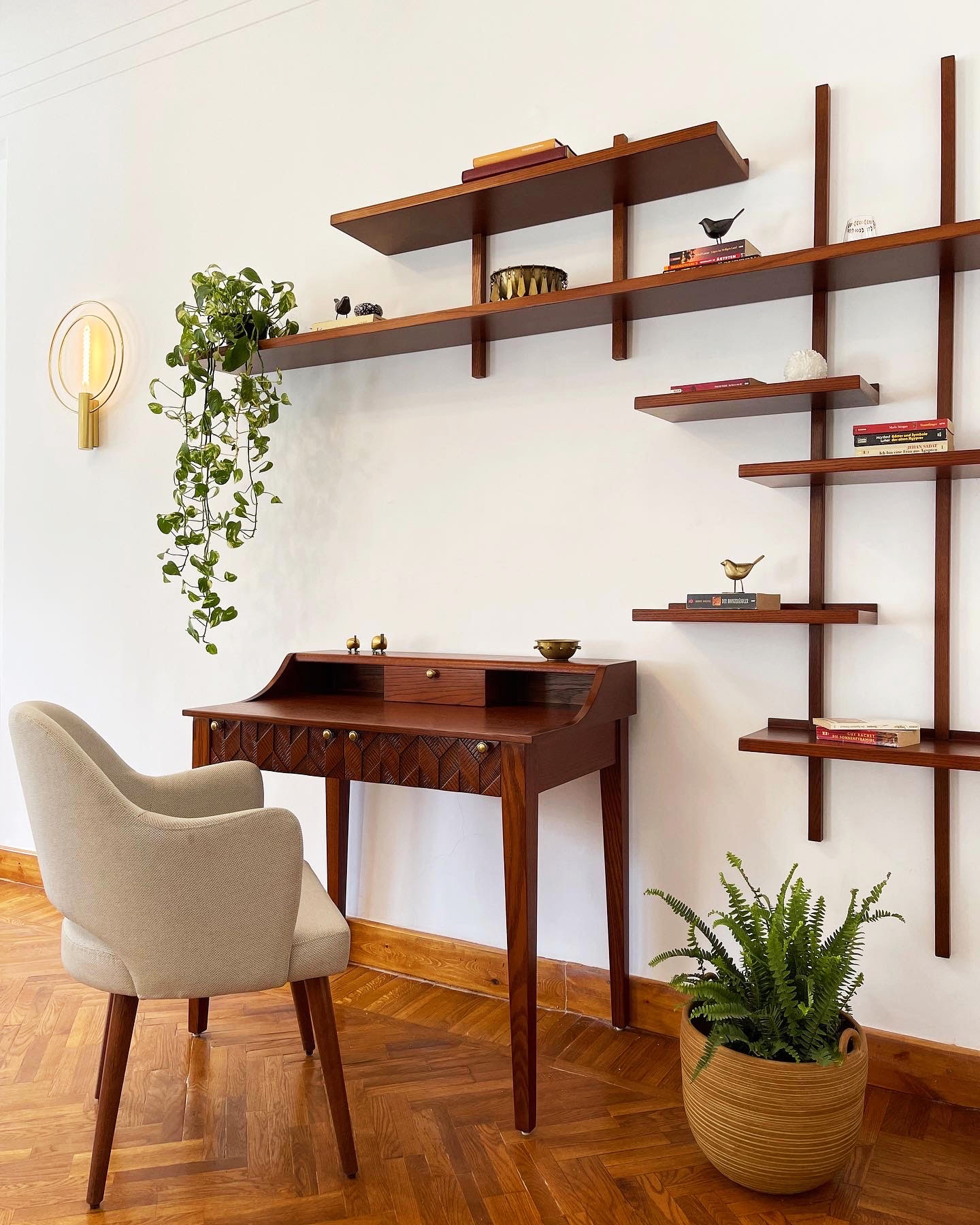 Allam specialises in furniture design with a focus on personalised experiences. When it came to the home office, the owners requested a non-traditional bookshelf. In keeping with the general mood and style, Allam went with a quite simple yet eye-catching asymmetrical design. As for the rest of the furniture pieces, they were designed by the studio with organic silhouettes and a substantial mix of natural materials ranging from wood, marble and brass to bronze, leather, glass and pottery.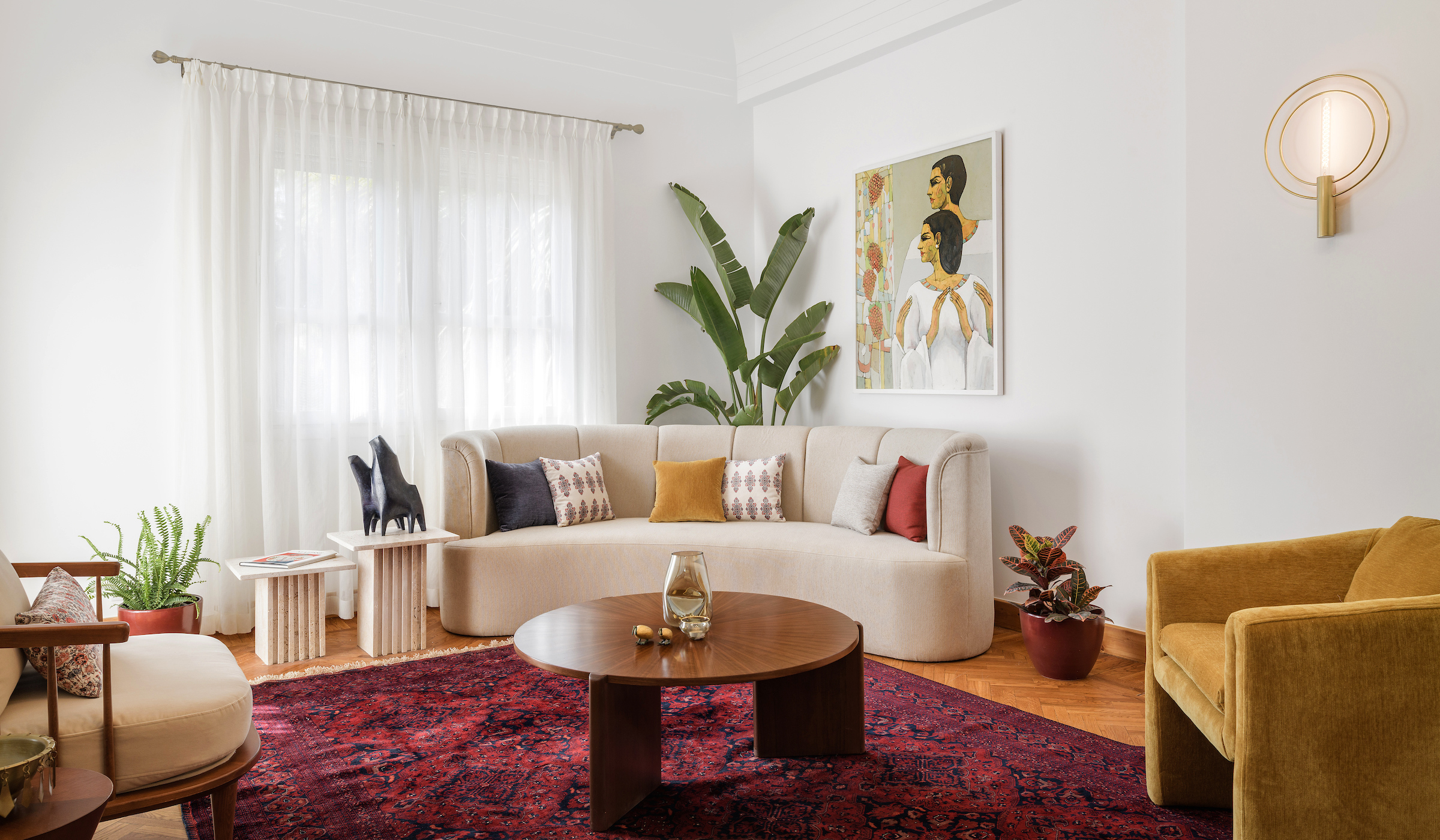 "I wanted to add an architectural edge to the reception area, opening up the space and keeping everyone gathered together comfortably in an asymmetrical and round format," she says of the space, gravitating attention to Alaa Abo El Hamd's painting, which is inspired by Ancient Egyptian murals. It also includes Weaam Ali's oxen bronze sculptures in deep blue patina that contrast the sculptural travertine side tables they're placed on.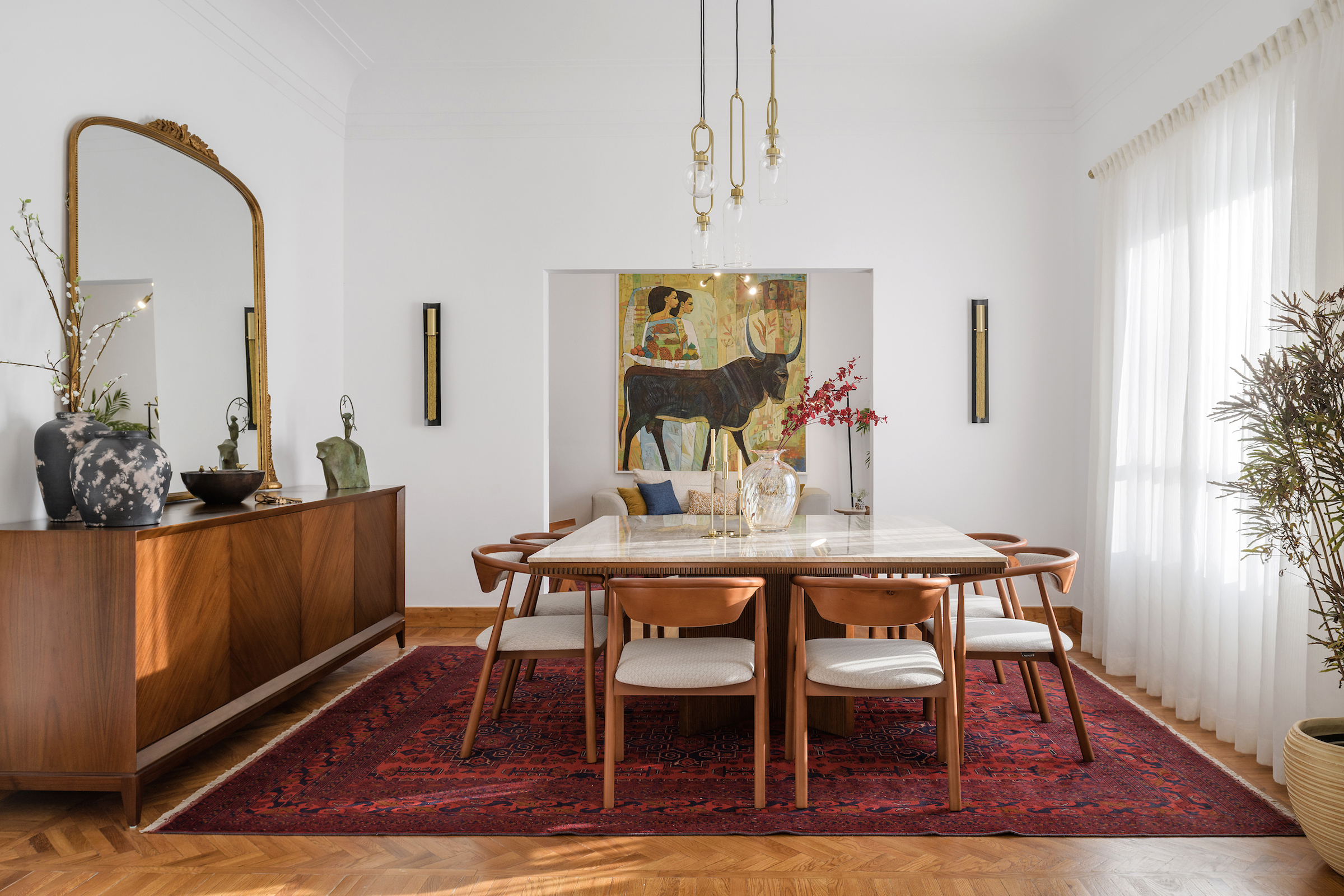 "Designed as the main entertaining spot, the dining room exudes warmth and comfort through the natural beauty of wood," Allam describes the space centred by an intricately crafted wooden dining table and its curvy chairs. Alaa Abo El Hamd's work is present again through a larger painting that serves as the focal point and backdrop despite being in the neighbouring living room. "It anchors the spaces and sets an overarching contemporary tone."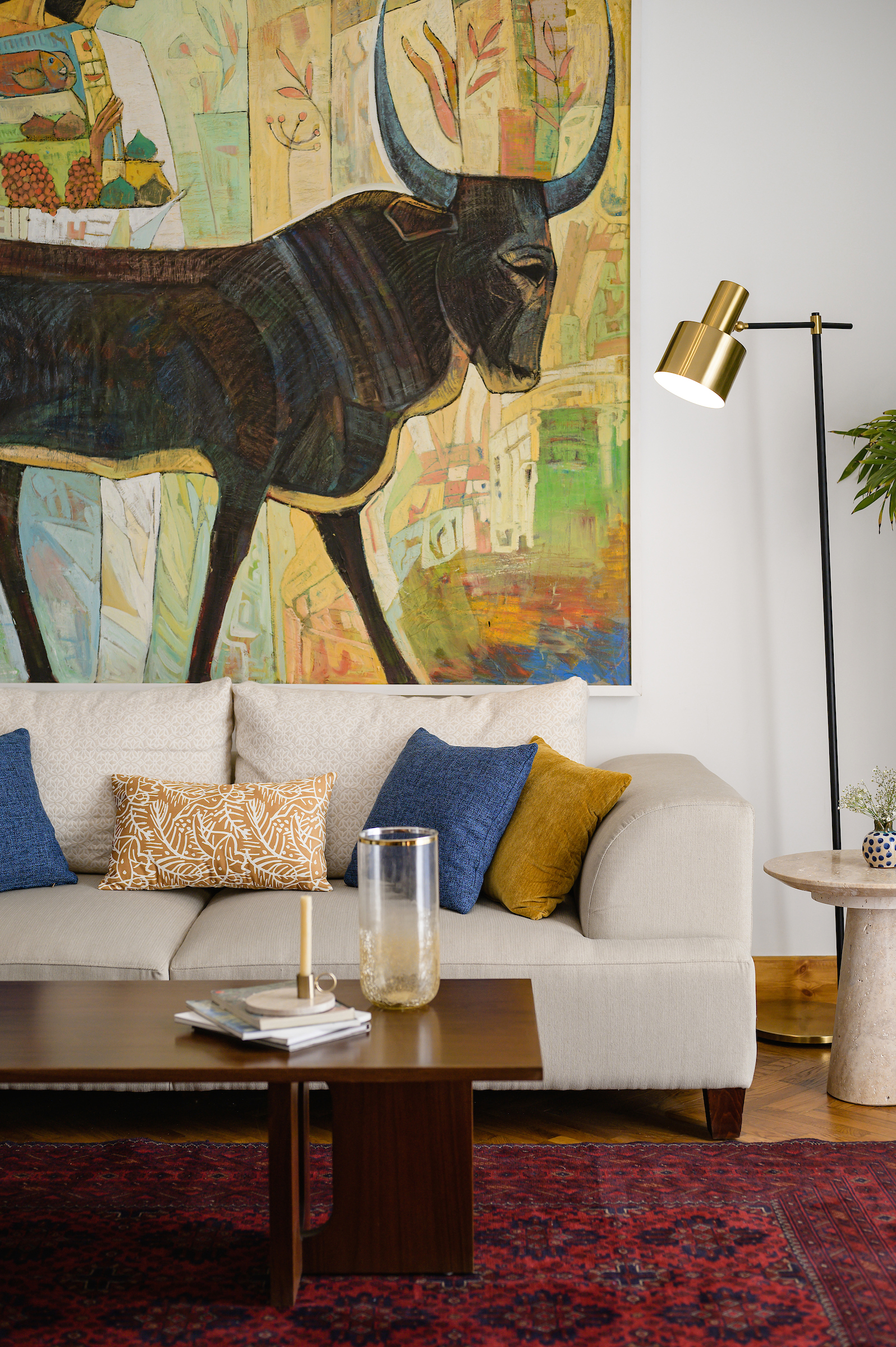 Highlighting the beauty of art, be it paintings, sculptures or handmade crafts, Allam likes to constantly curate throughout her design process. Bringing together special pieces she finds to go alongside products she designs to complete her vision of the space. This was further demonstrated in the private quarters, where Allam edited the bedroom's layout, dividing the space to create a walk-in dressing room.
"The owner leads a busy life so I made sure the bedroom felt like an airy place to unwind," she says. "Using a calm colour palette gave life to the room. Like this beautiful carpet from Kahhal Looms, this tapestry I found in a cute antique shop and turned into a hanging piece, and the dressing room artwork by Yasmine Reda."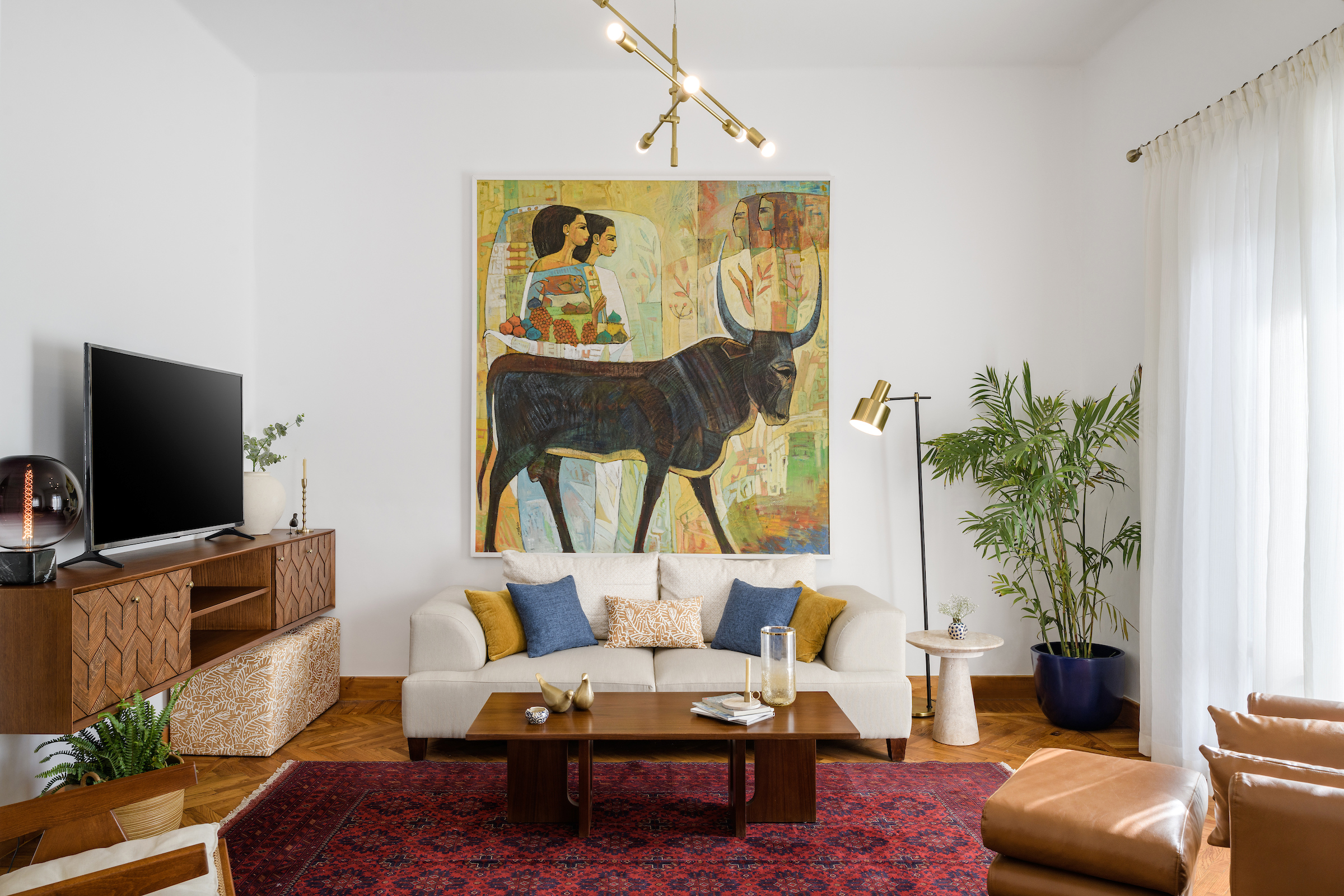 "I'm always overwhelmed by happiness and excitement for the reveal, mixed with bittersweetness that the project is over," Allam recalls the moment she showed the house to its owner after she was done giving it character. "I loved seeing their reaction and I was so happy to hear that they found it to be artistic, comfortable and connected."
As Allam gets to know her clients on a personal level and develops genuine connections with them throughout the design process, she understands their daily habits and scenarios - ultimately allowing her to cater to their aesthetic preferences with style.
Photography Credit: Nour El Refai