With black marble, gold lobbies, and mythological artwork, LA7 Gym's new branch in Arkan Plaza was designed by Echelle Architects to evoke the Herculean trials and strength of its patrons.
Every piece of interior design carries its own vibe. In the case of LA7, a gym franchise that has opened a new chain at Sheikh Zayed's Arkan Plaza in Egypt, the vibe is grand and dramatic, like you've just climbed to the top of Mount Olympus. Black marble and gold lobbies invite you into the halls of power, while artwork of a mighty Zeus-like figure can be seen on the walls. You can easily imagine feeling like Hercules when you stride through the entrance, where dark mirrors reflect the triangular gold reception. That's the kind of vibe that Echelle Architects, a multidisciplinary design firm based in Cairo, were going for when they designed this gym; a continuation of a leitmotif that has informed much of their work.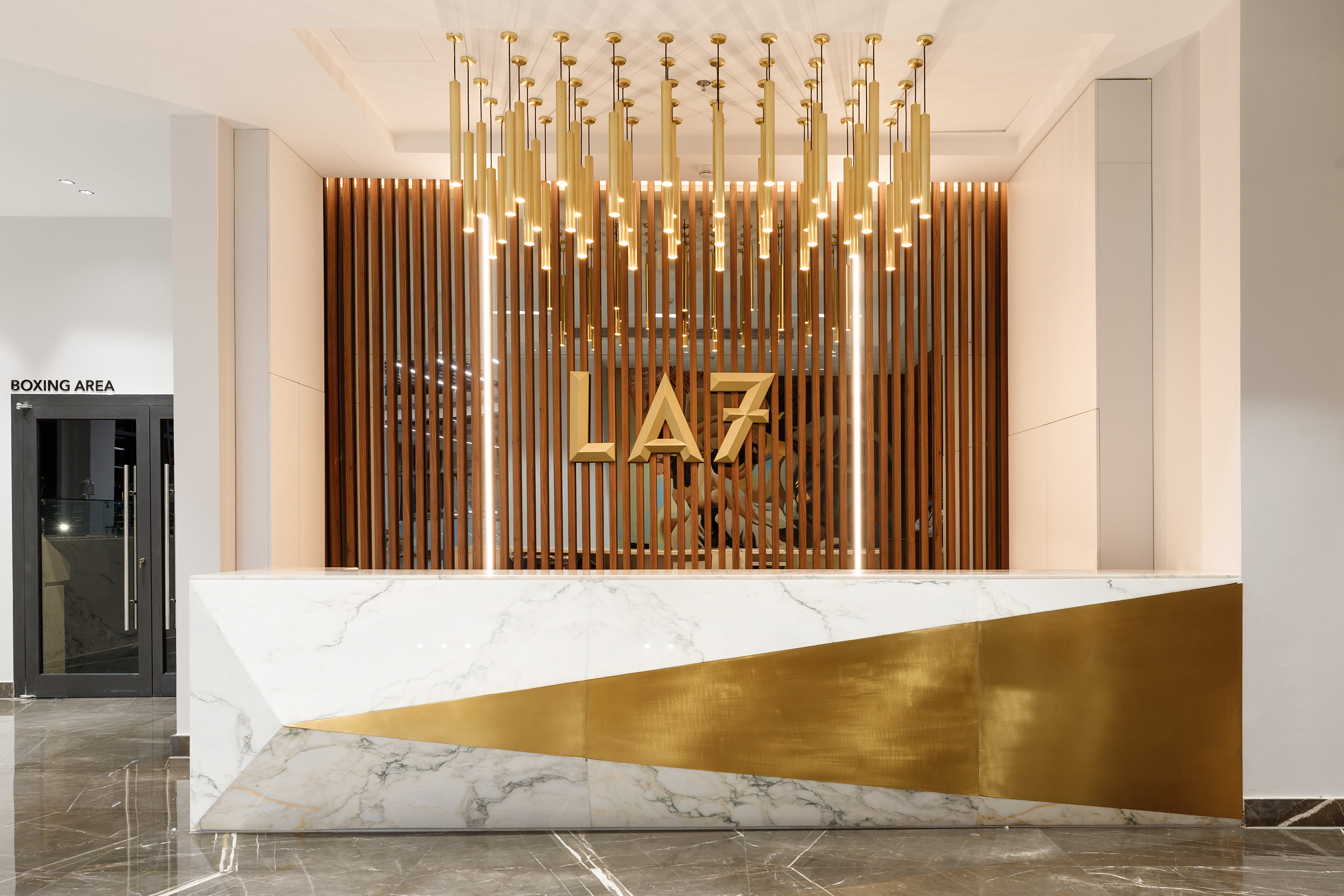 Khaled El Zanaty, Ali Salah and Fady Aziz are the managing partners of Echelle Architects, and for much of their careers they've borrowed their design philosophy from music. With 'echelle' derived from 'echelle musicales', the French phrase for 'musical scales', they find a resonance between their architectural and interior design work, and the theory behind music that gives it its ability to affect moods and spatial experiences. "There are as many musical scales as there are architectural styles in the world," Aziz tells #SceneHome. "At Echelle, we believe every project has its own vibe, tone and harmony."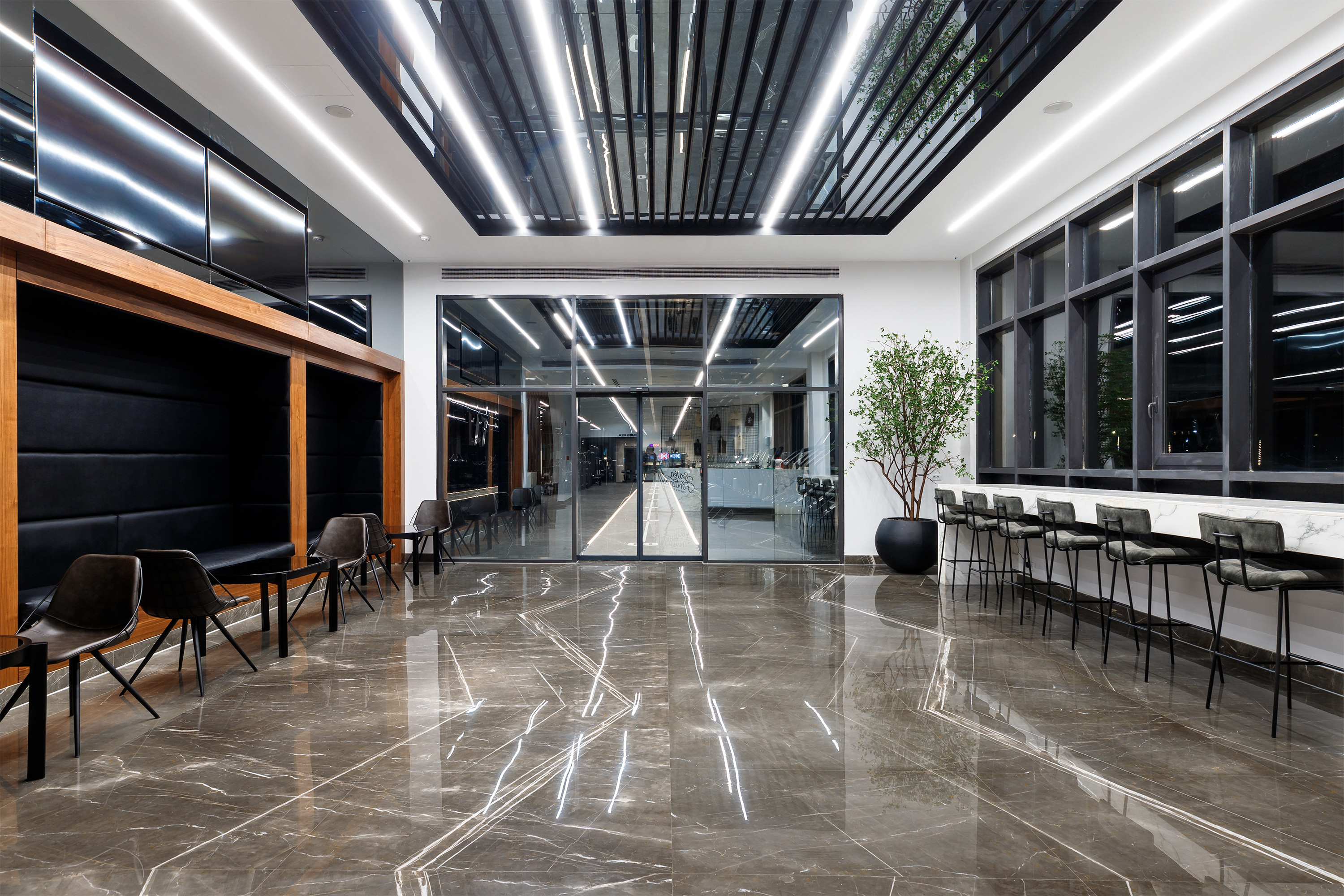 Echelle Architects has carried this philosophy through much of their portfolio, which includes residential, commercial and industrial projects. With an accomplished workforce of experienced architects, interior designers and sustainability professionals, the firm has worked extensively with high profile companies like PepsiCo, Unilever and Xiaomi.
Having previously collaborated with LA7's other branches in Uptown Cairo and New Giza, Echelle Architects chose to take full advantage of the Arkan Plaza location's larger space. With 3,600 square metres to work with, Echelle Architects created a symphony of bold colour and mood lighting. "Dark mirrors establish a dramatic intensity that sets the tone for time spent at the fitness lair," Aziz says. Meanwhile, the indoor lighting has been used to add horizontal longevity and depth to the performance spaces. "The machines' spaces have tartan tracks paralleled by the ceiling's linear lights."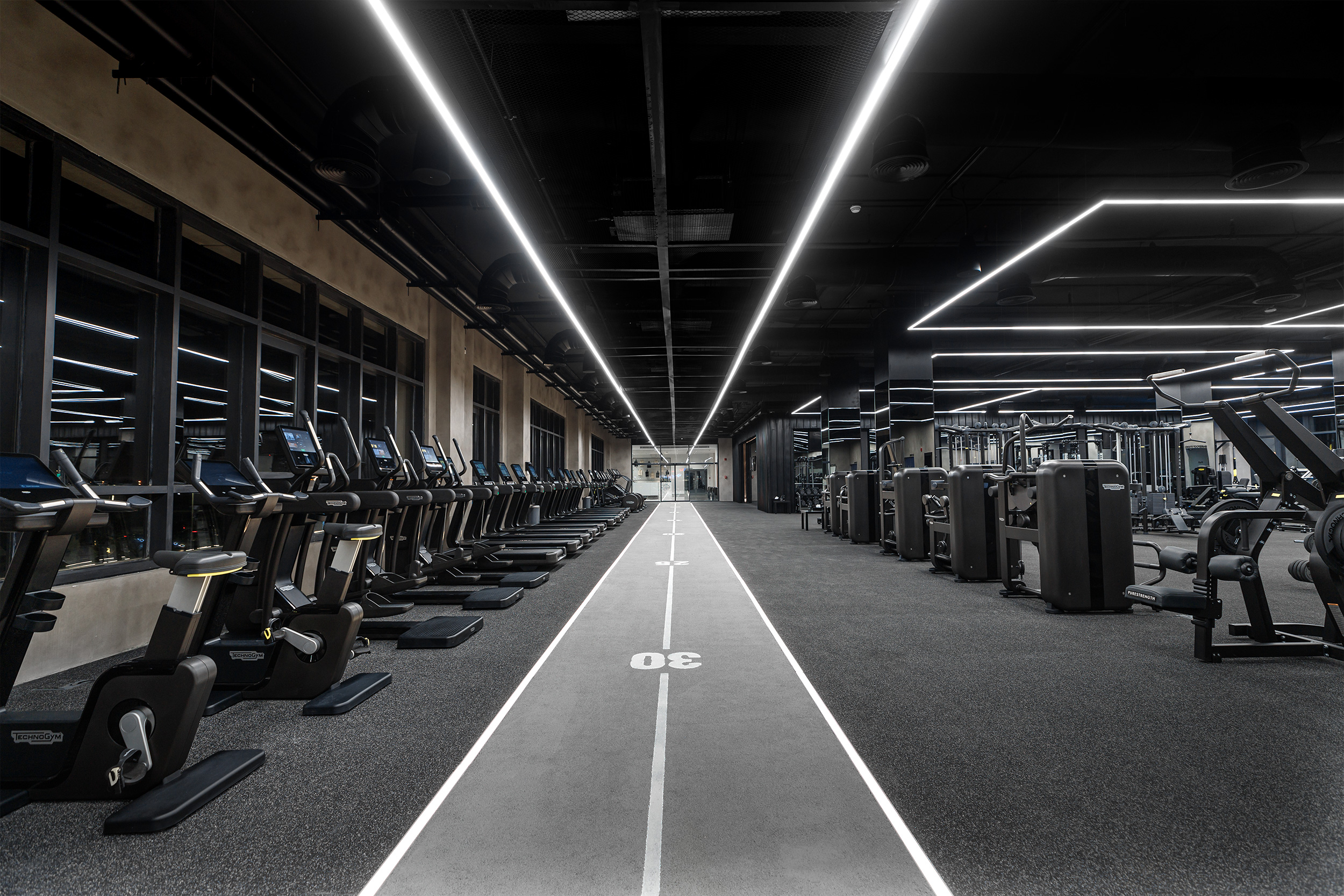 The weightlifting sections of the gym double down on this intensity, with energizing EDM echoing throughout. But beyond those parts of the gym, so heavily defined by bombastic crescendos, there is room for a little diminuendo, for soothing melodies that inspire tranquility. Echelle Architects added a studio dedicated to stretching, yoga and meditation, which is toned with plain white. "It is a serene space to unwind and 'inhale passion'," Aziz explains.
Outside the gym, a 100-metre track has been established to accommodate those who'd shy away from the treadmill, along with a squash court for those who are after Nour El-Sherbini's five time world champion record. Built-in nooks and elevated tables, along with mega steps designed as a climbing space and a seating area for spectators, make the exercising destination a hub for social gatherings - a place where one can sit back and enjoy the music.