One year ago, Karen Fadel designed Monkey Bar with a banging colour palette. Prior to the start of this year's summer season, she went back to pamper it even further.
Having a bold character and an effortless look are traits synonymous with a Karen Fadel design. After designing Almaza Bay's Monkey Bar last summer, Design Avenue's managing partner wanted to pamper things up for what the restaurant and bar owners refer to as 'The Second Season of Monkey Bar', extending its reddish hue outdoors and in subtleties.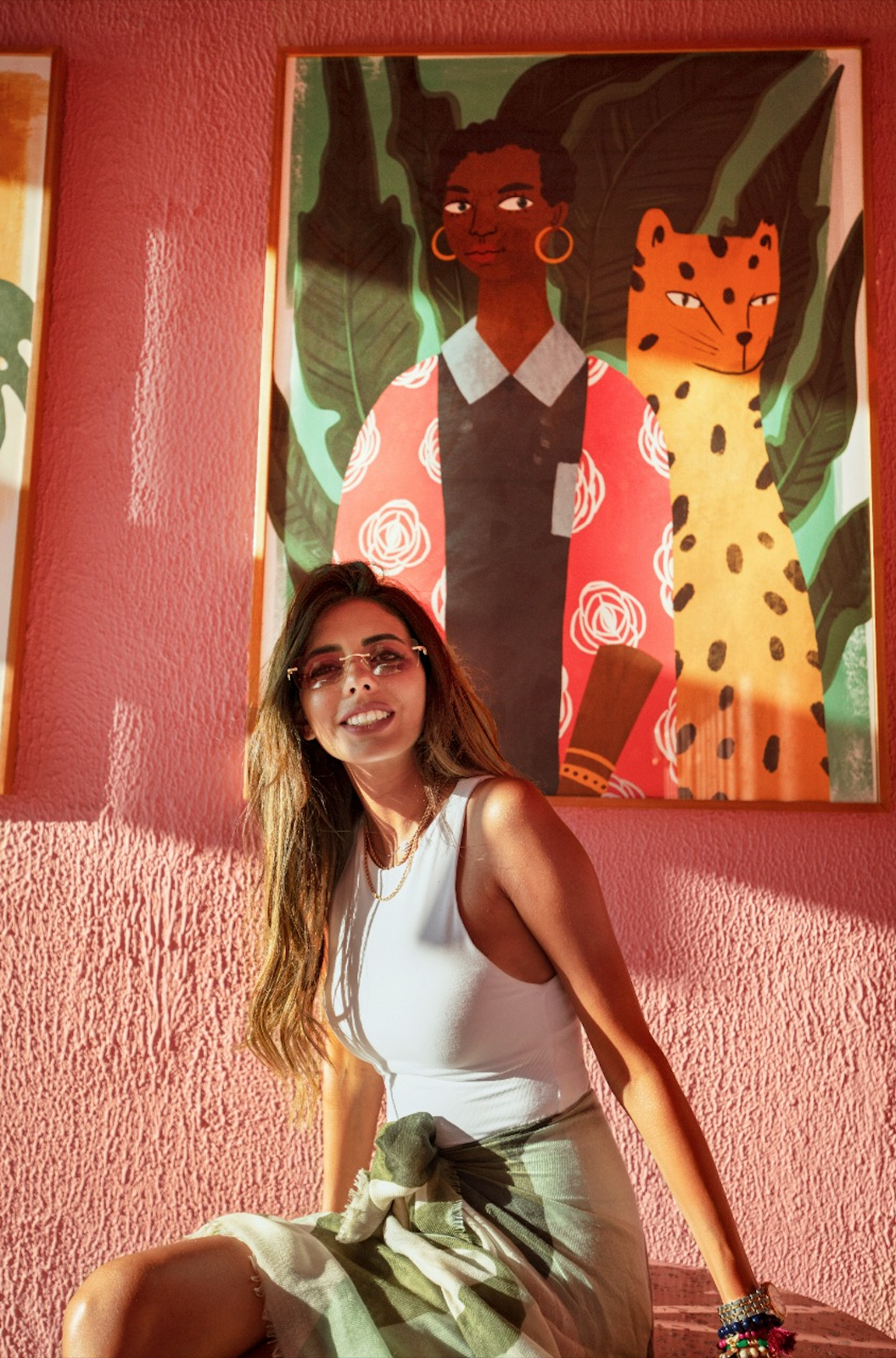 "The idea was to enter and feel an inviting, casual ambiance," Fadel tells SceneHome of the space, which compelled the designer to completely soak it in a fiery palette that calls on its visitors to just dive deep into the warmth of pink. "The design was fun and it has a beachy mood to it. Not your traditional boho, but more of a cheery statement."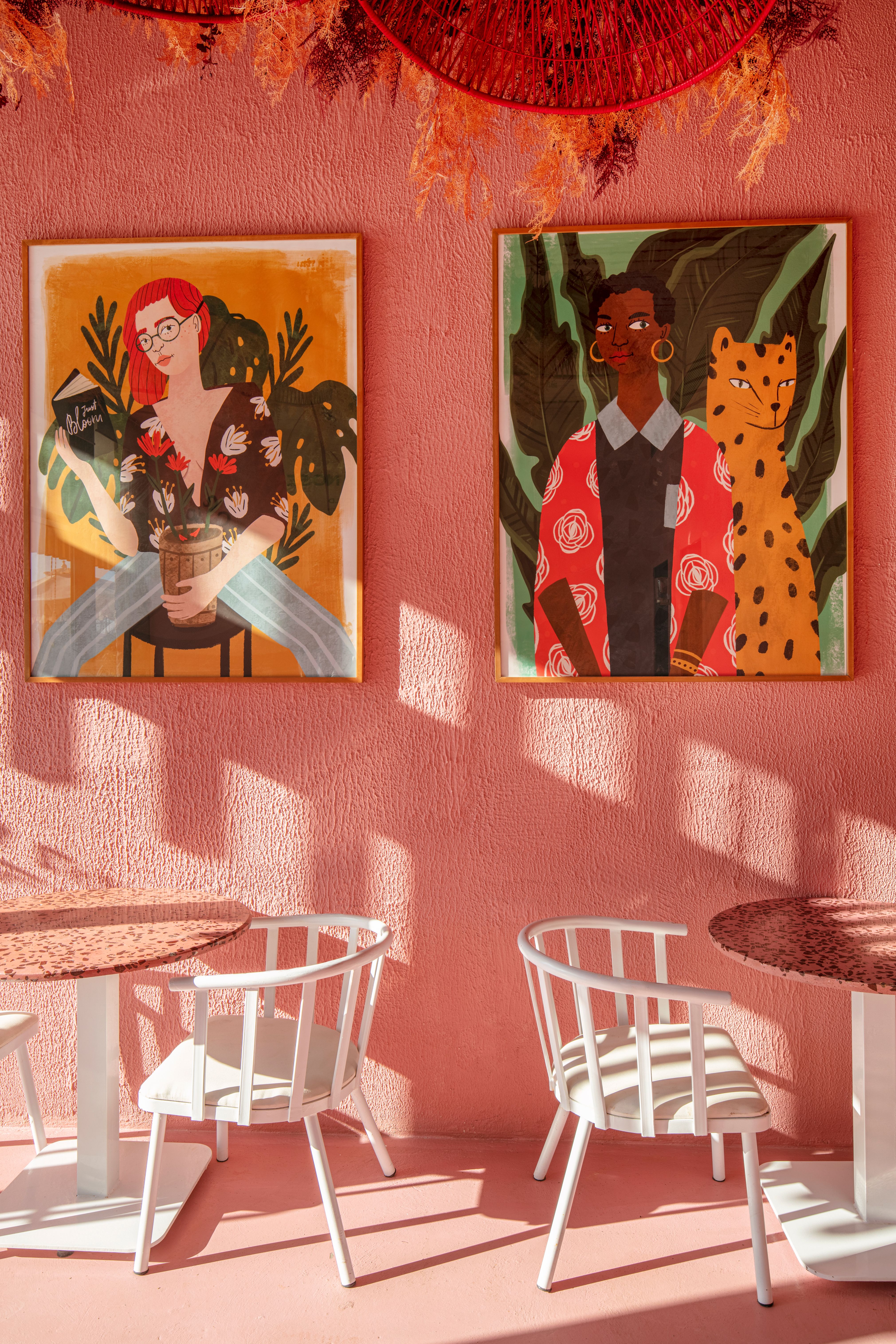 While the design caters to younger generations with its endless Instagramable corners, the venue had a wide appeal with its international cuisine and exotic aesthetics. The colour palette was pretty defined, made out of red and pink hues with the occasional splash of orange. Fadel found it to be challenging to go all-in on the red without turning it into a kindergarten.
"Being bold with colour can easily go sideways, but it fits the visual concept we were chasing, which is epitomised at sunset," Fadel explains. With the glass storefront letting in the North Coast sun, the indoor colour scheme gets to shine with its true potential. "The bar downstairs is made from upcycled eggshells, while artworks provide a colour balance so that things don't feel too much like a candy shop."
"The space wasn't massive, so we wanted to completely immerse it in colour," she continues. This was done by using neo-cement on the floor and rough paint on the walls to coat the space with texture and (you guessed it) a rich yet subtle shade of pink. A red chandelier hangs within the space emitting hints of orange from its rattan.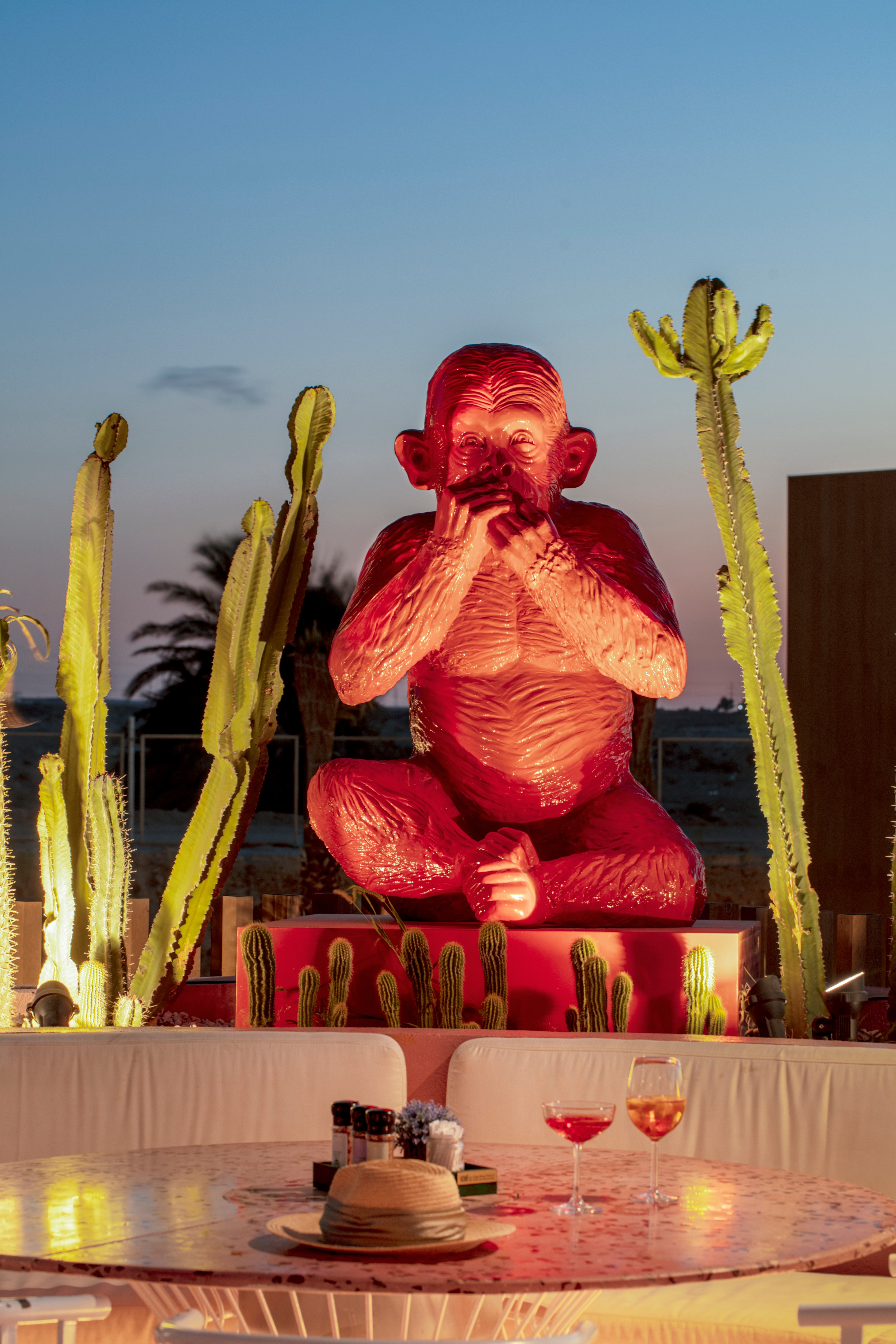 Meanwhile, upstairs on the rooftop bar - where, some would argue, all the fun is - Monkey Bar continued to scream 'design'. The centrepiece is a custom-made monkey that is depicted with his mouth covered and finger up his nostrils to showcase the nonchalant spirit of the space, surrounded by cacti and topped by - yet again - reddish tensile shading.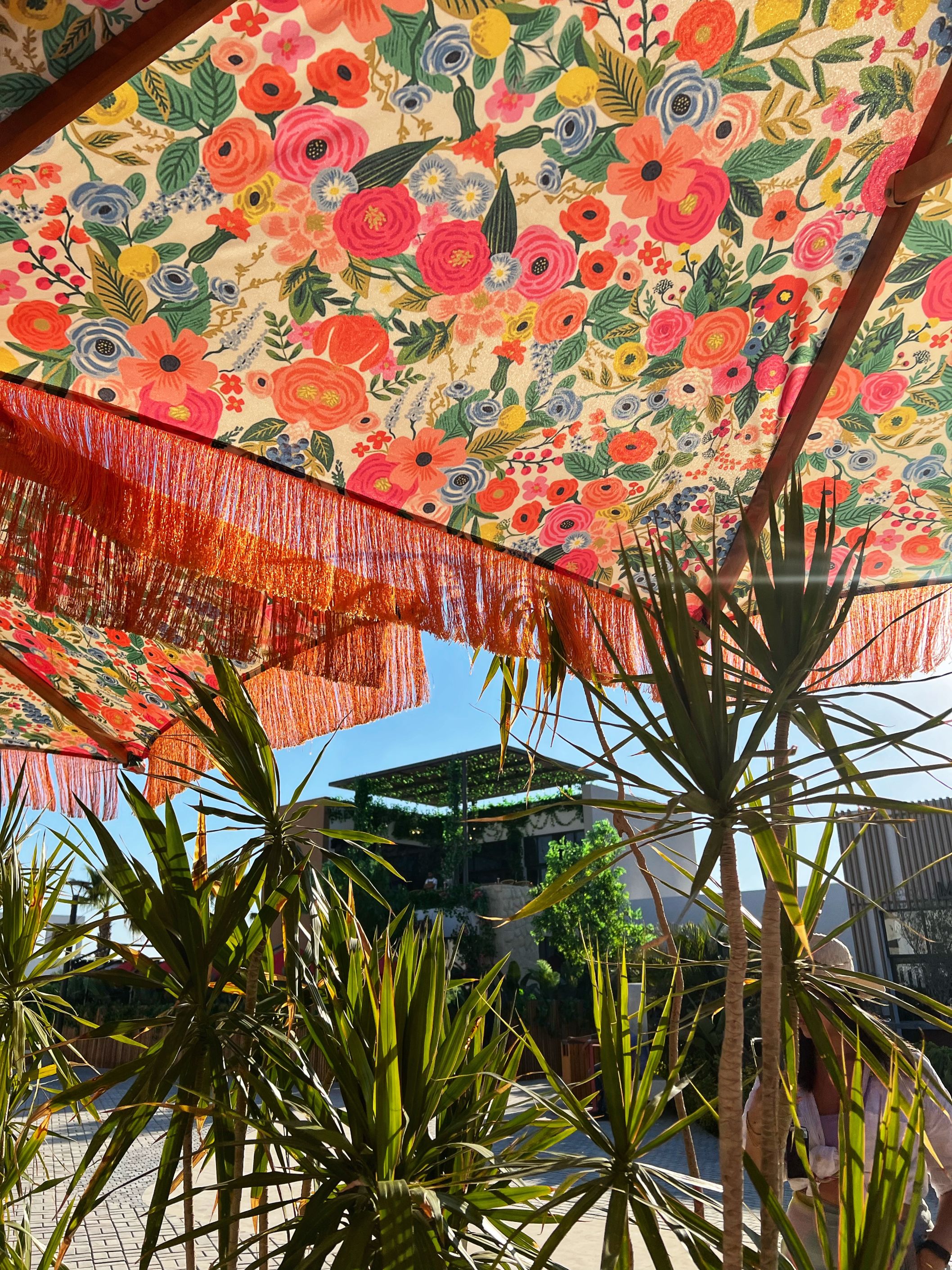 "This year we wanted to pamper it a bit and surprise its visitors," Fadel says, pointing at the new additions, which include the outdoor seating arrangement in front of the store, featuring exclusively red furniture with red poppy umbrellas.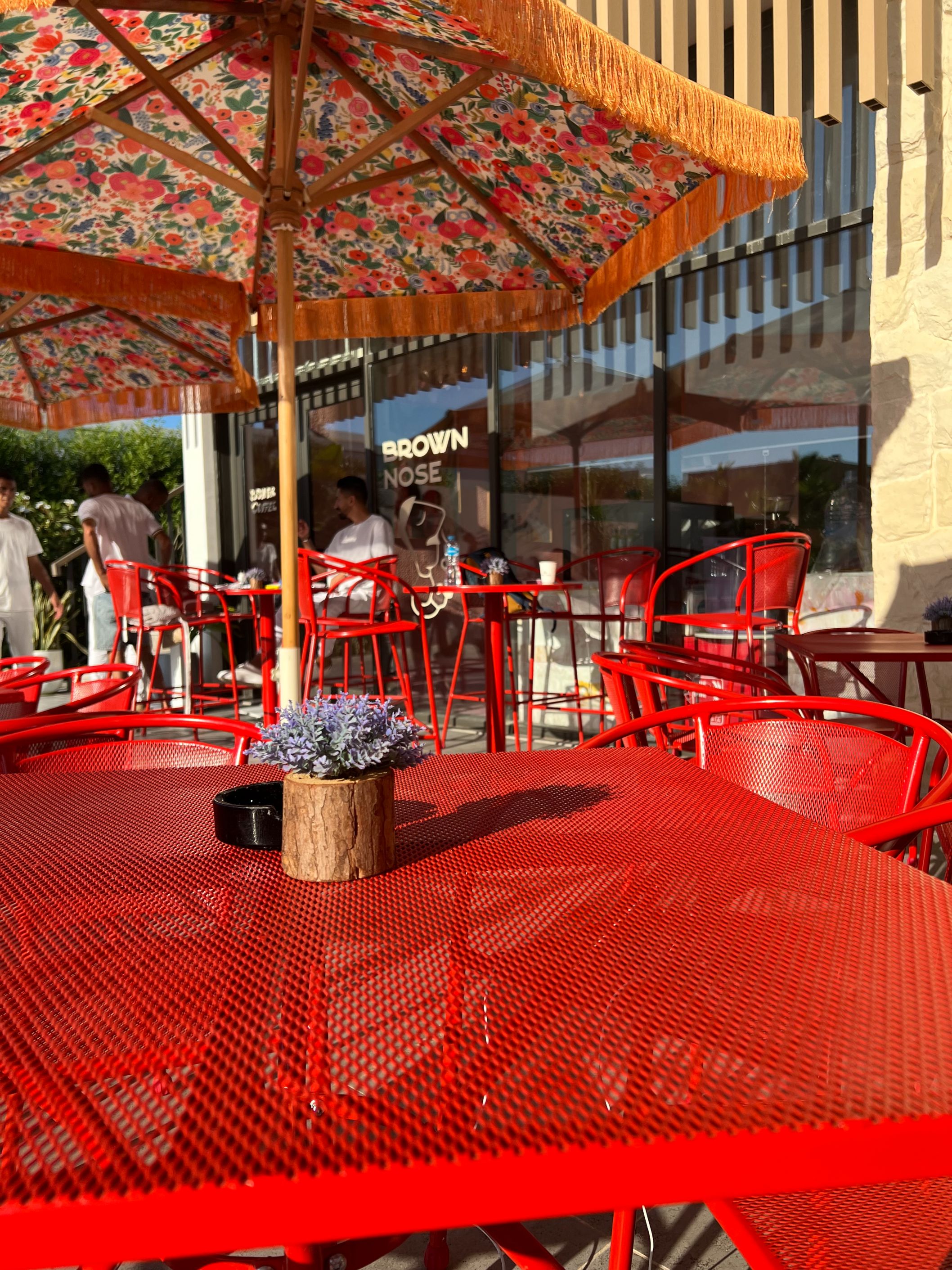 "Monkey Bar is suitable for brunch and night-time fun, it's laid back but still chic with a certain intensity coming from its colours," Fadel adds. Seamless finishes, a welcoming space, and a design that doesn't feel too over thought yet still beams with creativity. That's the vibe at this Design Avenue destination, and if you've ever thought that size matters, well here's your proof otherwise.