The London-based architecture practice will turn a desalination plant into a new cultural centre.
Over thousands of years, Jeddah has been a city of art and crafts, and more recently, it has been witnessing a succession of groundbreaking projects exploring its history - and, perhaps more notably, shaping its contemporary culture. While the Islamic Arts Biennale focused on the history and heritage of Islamic arts, it was only the first of many such endeavours.
London-based architecture practice Heatherwick Studio unveiled their design of the 'Jeddah Central Museum', located in a former, unused desalination plant overlooking the Red Sea. The project is symbolic of the city's transformation from fossil dependency to a creative-centric economy that emphasises the future generations of artists and craftsmen.
"The campus is dedicated to help people learn about, experience and feel inspired by the creative process," the practice says in the project's description. "An incredible mix of making, learning, interaction and exchange will mean there's life and activity throughout the day and night in a place that meaningfully reflects the past, present and future of the city."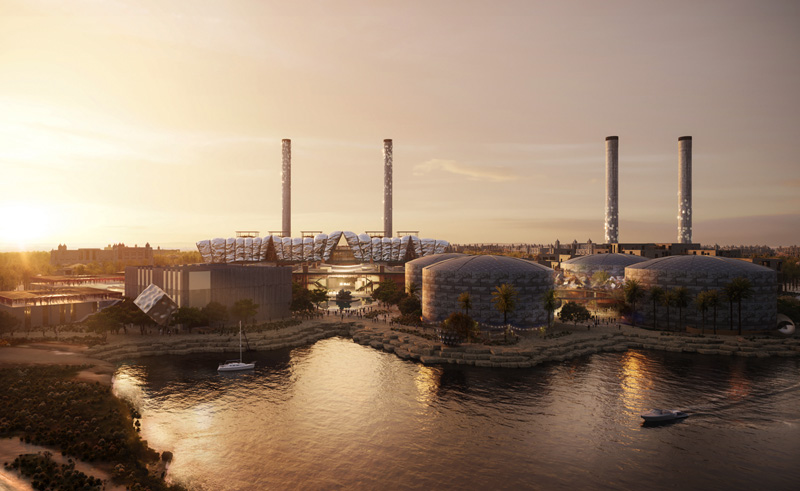 Keen on building a bright future intune with Jeddah's identity, the practice initiated an engagement programme with its creative community to help shape the design. Initial visualisations showcase a building cladded in silver while looking over a semi-covered market.
From the inside, buildings will retain their industrial feel while hosting studios, ateliers and public exhibitions, whereas the main hall will be adapted into a fully fledged souk, a maker's marketplace. While the transformed waterfront hub will span 257k sqm, it's part of a mammoth 5.7m sqm development that will house various entertainment and cultural hotspots.
The project is still in its planning phase yet it promises to build on the renaissance Jeddah is experiencing, emphasising the heart of the city: its people.
Photography Credit: Narrativ.