Ahead of this year's Museum of Emotions competition, we look at last year's first prize winners from Helwan University.
Without writing a single word, and relying solely on the strength of their visuals, students from Faculty of Fine Arts at Helwan University won first place in last year's 'Museum of Emotions' competition. The annual architectural competition returns this year with its third edition to once again challenge designers to use spaces to bring out a range of feelings.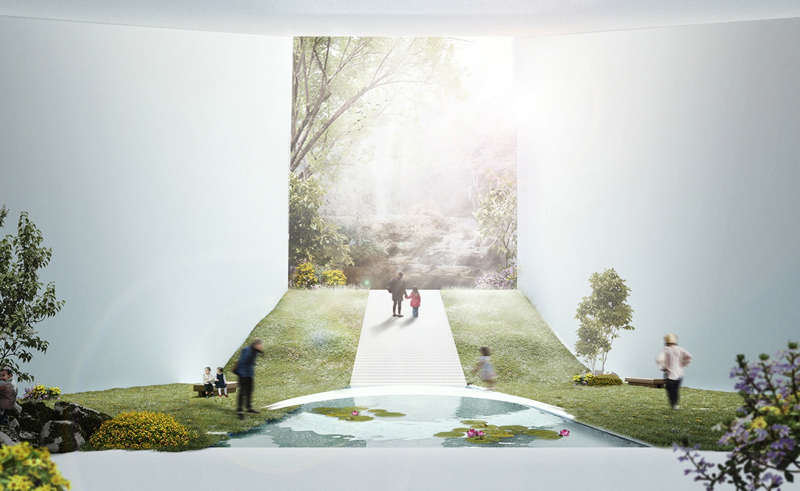 When creating their champion design, the students from Helwan University were tasked to design a museum with two separate halls that evoke opposite emotions, one negative and one positive. Aspiring architects Hassan Mohamed, Fayrouz Khalid, Youssef Mohamed and Marium Hesham rose to the challenge by crafting a tunnel-like building called 'Plan B' which cuts through a mountain.
Abnormally emerging from its rocky environment, the museum was designed with two tunnels. One has light at its end and the other doesn't. Choose darkness and you'll end up with extreme tension, standing beneath a giant boulder that seems like it's about to fall. Choose light, and you'll end up flooded with illumination in front of a bright and lush garden.
The Egyptian architects created a poetic dialogue with nature, one that depicts contrasting emotions by playing around with spatial lightness and darkness. As a result, they established a robust relationship between human experience and environments, whether they're tense or tranquil. Not everyone considers how spaces make us feel, but the effect is there nevertheless. In 'Plan B', the award-winning design highlights the consequence of moving through spaces - from fear and anxiety, to love and happiness.