Here's a number of aerial views, from tennis courts in Cairo and mosques in Sohag to the library of Alexandria.
Similarly to how you shouldn't judge a book by its cover, facades don't really tell the full story of a building. While you may have grown accustomed to the sight of buildings and structures in Egypt from street level, we thought about looking for fresh perspectives. What can you tell about Egyptian design from a bird's eye view?
Bibliotheca Alexandrina - Alexandria
Sitting alongside Alexandria's ancient harbour, the Bibliotheca Alexandrina is one of not the most famous pieces of contemporary architectural design in Egypt. Created by world-renowned architecture firm Snøhetta in a circular form that embraces the nature of knowledge and interplanetary geometries.
Alexandria Naval Unknown Soldier Memorial - Alexandria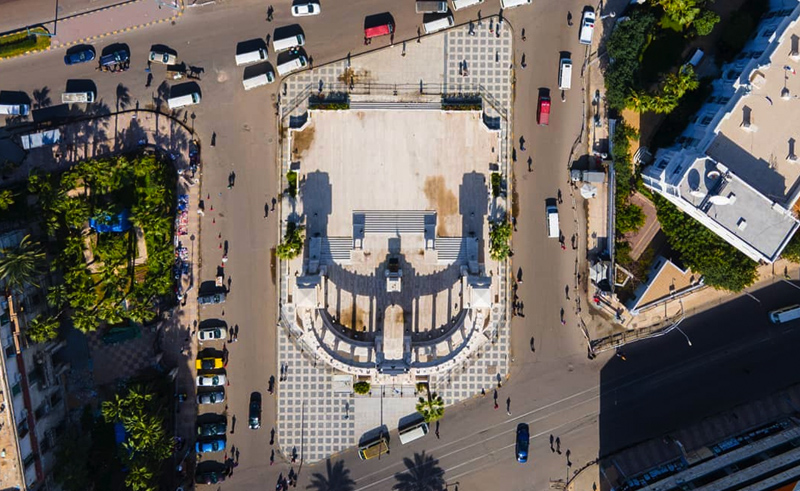 While it's quite impossible to recognise the class of columns used to hold up the memorial dedicated to the soldiers who were lost to the sea, you can recognise its form from the sheltering shadows printed ahead of it. It was originally built by Italian residents to commemorate Khedive Ismail, only later changed to act as a nautical tribute.
Four Seasons Hotel Alexandria - San Stefano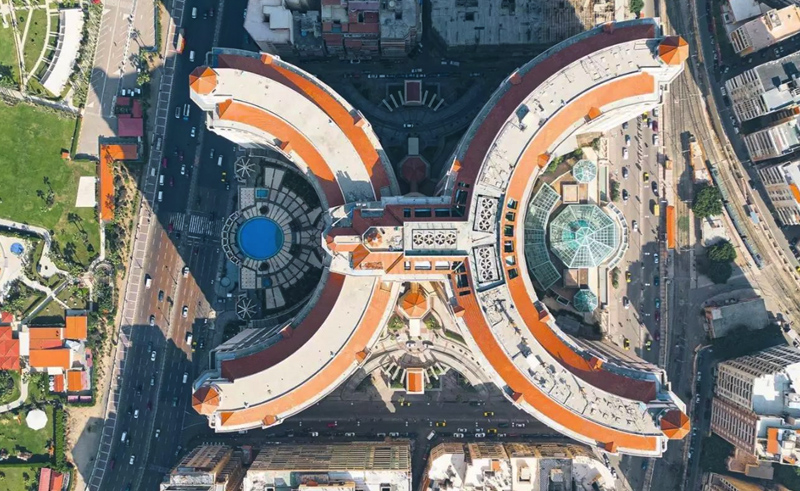 If you're not familiar with Alexandria, San Stefano is an amalgamation of what it has to offer. A cup of fresh coffee in its massive terrace overlooking the Mediterranean and a delectable diner at San Stefano restaurant accompanied with the sound of crashing waves at night. From above, the mammoth structure displays symmetry.
St. Mary Church - El Gouna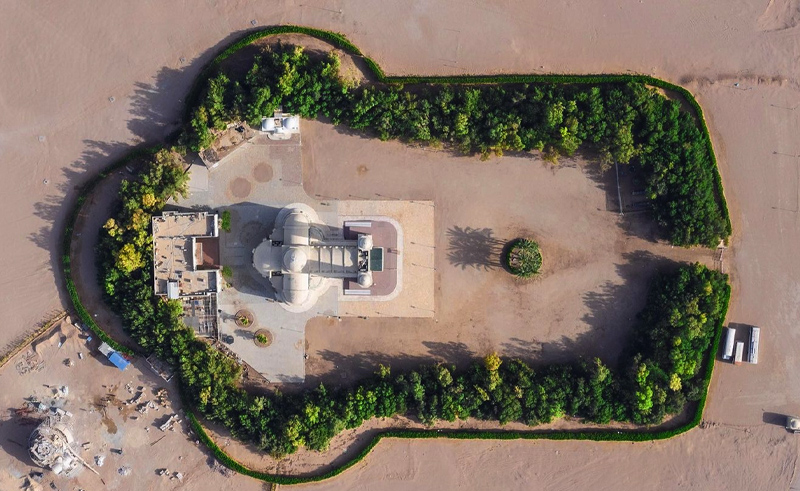 There's beauty in architecture and how a building's plan can say a lot about its interior. The Church of St. Mary and the Archangels in El Gouna has a latin-cross plan that was heartwarmingly recreated through the surrounding landscape. The nave runs throughout the cruciform, with chapels that form the arms of the cross.
Tanoak Hotel - Sokhna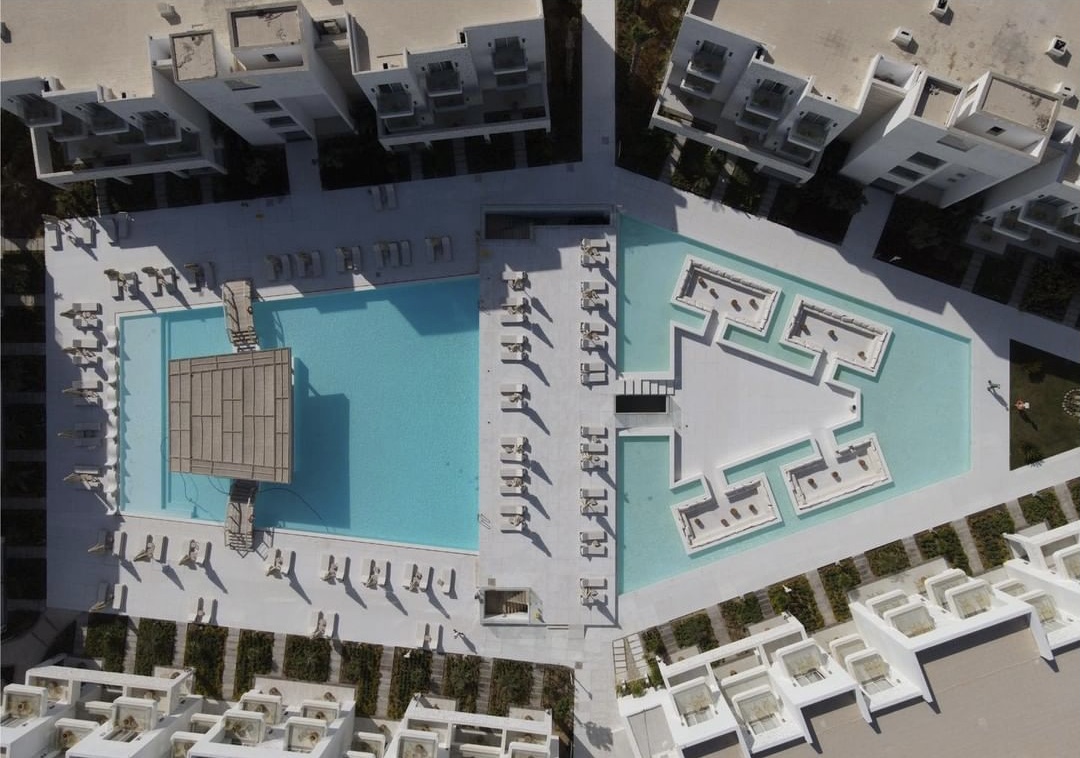 At Ain El Sokhna, Tanoak hotel decided to make the pool the main view of their lodgings. Going for an all-white Santorini look they seeked the landscaping prowess of Cairo-based designers A-Squared Landscape who split the pool into two sky blue zones with a bridge in the middle.
Basuna Mosque - Sohag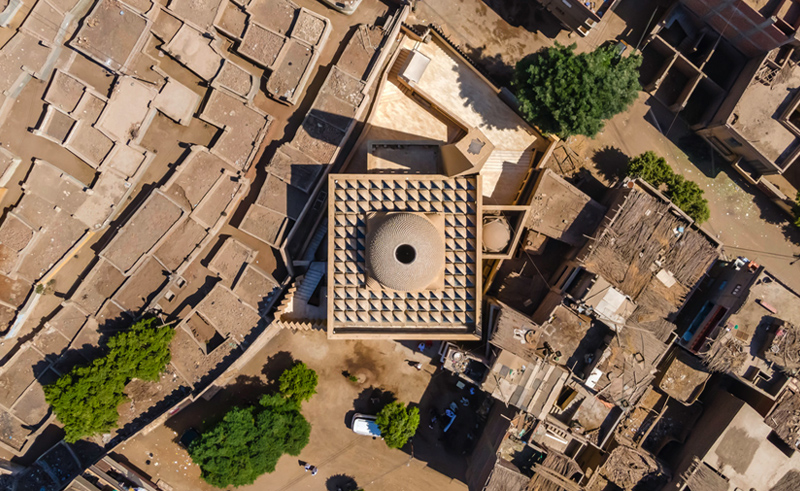 A measure of a building's significance is the impact it has on its surroundings. Basuna Mosque was designed and built by Cairo-based architect Waleed Arafa to support the local community with a tranquil sanctuary. Materials were sourced locally and design features such as the dome epitomise engineering innovation.
Gezira Sporting Club - Zamalek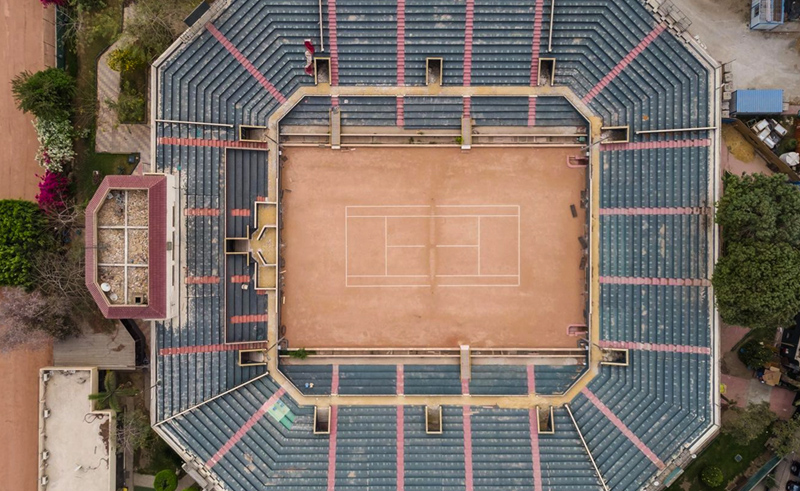 Sporting complexes are pretty standard when it comes to design. You can get creative with the stands but the field needs to be inch perfect. This clay court is part of Gezira Sporting Club, founded in 1882, and is considered the home of 'lawn tennis', a name originally given to this type of court.
Dahab Paradise - Dahab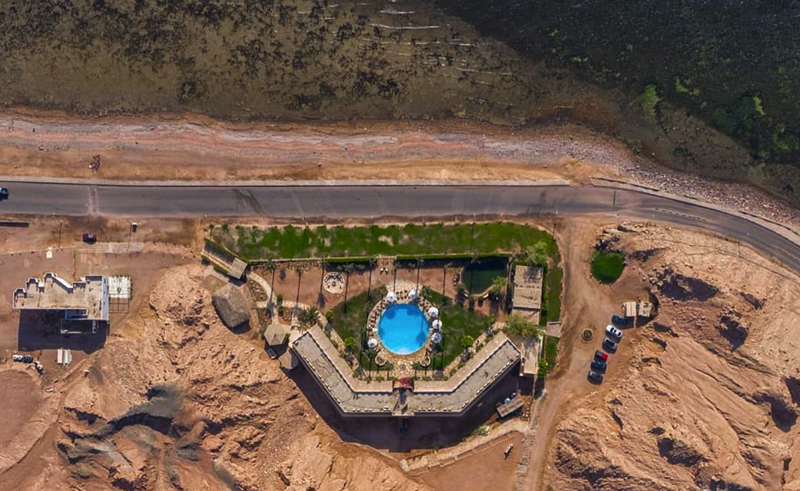 Despite its architectural plan being straightforward, Dahab Paradise, like many retreats and lodgings in South Sinai, gets straight to the point. Opening up with a 120 degrees angle, every room overlooks the Red Sea and that's exactly the building's goal.
Great Pyramids of Giza - Giza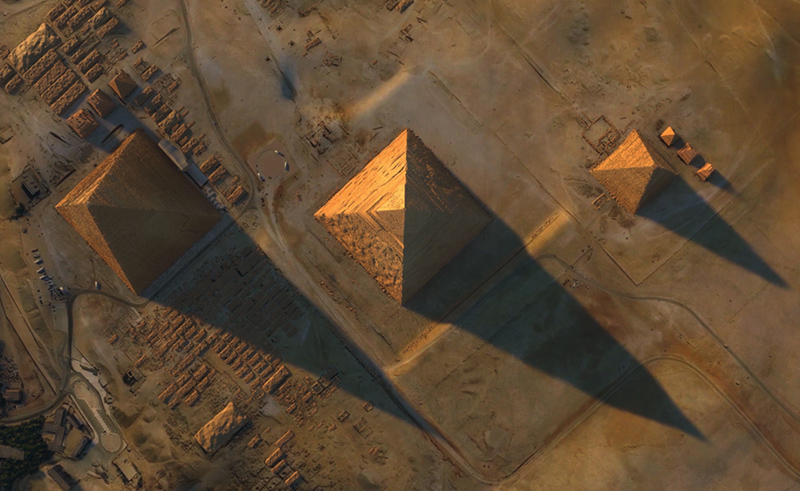 While it's only natural to look up all the mathematical genius and incredible astronomical findings encoded within the Pyramids, and especially how they were planned and appear in the Giza plateau's layout, instead, let's appreciate the visual precision of how they are accurately aligned and displaced from one another with dimensional coherency.
📸: Omar Refaat, Ahmad Hesham, iAmTasweer, G 'Lookatmydrone', Dar Arafa Architecture.