Seeped in gothic imagery, this New Cairo home is the result of Balance Innovation's collaborative efforts to bring a homeowner's dream out of the shadows.
For a second, you could believe you've stumbled onto the set of 'Interview with the Vampire'. Black chandeliers, umbre cabinets with brushes of gold, the occasional skull - there's a seductive darkness here, the call of the goth. Where demons lurk in shadows cast by the full moon, while a mysterious Byronic host stands in the distance cupping a glass of red wine. Surely you've been transported to some far flung corner of Transylvania, yet the reality is, this penthouse was set up in the modern neighbourhoods of New Cairo, where the designers of Balance Innovation helped the homeowners create their fantasy home. One that reflects their personalities and tastes, while making room for the many gothic artefacts they've collected over the years.
"Despite the fact that they come from a finance and corporate business background, they had knowledge of materials and colours, which made it easier for us to get creative and break the moulds so to speak," founder Salah Gomaa tells SceneHome. "That being said, they were brave in allowing us the freedom to hone their interesting ideas in an overall theme."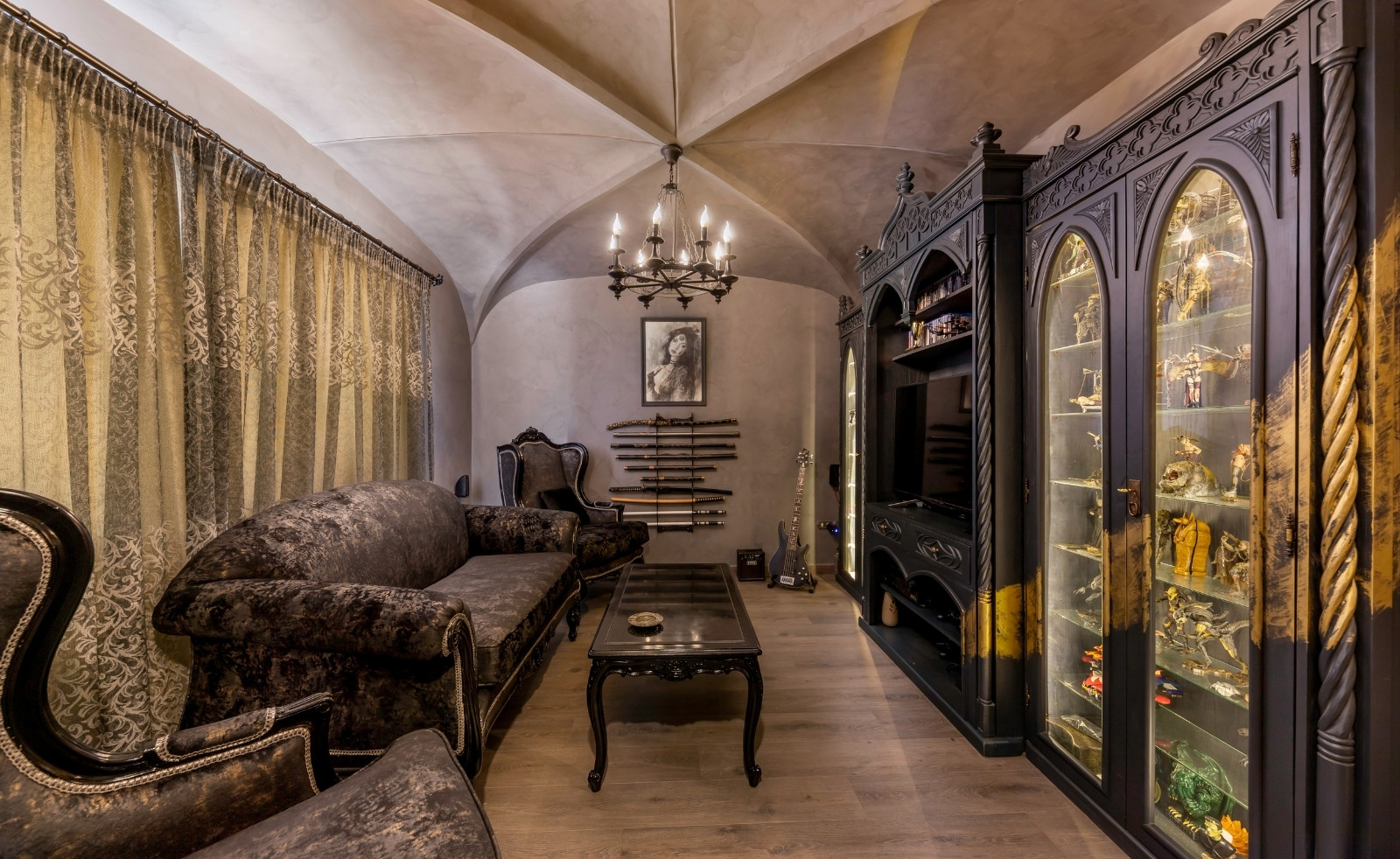 Gomaa founded Balance Innovation in 2015, after spending 20 years gaining extensive experience on projects in Egypt and the UK. He wanted to let his signature work shine through his own firm, building its foundations on the clients and their wants. "It's never about making statements," Gomaa adds. "We believe in involving the clients and constantly challenging them to extract the nuances which make sure their homes manifest and display their character best."
Gliding into this den on its engineered wooden flooring, we are met with a glass reinforced plastic wall that gives a stone-like look and is engraved heavily with ornaments that blend with the cornice mouldings. Leading us into the living room, we see a cool yet dark grey tone cover the walls and a coffered ceiling with ornaments in its waffle panels.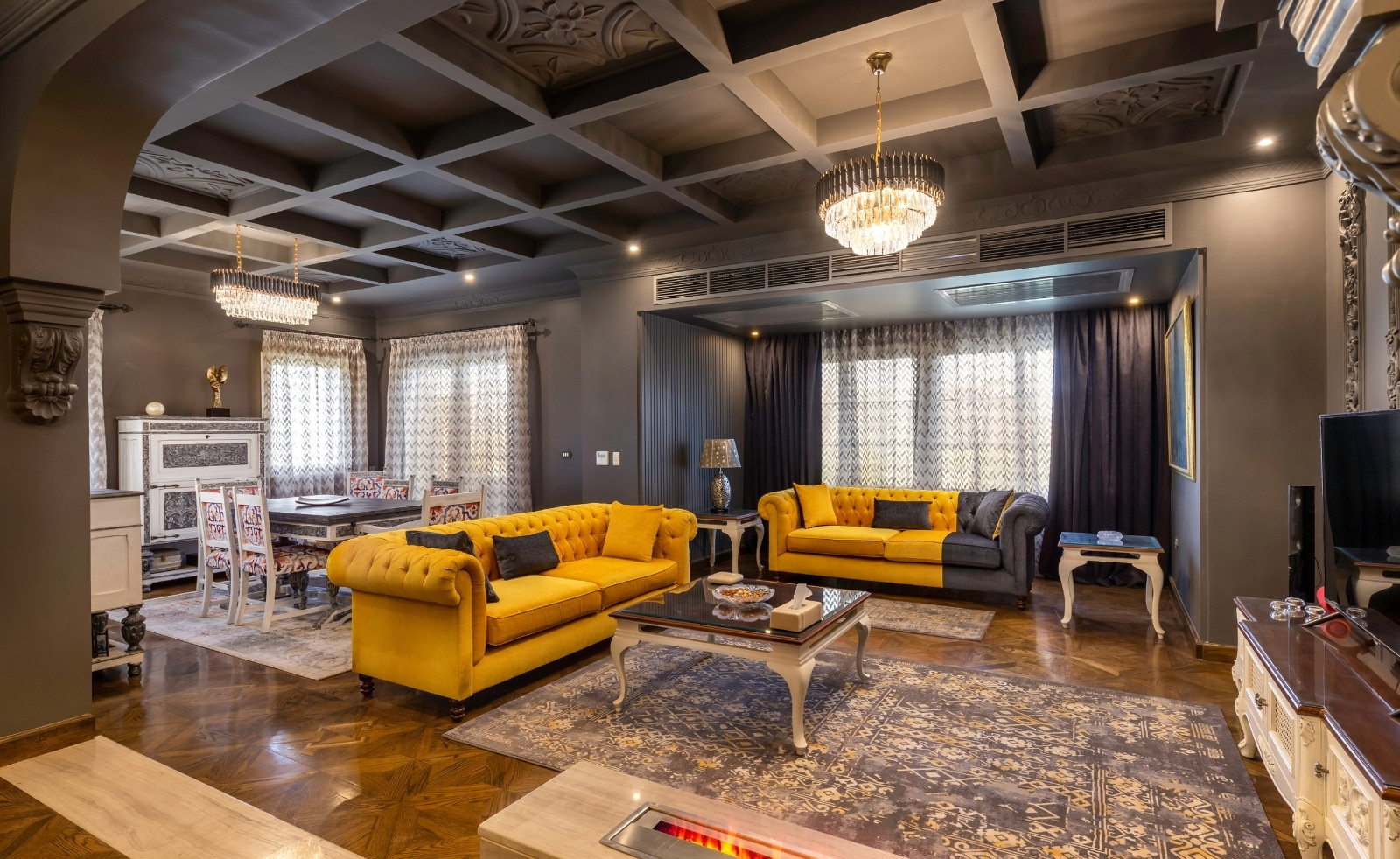 "Initially we were going for a different colour on the sofas, but the owners liked this shade of yellow which ended up adding contrast," Gomaa explains, emphasising the collaborative nature of his interior design. "We worked together as a team, going through every detail. In the end, it all paid off."
To explore the upper levels, we approach a staircase that has a wooden handrail with flamboyant curvatures, reminiscent of Tolkien's elvish abodes. Its engraved steel and marble steps are enlightened by a fixture that has a chain mail hanging from it, an undergarment often worn by knights, as a precursor to the mediaeval interiors to come.
The master bedroom radiates 14th century aesthetics, with its warm fine wooden ceiling and graceful curtains. The ultimate apple of this home's eye, however, is the penthouse. Intended to be an office, it is a world of gothic visuals. A wooden door with a metal knob opens into a space that is encapsulated by a rib vaulted ceiling covered in plaster, with a gothic wrought iron chandelier suspended over a display of swords alongside a black soloist guitar. An ebony wall cabinet has a brush of gold paint that complements the fabrics used on the vintage furniture.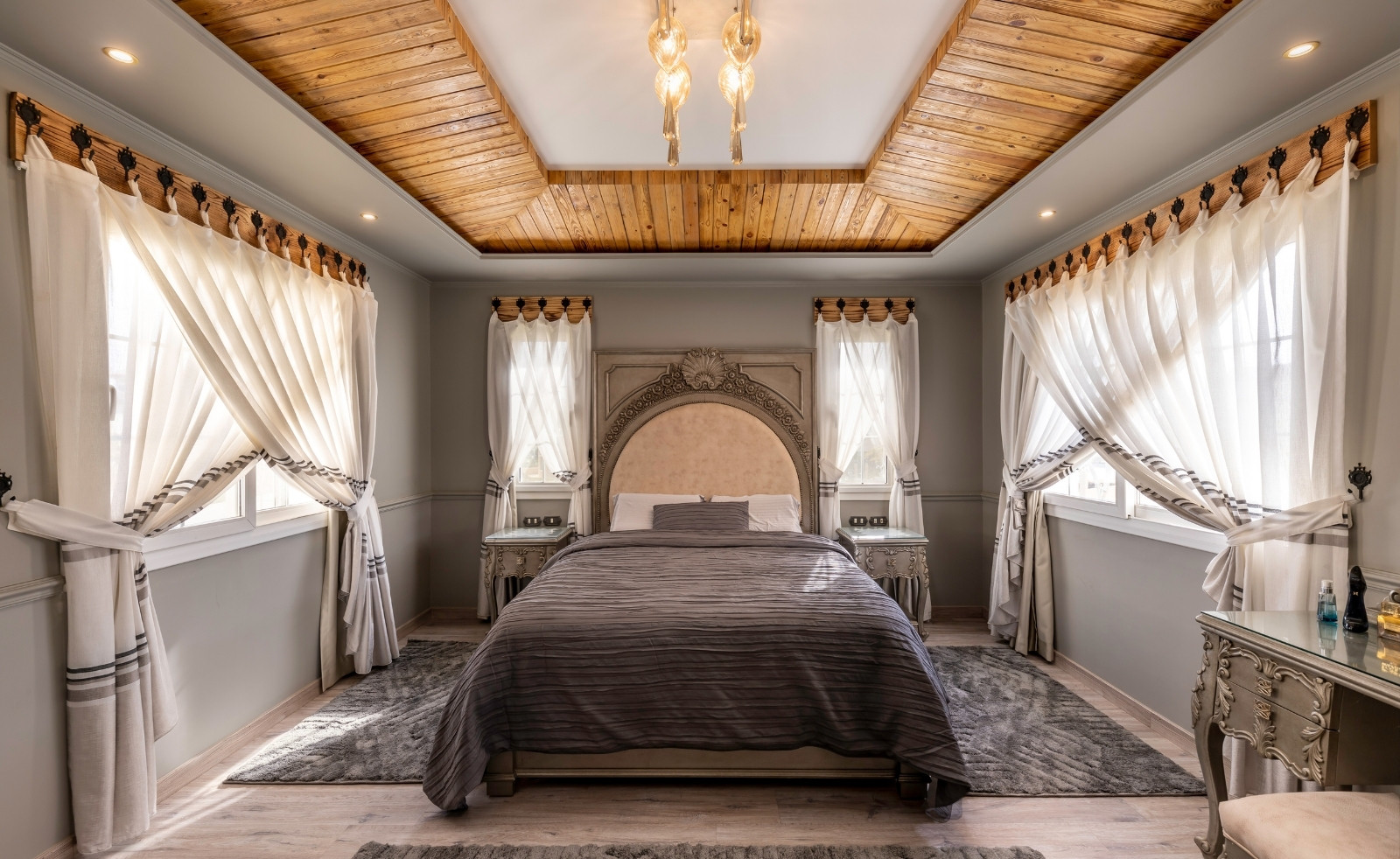 "There was a clear vision to go gothic, it was how they imagined their artefacts should be displayed," Gomaa says. In the bathroom, the clients added newly acquired picture frames to go with the designers' continual approach in the bathroom. "When we created the aesthetics of this interior, it felt like we should carry it on into the washrooms and these frames matched the style best," Gomaa says. The gothic frames, hosting edgy images, accompany you as you enter into the bathroom, or as it was once said, go to siege upon an ivory throne. Beneath the doom and gloom of its aesthetics, there is a levity that is deeply ingrained in this home's design - a definite sense of fun shared between the designers and the owners in seeing a dedicated vision brought to life.
Photography credit: Essam Arafa (@earafa)