From Budapest to Oman, Panoptyc has a knack for architectural storytelling. In Gharb Soheil, the studio drew up plans for a vernacular yet modern boutique hotel that pays homage to Nubian heritage.
When you're travelling through Nubia in Upper Egypt, the one thing that will make your experience complete is a hotel room with a view of the Nile. Panoptyc, a Cairo-based architectural practice, wanted to take the Nubian experience above and beyond by designing a boutique hotel for Ashranda Boutique Hotels & Cruises, one that ensures that each room on its three story terrace design gets intimate views of the Nile and its rocky islands, with plans to build it on a beautiful tranche of Nubian topography in Gharb Sohail.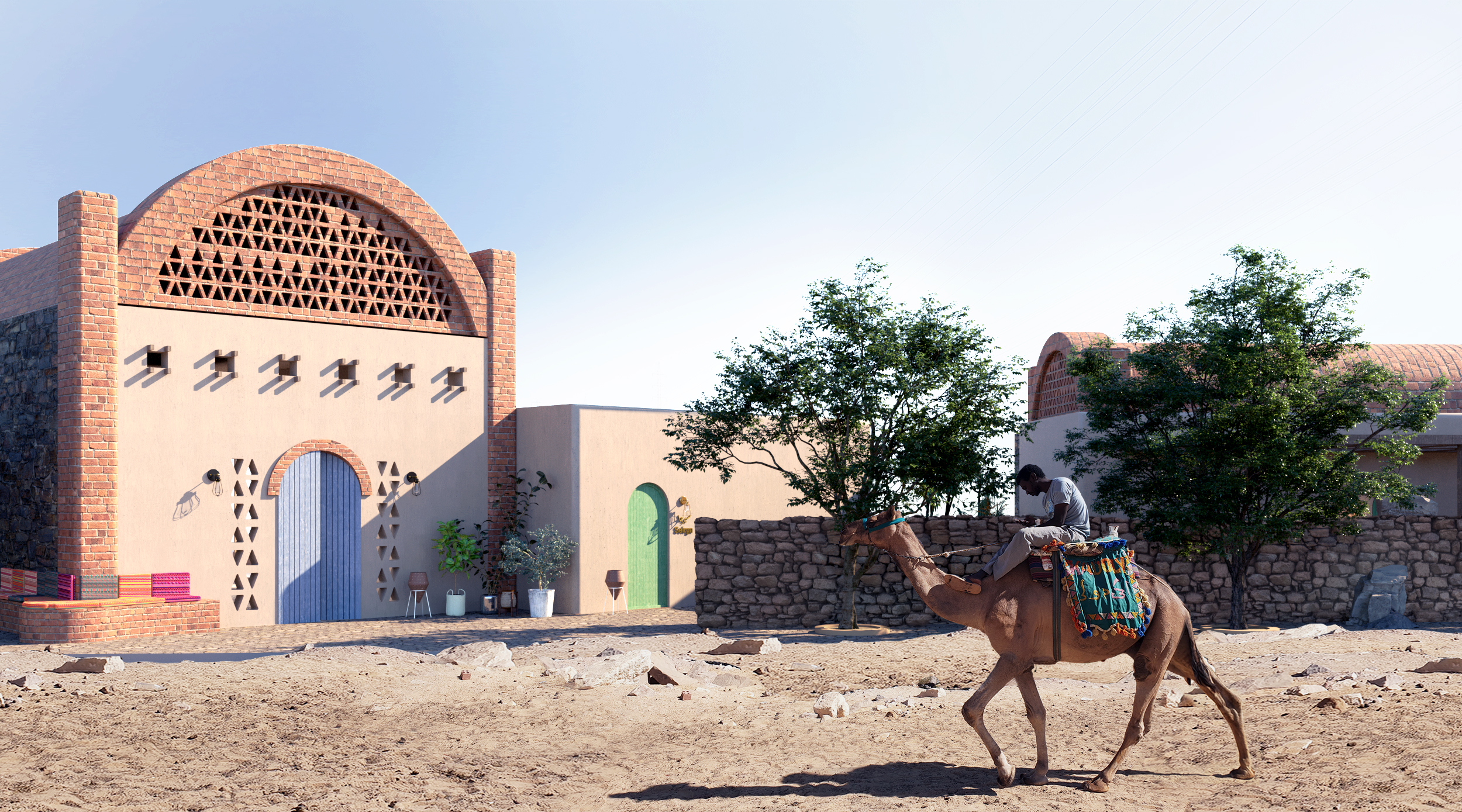 "It celebrates the spectacular scenery from multiple viewpoints blended into a sensitively landscaped hill from behind," founder and lead architect Omar El Sharkawi tells SceneHome. The design sits on mastabas, stacking rooms on top of one another, slightly rotated to give an 'almost random' look. "There are many hotels that boast Nubian culture, we wanted to adapt our design to be vernacular but at the same time have a modern look that keeps it in touch with our time."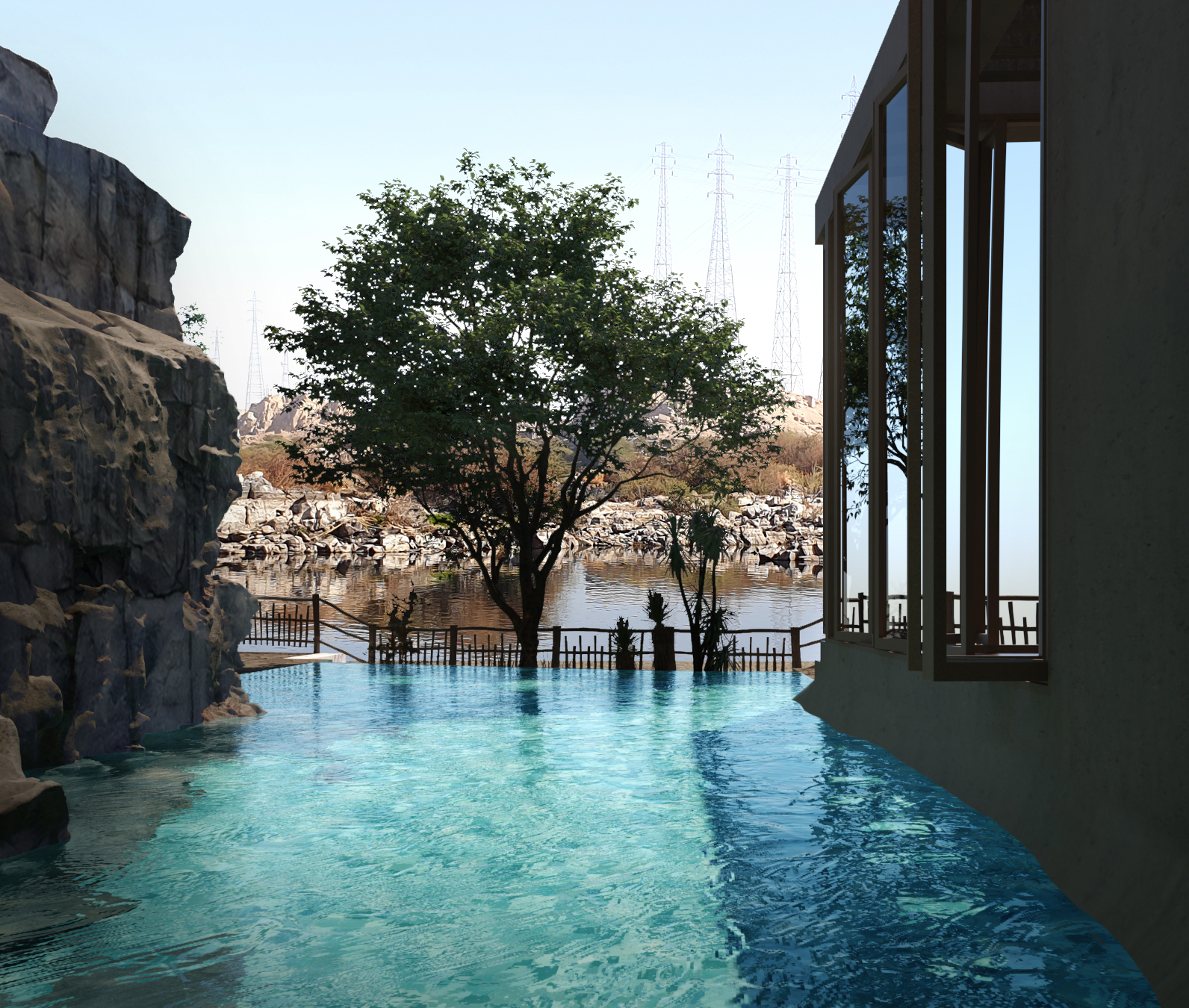 Aside from intentionally looking like it's man-made with its non-uniform layout, the design takes a similar approach in its materials. "It was done with respect to the context, relying on natural and sustainable materials to encourage a mindful connection between body and soul," El Sharkawi says. Basalt rock formations were kept in their original form to border a swimming pool designed for a blissful dip within nature. Meanwhile, red bricks were used for the many domes of the hotel, along with wood and natural paint derived from soft mud to cover the walls.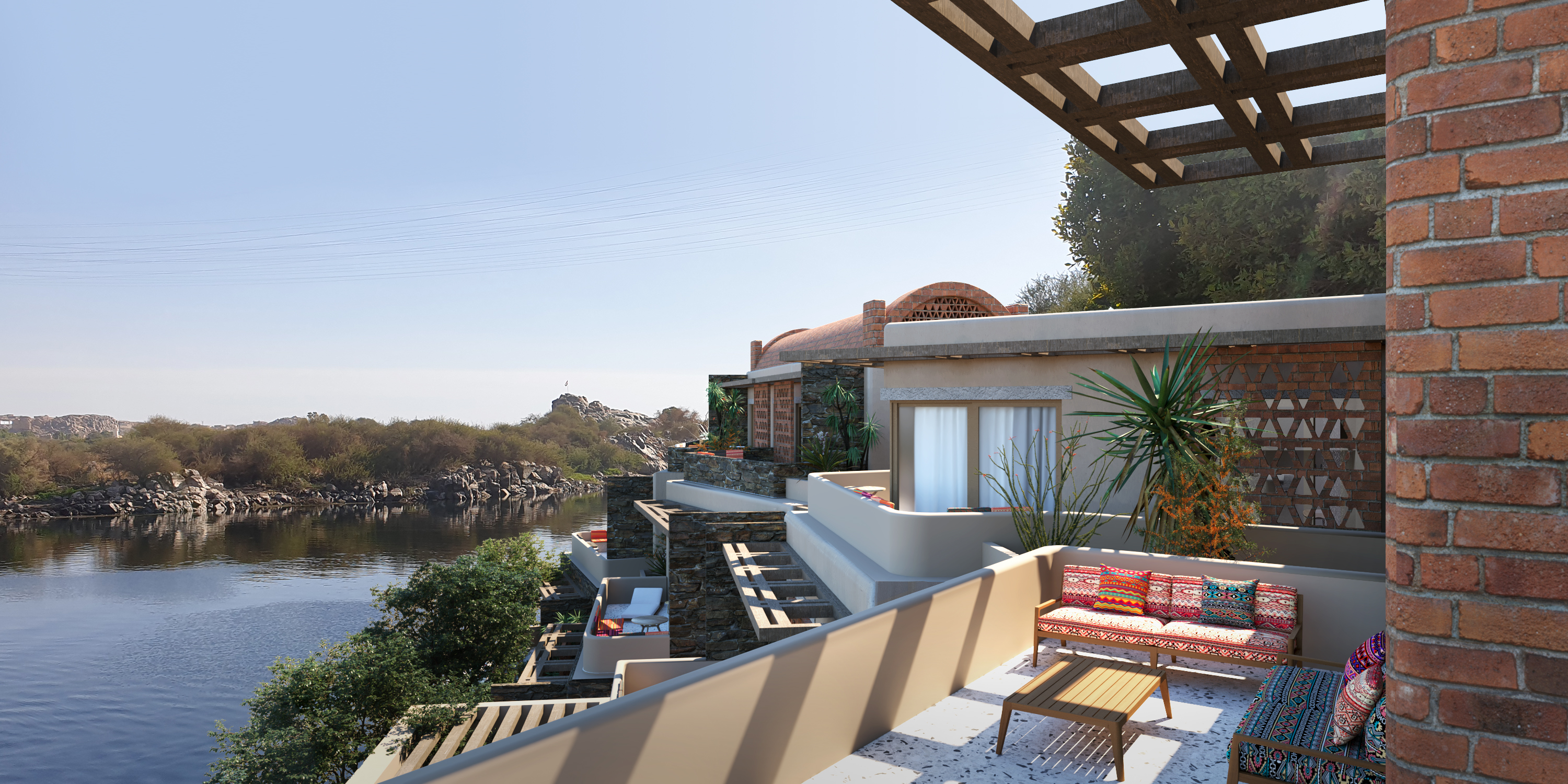 "The layout allows for natural lighting and views to dominate all areas while maintaining the privacy of each," El Sharkawi continues. "With 11 bedrooms, the hotel is designed for friends and families to enjoy year-round, it's also perfect for a couples getaway."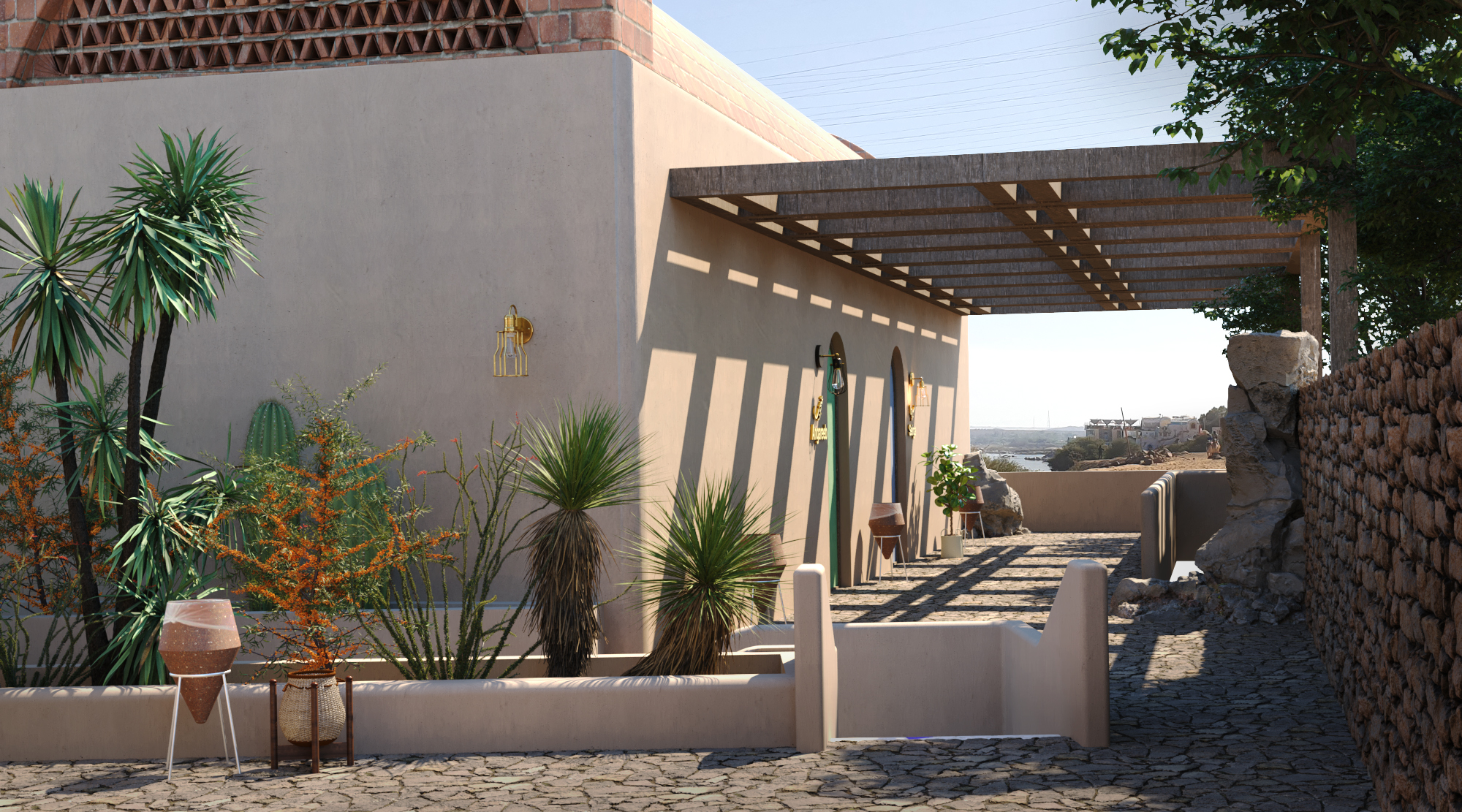 Privacy was achieved by making the rooms accessible from behind, orienting them along with the main reception - the largest domed volume - and the restaurant beneath it to enjoy Nubia's unique and dramatic scenery, while the wellness and yoga centre were placed closest to the Nile front.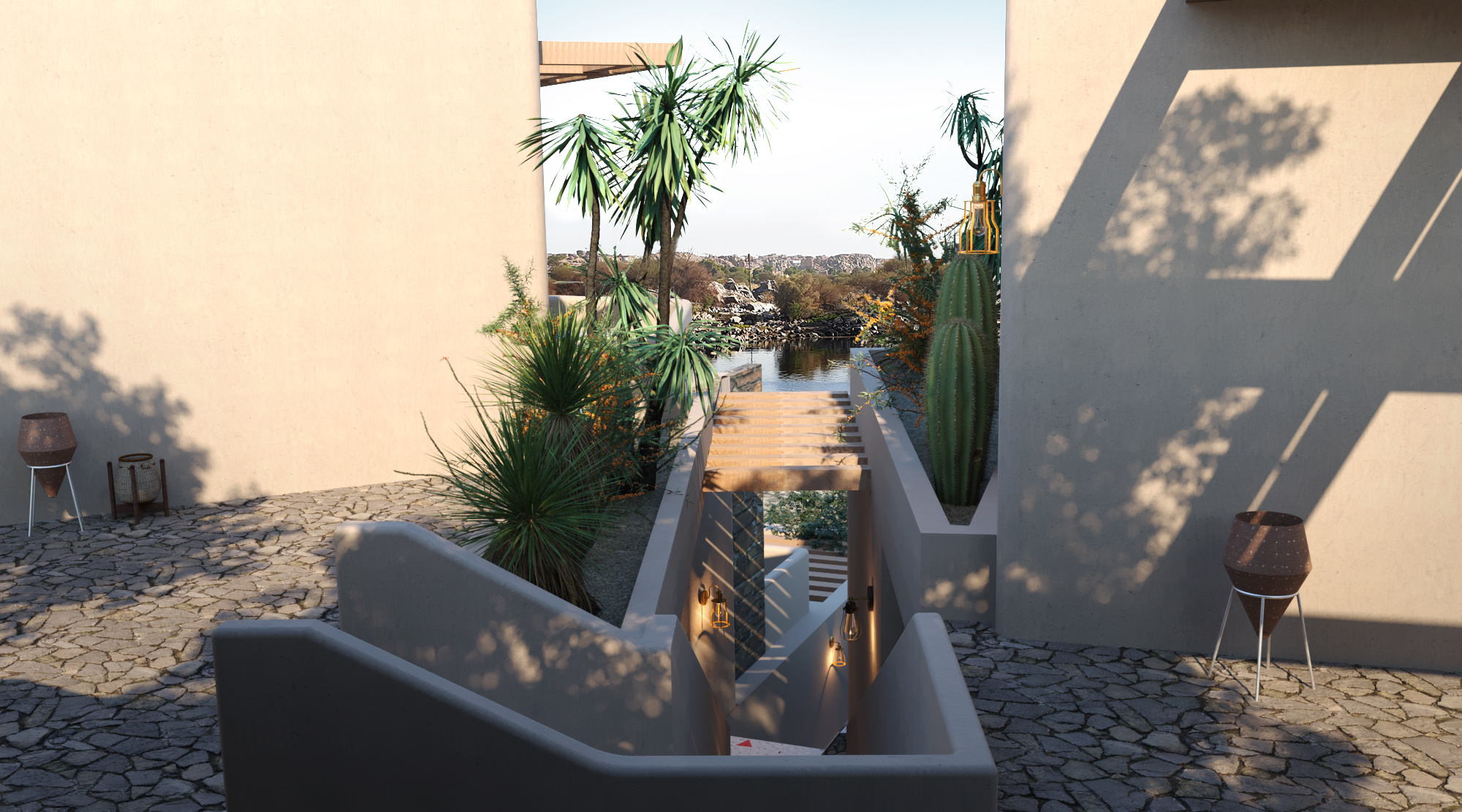 Staggered ever so smoothly with the existing topography, this design celebrates the energy and architectural traditions of Nubian culture, blending with its environment in order to provide a local experience that is native to its location but relatable in its visual framing and planning. Which is down to the nature of Panoptyc, which was founded in 2019 by the architect two years after graduation, and has quickly expanded its scope of work from providing visualisation services to studios in Hungary and architectural designs in Oman, to participating in multiple international design competitions with a focus on visual storytelling. In Gharb Sohail, the story they chose to tell is one everyone wants to hear on their journey through Nubia, and one that the land itself is more than happy to help them with.