"There's a thin line between balance and boredom," architect Ahmad Fayyad tells SceneHome, recalling the tight rope he walked designing and building this single storey house in Caesar at the North Coast. The co-founder of award-winning Cairo-based design firm FR Partnership wanted it to embody a minimalist lifestyle.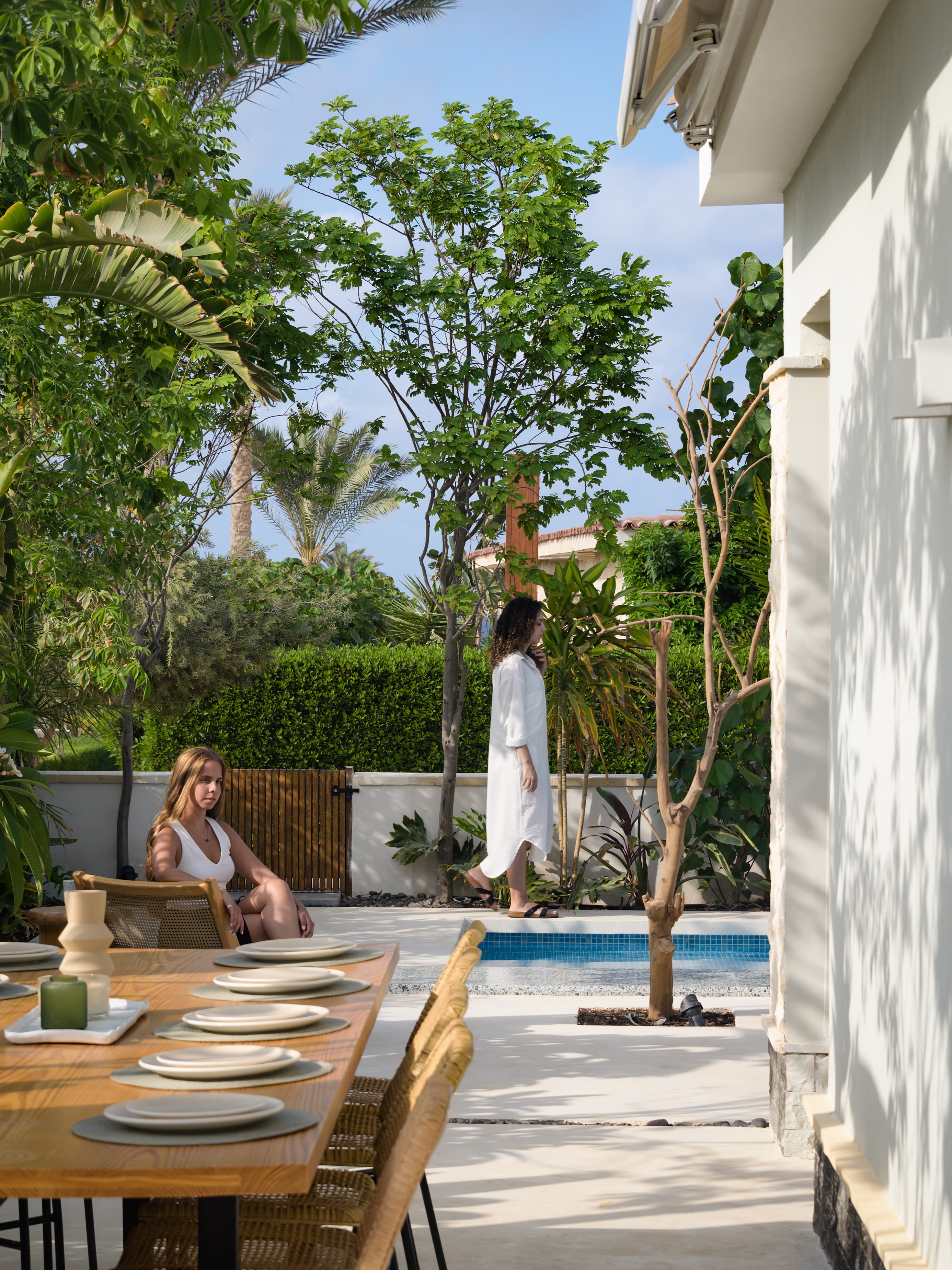 Entering through a walkway wrapped around the house, for a moment, it would feel as though you're walking into a jungle. "I always reflect my approach outdoors. So, inside, furniture is minimal and lines are clear. Outside, for some inexplicable reason, I love overdoing the landscape and flooding the space with greenery," he admits.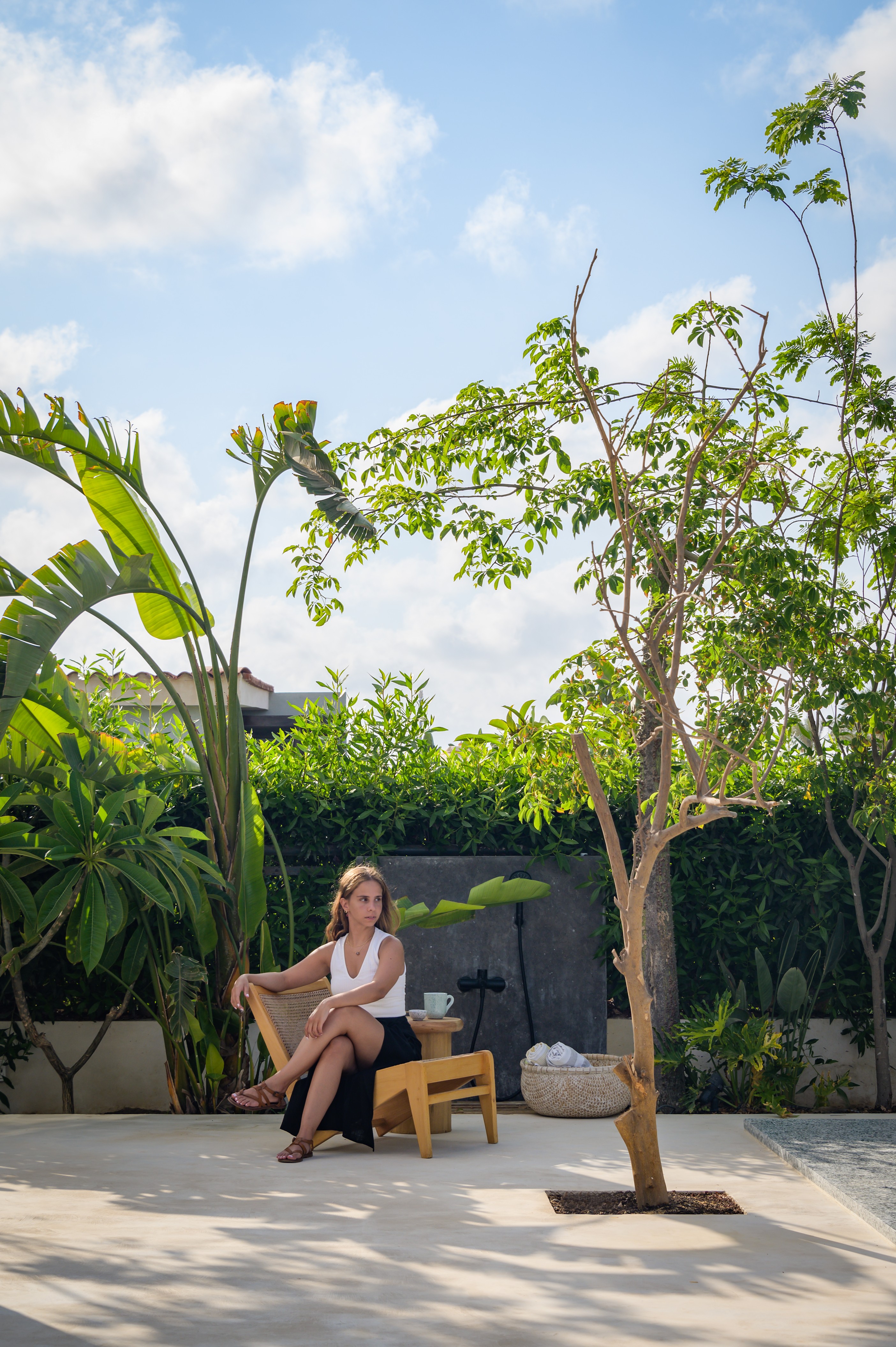 The result is a delightful mix between the abundance of greenery and ample decor. While thorny Floss Silk trees are some of the minimalist architect's favourites, this house's landscape features a novel choice: a dying tree.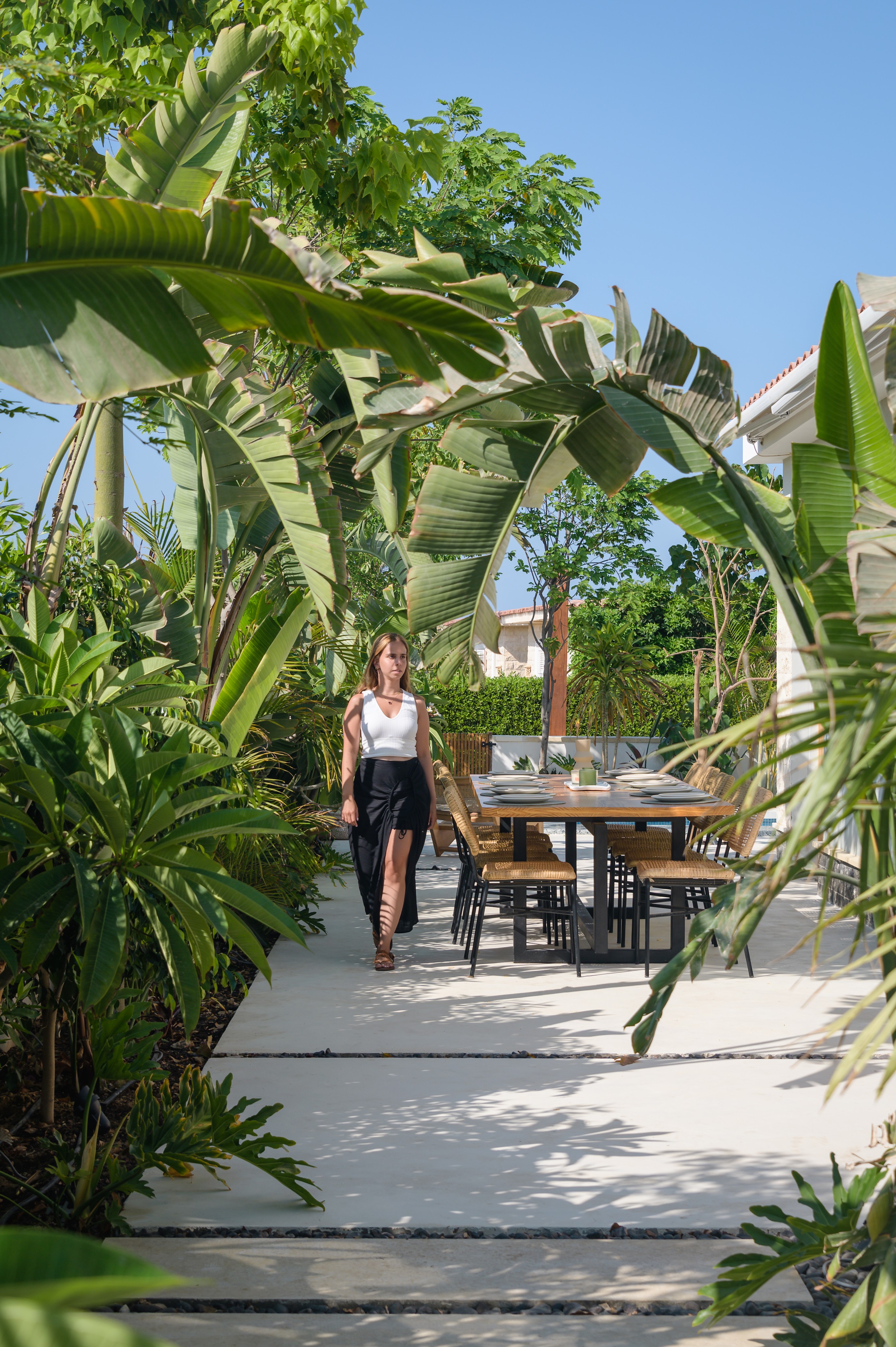 Acting on impulse, which happens more often than not, Fayyad stood at the pool and felt that something was missing. "I wanted to break something out of the floor," he recalls. "The homeowners expected it to be a Bonsai tree but I found a dying tree that looked sculptural, it had a stunning body and felt right for the spot."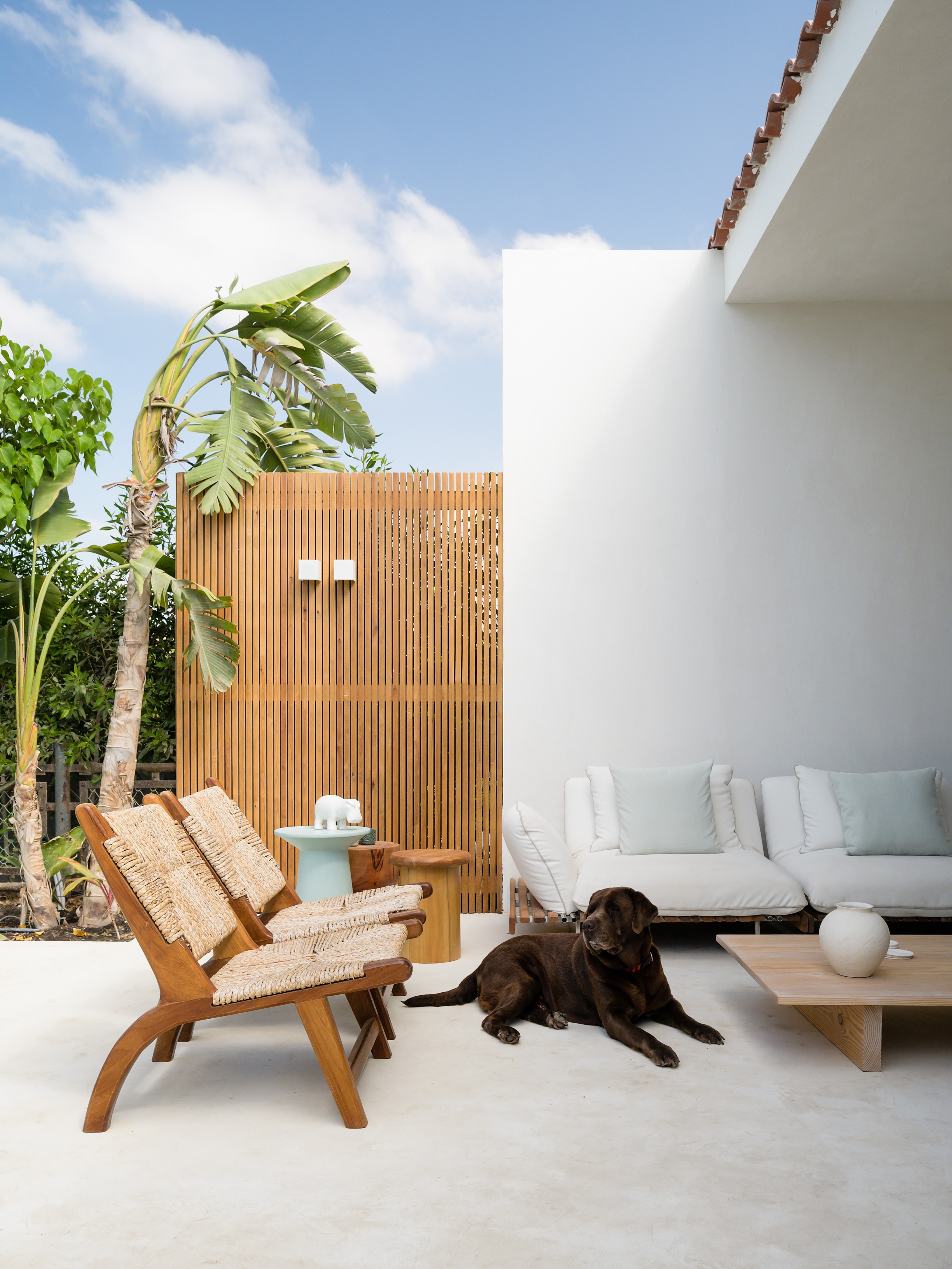 Of course, landscapers didn't buy in at first and the owners were taken aback. "They were like, 'This is a dead tree, right?' I said, 'Yes, it is'." Fayyad engaged in a discussion with the owners about what makes a tree. Is it the green leaves or the form? Eventually, he was asked to remove it and did so. "We replaced it with a palm tree and other cliche options and a couple of days later the owners asked for the dying tree back." Why? Because what was seen can't be unseen.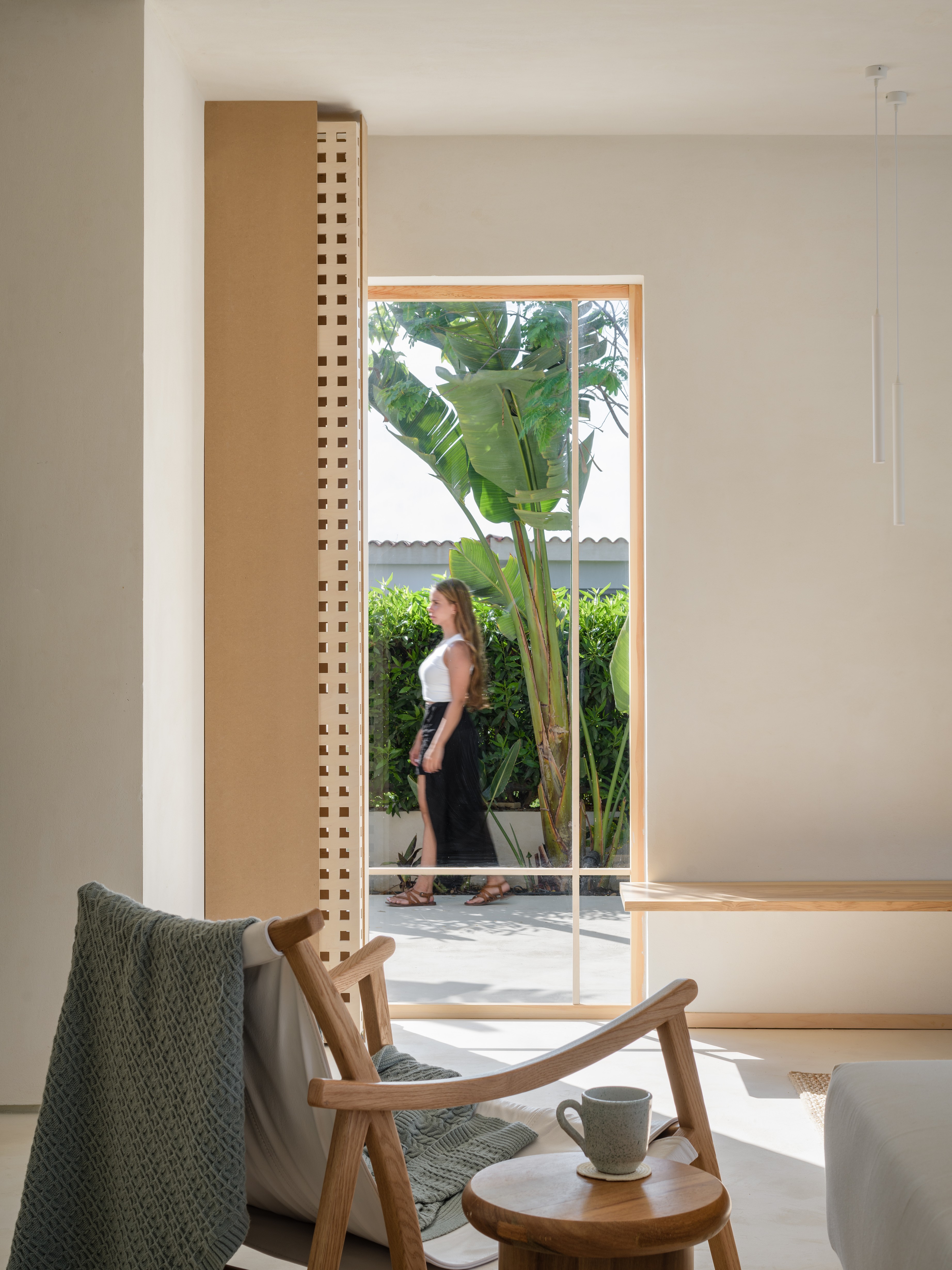 Designed for year-round use, the house hints at Scandinavian design which isn't necessarily coastal yet still fits the ease and breeze that summerhouses demand. "A couple of years ago, minimal homes were undesirable in the North Coast," Fayyad says. "People were taken aback by the idea that their homes won't be filled to the brim. But the times are changing."ural, it had a stunning body and felt right for the spot."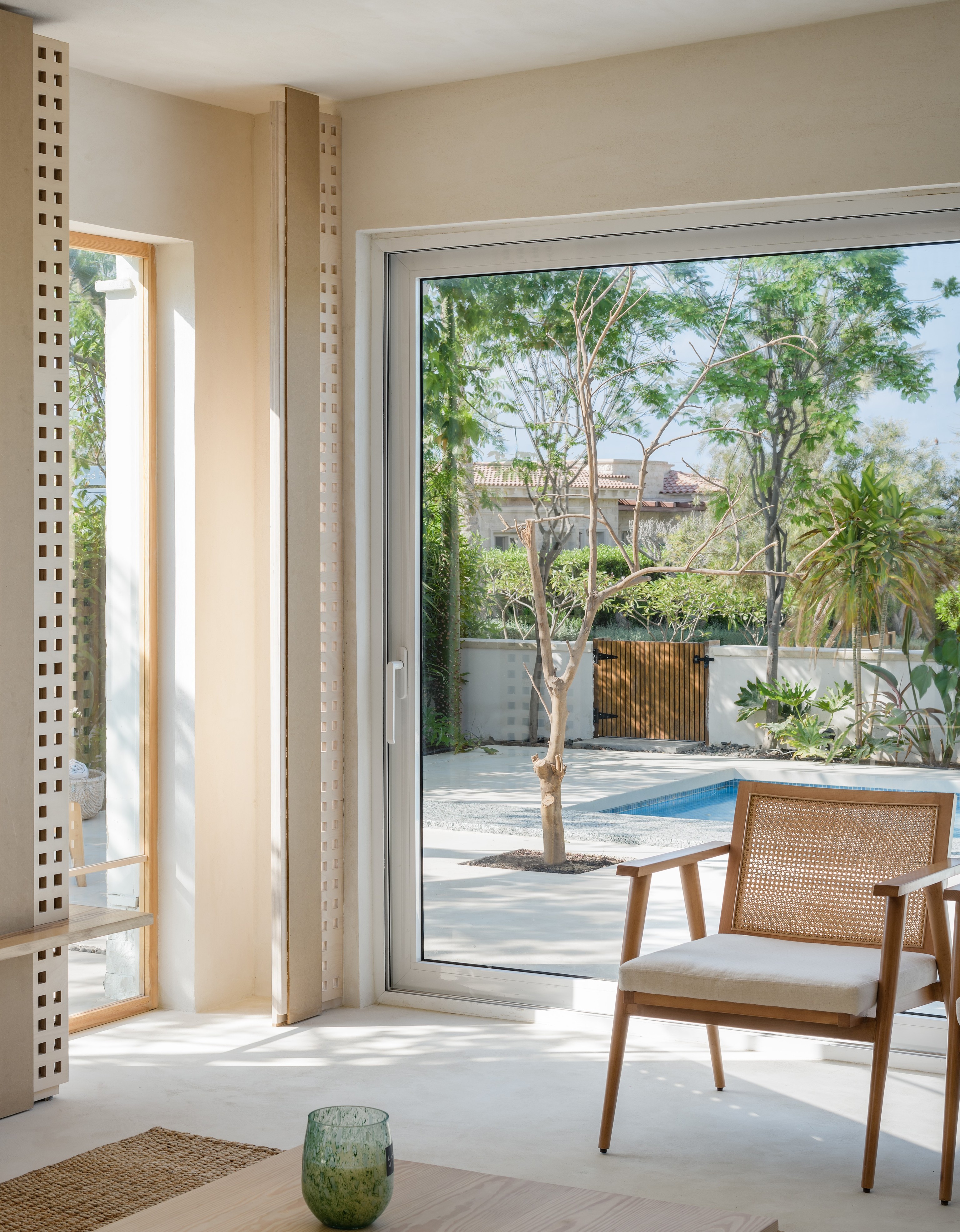 Life in a minimalist's summerhouse goes a little like this: You reluctantly pull yourself out of the water to find the pool framed by green terrazzo tiles, you're surrounded by trees, offered a moment of bliss by woven rattan low chairs before you step inside the house to find it intentionally designed for your peace of mind.
Opting for the calm of olive mint green, Fayyad applied the hue throughout the house. On terrazzo tiles framing the pool, highlights in bathrooms, and to define the open kitchen. "It changed the energy of the space and marked the house with a continuous identity."
"We have a clear aesthetic direction and our clients know that. This allows us to focus on how they want their house to function," Fayyad continues. Known for its minimalist philosophy, the firm's work ranges from Japandi style with fair wood, whites and clean lines, to a fresh, more coastal form of minimalism that allows for subtle pops of colour. Mastering their craft, Fayyad along with co-founder and partner Malak Rashad became one of Architectural Digest's top 50 brightest talents in the region.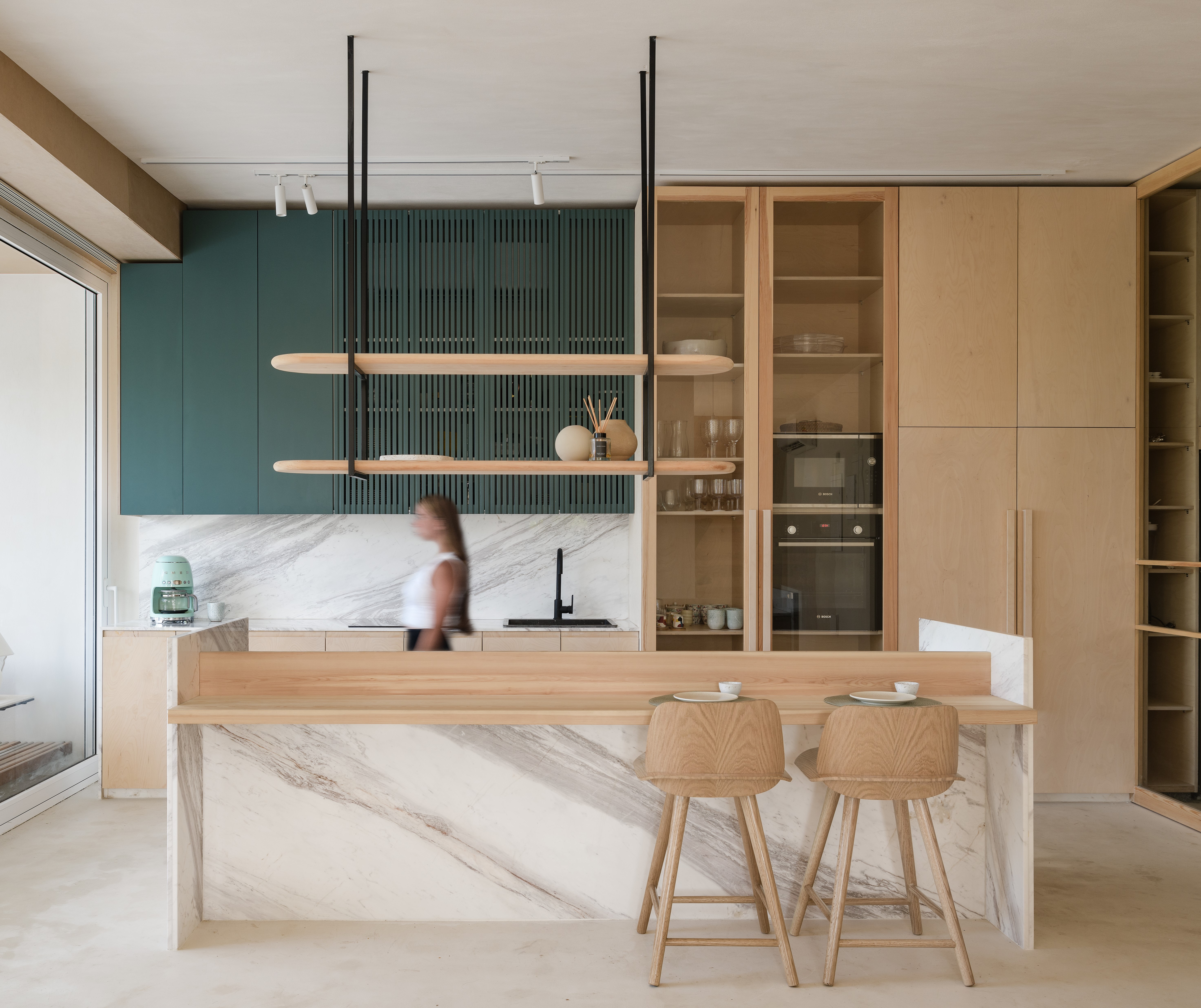 Indoors, the reception is joined by an open kitchen in a space connected to the outdoors via a long glass screen fitted with a curtain roll and wooden screen that breaks direct sunlight into dreamy patterns. White cement runs throughout the floors, as a corridor leads further into the private quarters.
"Knowing when to stop is key. Design is often a constant state of adding and adapting until the scene looks set," Fayyad says. "Finding the right balance can't be taught; it must be sensed. I stop when it feels right. When I stood in the kitchen it just felt right," he says, referring to the kitchen where Fayyad used white marble stone with light grey veins to complement the light wood frames on the counter and the nordic bar stools.
Whether it's in lifestyle, outfits or design, Fayyad does what he feels comfortable doing. Coming from a family that embraced Sufism, his affinity to abstraction becomes less surprising. "When I abstract things, I find that the result is always better. If we have a scene that looks done, what would happen if we eliminate and remove more layers?"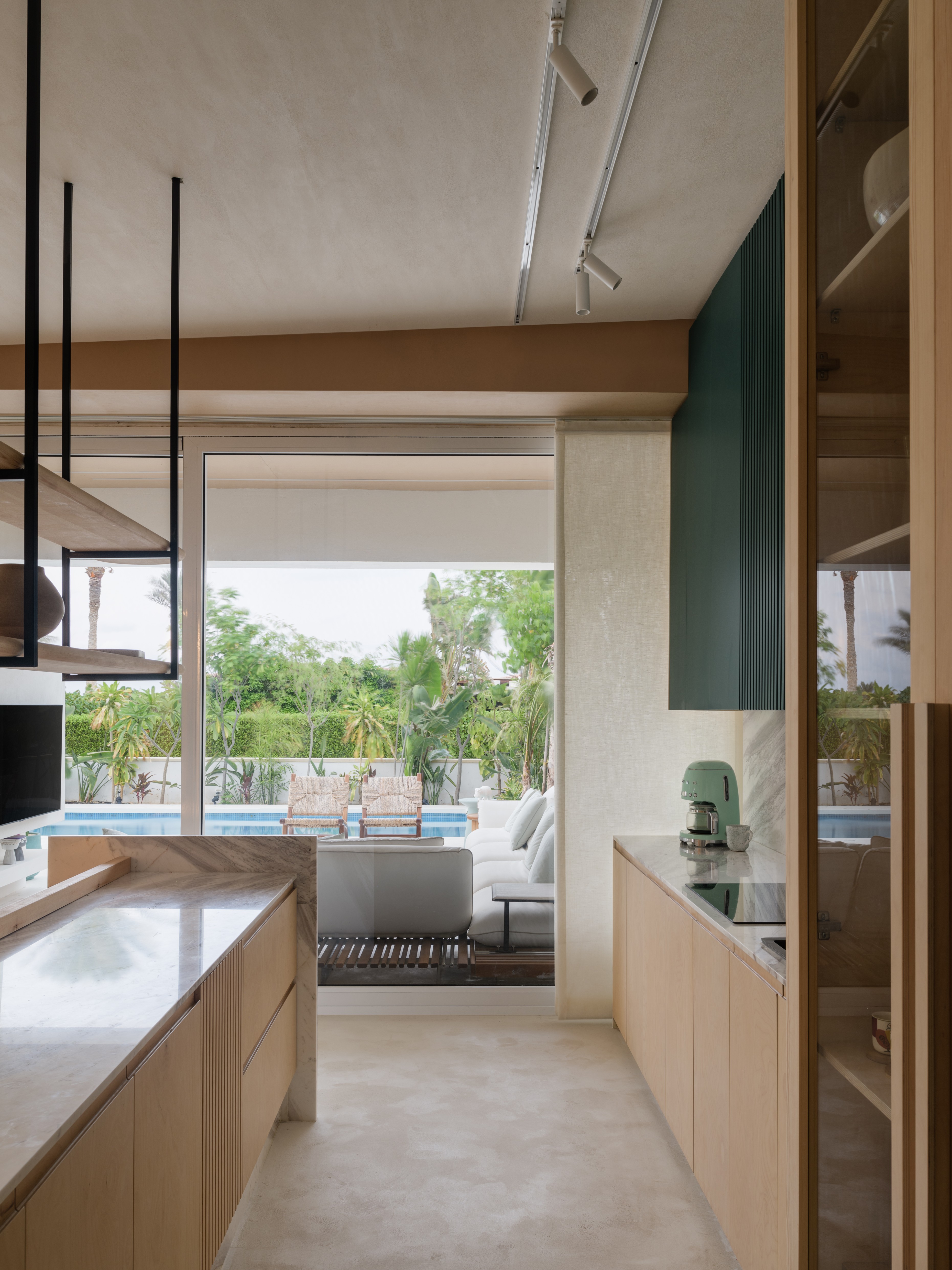 "The proportions of a house are more important to me than its decorations," Fayyad declares. "I'm an architect. I focus on masses and how we react to the spaces we live in." Minimalism has its fair share of discontents, but if you allow yourself to experience its state of mind then perspectives seem to change.
Fayyad often takes an unorthodox approach towards design, adapting materials according to how the space looks and feels. "There are some calls that can only be made on-ground. 80% of our designs are pre-prepared, the rest is improvised," Fayyad says.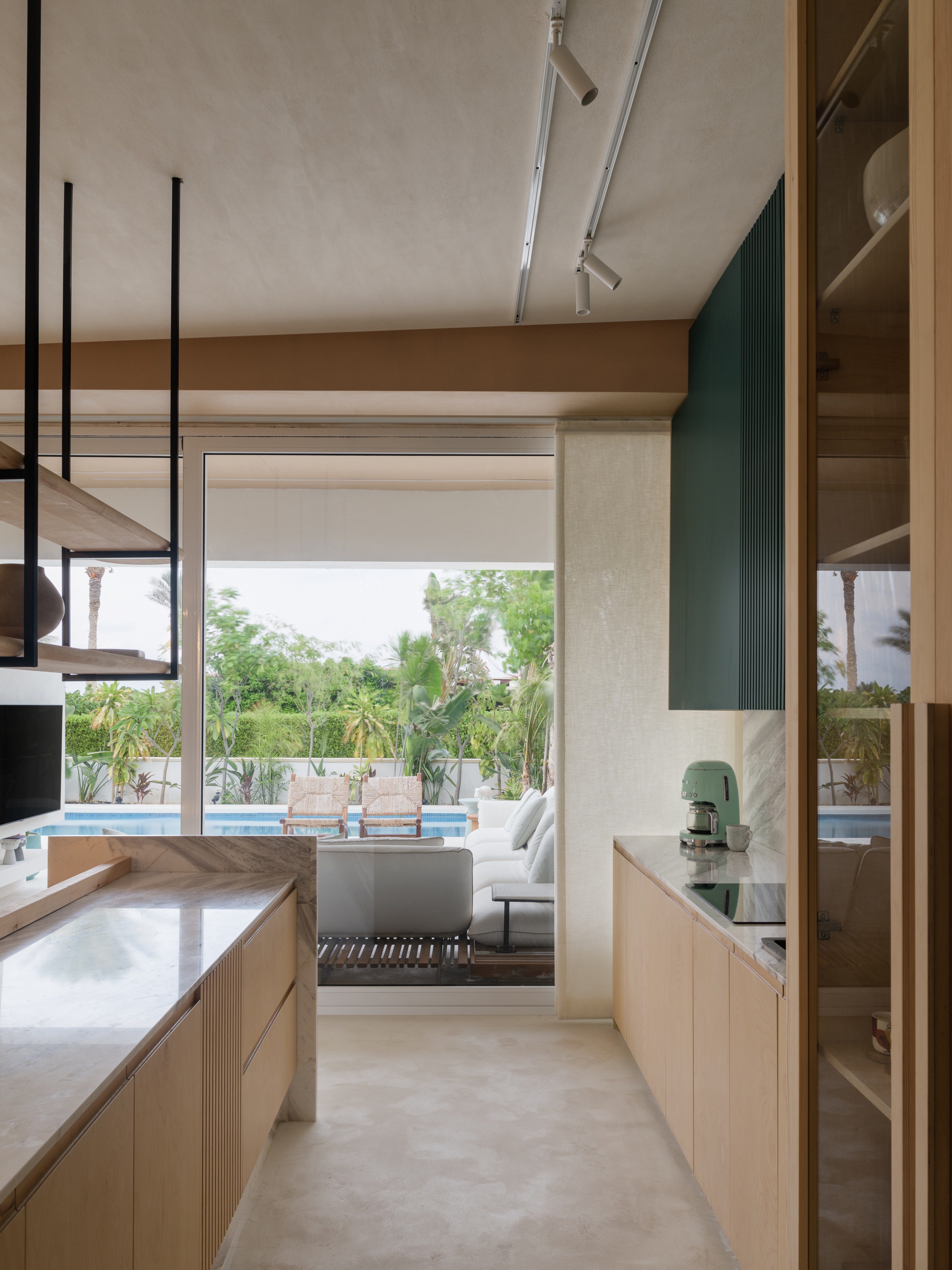 "Once you gain people's trust, they'll let you improvise." Fayyad doesn't allow owners to visit the site until the design is completely finished. When that happened in Caesar, the reaction was one of joy and surprise. "Let's say there were lots of hugs and lots of love."
Being able to do more with less isn't an easy task, expressing your voice through aligned lines and seemingly empty corners. But, according to Fayyad, some people don't appreciate it until they've lived it and then the outcome is that they can't leave. Once you go minimal you can't go back.
Photography Credit: Nour El Refai