This functional art exhibit in R'KAN showcases furniture by artists, all depicting human connections. Romance is frozen in polyester, stools mimic intimacy and a sideboard ridicules trivial bickering.
Beyond its aesthetics, functional art is experienced just as much as it is marveled at. The most common example is furniture - instead of being drawn up by designers, artists create pieces that serve their function of furniture - chairs you can sit on, tables you can toss your keys at - while also looking appealing. At times, these pieces can be truly artistic, conveying complex concepts and abstract emotions. Like when a sideboard titled 'Blah Blah' ridicules the trivial bickering we have with our loved ones using a monochromatic palette juxtaposing pastel hues. This is but a glimpse of what's on display in R'kan Edition, a functional art exhibition curated by R'KAN and designer Rania Fahmy, until January 12th, 2022 at Capital Promenade in Sheikh Zayed.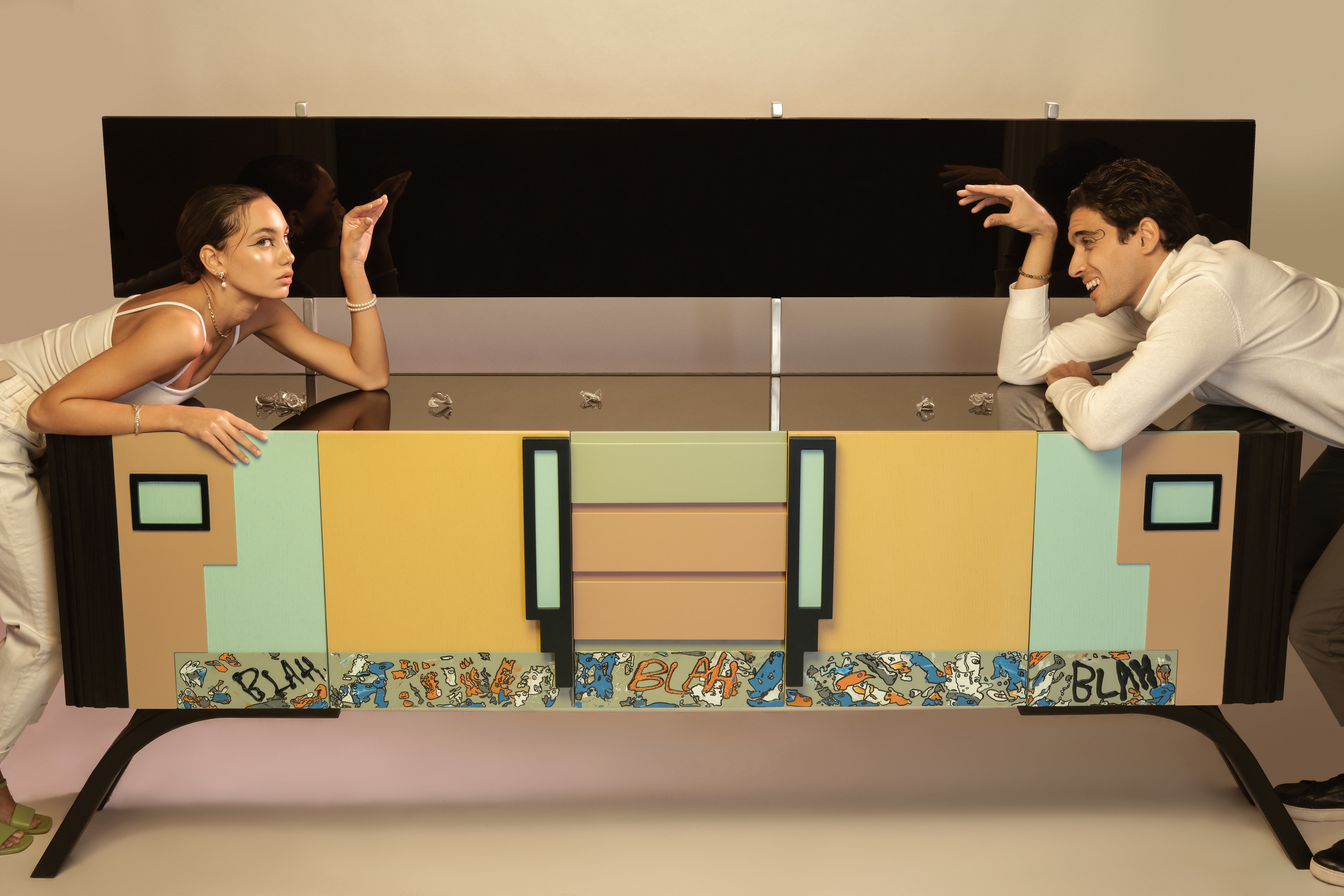 R'kan collaborated with Egyptian artists to envision our stories and relationships through functional art. "I worked as an interior designer for 25 years until I decided to focus on furniture and decorations, furnishing homes as a stylist," Fahmy tells SceneHome. R'kan Interiors is the second initiative under the R'kan brand, followed by R'kan Collection, a furniture showroom that has been importing European pieces.
However, it wasn't enough to get furniture from abroad or even mimic them locally. With the amount of talent in Egypt and its art scene ever evolving, Fahmy thought, why don't we create? "I wanted to create from scratch and demonstrate that we can do it here and even take it abroad," she continues. "We curated a collection of pieces that tell our relationships and stories, and how they evolve over time."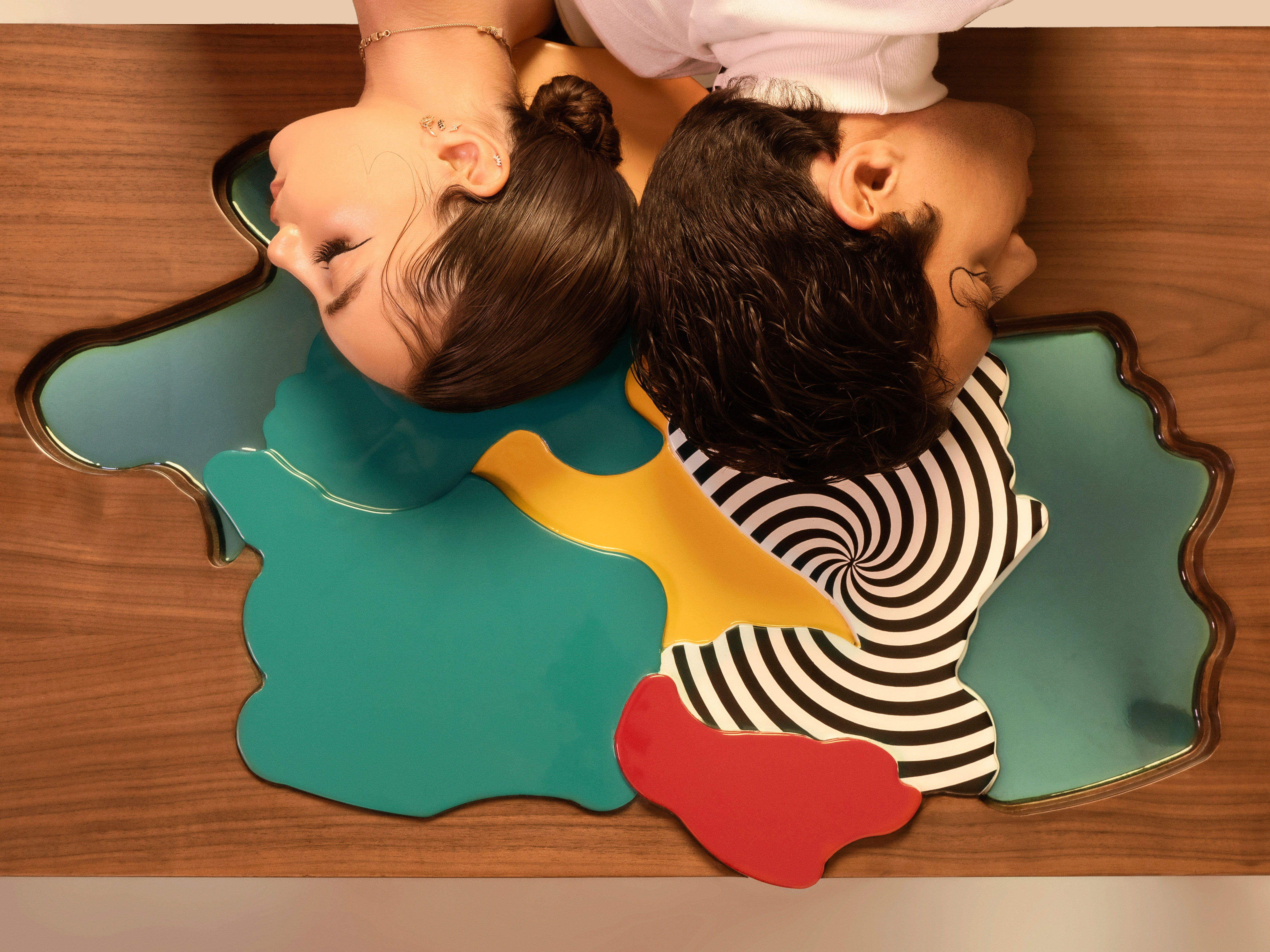 R'kan's design team created pieces that do just that. For example, they integrated walnut with glossy lacquer and epoxy on a coffee table called 'It's complicated', displaying the differences in tendencies we may have with people while being endeared and attached to them.
"We wanted to show the process of how two or more artists can work on the same piece, contributing to the overall story," Fahmy adds. "Hany Boraey, for example, was working on sculptures and we got the glass art expert Maha Abdelkeriem to repurpose them into lamps."
Here Fahmy describes 'Us', a pair of floor lamps crafted by Boraey and turned, through Abdelkeriem's ingenious glass work, into lamps that draw on the moment when humans connect, illuminating the alignment of energies that flow within us. "Collaboration enriches a project, you always come up with more when several minds work together," Fahmy says. Boraey went on to create chairs that present a whimsical outlook of love, interrupting the general, rather cheesy, perception of romance.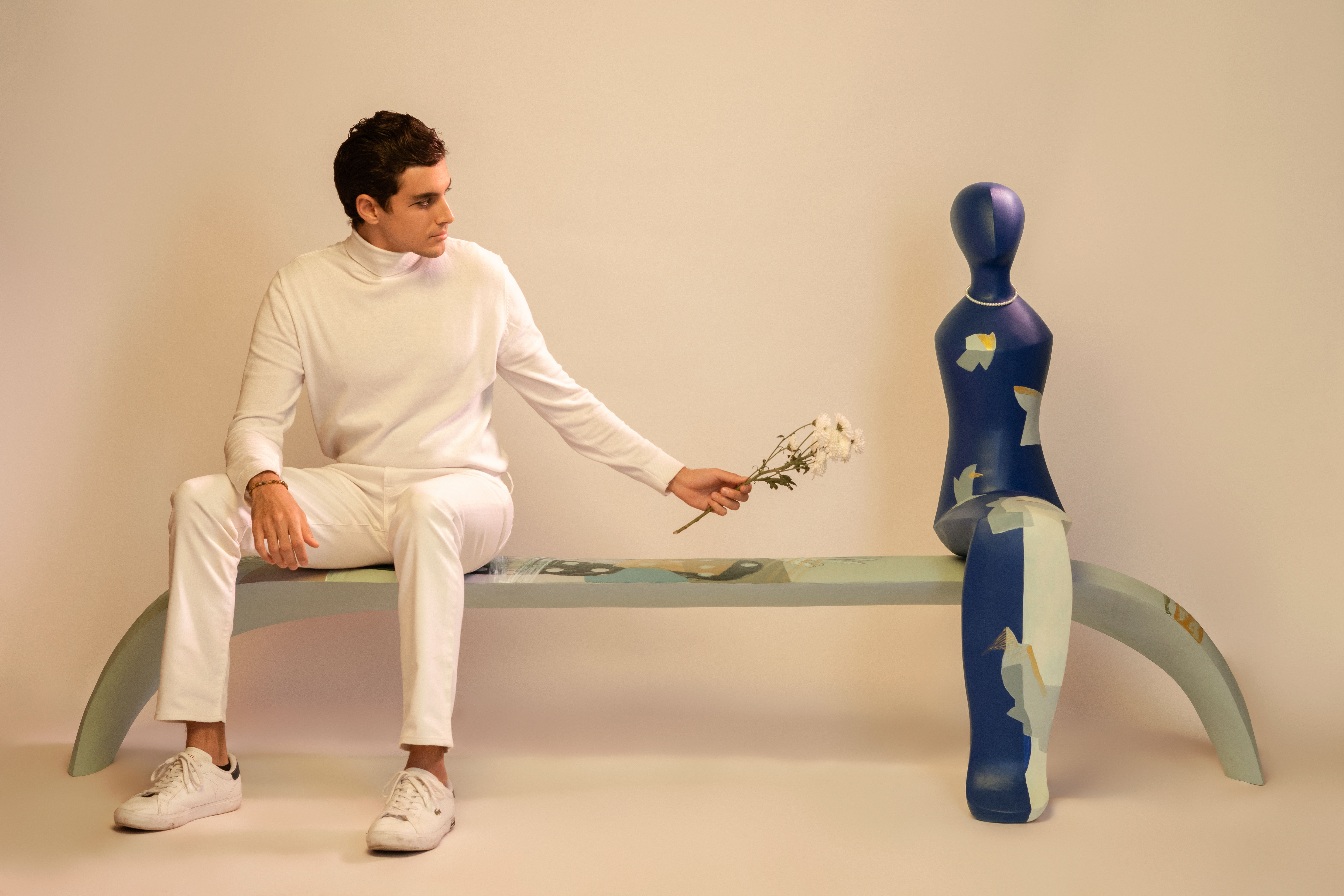 Artist Hesham Abdelmoaty opted for a metaphoric approach at the exhibition. For 'A bird's dance', he worked with renowned architect Karim El Hayawan, founder of Design Point, in eliciting a call for partnerships by portraying the way birds maneuver, shifting from separation to reunion in a blink, on a coffee table. Through 'Reach', he depicted a figure sitting on a bench, calling for company, an analogy about young love. Maintaining a theme of figures frozen in polyester, he created 'Forever', a sofa that captures a couple enjoying a blissful moment, when disparities fade.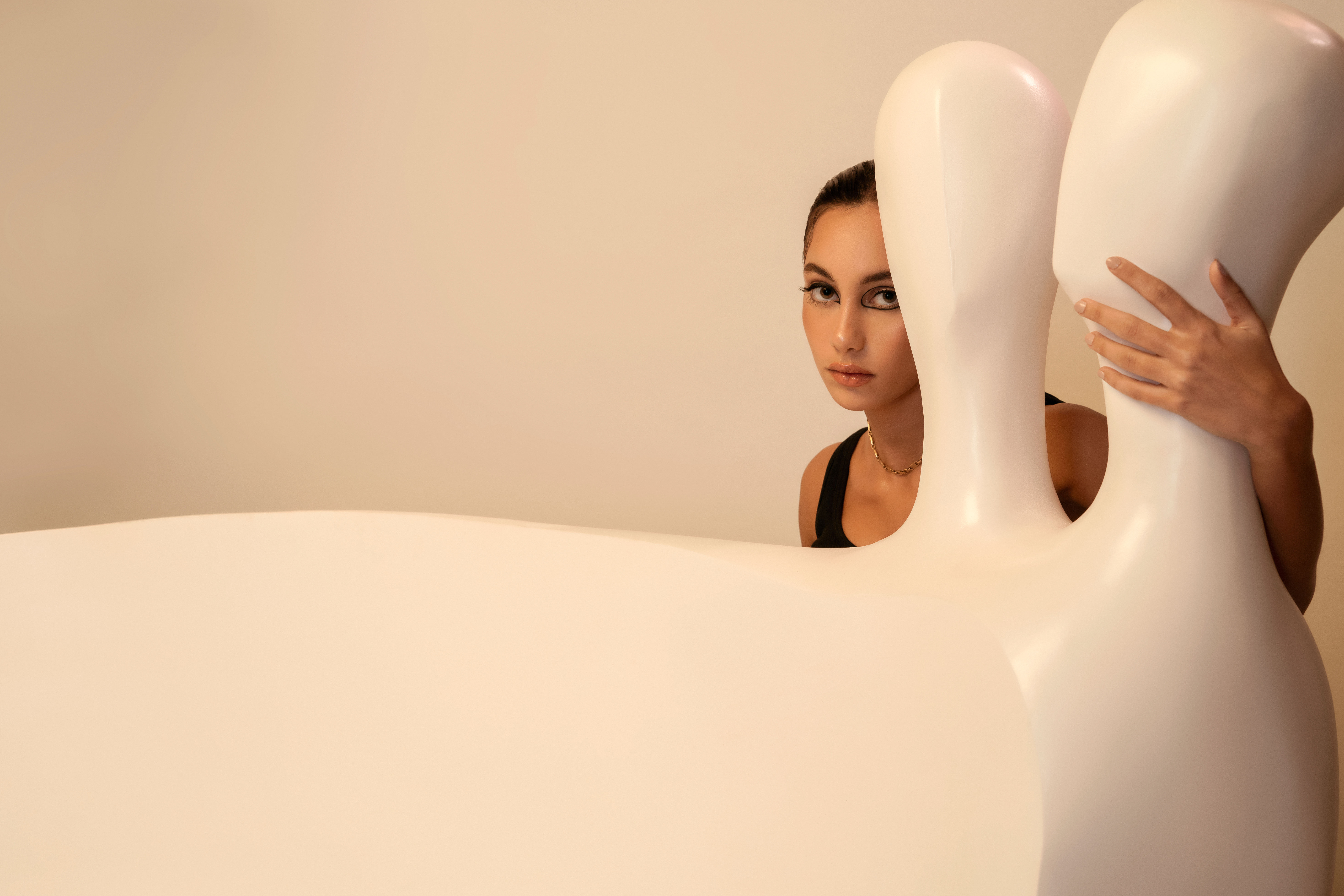 Mohamed Abla, the Egyptian artist who established the first caricature museum in the Middle East back in 2009, created tables ingeniously displaying the focus of R'kan's exhibition. Onyx table tops offer scintillating visual patterns that blend together when arranged close to each other, and signature tables have brass legs with carvings that represent our connections, as figures hang from trees in a still-yet-lively scene. Finally, 'Hold on' are pots designed by ceramic artist Mohamed El Gindy, exploring an idiomatic artform. Hands holding on to pots, mark the creative process, the tool we use to turn abstractions into reality. The moral here is that we should hold on to each other and the endless beauties we create and experience. Even if the going gets tough, just, hold on.