Evoking images of Ancient Egyptian mythology through its furniture - from Ra's sun ship to the wings of a goddess - Don Tanani's design gallery presents a contemporary take on Egyptian design.
What would Ancient Egyptian furniture look like today if it had been allowed to come into the modern era completely free of foreign influences? Following decades of innovative curation, the illustrious design firm Living In Interiors - founded in 1992 by the Tanani family - launched Don Tanani, a design gallery aiming to reimagine Egyptian design and art. It answers the query with its inaugural collection, 'Duality' by product designer Lina El Orabi in 2020, which visually portrays Ancient Egypt's rich heritage through modern furniture. Meticulous manufacturing and an ingenious concept got Duality to participate in Nomad St. Moritz's travel-oriented art showcase in Switzerland and Art D'Egypte's Cairo International Art District in Egypt, both in 2021.
Juxtaposing the reality of Ancient Egypt and the abstract vision of its continual development to the present day, Duality features furniture pieces carefully crafted with contemporary coils to represent snippets of Egyptian mythology. "Artisanal traditions continued in modern Egypt, but without substantial aspiration, so we wanted to revisit them and envision; If the Pharaohs were alive today, what would their furniture look like?" Tamara El Tanani, co-founder of Don Tanani, tells SceneHome. "This is a journey that brings Ancient Egyptian design into the now."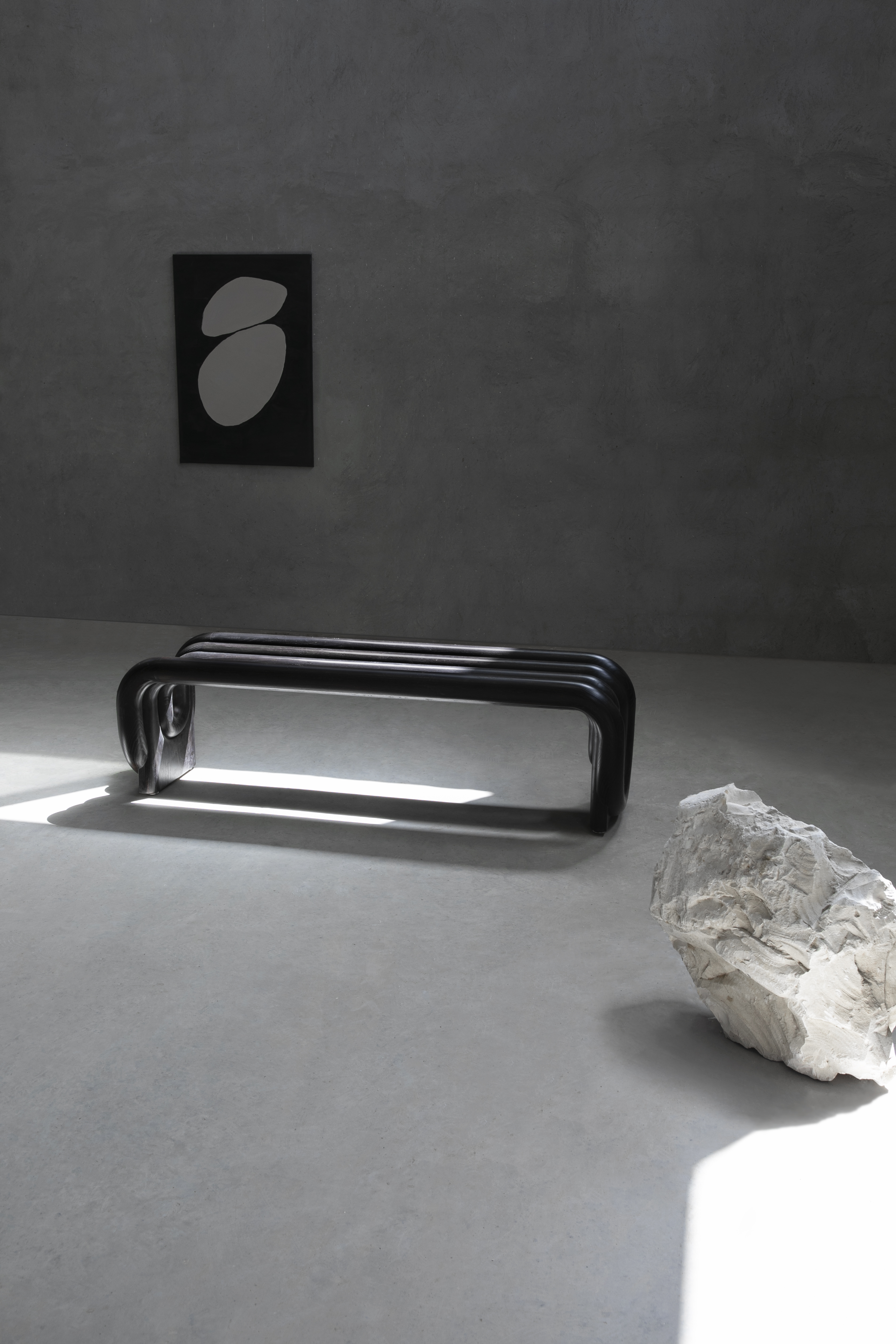 The 'Ouroboros' bench depicts an Ancient Egyptian symbol of resurrection and renewal. Through precise joinery, its oxidized oak wood is inlaid with blue paint and appears to be continuous, without a beginning or end.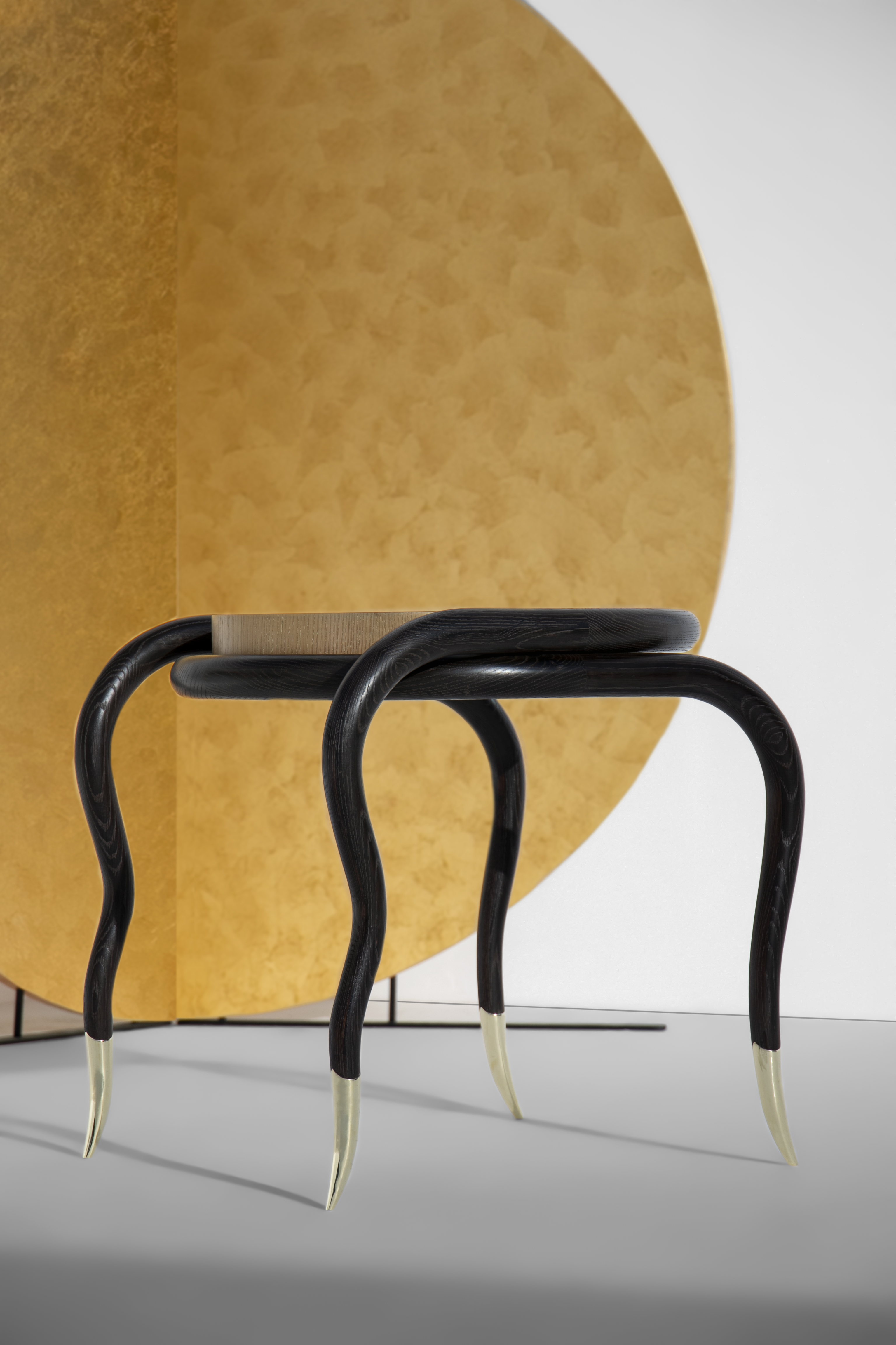 Duality's side tables meanwhile take after the serpent deity that protected Ra on the way to netherworld, 'Mehen', with hand-shaped oak legs coated in glossy black and wrapped around a tabletop that represents a void. Appropriate, since its name in Ancient Egyptian means 'the coiled one'.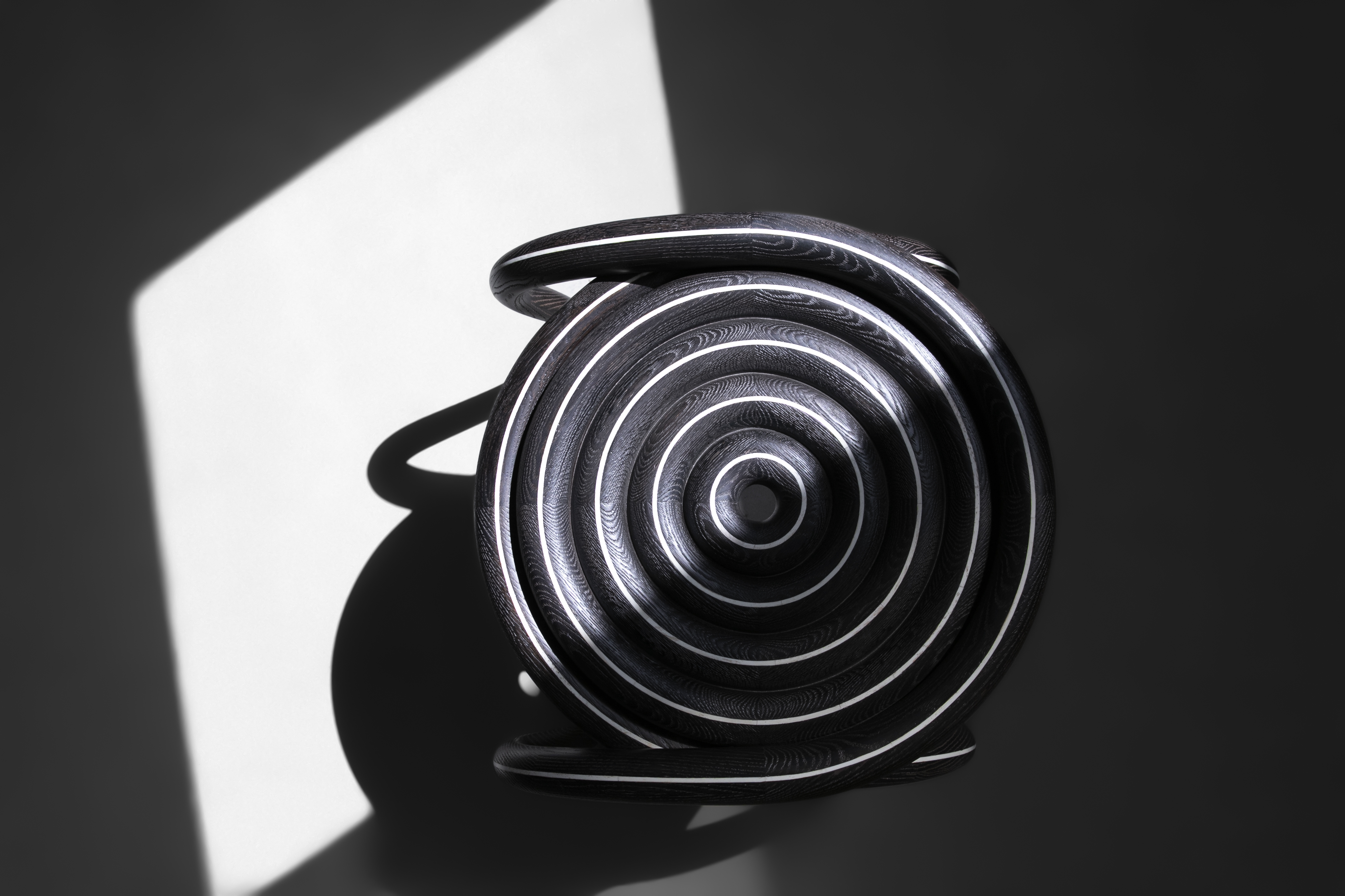 'Apep' continued the form explored in Mehen, however, with more chaotic coiling, endlessly revolving around a vortex. Despite having similar snake-like forms with full volume oak, the side tables are inlaid with camel bone.
"Carving gave static materials warmth, movement and life, encapsulating a moment in time through intricate inlay," El Tanani says. Depicting the wings of the goddess Maat, the personification of truth who used feathers to sway souls, the 'Maat' hanging consoles have iterations of carved patterns that caress walls with their ethereal form. And for the love of gold, Egyptians used gold leaf to add texture, and so does Duality.
'Shen' is a room divider covered with gold leaf; its richness of colour would make for a subtle yet marvelous backdrop to maximalist interiors. In case Duality hasn't already proved to have fascinating backstories for its pieces, Shen is named after the coiled rope once carried by the warrior god Horus for protection.
"This is the moment to reclaim our narrative. A civilization that represents art and design mastery cannot fade into the background. We have everything we need here in Egypt, after all, this is where it all began," Alia El Tanani, co-founder of Don Tanani and Living In Interiors, says. "Upcoming projects will delve deeper into the Egyptian identity, coming to terms with what it means to be Egyptian by absorbing every aspect of our monumental culture." For its next collection, Don Tanani plans to explore another period in the history of Egyptian art, with designs that transcend time and space.