Asked to for a calming interior with little to no colour, the design firm created a super relaxed canvas in this three-storey residence.
Comfort is what everyone seeks at home. Some may find it in bursts of colour and loud textures. Others on the other hand may prefer subtlety, much like the owners of this three-storey house in West Golf, New Cairo, who asked Emad Nathan Architecture for spaces that took them out of the world that we know and into a quiet, soothing ambience characterised by the tender visuals of fair walnut wood covering the floors, some walls and an arched bar.
"The ground floor is welcoming, the basement had to be absolutely calming and the upper floor is a fully independent apartment, which allowed us to intensify the palette and add a pop of colour," Emad Nathan tells #SceneHome. Entering through a soft looking corridor, wooden cladding hides a black and white kitchen behind a sliding door and the dinner area offers a rarity, colour, coming from the camel leather on the chairs.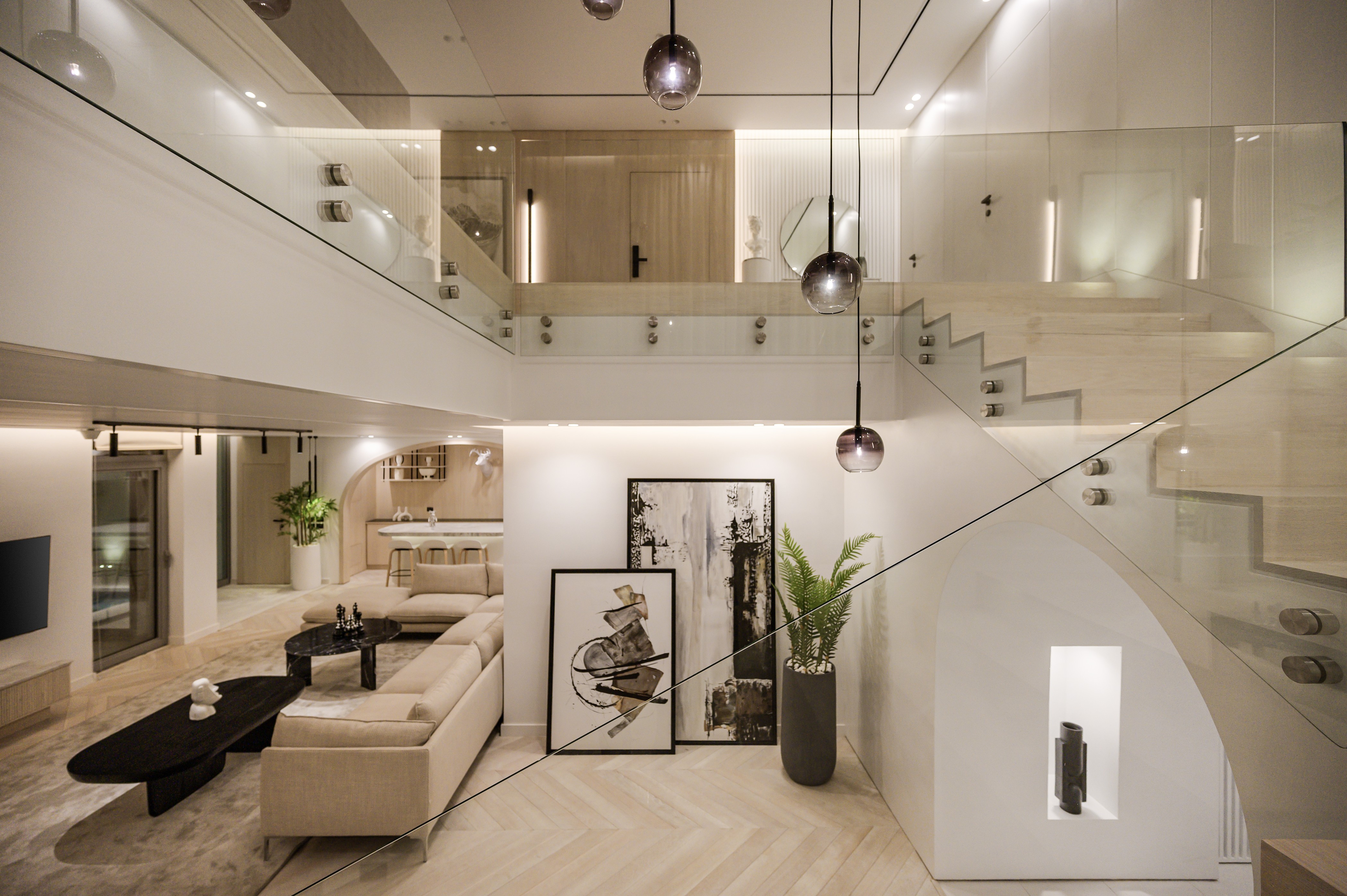 "The owners wanted their home to provide them with comfort and ease, contrasting the chaos and bustle of the world," Nathan continues. A chartered member of the Royal Institute of British Architects, Nathan founded his practice in 2007. "Choosing materials was challenging as they insisted on not having too many colours or textures. Everything had to be easy on the eye."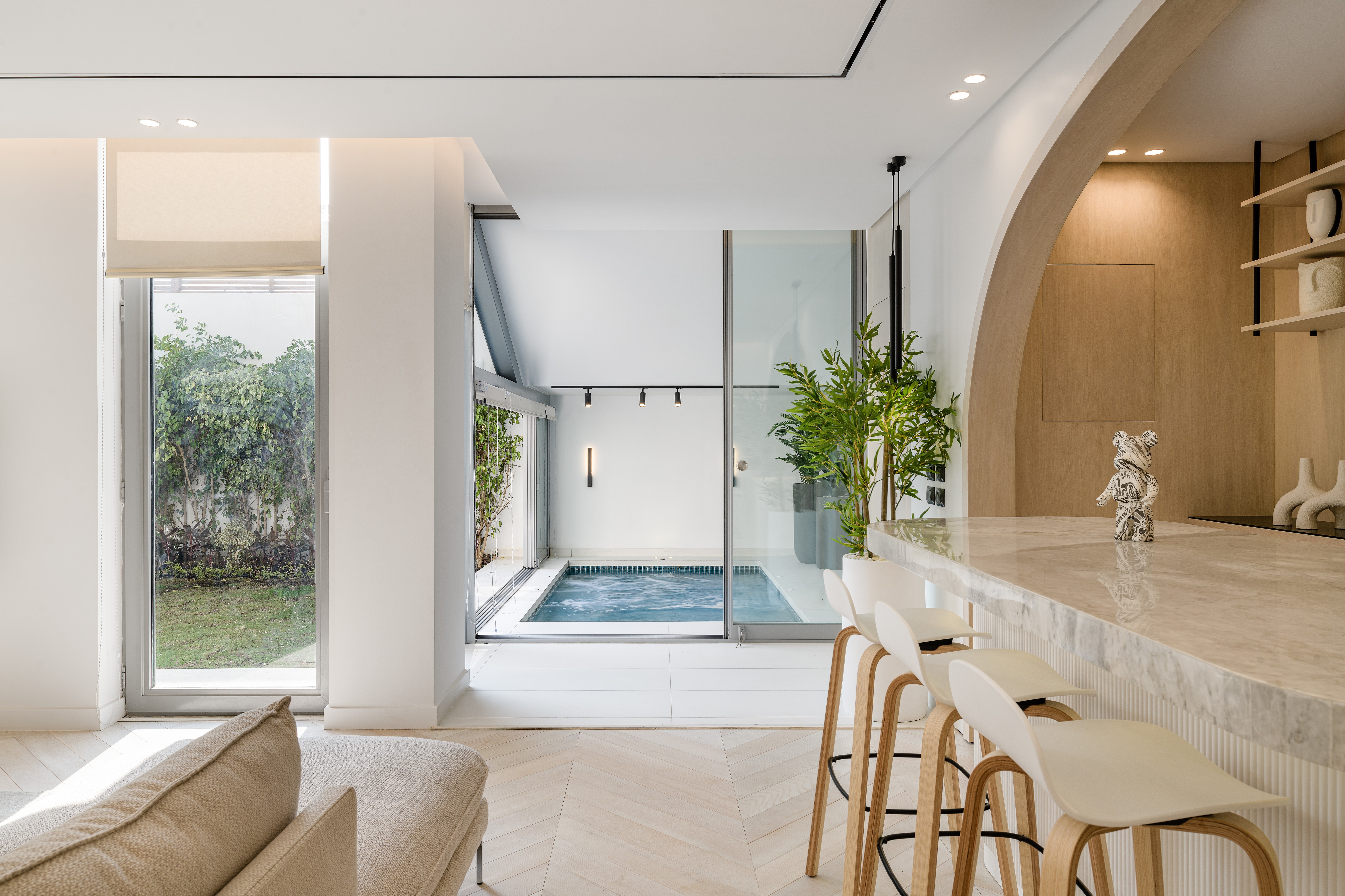 Stairs leading down to the basement are coated with a lighter shade of wood, telling of the Zen that is yet to come. A series of arches are aligned to provide an ultra-soothing setting that is neatly hued in crème, from the living area to the bright bar featuring an origami Caribou head. Sandwiched between the two is an indoor jacuzzi that is connected to the garden by the design studio's brilliance, and their love for openness.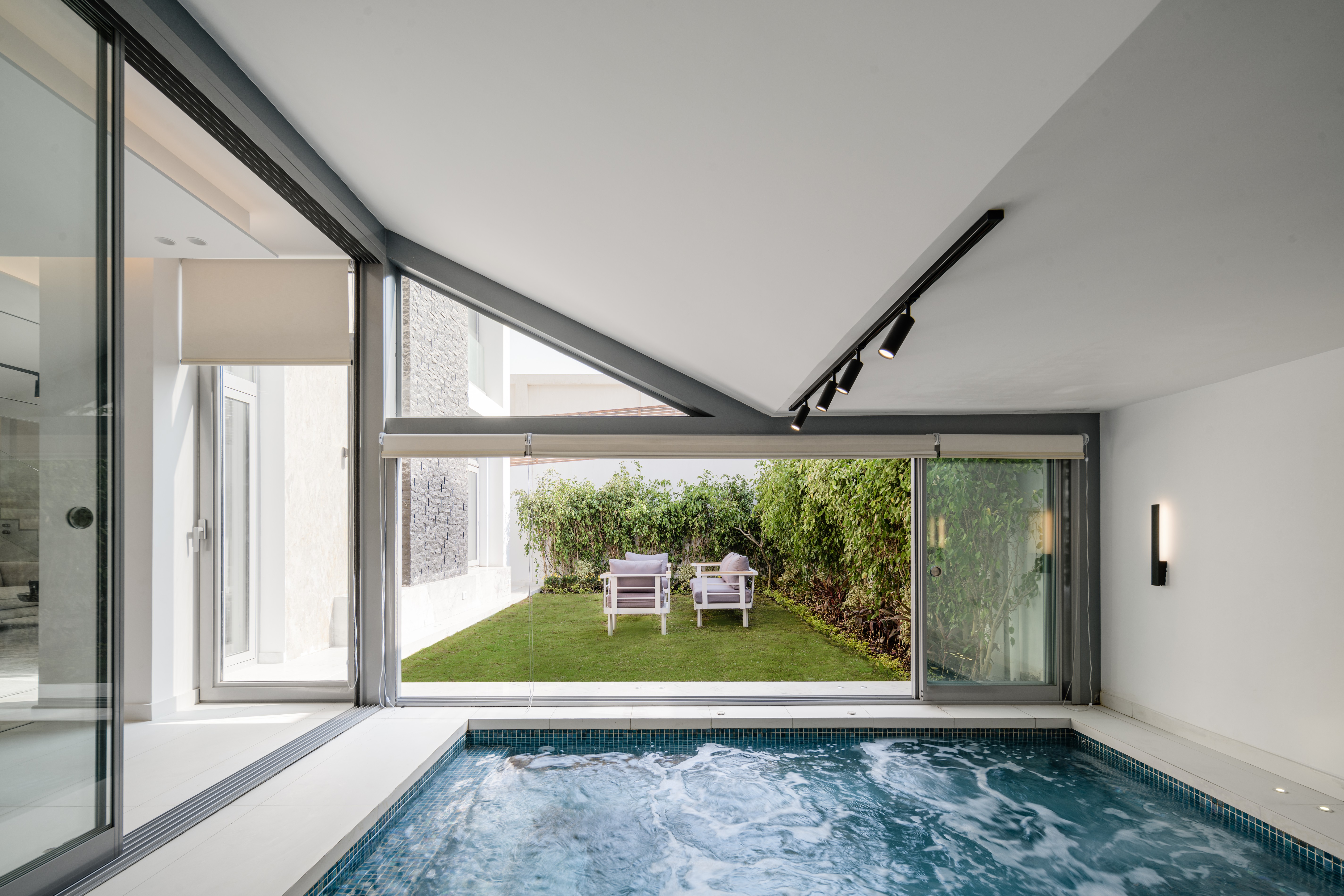 "The window was installed to connect the Jacuzzi to the garden and create a sense of openness which we love," Nathan says of the warm and bubbling space, which somehow fit a significant rectangular opening under a steeply sloped ceiling. "Arches gave the basement a spacious feel with soft aesthetics that are pleasant to look at."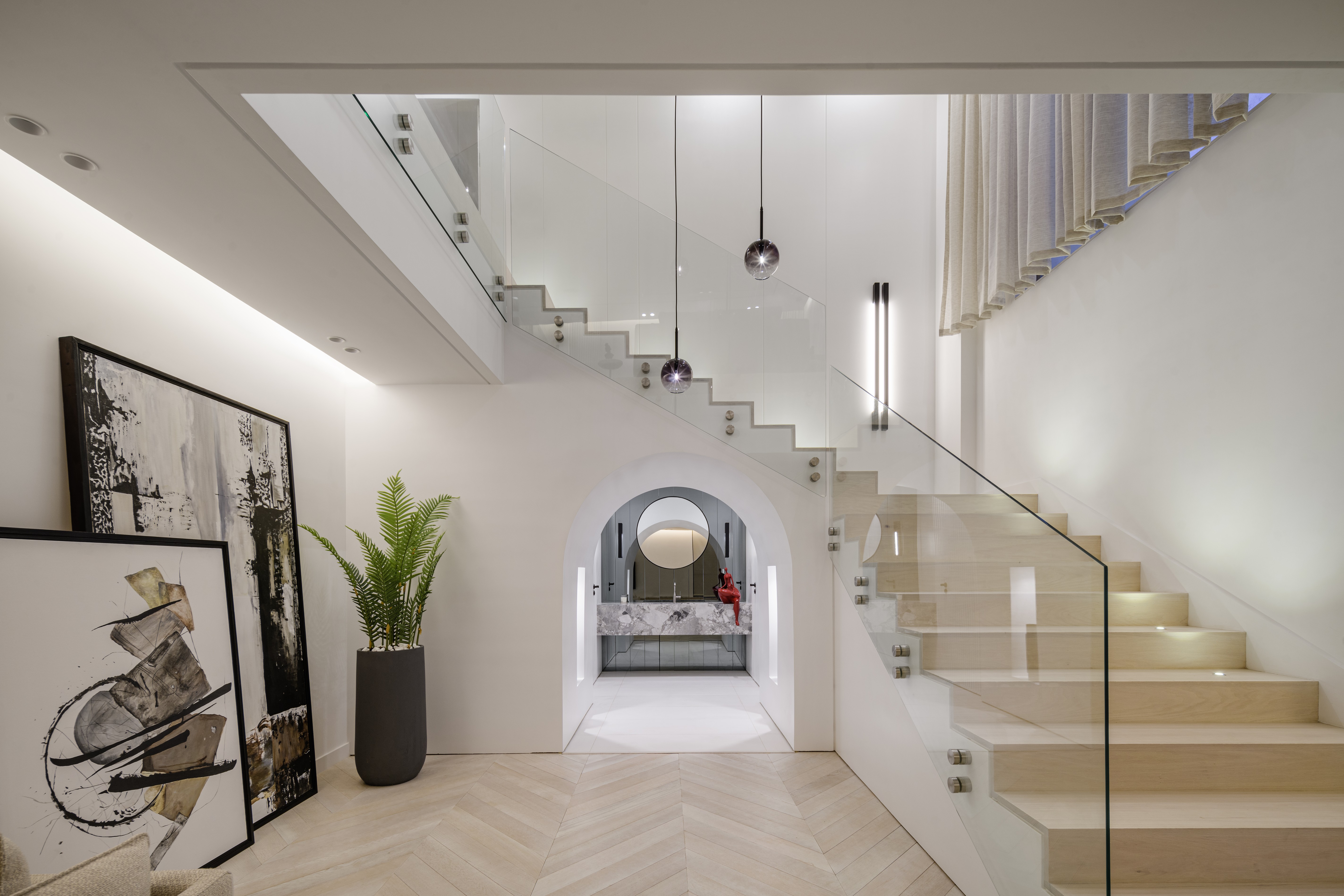 Everything on this level is of the same, sandy degree. The TV unit blends with the walnut wood parquet floor, and the crème furniture makes time spent here relaxing. While the bar's island has white ribbings on its body and Statuario marble on top.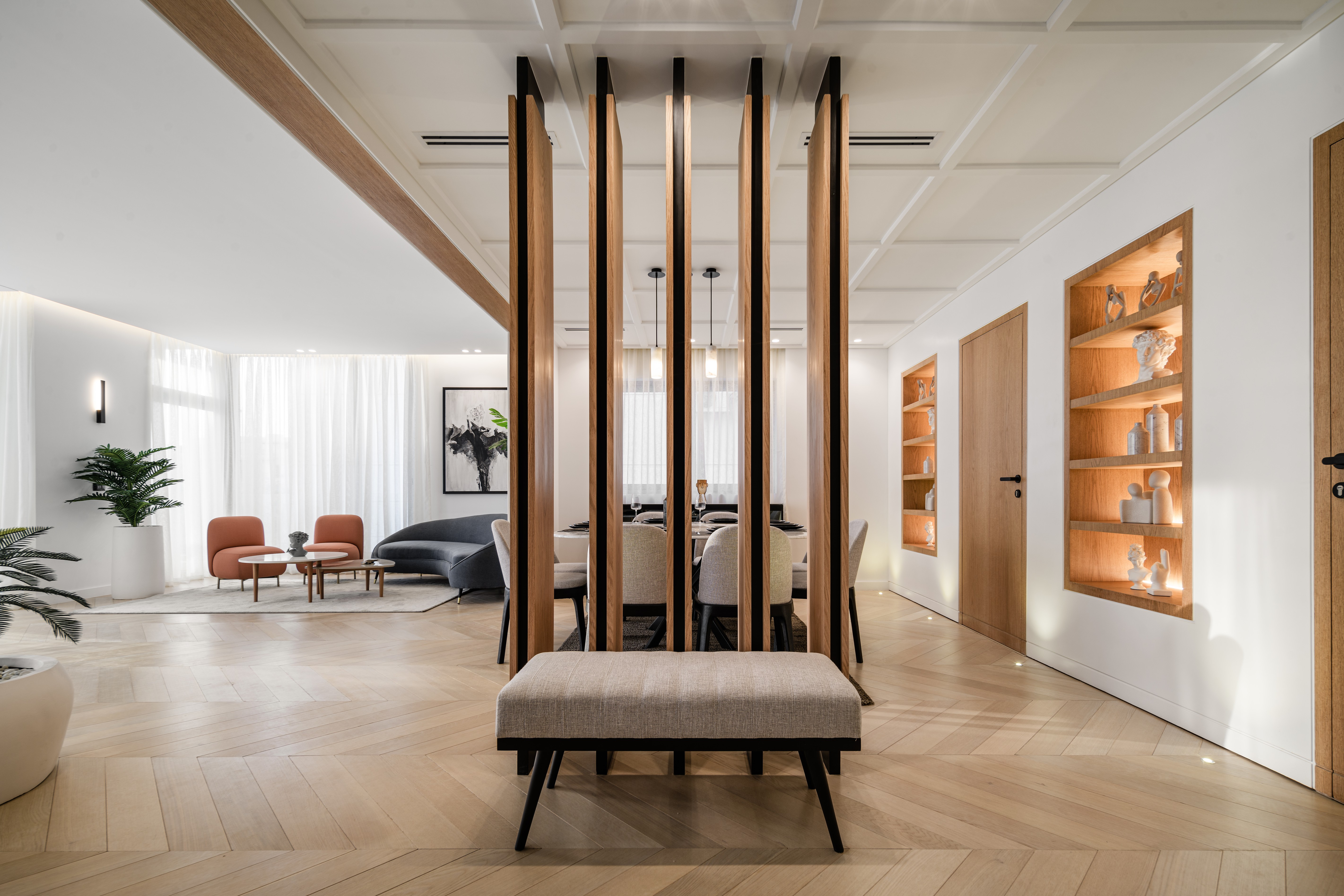 "They were ecstatic because they didn't expect the design to be as comforting as they needed it to be." Upstairs, more saturated walnut wood louvres shelter the dining area and its panelled ceiling, while orange chairs accompany a curved lounge sofa in the living area.
Photography Credit: Nour El Refai