When these homeowners moved to this Zamalek home, bringing clashing art pieces from all over the world with them, Hassan Abouseda Architects sought to tie them all together using art deco.
While moving from a bigger home on the outskirts of Cairo, the owners of this Zamalek apartment wanted a design that could fit their eclectic and extensive collection of furniture and artworks, with bits and pieces taken from just about every corner of the globe. In a delectable medley of design splendour, Hassan Abouseda Architects opted for art deco to tie all the disparate diversity of their new home together, while honouring the architectural style of the apartment building.
"They have a quiet eclectic taste which is evident in their furniture, art works and antiques they have collected over the years," Hassan Abouseda tells #SceneHome. "Art Deco blended well with these pieces."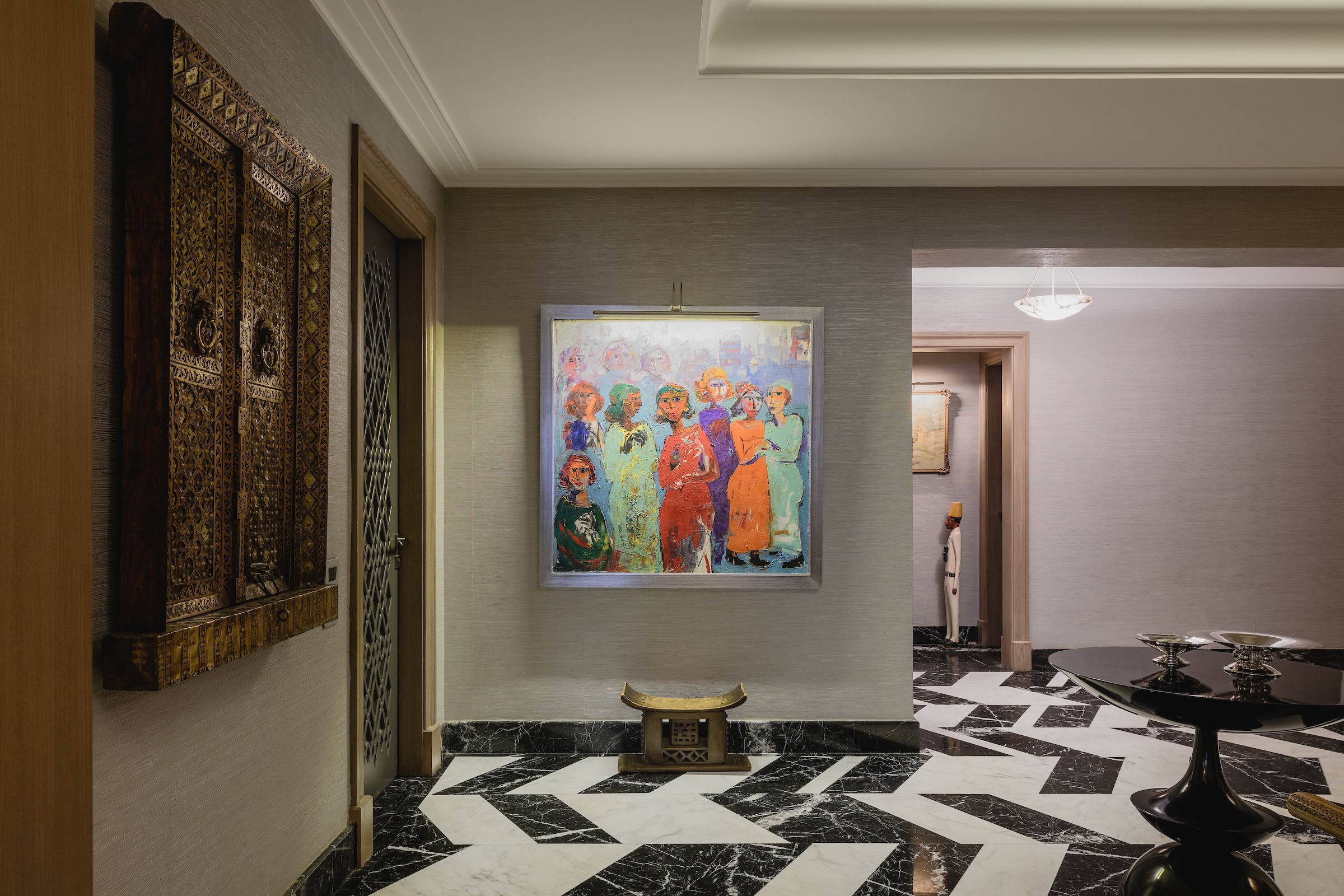 Upon entry, a dramatic foyer greets visitors with a bold pattern of Nero Marquina and White Carrara marble, as arabesque cabinets and abstract paintings set the contrasting yet eloquently blending tone that is to come. In the bathroom, black marble is met with a flashy green wallpaper from the Londoner Cole & Sons. One of many London-sourced wallpapers used throughout this Zamalek home, this particular pattern takes after pharaonic lotus motifs, doing its part to contribute to the art deco aesthetic.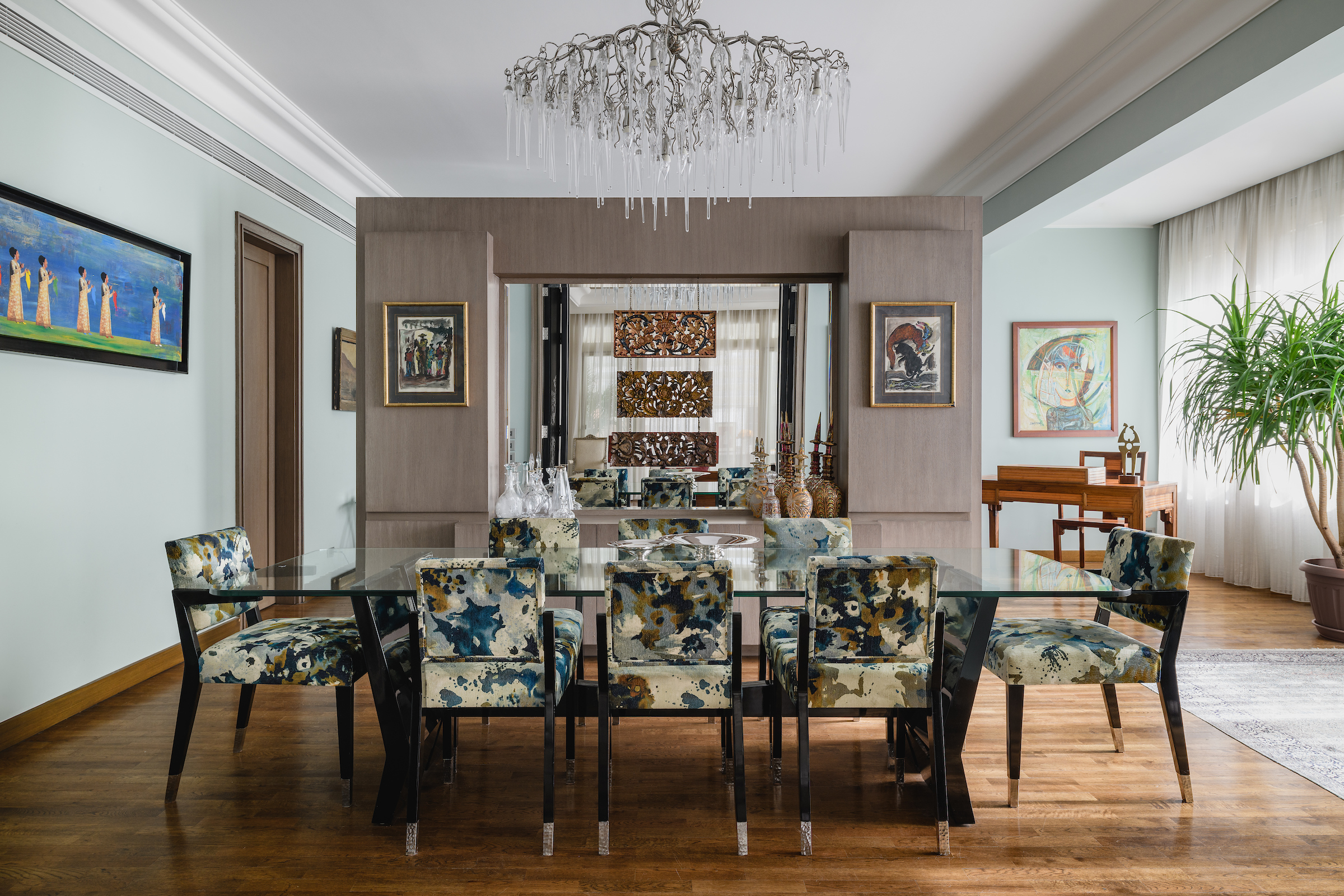 In the dining area, dusty turquoise takes over the walls offering a neutral backdrop to the colourfully stained dining set-up resting below a melting glass chandelier, which hangs over an lacquer oak parquet flooring that has been kept in its original form. This eloquently-styled space is separated from the reception area with folding doors that have hints of art deco florals. "They are covered with hand painted wallpaper from Timorous Beasties in London," Abouseda says, pointing towards the bespoke wall covering which depicts birds resting on tree branches.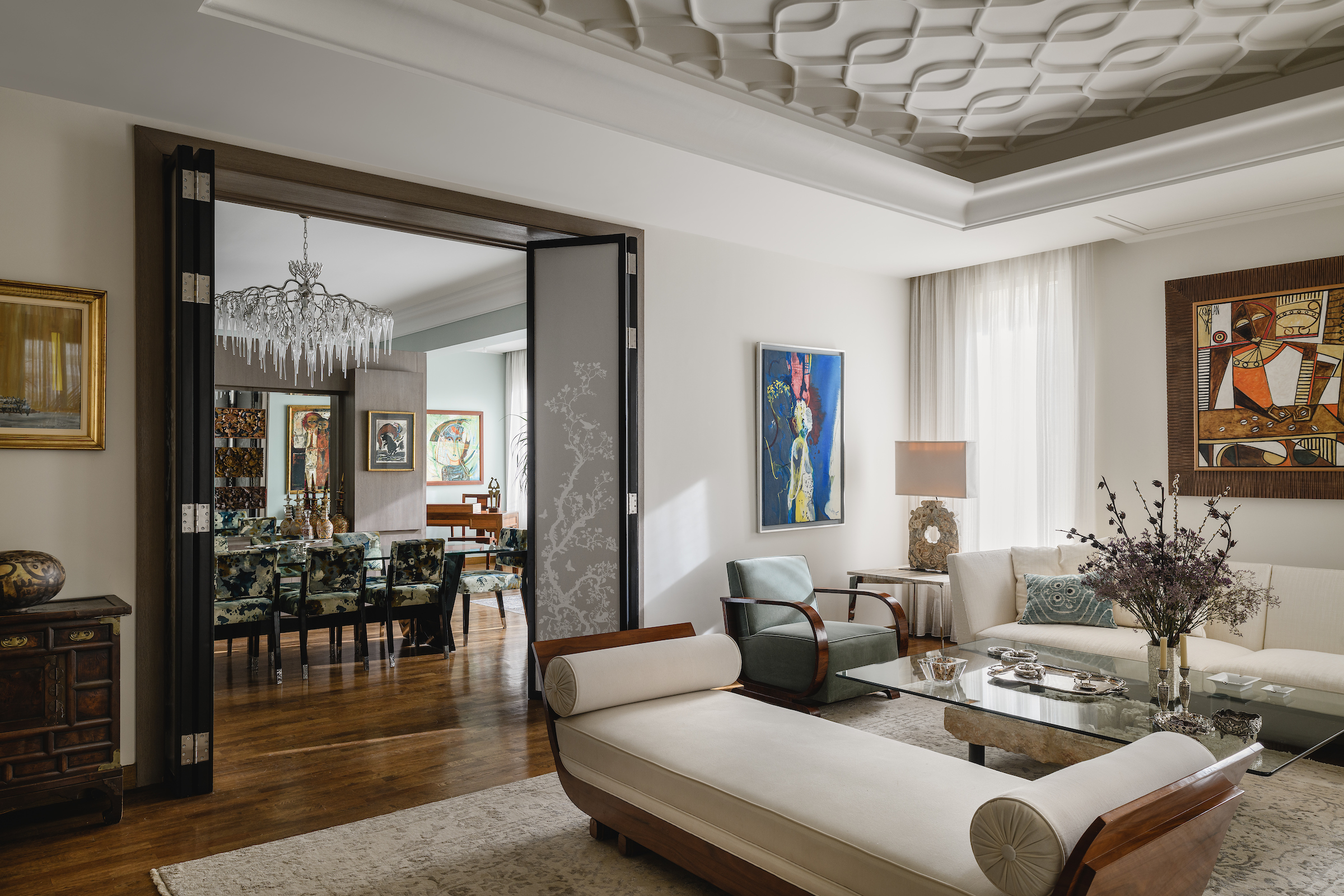 Beyond the fold, the reception area is dictated by the shape of the room and the placement of windows within it, as well as its alignment with the other spaces. Abouseda then set up the furniture symmetrically around a centrepiece painting, while a chaise lounge offers adequate viewing of the brightly lit space.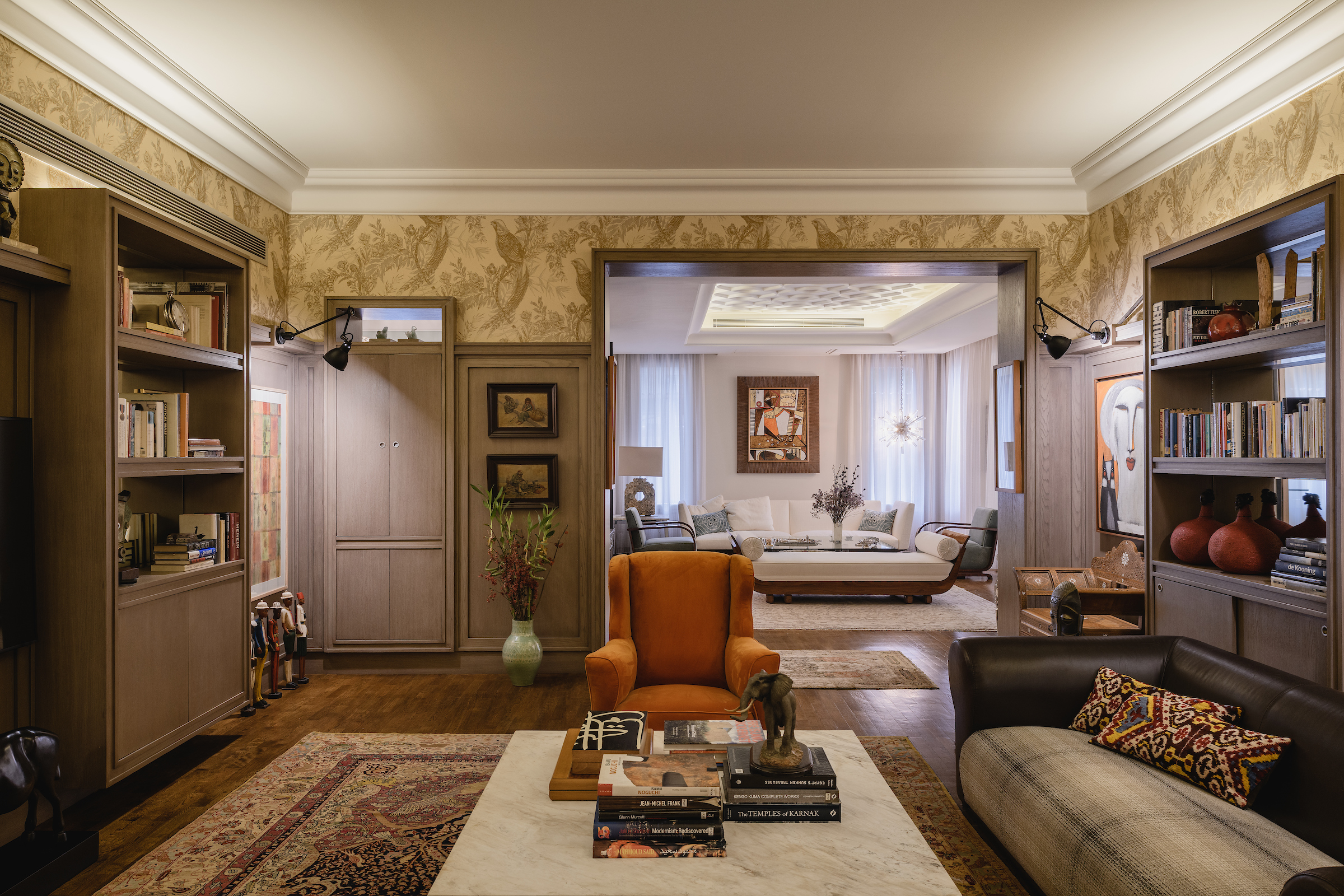 Appointing Londoner wallpapers didn't stop there; in the private living room, a warmer print choice was the architect's way of shifting the palette intensity. "This space gets the least amount of natural light, so we decided to capitalise on that by giving it a cosy 'library' feel," Abouseda explains. "The wallpaper helped setting that tone along with the stained grey oak bookshelves."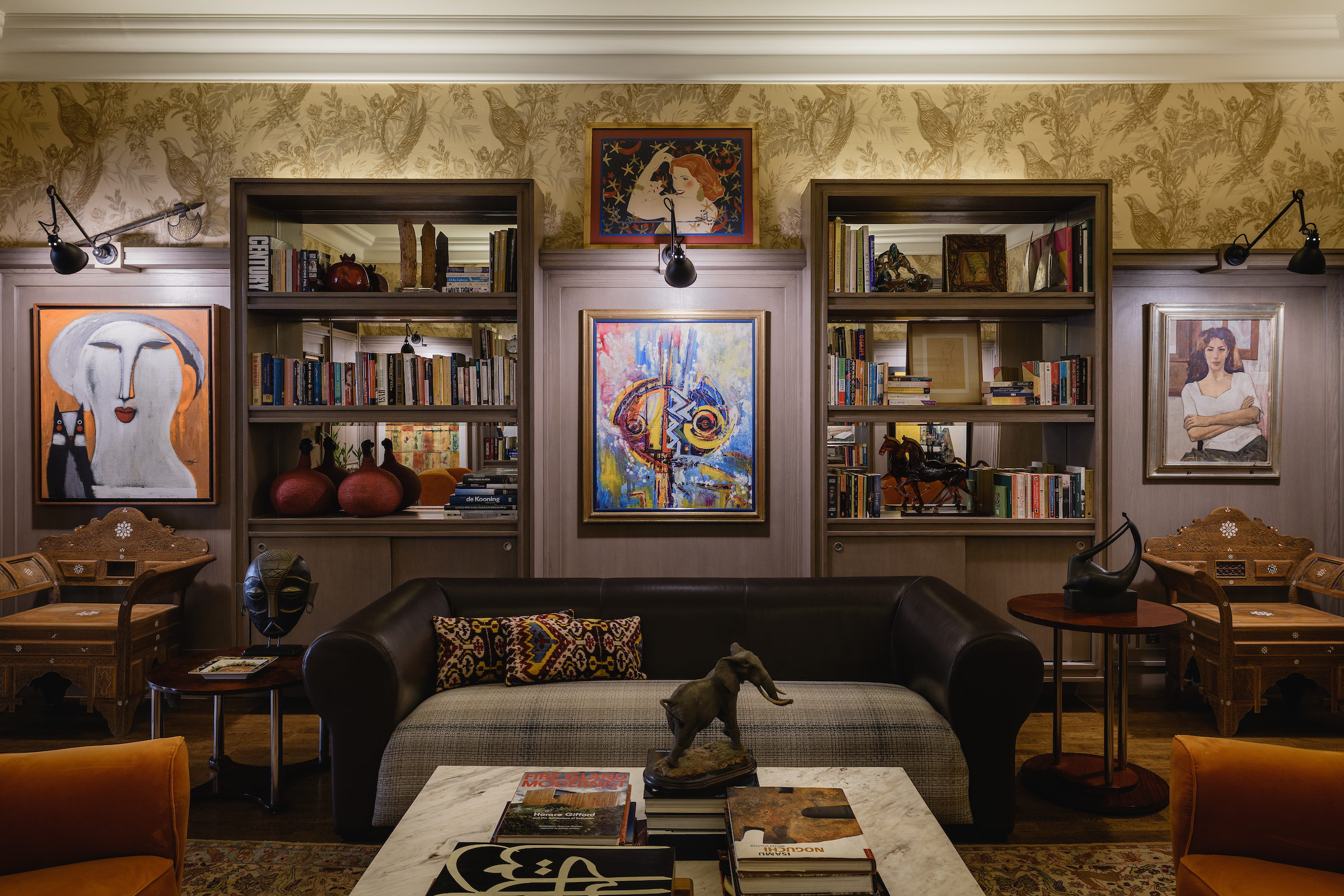 At the back of these bookshelves, mirrors were placed to play with light while the entire set up was juxtaposed with artworks that add colour and establish warmth with twirls and patterns ranging from African to Arabesque, showcasing the sheer diversity of the client's art collections. In other words, bringing a sort of global harmony through art deco.