Having a fun basement to host friends over for a party or movie night is on everyone's home wishlist. Well, take note.
Over the past couple of years people have been rethinking how their homes should look, given the increased amount of time being spent at home. And one of the main aspirations almost everyone has is a space to host friends over for a party or movie night. In nations like the United States, these spaces almost always appear in the basement. And in that spirit, Living In Interiors, a household interior design firm founded in 1992, has completely revamped a basement belonging to a home in Cairo by giving it glossy surfaces, a red hue, and a composed movie theatre.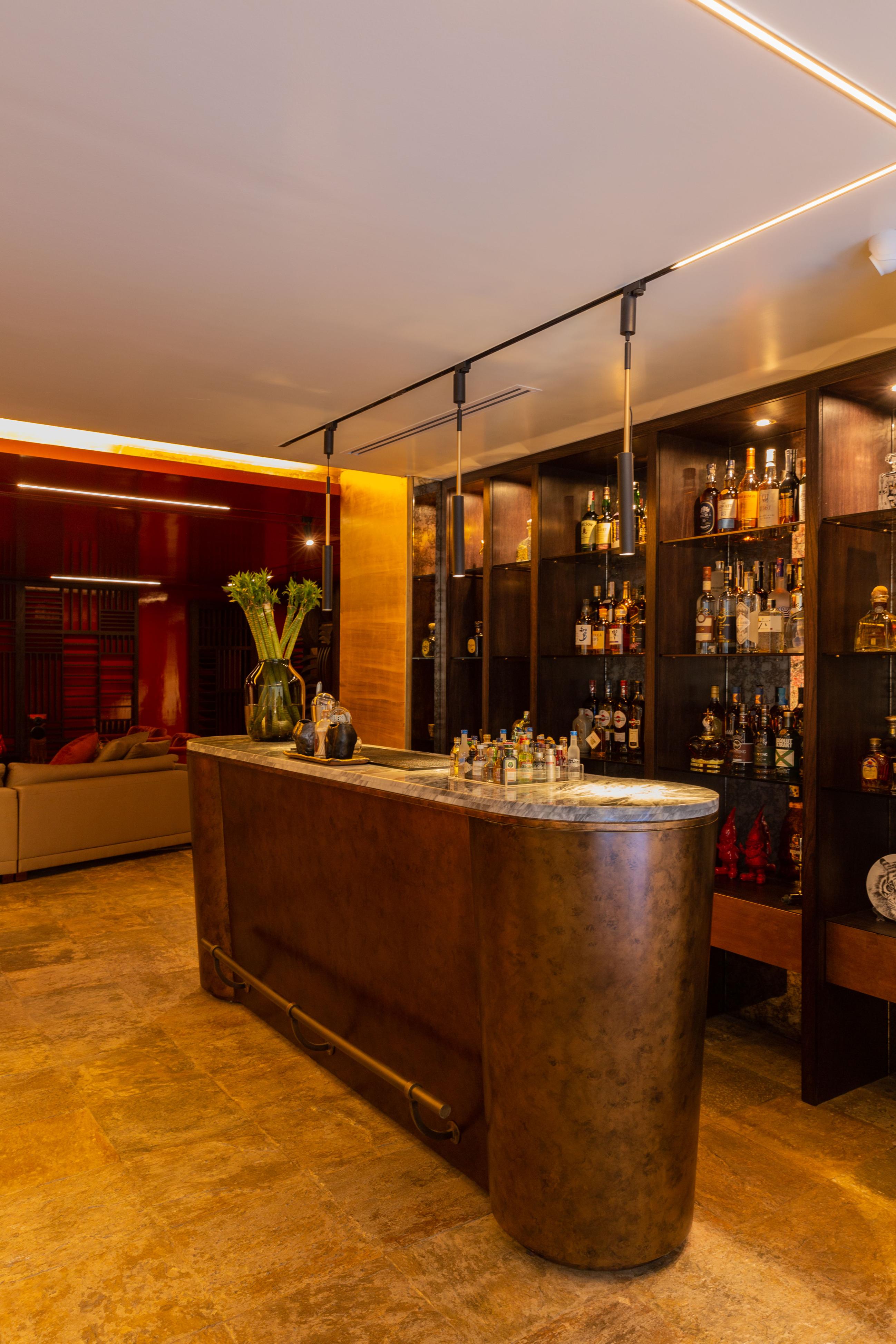 "The idea was to create an environment suitable for entertaining, following a time when lockdown made external socialising almost minimal," Creative Director Tamara El Tanani tells SceneHome. "The homeowner requested to revamp his basement into a playroom that is suitable for spending a cosy night watching a movie, while also being able to host an impromptu party."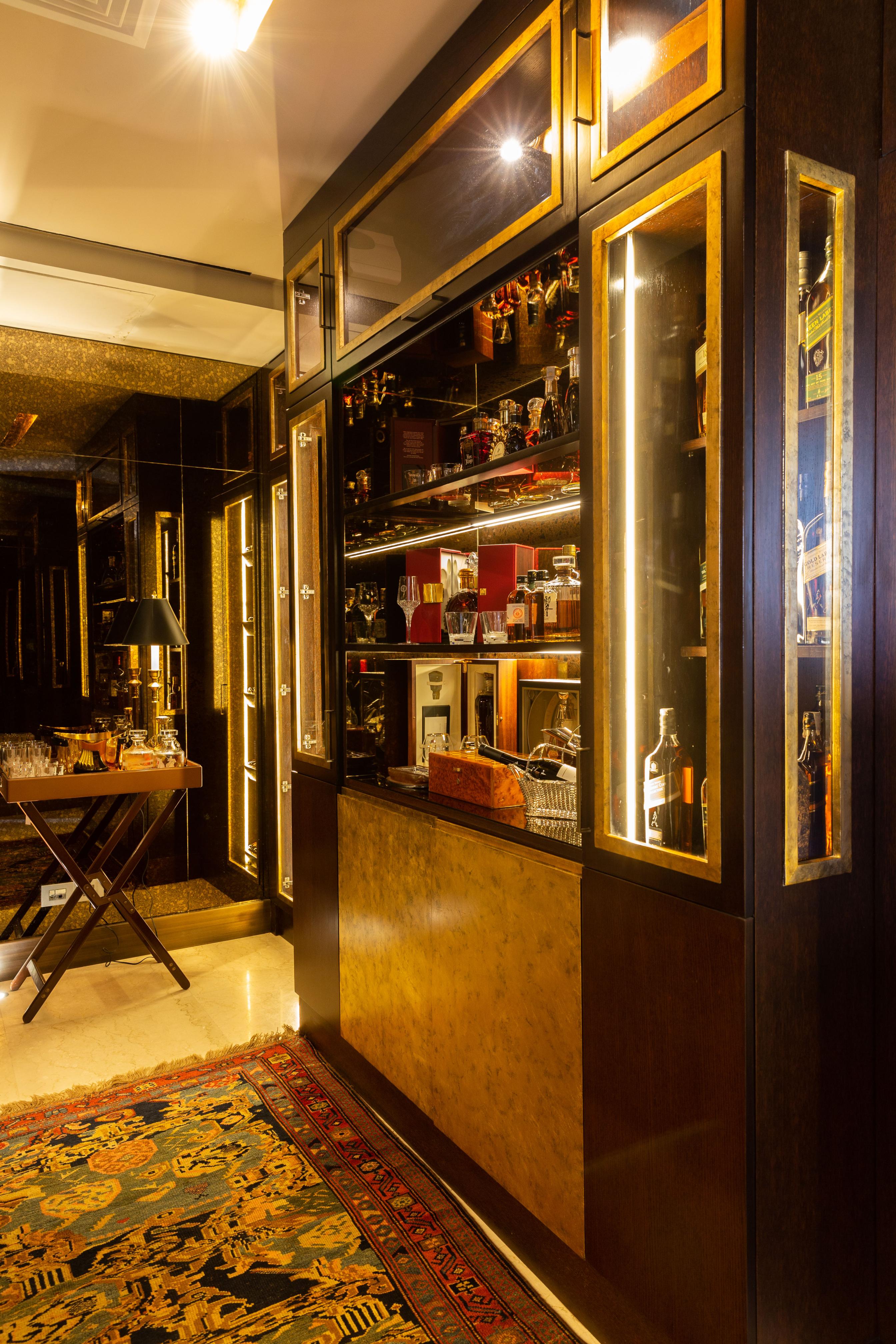 Having an ultimate party zone in mind, the designer hoped to provide everything needed to make outside activities like bar hopping or going to the cinema totally redundant. "We were able to achieve that by creating multiple seating arrangements without fragmenting the space too much," El Tanani says. "You can have someone sitting on the sofa watching a game, with people sitting at the bar and having a drink."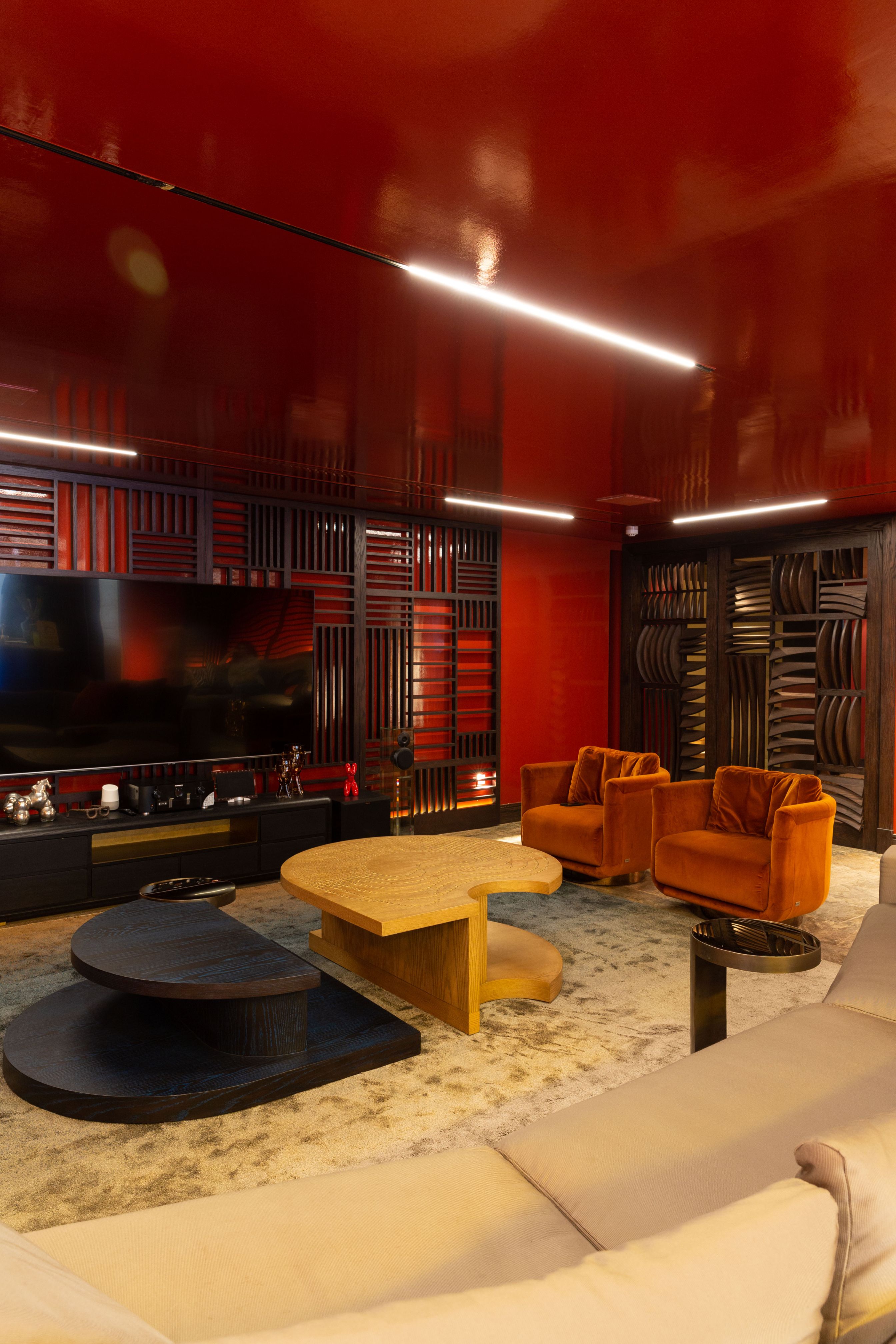 Since the design was meant for entertainment, the space needed to stun. Working with a basement meant that there would be minimal, if any, direct sunlight coming in - thus, glossy finishes were used to reflect as much light as possible. The lighting design followed the flow of the space to direct the user to different spots that can be used. Gold was added on columns to differentiate the zones, transforming the space from one large room with a single function into a multifunctional area with a living room, bar, and a game night area.
"When it came to colour we wanted to be bold. The moment we walked into the space we felt that red would be the right colour for it," El Tanani adds. "We worked closely with our factory to experiment with local production techniques and imported fabrics." Here she refers to Ar-Co, a wood manufacturing plant and a subsidiary of Living In Interiors, which provided them with plenty of wood to add warmth and a sense of grounding to the space. This was also accomplished by the use of glass and mirrors to continue reflecting light. The dining table, bar and built-in sofa were designed at Ar-Co's factories. The theatre, meanwhile, features locally sourced sofas.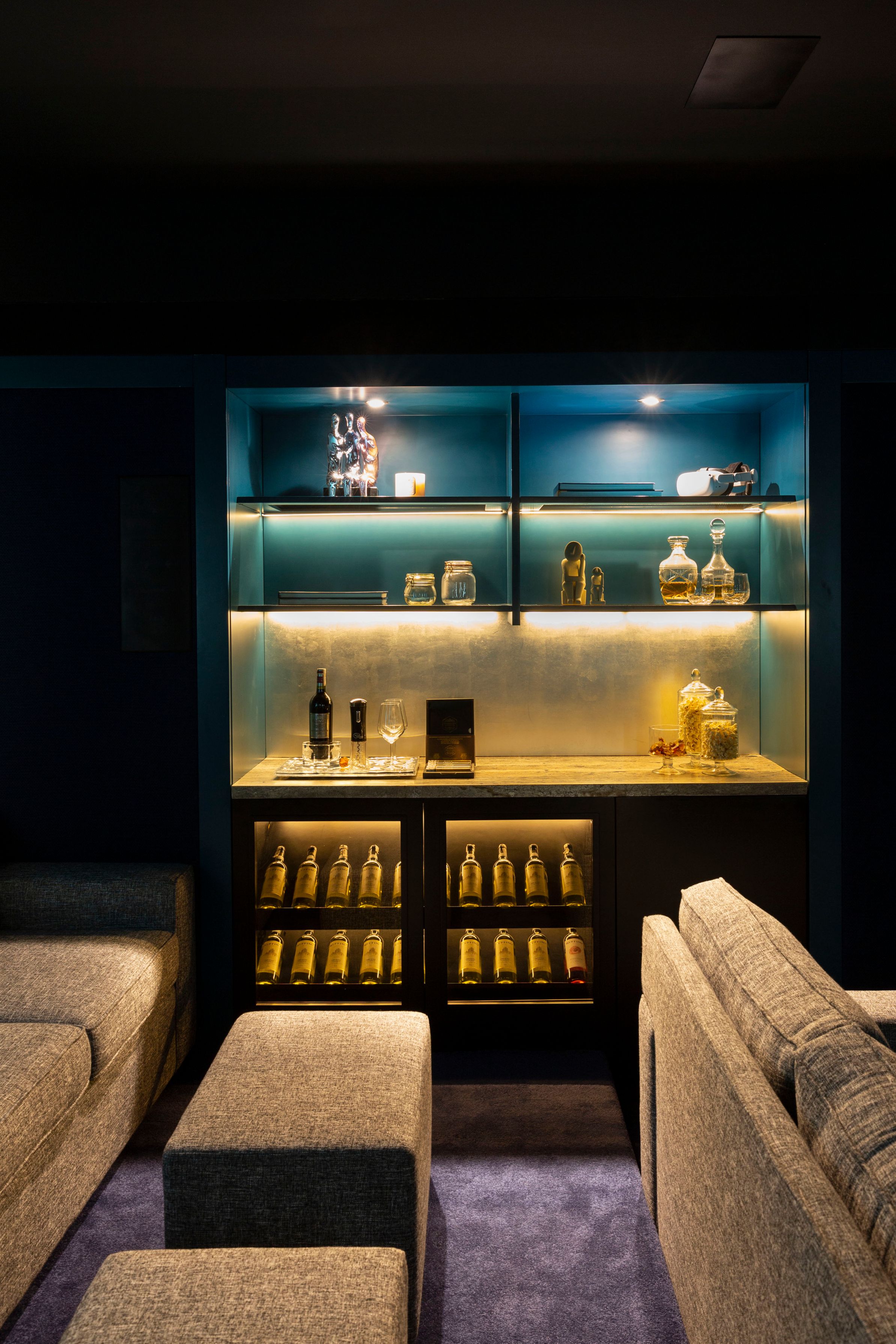 "Most of the furniture was pre-owned by the client," El Tanani adds. "We also have a Don Tanani table on wheels so that it can be moved around the large seating area."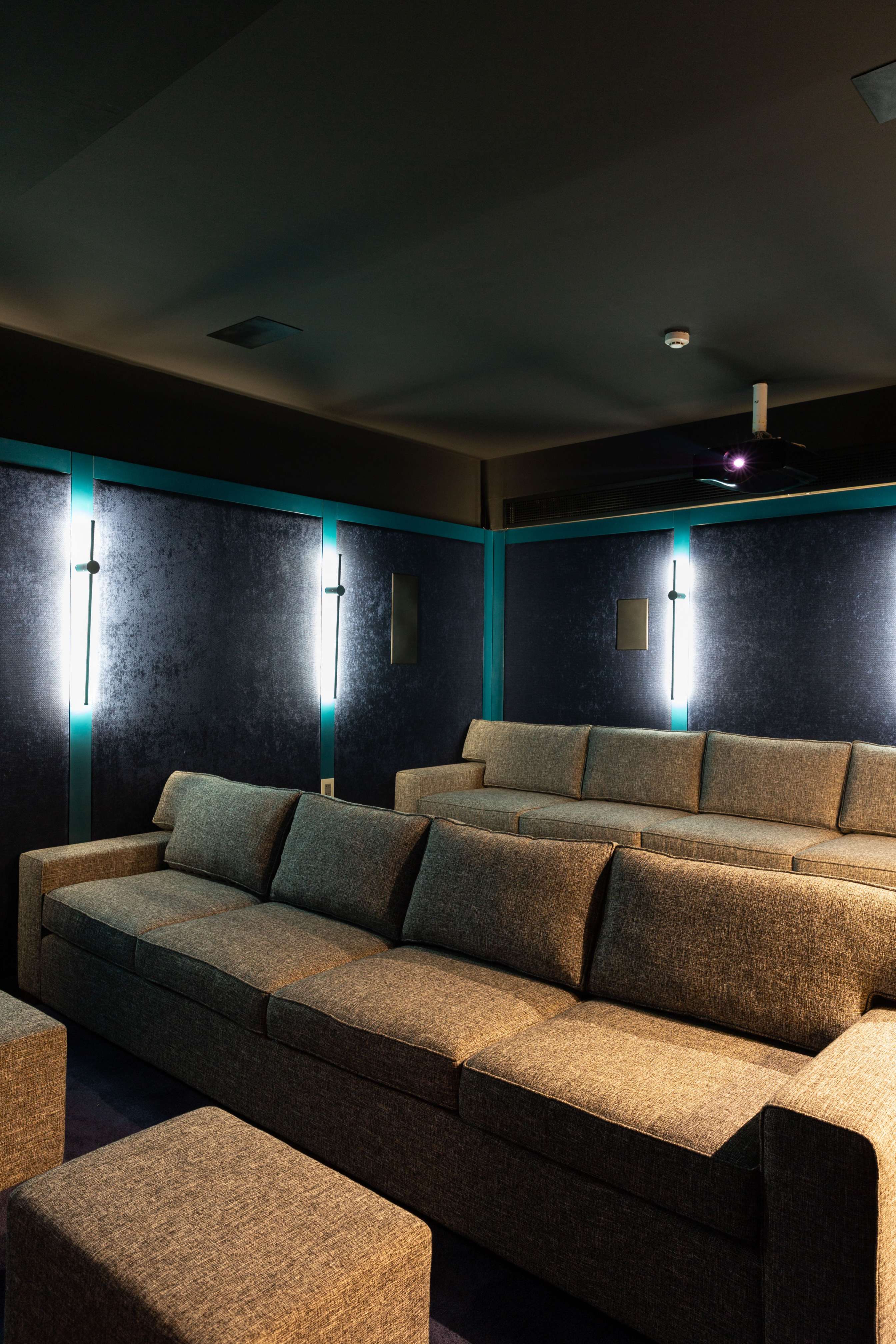 Not wanting things to get too dark, the design includes a light shade of blue that brightens up the room, with grey complementing it in doing so, as black disrupts these visuals momentarily - and in so doing create a calm yet rich setting for the homeowner to bring over a crowd and catch the big game.