This house has it all on one floor, from Missoni patterns in powder rooms and ceramic pots and oversized art pieces, to glamorous pearl chandeliers, keeping its homeowners intrigued at every corner.
Meant to be toured like a museum, this single story modern house in Oraby was designed by Hoda Lasheen, a Cairo-based award winning interior design studio. This Oraby house was made to accommodate a newlywed couple who are frequent travellers, and wanted to find solace and warmth in a home that kept them intrigued as they swayed through its Hashmi stone-covered corridors.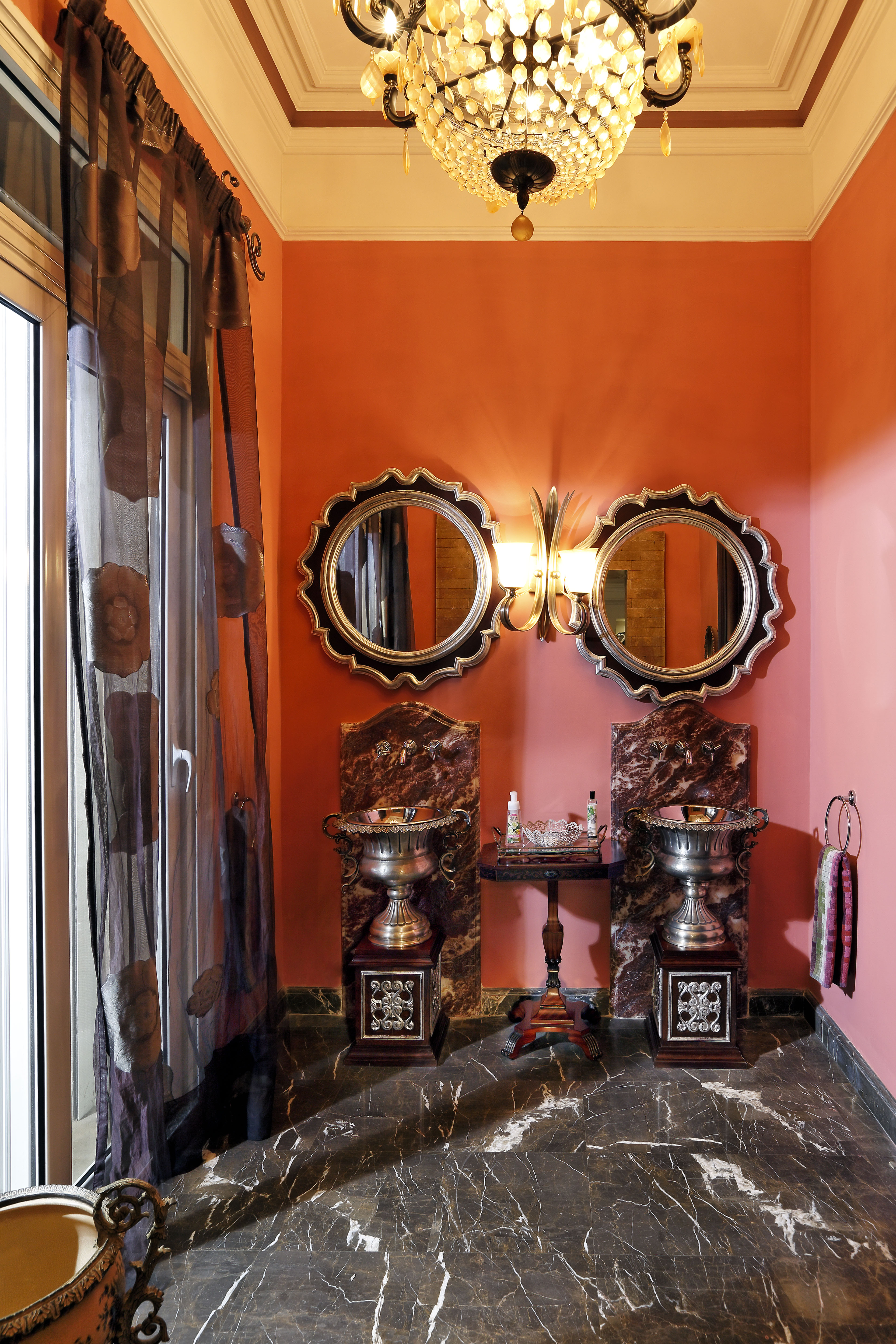 "The couple wanted to mix being fancy and fashionable with timeless elements," Lasheen tells #SceneHome, pointing at a house that features everything from Versace inspired details in the reception suite to Missotti patterns in the powder rooms. "As wanderlusts with a huge appetite for different palettes, they wanted to walk around the house as if wandering in a museum of art, fashion and architecture. The entrance was highlighted with a museum-like passage hosting ceramic pots and oversized art pieces."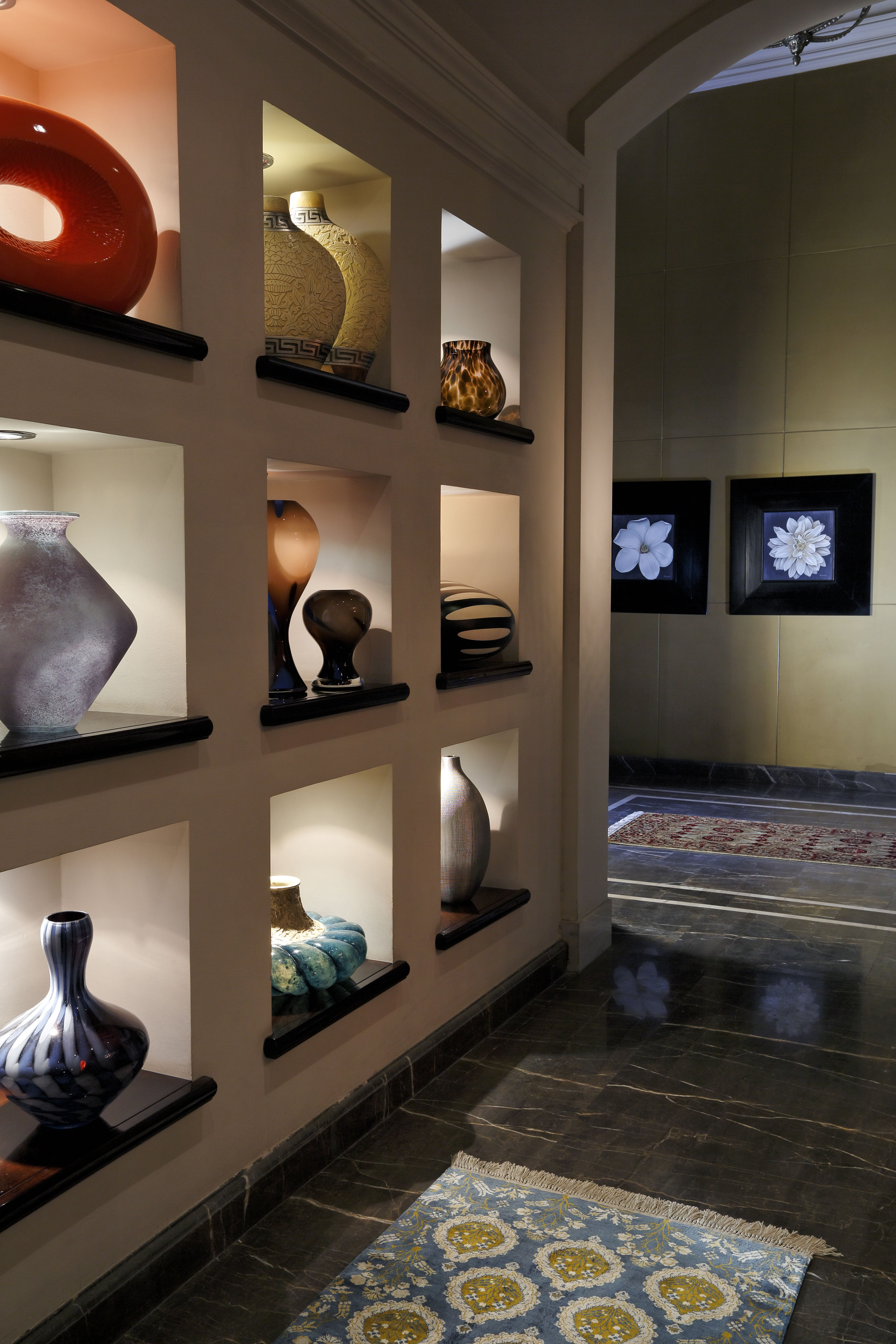 Entering the abode through a sequence of turns akin to traditional Arabic layouts, the homeowners get to host their guests in the right suite, which accommodates the reception area. A double height ceiling is fitted with windows to allow natural lighting into the bright space and facilitate its breathy ambience. While a sassy red Fendi fauteuil chair contrasts the regal furniture and creates a visual play with a like-coloured side lamp.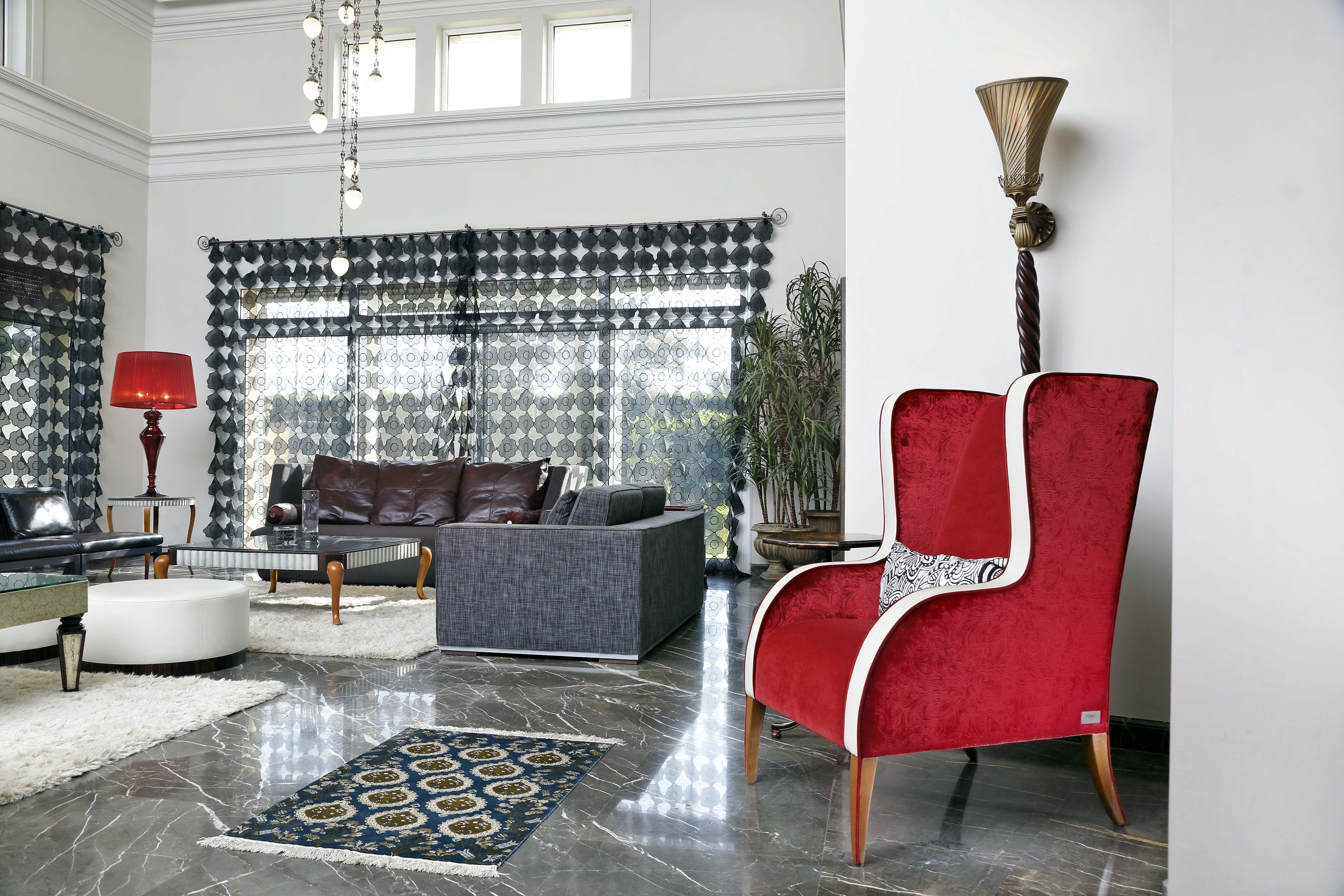 When it's time for dinner, a statement flower art piece cues the dining area behind more Hashmi columns. Shining with its transparent beauty, a crystalline dining table with Belgian glass top and an acrylic base rests below a pearl chandelier. "The seductive strands of pearl accompany the warmth of mahogany in a glossy varnish that reflects the precious material and infuses the space with an air of romance," Lasheen eloquently describes the tantalising lighting fixture.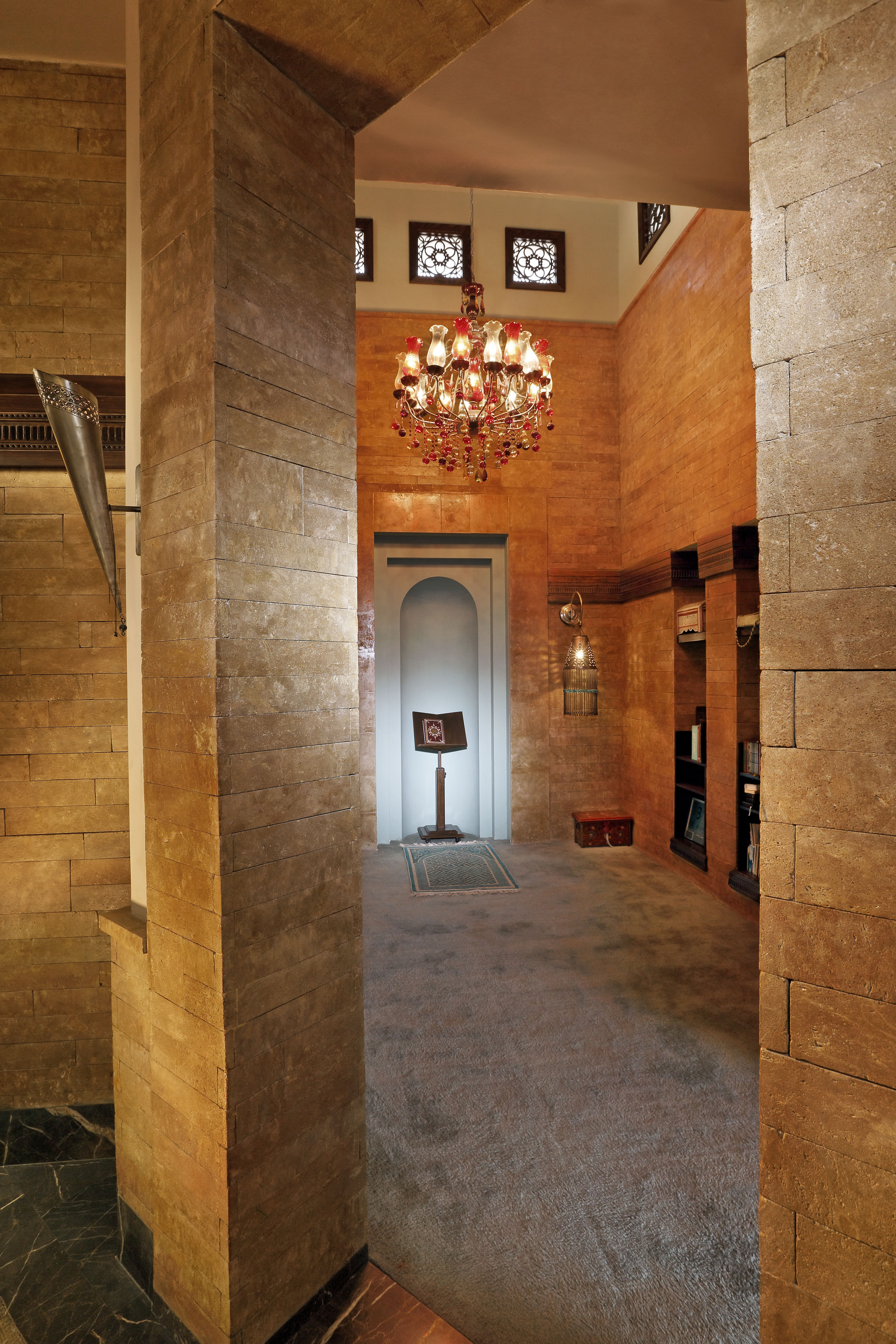 In the midst of all the over-the-top art, the clients asked for an area that broke free from everything, not just the palette and furniture of the home, or the home itself, but the physical realm."An isolated space was requested to allow them to disconnect from the worries of the world and meditate in peace and serenity," she says of the prayer quarters designed with the house and is wrapped with the everlasting Hashmi stone. The material emphasised the importance of having an intuitive connection between all the spaces to create a homogenous flow throughout them.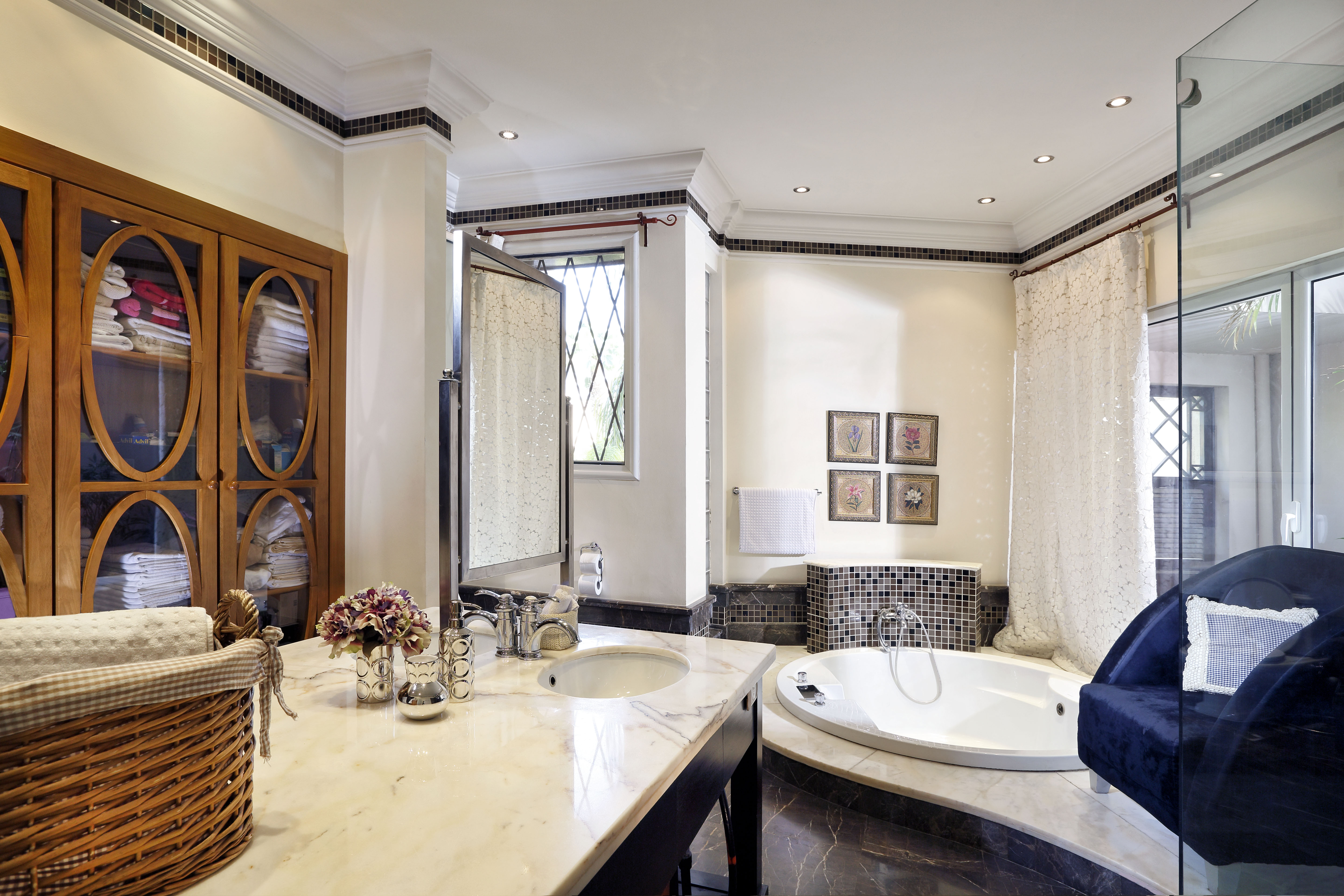 In the master bedroom, a jacuzzi sprouts out from the marble flooring atop which is an island fitted with washbasins, a cabinet filled with toiletries and a navy blue suede chair. The latter offers a late night read seating before dipping in the satisfyingly warm water. Also, you don't need a reason to place a robust chair in the bathroom, as long as there's room for it.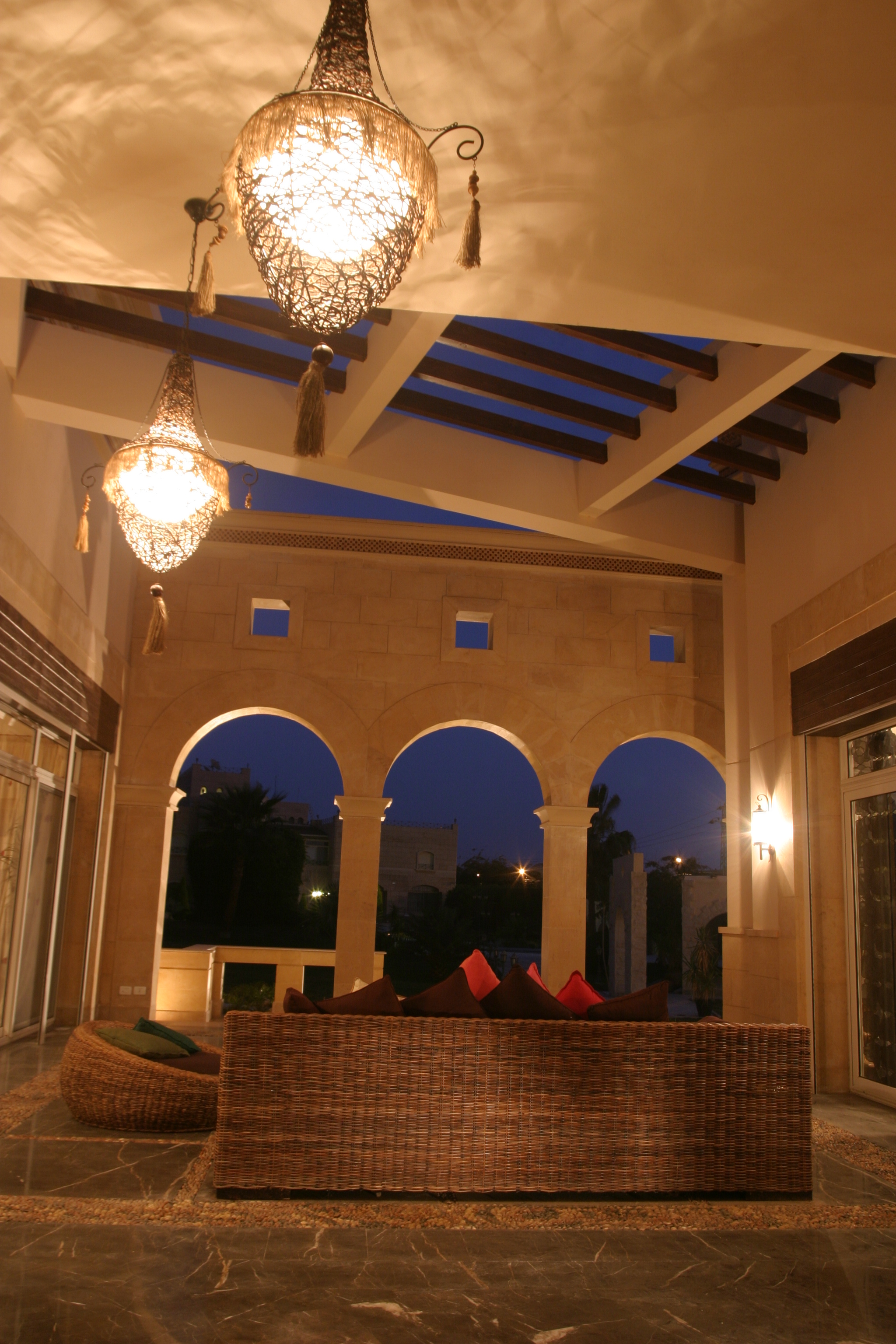 "A beautiful court overlooking the landscape is centrally hugged by the house," Lasheen says of yet another tranquil space. This however is outdoors. "It gives easy access and circulation around the place while enjoying a breath of fresh air and hosting large gatherings."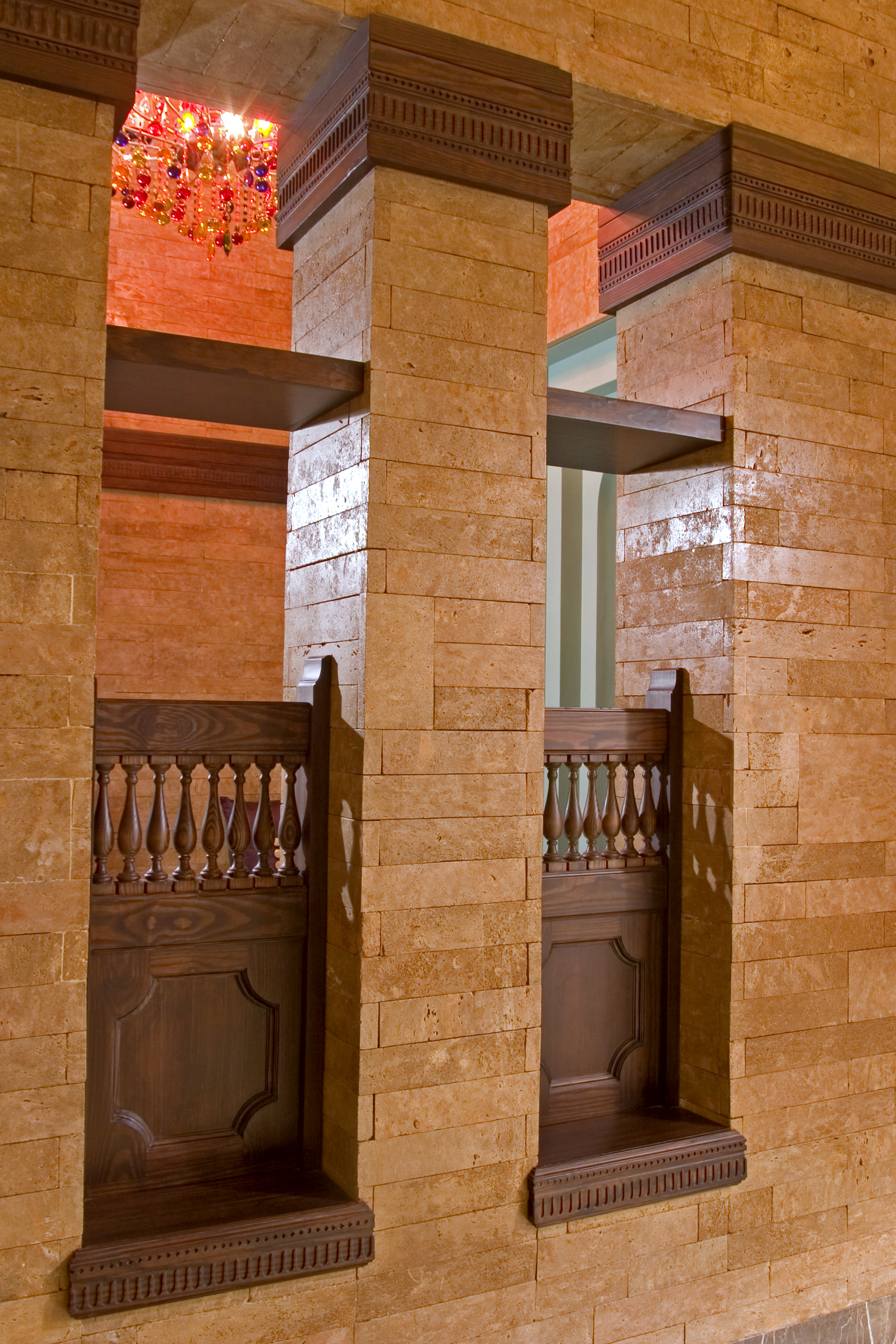 This single floor mansion keeps getting more delightful the more you look at it, due to the versatility with which each area is furnished. Wherever the eye wanders, there's only more exciting features to view. An ode to Lasheen's propensity for risk taking designs that unapologetically cater to whatever the clients requests are. Here, living is a constant state of amusement and serenity.