With a stunning panoramic view of the Atlantic crashing on basalt rocks, Mahmoud Sherif's monolithic design is a doorway to a cinematic and enigmatic world.
If ever there was an example of architecture's ability to tell stories and interpret its surroundings, then Mahmoud Sherif's unique project in Iceland is it. Inspired by the isolation that defines its stunning location, the Egyptian architect and artist has created a concrete monolith on the black-sand beach cliffs of Reynisfjara on the south coast of Iceland, which is famed for its volcanic remains, to present an ultimately enigmatic narrative, one left open for interpretation. As the story goes, visitors approach the structure in a Cybertruck, picked for its industrially linear lights to match the monolith's sleek lighting. There, they are met with a rather unwelcoming concrete coldness, before entering a contrasted interior that echoes the roars of the Atlantic as it crashes on basalt rocks.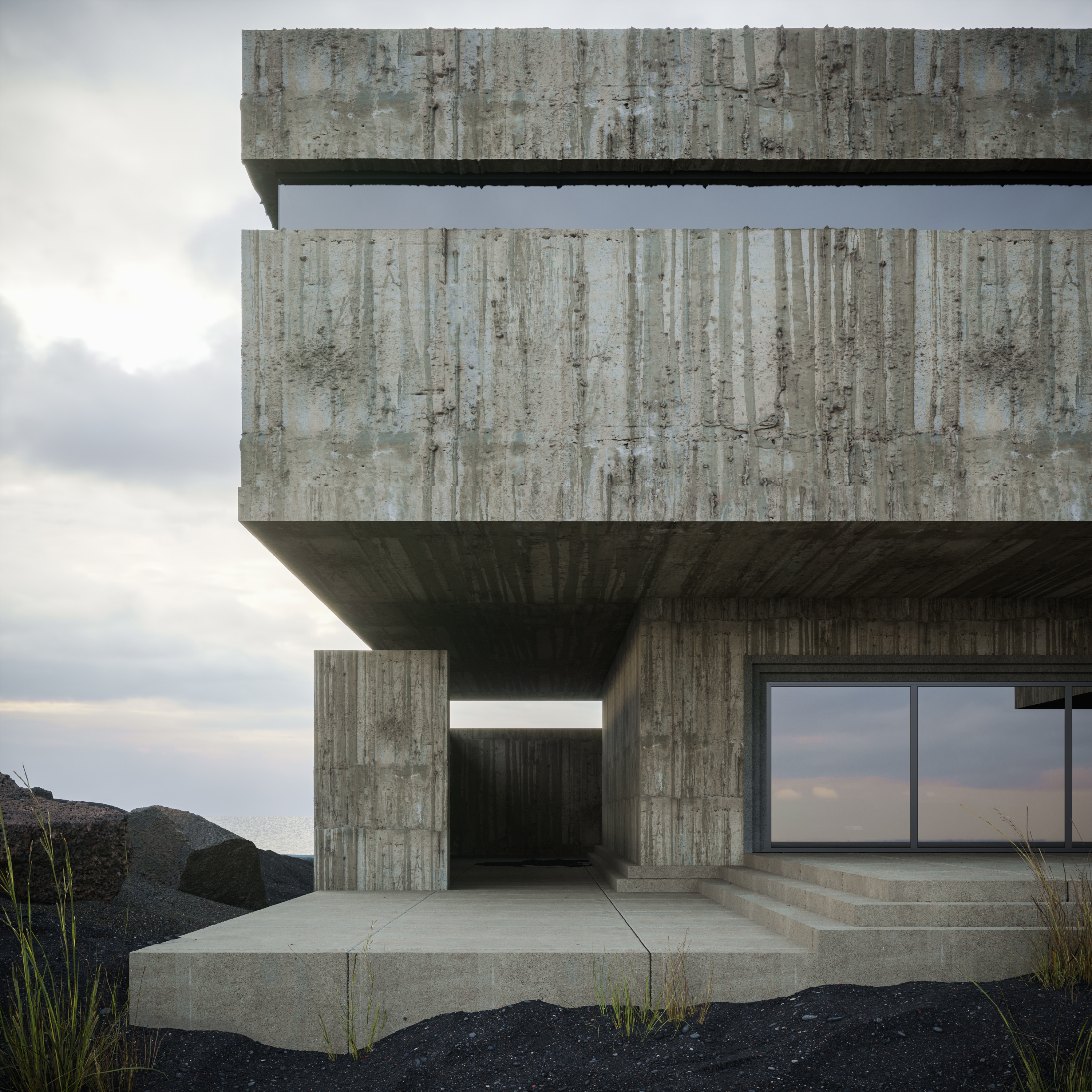 "We work on architectural designs, but the main focus lately has been interiors," Sherif tells #SceneHome of Studio Vyde, a visualisation studio he founded in 2020 to produce spatial solutions, illustrious interiors and alluring architecture. Occasionally, they like to experiment with CG art to explore different ways to tell design stories. "CG experimentation allows you to interpret unbuilt architecture and interiors from a storytelling perspective," he explains." We like to think of architecture in a cinematic sense, as stories that unfold."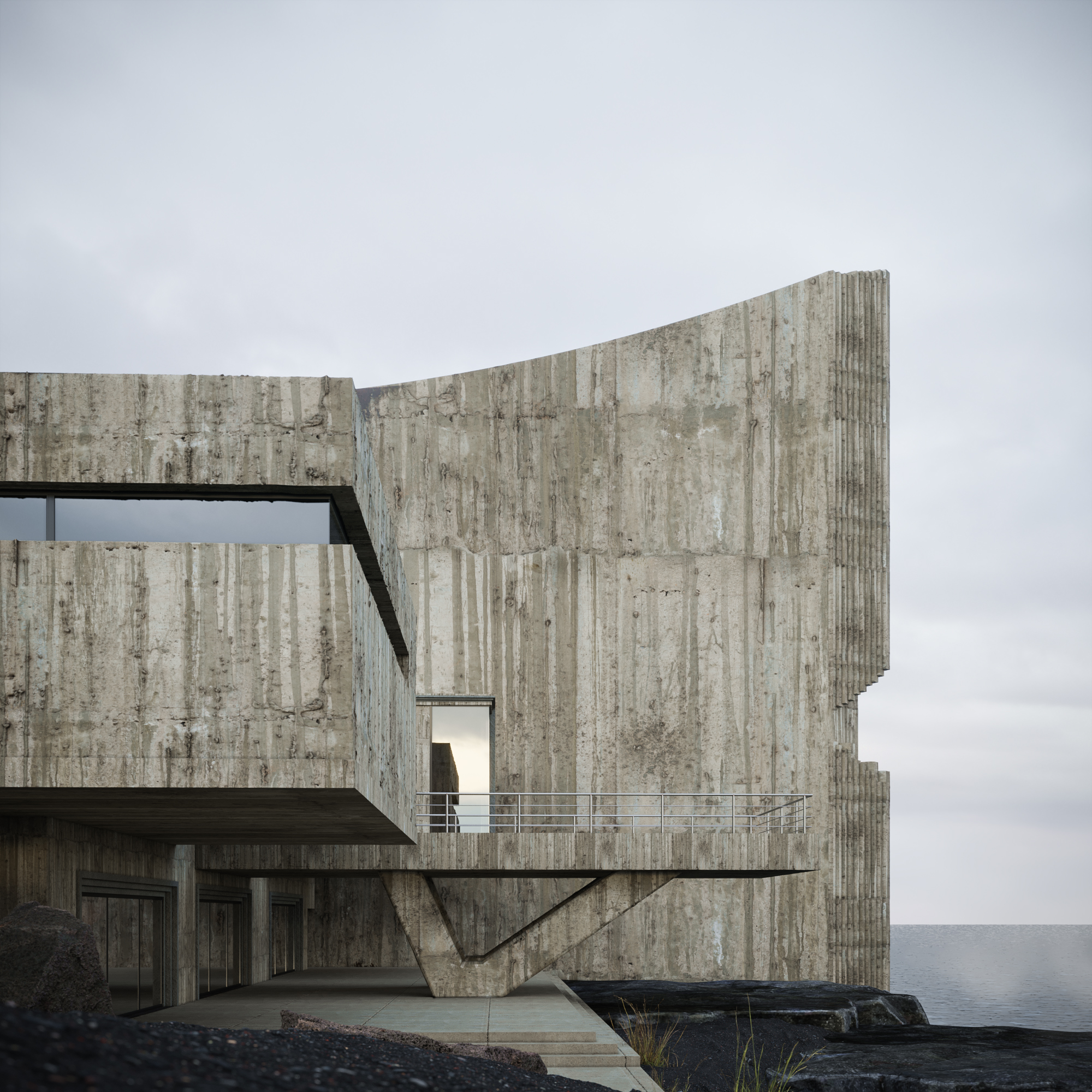 "You find yourself in a certain setting, a cold environment and gloomy mood, then you see the architecture, which adds an air of intimidation through its brutal design, until you get inside," he adds. Inside, Bonsai trees line the brightly-lit space with a sense of, while polished finishes and a sculptured copper staircase offer a curved, contrasting transition from the exterior experience.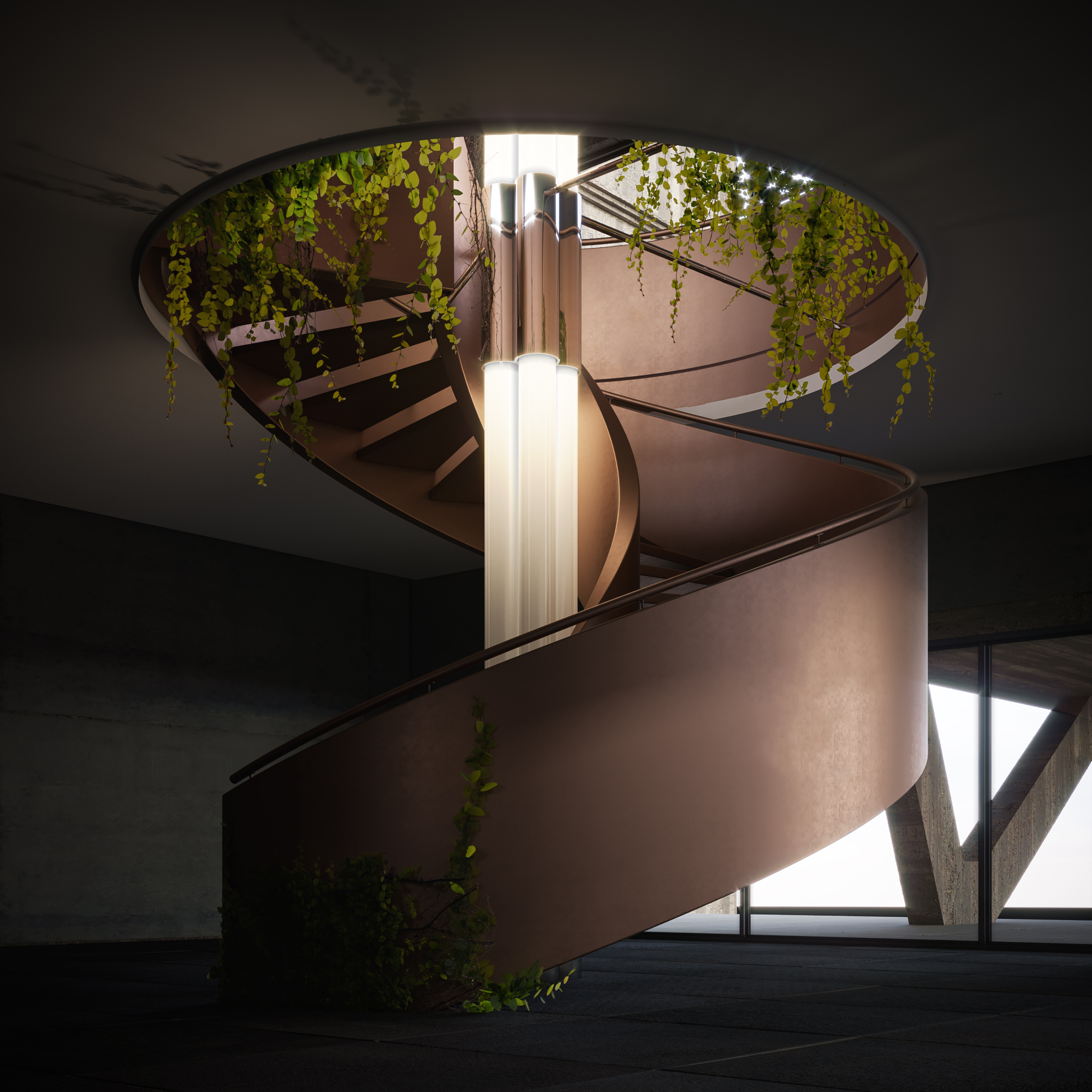 Ultimately, though, this story is far from straightforward, and that perceived coldness of the exterior and the contrast of the interior, are just as significant a storytelling tool as it is an aesthetic choice, and it sits at the heart of the structure's mystery - a deliberate move by Sherif.
"We ended up leaving a lot of things open for interpretation as it has an indefinite timeline," he explains. "What you get out of it is different from what someone else will."
Building on a tag that the design carries (Please be seated, the director will be here shortly), what we do know is that this space was created for a character referred to as 'The Director' and that, in this fictional world, the building is a hideout, a place where various characters meet and clash, all tied together by our (anti)hero. Asked if this story falls under the crime and espionage genres, Sherif remains coy. "Well, you could say that. It's meant to evoke different notions for different people," he asserts, echoing what a film director might say if confronted with having to unravel and demystify his work.