With plenty of pedigree and an eclectic portfolio of projects behind him, prolific designer, Amro Hosny, lays out his ambitious vision for his recently launched design studio, Amazing Lab.
"Seven Fortunes Coffee Roasters - Bad Coffee is Over." It's a bold claim to see on the side of what looks like a white cube on the beach at Egypt's North Coast. You lean in to order a coffee through an arch-shaped window, and then turn to your left, where you are invited to sit beneath the shade of the attached pergola. The whole set-up looks simple at first glance, but as you lean back with a mug of coffee in hand, you begin to notice all the details you took for granted: how the white cube of the stand actually interlocks with deep navy shapes that extend to the sitting area, all tied together with planks of exposed wood. How the floor beneath you is left intentionally bare so that you could sink your feet into the sands of the beach. These understated elements - once caught - are recognisable as the hallmark of Amro Hosny, an Egyptian designer who brought his distinctive style with him during the formation of his own design studio, Amazing Lab.
Although his studio was only recently founded in 2021, Hosny's reputation was well established during his years of work at Design Point, the Egyptian interior design studio founded by designers Karim El Hayawan and Nehal Lehata. Over six years he evolved from senior designer to head of design, when he was contacted by Karim Hassan, friend and founder of Dubai-based coffeeshop Seven Fortunes. Hassan wanted to open a location in Egypt's North Coast, and he asked Hosny to formulate a design that would fit its laid back atmosphere.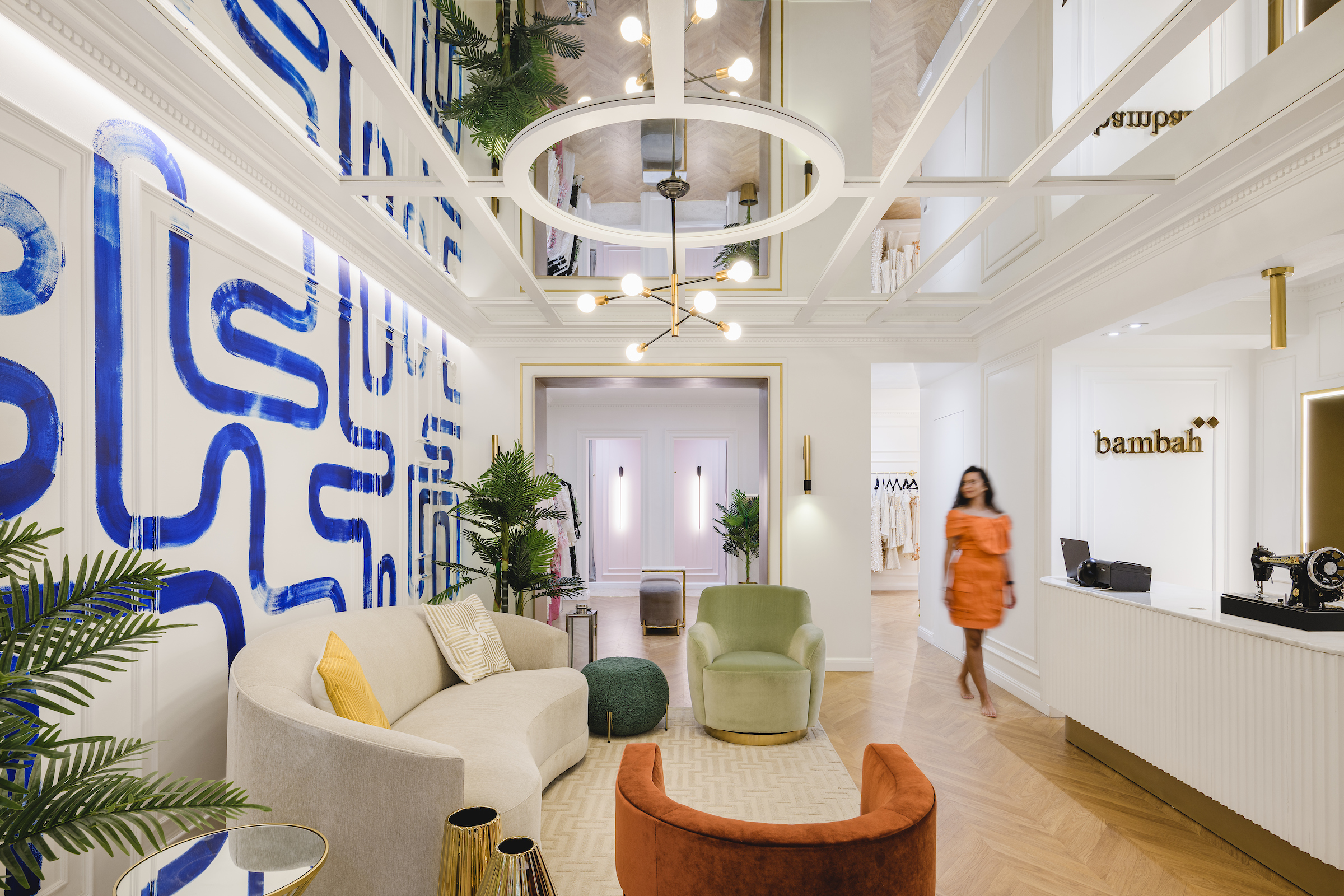 "The client wanted a design that encapsulated the guests in a distinct vibe without cutting them off from the surroundings," Hosny tells #SceneHome. Working as an independent contractor, Hosny designed a wooden pergola with sheaths of linen that provided dynamic shading and two opposing arches fitted with industrial mirrors adding contrast to beachside conversations.
After successfully delivering on the first project, Hosny was asked to design a second Seven Fortunes at the Waterway. To blend with the location, neon lights were installed to provide an uplifting look to the industrial design that integrated the shop to its urban setting. It's the kind of detail that adds to its industrial vibe, a sort of throwback to American diners in the Roaring 20s - both grounded yet forward looking, a feeling that is carried over in most Seven Fortunes branches. "The space was compact so we removed the barriers between the interior and exterior spaces by exposing the bar through a glass screen, and placed the entry points in front of each other to maintain a continuous flow of motion."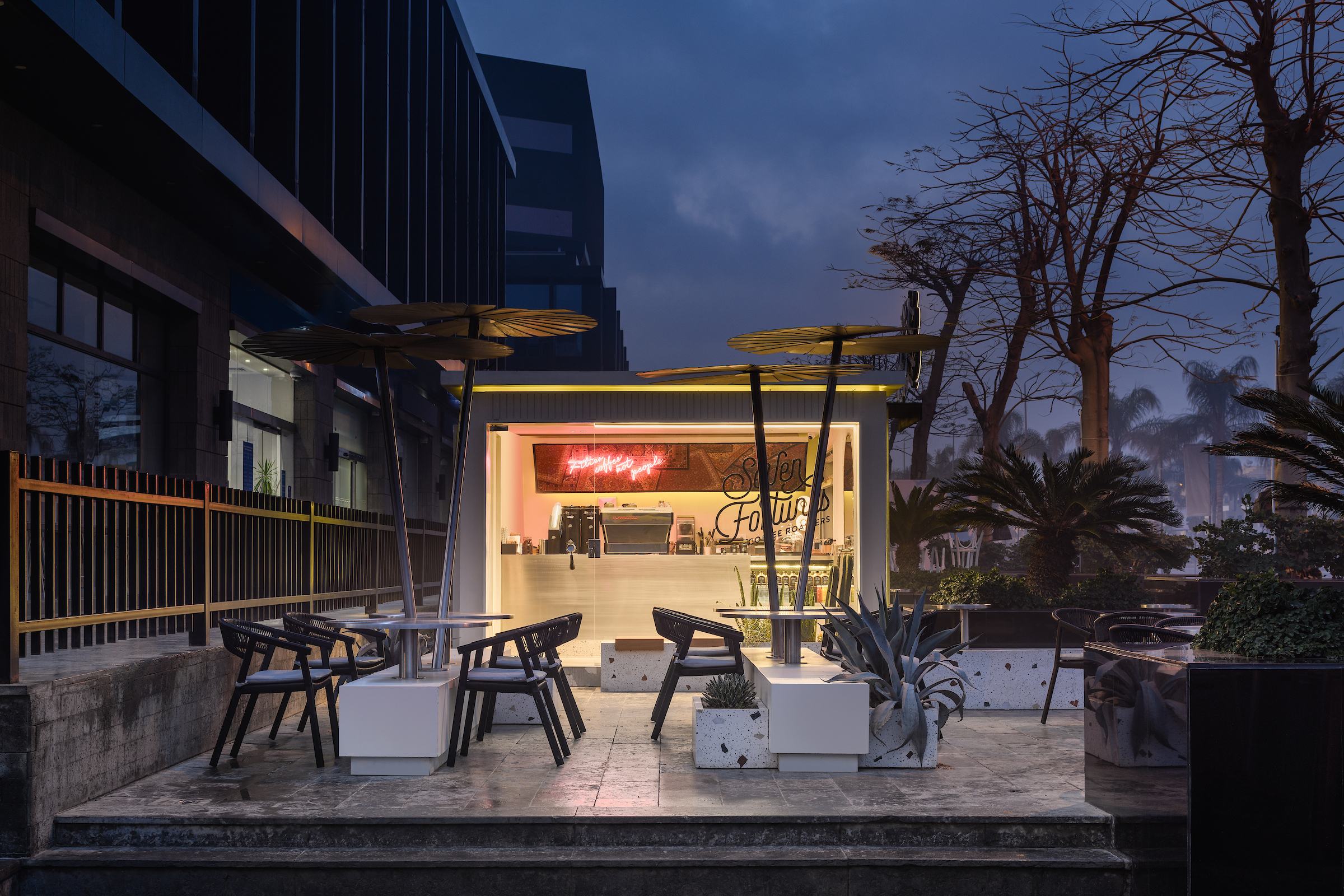 With project requests piling up, Hosny made the decision to leave Design Point and officially launch Amazing Lab. "El Hayawan was understanding and encouraged me to take on this journey." The speed with which these projects were designed and completed is due to the contracting work by Impact and Lux finishing. "Got to give credit where credit is due," Hosny adds.
Amazing Lab's first project sees Hosny work once more with Seven Fortunes, this time at their new North Coast location in Marassi's The Alley. "Karim is a very energetic person, he's always pushing the envelope and he's always willing to try whatever design I'm thinking of," Hosny says. "When I finished Waterway and saw other people borrowing from the stainless steel in their own designs, I decided to introduce new design elements, to keep myself from stagnating and just doing what we already know works. So I removed the terrazzo and experimented with paint that has a special visual effect."
This constant evolution in design and scope represents exactly what Hosny is looking to accomplish by founding Amazing Lab. And while these innovations can be so seamlessly integrated that we don't even consider that these designs could look any different, we'll be sure to keep an eye out for them the next time we find ourselves in one of his spaces. To experience more of Amazing Lab's designs, you can visit their profile at @amazinglab.cai.