Once upon a time the standard of beauty for Egyptian homes involved a whole lot of gold. Baroque furniture reigned supreme and there was a lot of it; you really wanted to cram as much as possible in there as though blank spaces signified that you couldn't afford to fill them. And all the pieces were clunky and looked like rejects from King Louis XIV's personal collection. ZIS EEZ NOT WHAT I ASKED FOR! TAKE IT AWAY. MORE OF ZE GOLD! AND A BAGUETTE!
But I digress. Baroque's time is over and boho chic has sauntered in as the trend du jour, wearing a kaftan made from organic silk and eating an avocado something. It's more relaxed, it's more airy, it's more earthy - and it's a little more rundown, to be honest. You actually want your things to look as if they've weathered several storms and were found washed up on the shores of a far flung beach, looking casually fabulous, the wood worn away instead of perfectly painted. You want your carpets to be a bit faded, which to my mother is a sign that the carpet is old, used, and to be discarded immediately, but to me it means I found a gem and I can't wait to display it at its most tattered. I might scuff my feet on it for extra measure.
Egypt now has dozens of furniture, home accessory, and interior design brands with stunning pieces that fulfill all of your bohemian daydreams. What the whole 'boho chic' feel really is at its core is just quite carefree and laidback decor; it often includes layering and/or mixing colours, patterns, and textures. You can either go in a colourful direction with a more funky-patterns-and-clashing-prints kind of vibe, or you can opt for a more neutral palette, which verges on a more Scandinavian feel. There's no perfect way to do it and there are a thousand and one variations. As long as you don't forget the macramé. You must never forget the macramé.
Below are 15 brands in Egypt where you can find pieces that align with your bohemian decor reveries. Obviously, if you don't want to go full boho, you can sprinkle in pieces you love.
Pacific Oaks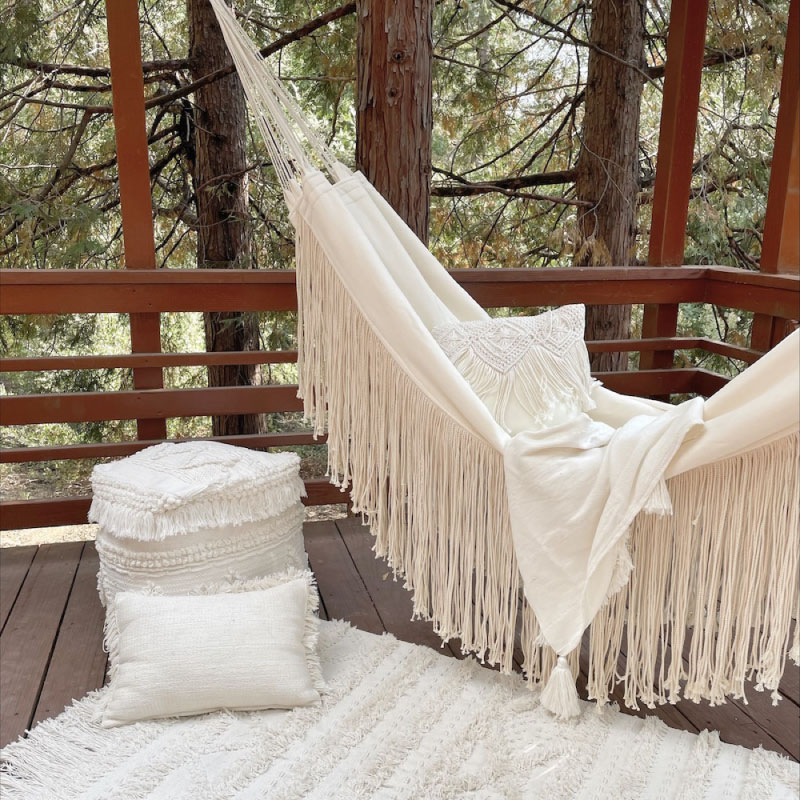 This brand focuses almost exclusively on neutrals and they've got everything from hammocks and swing chairs - of the macramé variety obviously because what kind of self-respecting bohemian brand doesn't use macramé - to handmade custom carpets. They've also got a super cute variety of pouffes as well as some larger pieces like a few sofas and the most comfortable looking bed I've ever seen - the bed frame is basically a giant pillow and the mattress is sunken inside. They're based out of both Egypt and the USA and actually ship worldwide.

INCA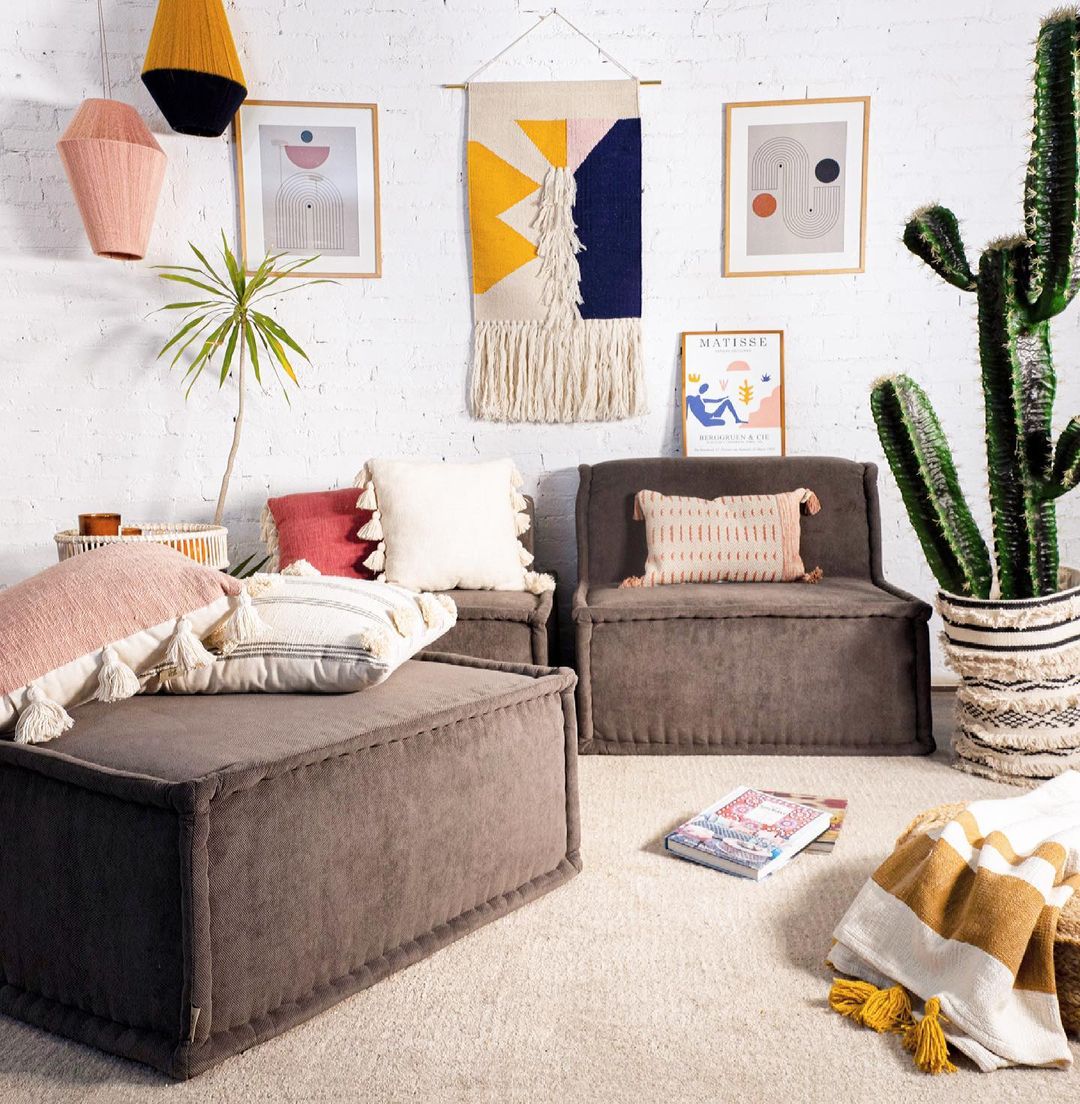 Since its launch a few years back, Inca has undoubtedly cornered the market on eclectic boho prints. Their style leans more towards colours rather than neutral tones, though you will find a fair amount of pieces that embody the latter. A big part of the boho aesthetic is mixing colours and patterns with abandon and Inca has the perfect prints for that. Their main forte is fabrics, so you can upholster large furniture pieces, but they do have some lovely cushions - floor and throw - and more recently, these incredible woven baskets, which you can use for laundry, to store your kids' toys, or in my opinion, as plant pots. Be warned, they are a little pricey.

Kiliim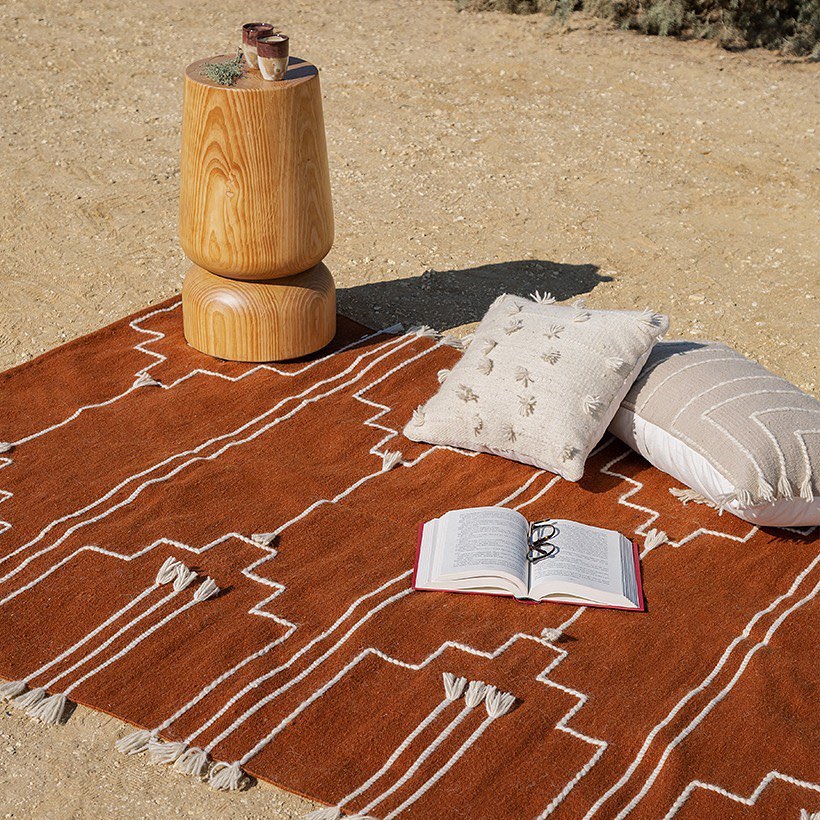 This Fair Trade Certified (WFTO) brand's specialty is, as their name suggests, kiliims, a type of handwoven rug made using specific weaving techniques. They work with Egyptian artisans who consider the craft part of their heritage.You can opt for colours or neutrals, and select your preferred size, and one of the nifty little services they offer is a sort of try-before-you-buy option, so they send you a piece to your home, you can see how it works for your space, and send it back. They've recently incorporated quilts, throw pillows, and some pottery pieces as well, into their repertoire.
Mama Bear N Co.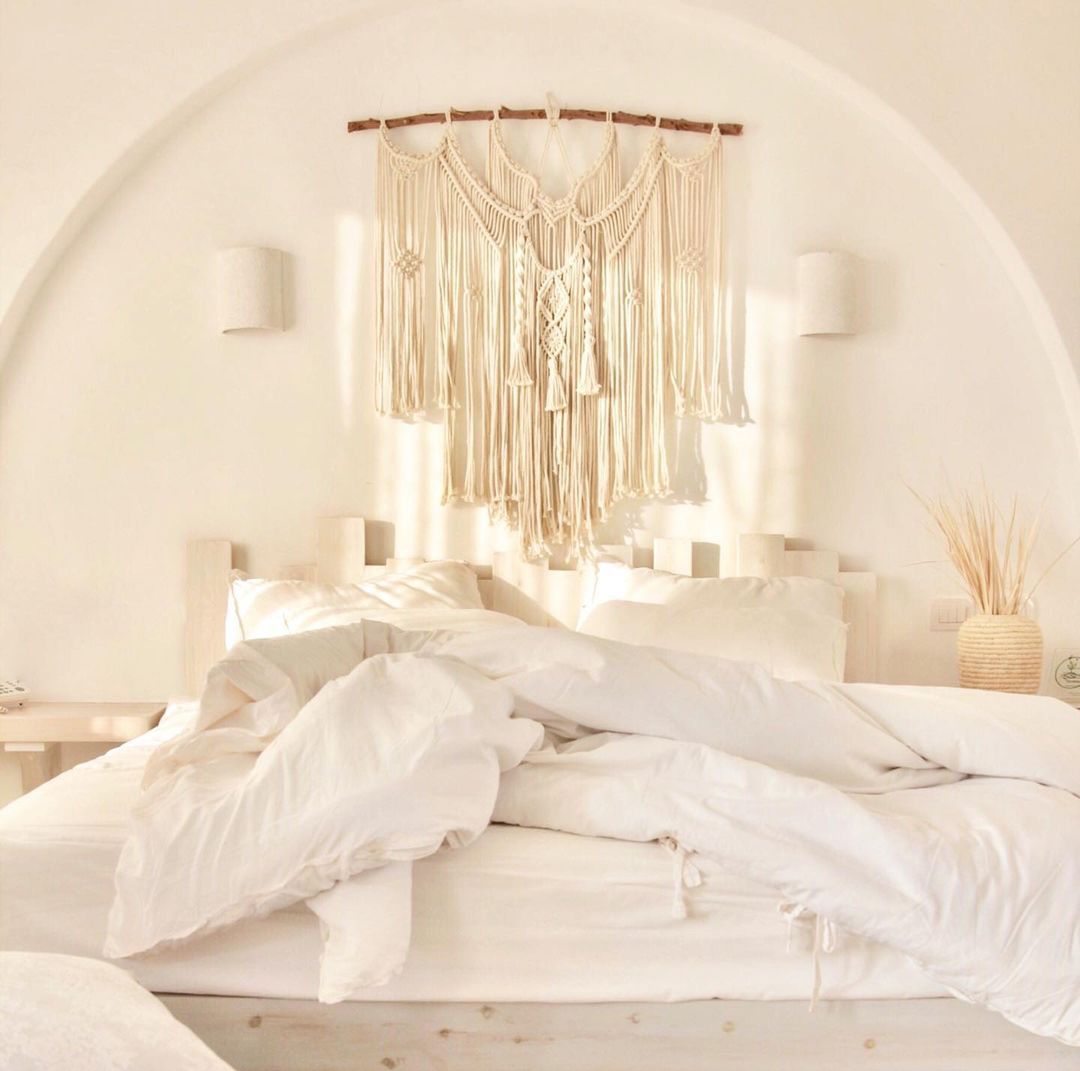 If you're looking for a macramé wonderland, look no further. Beautiful, intricate macramé wall decorations are their strength but they've also got some pretty great swing chairs, including a particularly epic loveseat. This brand is big on pale neutrals and also incorporates a bit of a beachy vibe in their pieces with things like seashell mirrors and a number of beautiful bamboo furniture pieces like their Flower Sofa.

Lush Design House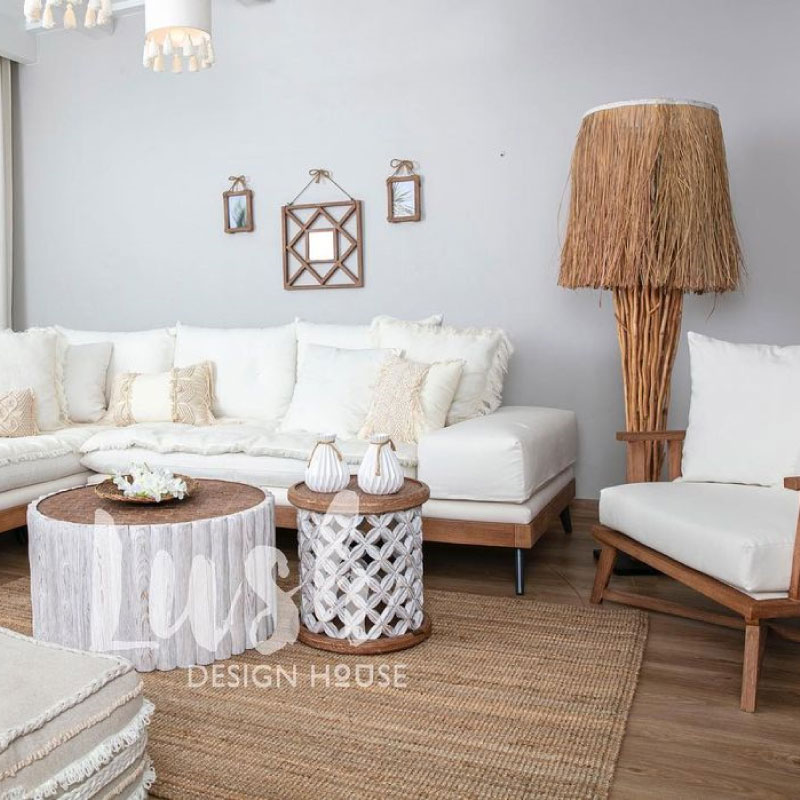 Lush focuses mainly on larger pieces; sofas, beds, cabinets, full dining sets, and the like, so if you're looking to properly furnish and not just accessorise, this is a great option. Their style is a sort of boho-Mediterranean blend and they feature a lot of light neutral tones, making for versatile long term pieces.
Petal & Stem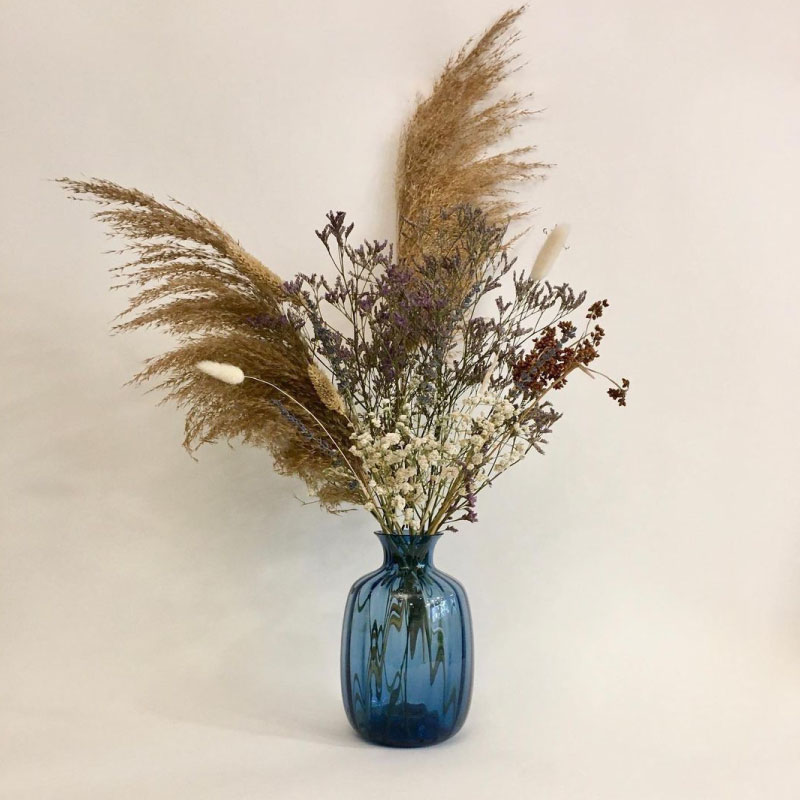 This may seem like a random choice, but dried flowers are not only a whole boho vibe unto themselves but they're also the best kind because they're already dead, thereby completely eliminating your chances at killing them yourself. And they last basically forever. Dried flowers tend to have more of a pastel palette so the colours aren't as loud, and Petal & Stem does a beautiful job of creating dried bouquets. Having said that, if you want really funky and unique (live) floral arrangements, with colours that pop more, the brand does those too.
Mashtal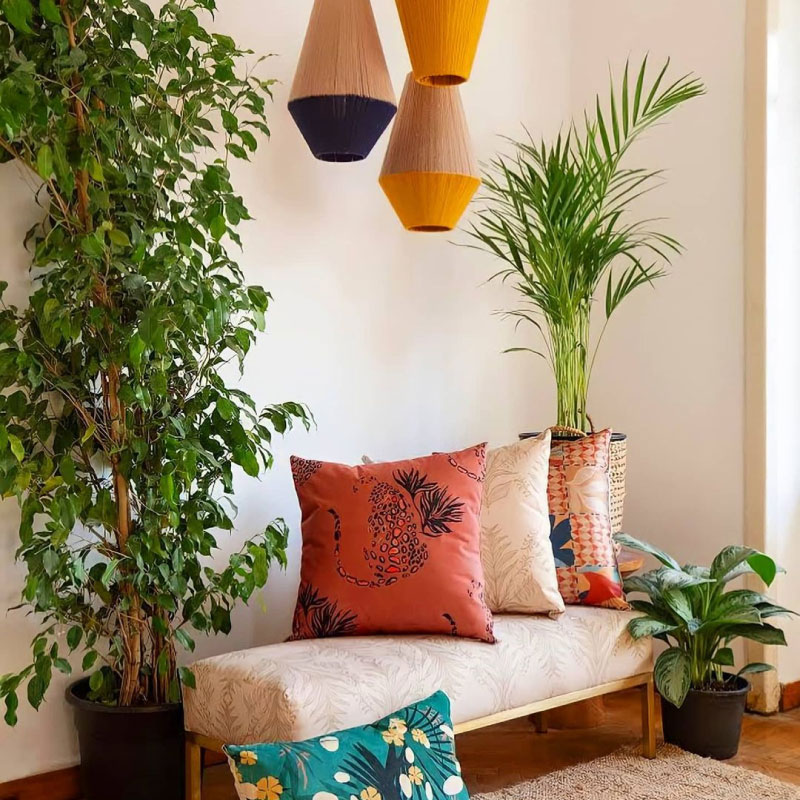 A big part of the whole boho vibe is a ton of lush greenery all over the space. If you have confidence in your plant parenthood abilities and you want an alternative to dried flowers, Mashtal has a beautiful variety of plants as well as pots to store them in. And granted, you could go to an actual mashtal (a greenhouse) where they might cost less, but this brand delivers the plants to your doorstep, potted in the pot of your preference (and will re-pot them for you as well if need be).
Casa Designs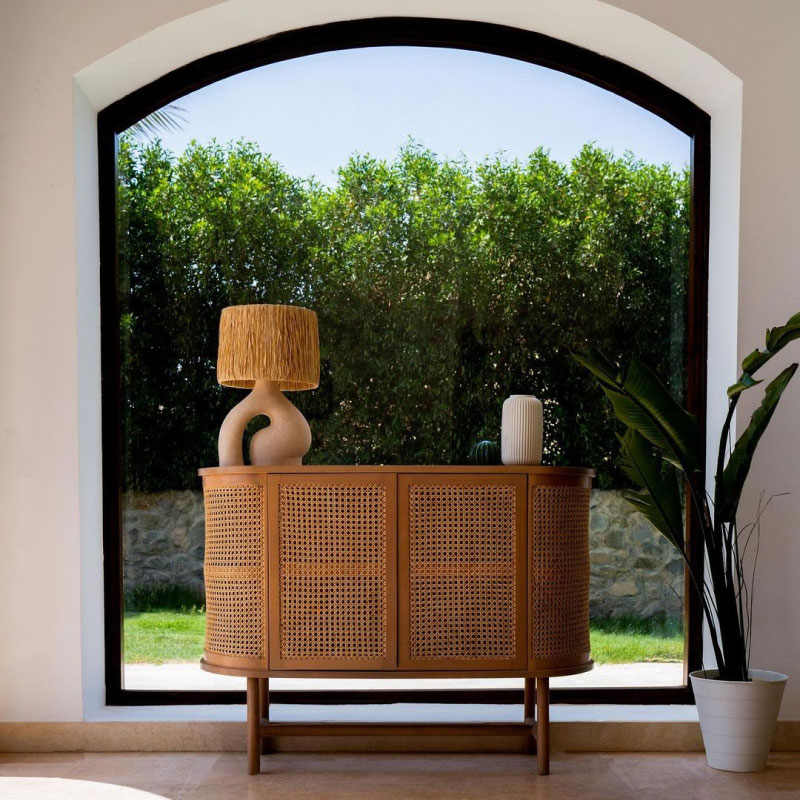 If you spend an inordinate amount of time on Pinterest getting sucked into a 'boho chic decor' vortex, then odds are you'll be able to pluck out some key pieces from Casa Designs to bring your bohemian vision to life. While they do have a plethora of home accessories like planters and lamps, as of late they've also added a number of small furniture pieces to their roster such as consoles and even an entire dining set. A lot of their more recent pieces include caning, which is having a big moment right now, and their fluted coffee tables are also standout items.
Handpick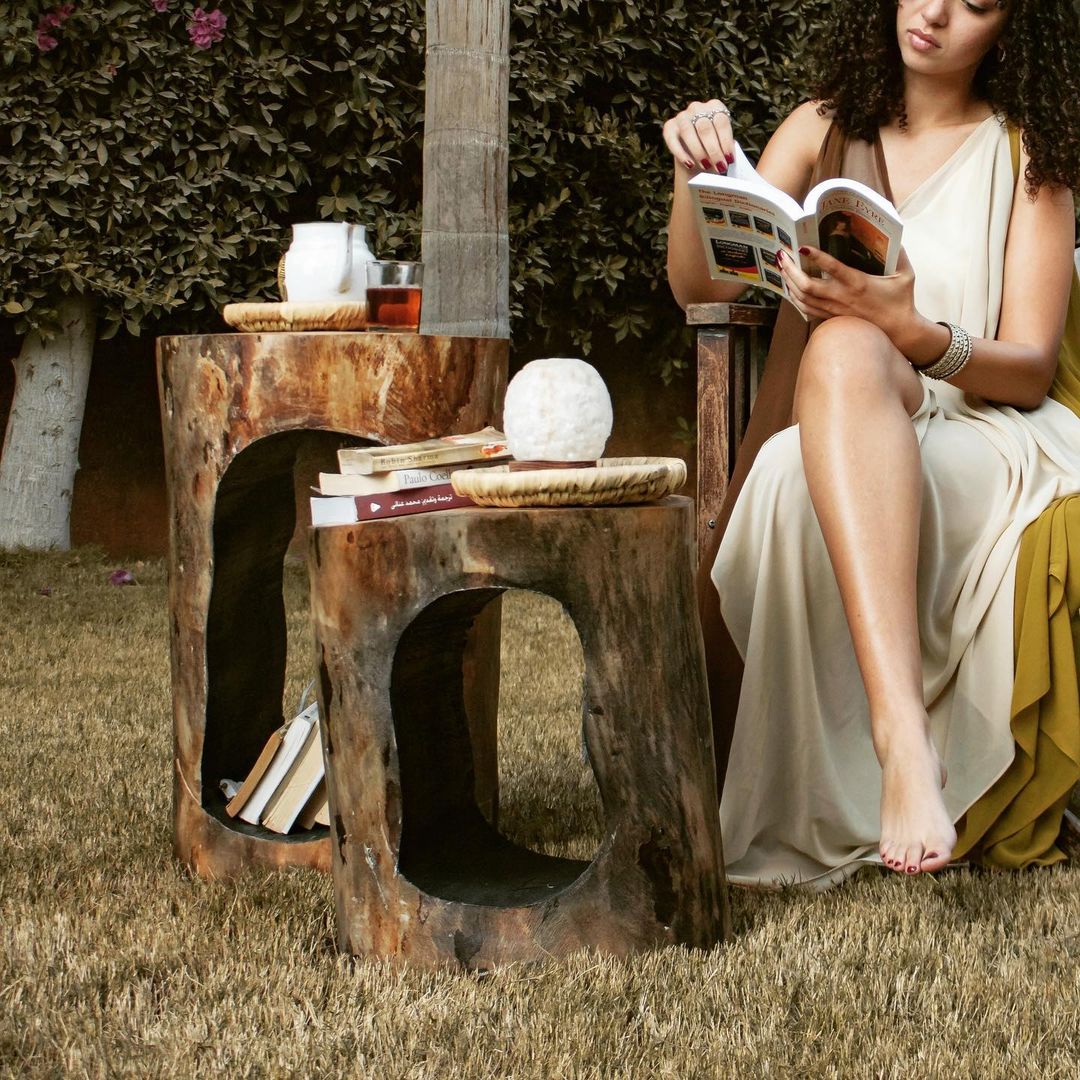 If you're looking for an array of boho inspired home accessories - with a lot of quite rustic, wood-based pieces as well - then this is a good place to find them. They've got a lot of wooden side tables in interesting shapes, jute items like mirrors, and a whole plethora of pottery pieces, some with more classic shapes, and others that are a lot more quirky and unusual. Using natural elements and raw materials like wood and clay is a big boho mood.
Cord & Knot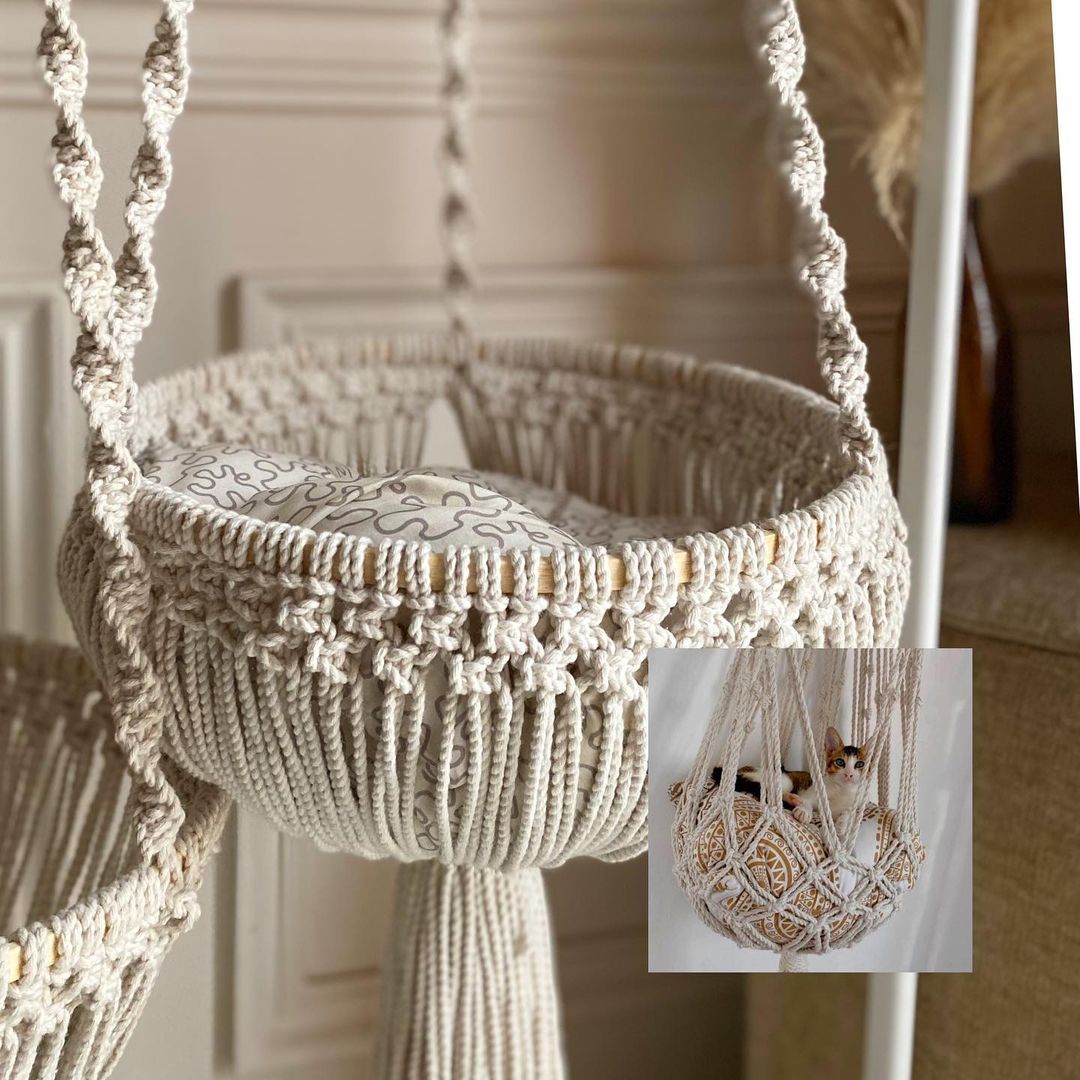 Another group of macramé masterminds with a whole slew of gorgeous elaborate wall hangings, but they take it a step further; their new Tokyo backdrop for instance is a massive macramé piece that can be rented for weddings and events. They've also got some beautiful plant holders, and most importantly the large plant pots can come with a cushion and can double as hanging cat swings. I said what I said.
Ellie Home Decor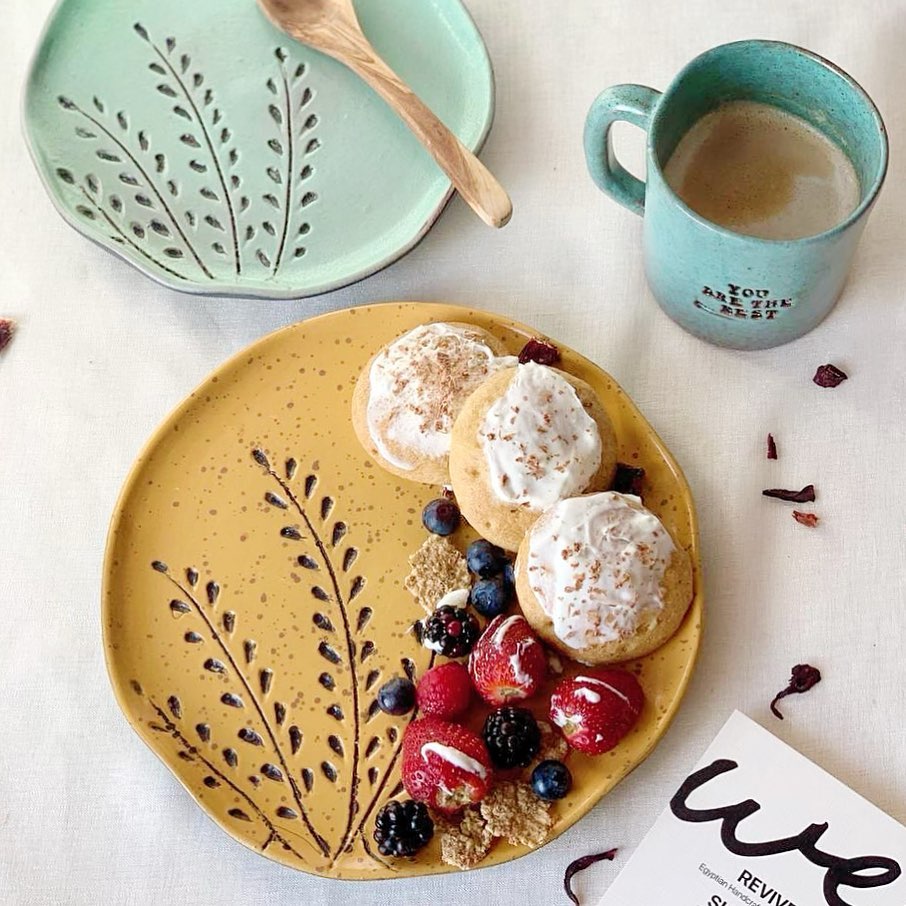 On the brighter end of the colour spectrum, Ellie is a well established brand that focuses on handmade ceramics in a slew of fun hues. Ellie's defining aspect is how cute and colourful all their pieces are, which leans into the whole boho aesthetic perfectly. And while people don't automatically think of tableware when they envision boho, it can apply to the pieces in your kitchen as well, and not just your living room. And don't feel like all your tableware has to match; feel free to pair various colours together to add some eclectic energy - especially if you're not brave with colour in your living spaces. They even have a funky marbled blue fondue pot.
Tayet's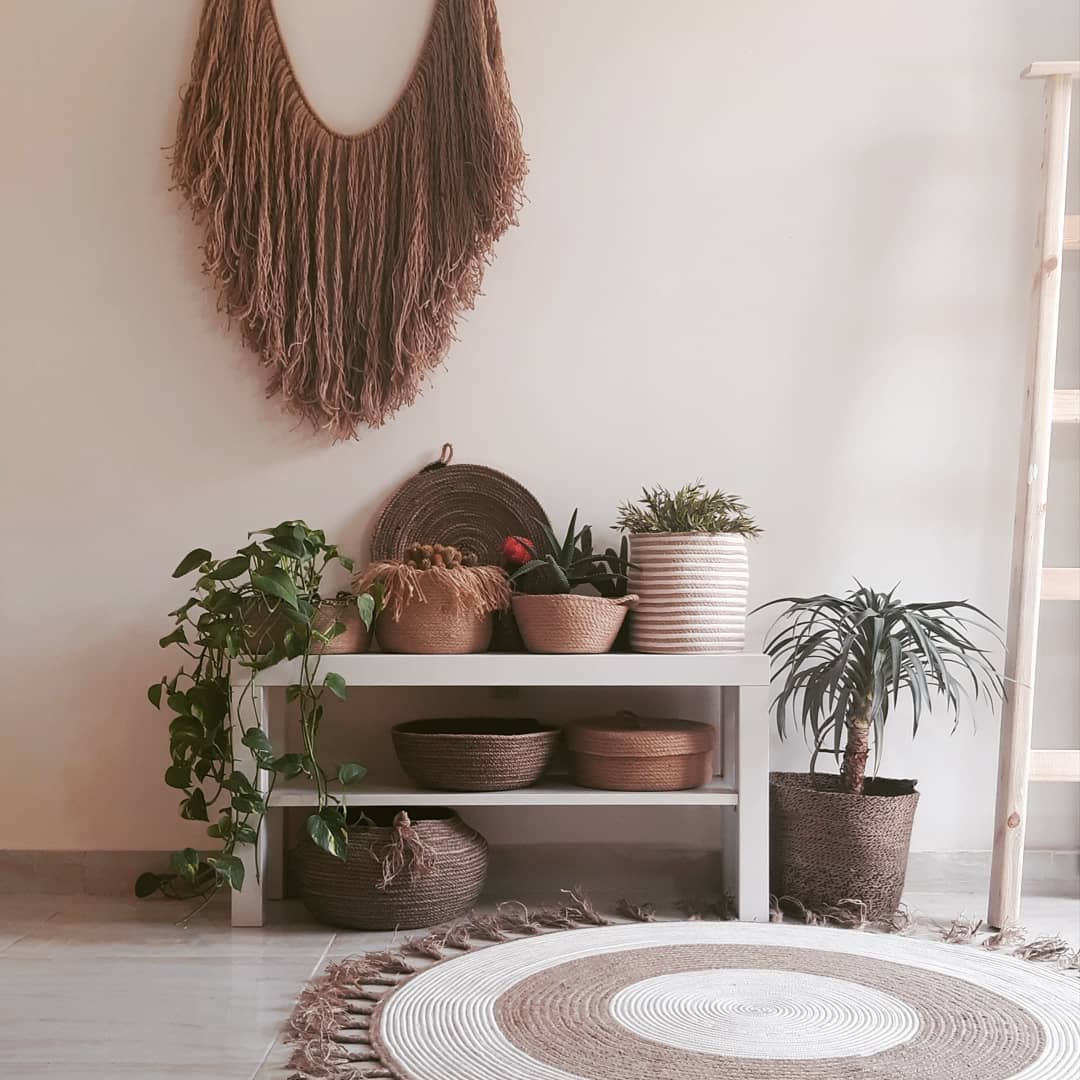 If 'jute fringe' is a term that resonates with you and you don't think it's the name of a new indie band, then this brand will be your salvation. Baskets upon baskets, of different shapes, sizes and colours - they have loads of neutral tones but they do have some fun colourful pieces as well. And while a basket doesn't automatically come to mind when picking home accessories, once you begin to accumulate clutter, you realise that these oft overlooked babies have just been waiting in the wings, biding their time until you understand their true worth.
Maison Baya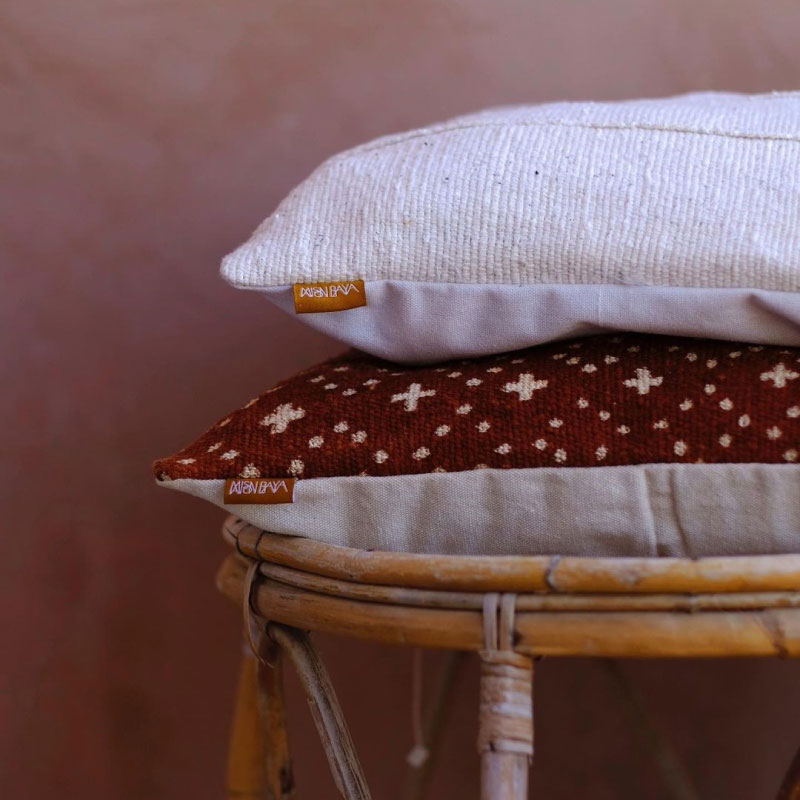 The term boho encompasses a lot of elements and Maison Baya's version has a distinctly tribal twist. Their pieces are inspired by African culture, with their first collection being a series patterned cushions in earth tones made of bogolan, a thick handwoven fabric imported from Mali that is dyed with fermented mud. A huge part of the boho aesthetic is infusing accents from across the world and these throw pillows are perfect for mixing and matching, and tossing on your sofa.
Can Limón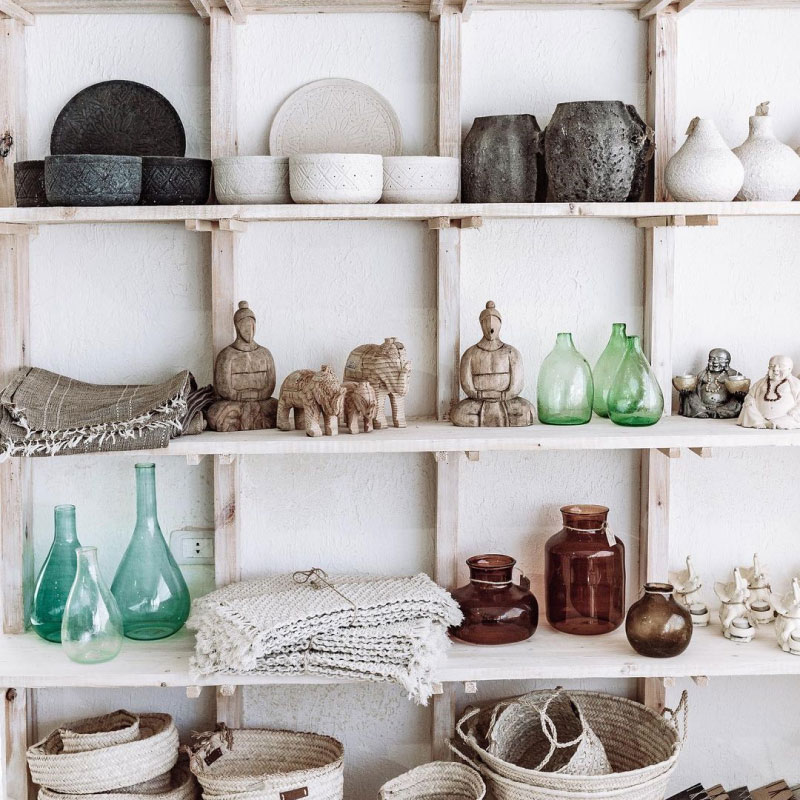 The retail offspring of iconic eatery The Lemon Tree & Co., Can Limón is a veritable hotspot for all things boho. Though a large chunk of their store is dedicated to clothing and general apparel, they do have quite a few home decor pieces. They feature both their own collection as well as amalgamate pieces from other boho-minded stores across Egypt. Candle holders, throws, mirrors, prints, and even some tableware are all featured in their store's impressive collection. Keep in mind, the upscale boutique is a little pricey.
LuLu Zulu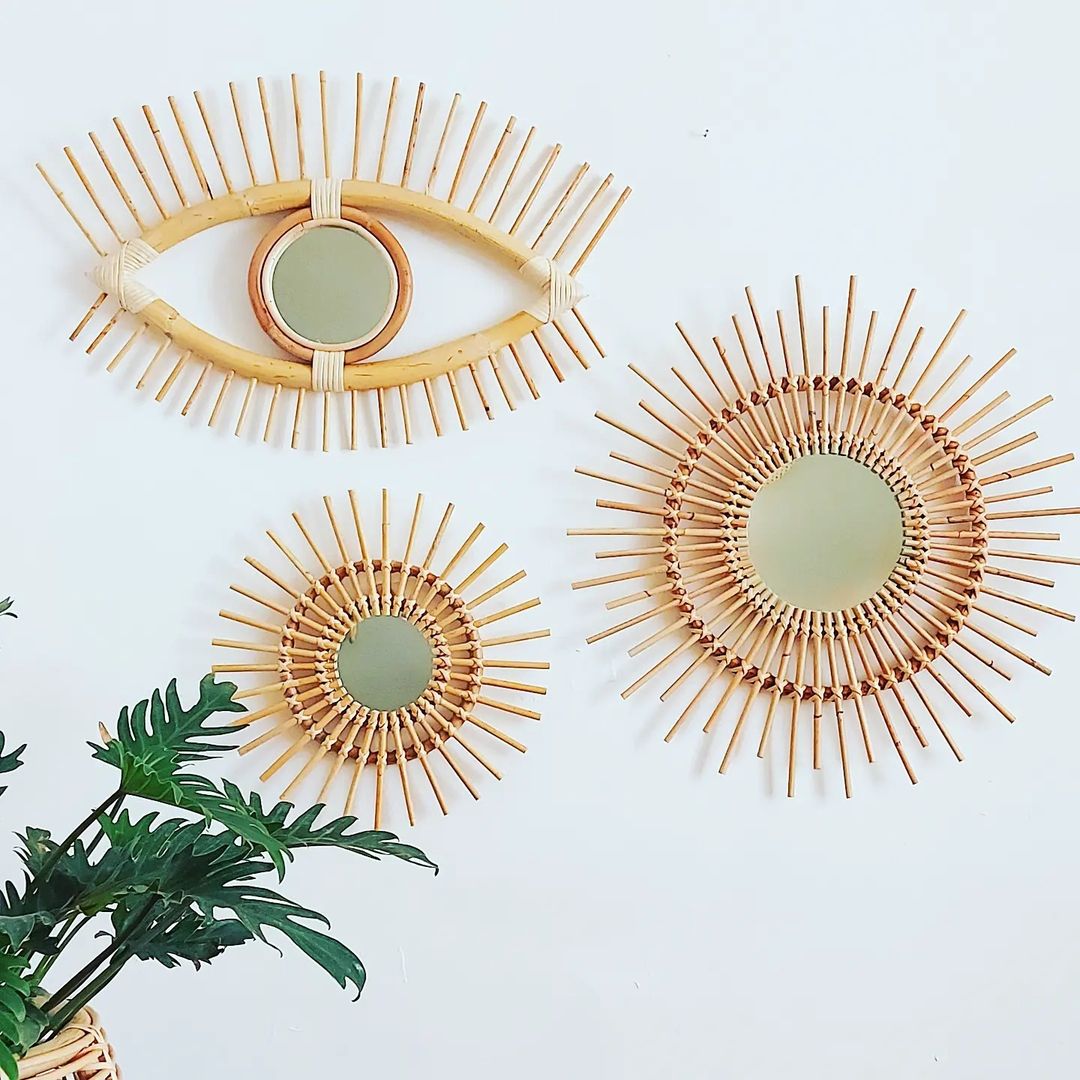 LuLu Zulu's home accessories are almost as downright adorable as their name. Their products feature a lot of bamboo and range from ceiling lights to lamps, but some of their most unique pieces are their mirrors and wall decor, which come in sun, moon, rainbow, and evil eye shapes.