Karim Mekhtigian, founder of Alchemy Design Studio and one of the most acclaimed designers in Egypt, transformed a basement into one of the most unique homes in the country. In creating his abode - which he aptly dubbed 'Life Lab', a nod to his alchemical tendencies as a designer - Mekhtigian made sure that it embodied his ability to manipulate a variety of materials to evoke feelings of mysticism, present engaging visuals and, ultimately, reflect his multicultural upbringing.
Mekhtigian founded Alchemy Design Studio in 1998 after a journey abroad, during which he studied a variety of creative disciplines, including architecture and scenography. He was joined at different stages by partners Mohamed Fares and Eman Hussein, each with their unique design input. Together they grew the studio into one of the most notable studios in Egypt and the region.
Their multidisciplinary studio, which covers everything from interior and product design to branding, has a mammoth portfolio that includes reviving iconic structures in Downtown Cairo such as the Groppi building, designing coastal destinations like Seashell, and creating the logo of momentous occasions, the most prominent of which is the Pharaohs' Golden Parade, which made headlines around the globe.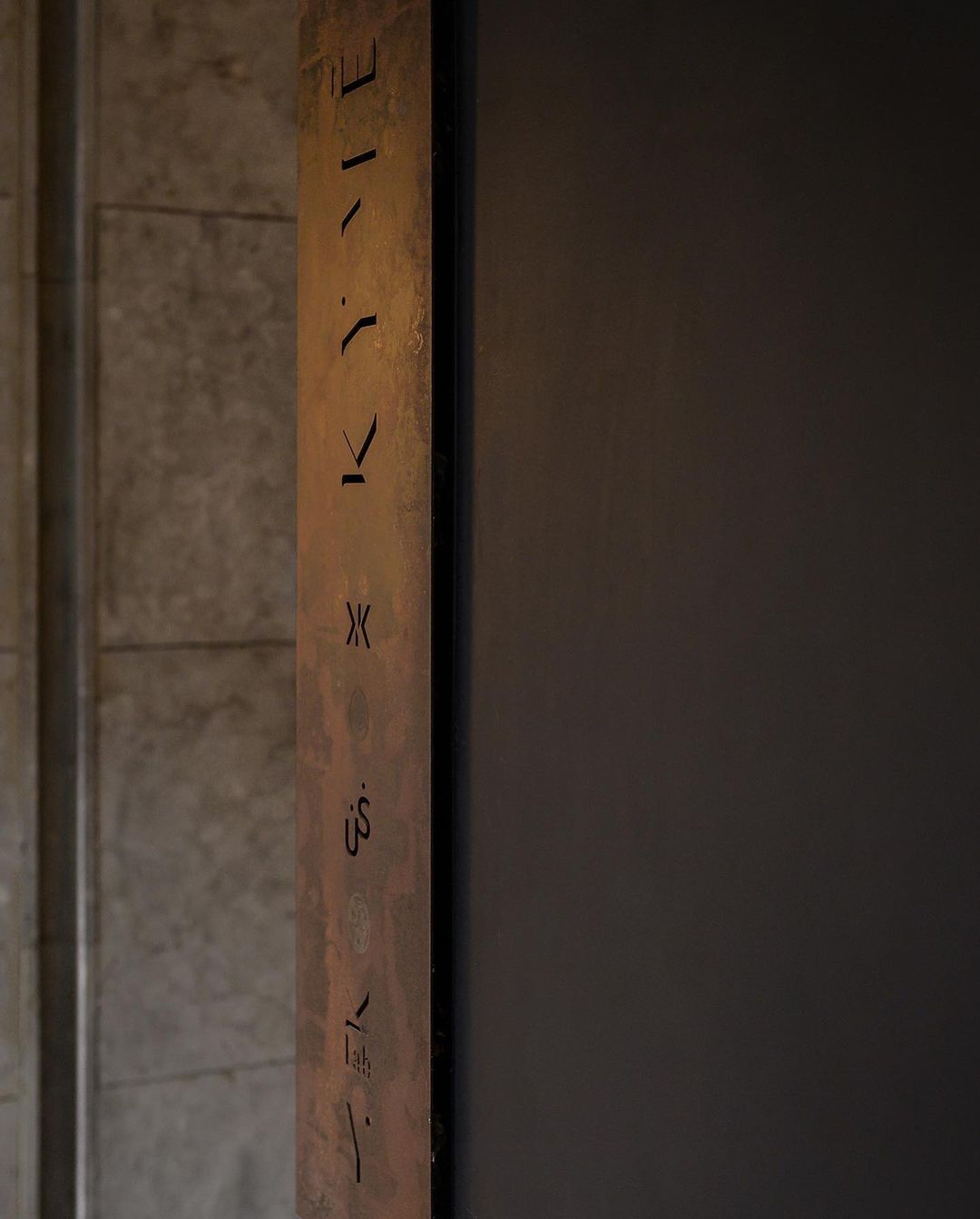 Born out of a passion for art, culture, design, architecture and cinema, Mekhtigian's career hasn't just placed him at the higher echelon of the industry. It also shaped the contemporary Egyptian design scene at large. Some call him a 'design guru' and others - those closer to him - prefer to refer to him as 'the alchemist', an ode to his design inspirations being rooted in the past.
Tucked underground in Maadi's suburbia, Life Lab is an open space that was once a garage and storage area, reconfigured by the designer to provide visitors with a singular experience. It gets its mood from the toned palette covering its surfaces, while putting all the emphasis on the kitchen and dining area, the heart of the house. The same house famed actor Asser Yassin called home when playing 'Harvey Specter' in Suits Arabia.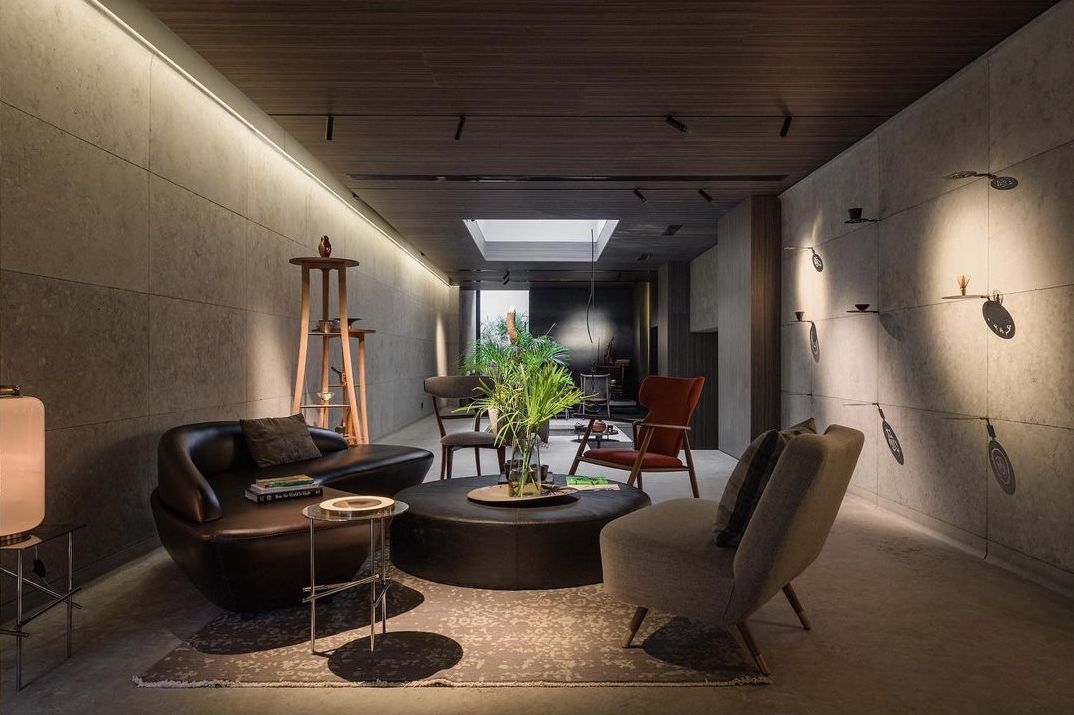 Descending through a lush courtyard, Life Lab opens up to a deconstructed wall display inscribed with poetic, Sufi sayings and sleek decorations from Mekhtigian's tableware brand, Analogue. The contemporary designs, which get their inspiration from ancient Egypt, can be found scattered throughout the space, blending their natural materials and abstract visuals with modern furnishings.
Embodying Mekhtigian's nuanced approach to design, ceilings are covered in wood to contrast the fair, grey floors. Walls are curved at their edges to add texture and host indirect lighting to supplement deep concrete panels with reflections, while columns are hidden behind glass cladding.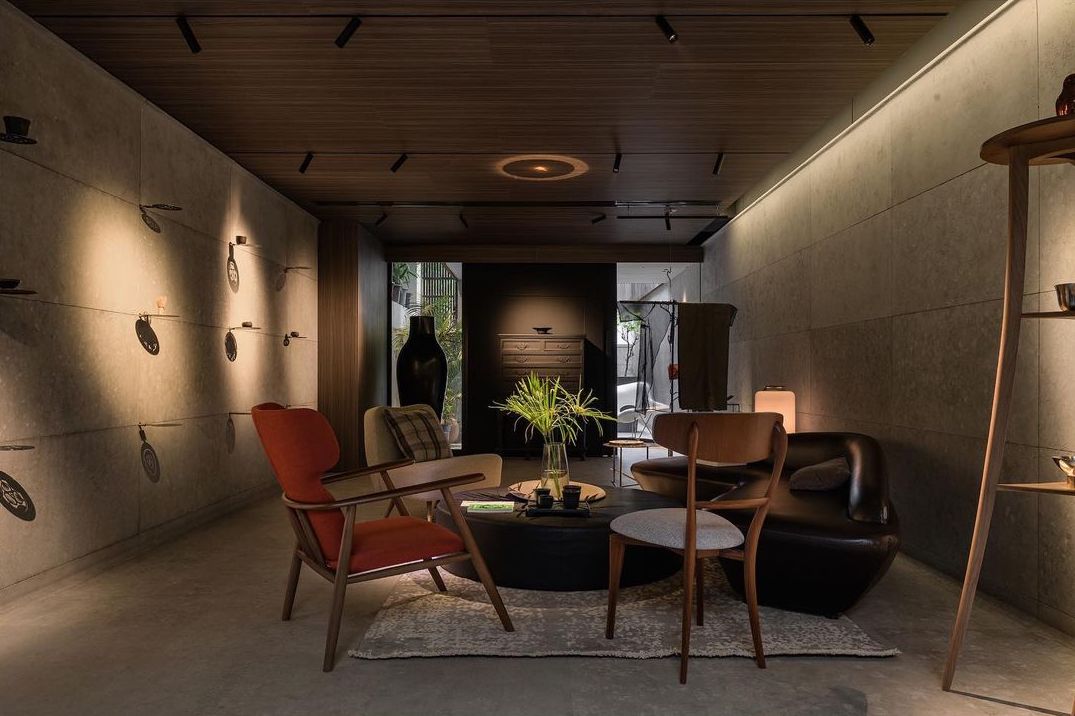 The reception features elegant designer furniture. Alchemy's own 'Infinity Sofa' offers flirtatious curvature to a plethora of pieces representing the studio's collaborations with Egyptian and international designers. From film to folklore, the decor of the space displays many aspects of Mekhtigian's multicultural inspirations.
Further inside, a plunge pool used to promote personal health with cold water presents a moment of bliss underneath a skylight. Tchai House, another brand by Mekhtigian, has its products placed alongside a traditional Japanese tea-serving system that hangs from the ceiling. If anything, they act as an indication of the designer's culinary inclinations.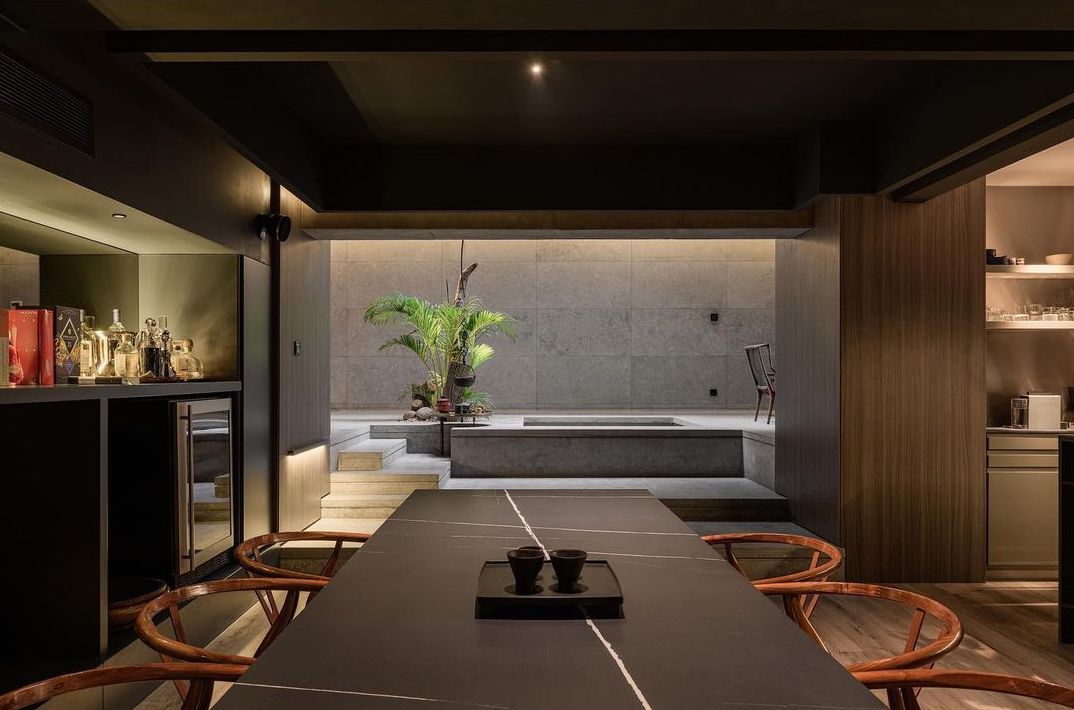 its alluring environment and for the host's cooking skills - it's easy not to notice a beam coated in muted creme leather. Whether it's well spiced Armenian Sausage or the delight of Chocolate Pasta, Mekhtigian has quite the reputation of being as good a cook as he is a designer. According to him, the best way to exchange ideas is by sharing food.
Back on the main level, we're then led into the living area. This is where Mekhtigian spends most of his time. Watching films. The designer is set on producing films of his own, following in the footsteps of certain family members. The space features photographs documenting milestones in his life which are placed on the floor temporarily until they find their spot.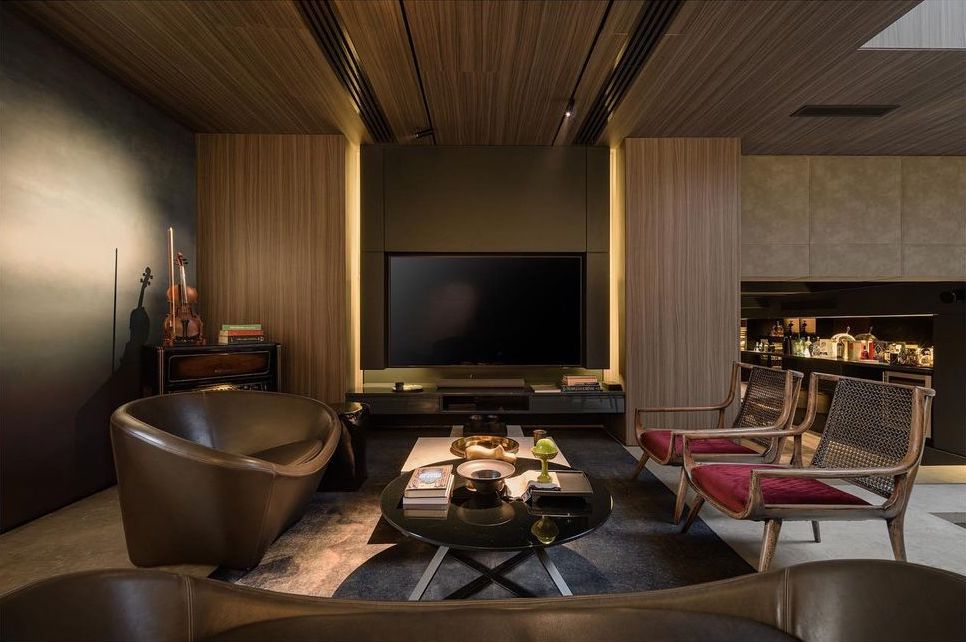 A rare photo shows a newborn Mekhtigian being held by famed actress Soad Hosny in the presence of fellow actress Maha Sabry, Mekhtigian's mother, and his uncle Takfour Antonian. The latter was the film producer behind some of the most iconic films from the Golden Age of Egyptian cinema, including Soad Hosny's 'Khaly Balak Men Zouzou', 'Yarab Touba' and 'El Talata Yuhebbunaha'.
Raised within a creative, cinematic environment, Mekhtigian moved to Paris from a young age, where he studied Interior Design and Scenography. He went on to work as an art director and designer at a slew of companies in Paris and Cairo before launching his first brand 'Dessilk' in Paris. Its products garnered international recognition by the Hermes Foundation and Salon Maison et Objets.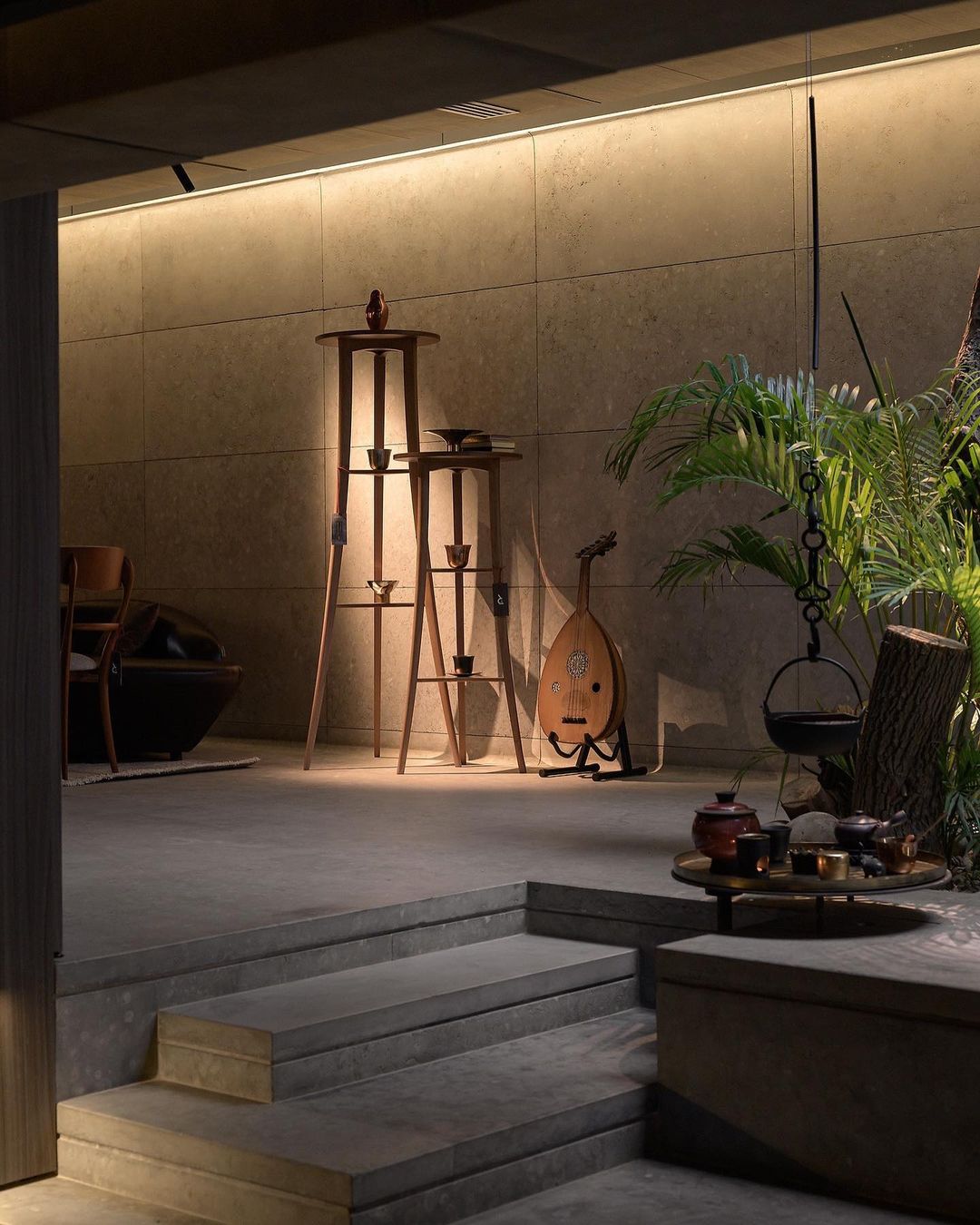 Finding beauty in transforming materials through modern craftsmanship, Mekhtigian's endeavours blend Egypt's rich heritage to create contemporary spaces and products. One example is Kyme, his latest all-encompassing brand, a lifestyle label that references Egypt's ancient moniker as the fertile 'black land'. Despite his lifestyle being shaped in an underground basement, there's still constant connection between the indoor and outdoor environments.
An open court beams natural light into the transition space between the living area and Mekhtigian's private quarters, supplemented with greenery and showering brightness into his bedroom. Linked to the bedroom, the showroom displays Analogue's products on a countertop. This is where the designers get together to test out products and their materials.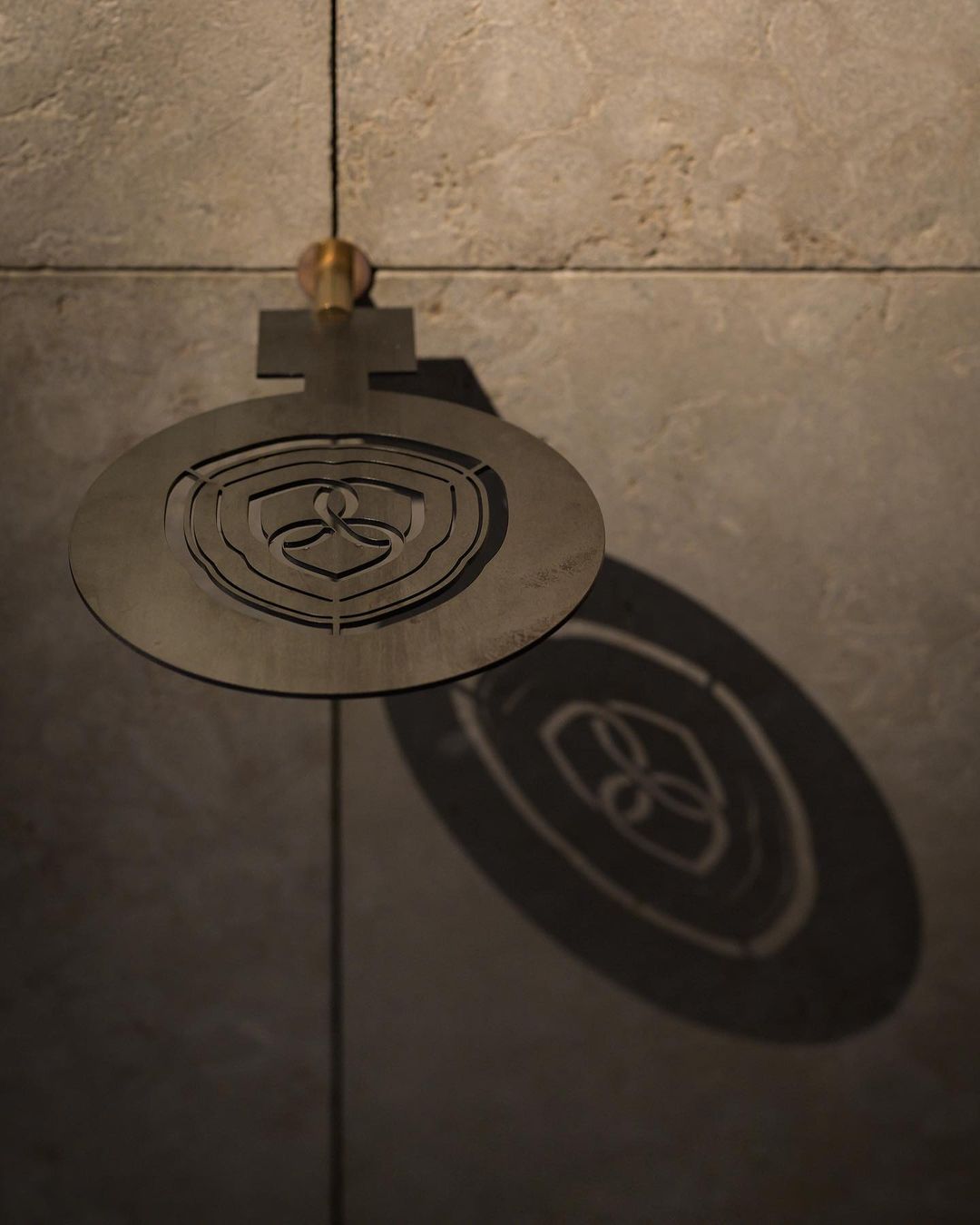 Launched in Milan, the tableware and accessories brand creates a variety of products that share a sleek, reflective aesthetic coming from its natural materials. 'The Goddess Taweret' depicts the legendary ancient Egyptian hippo in smooth curvature. It was displayed in a variety of events and exhibitions, as well as the recently inaugurated visitors centre at the Great Pyramids of Giza.
The office has direct access to the outdoor courtyard, and throughout the linear space are countless objects that range from vintage books and awards to products such as Philip Stark's Lemon Juicer and a figurine themed after the popular Japanese anime, Attack on Titan. These items only confirm the versatile nature of the designer's interest and how he channelled his upbringing in Cairo's cosmopolitan environment to display a unique interpretation of Egyptian aesthetics.
Photography Credit: Nour El Refai